DRM Removal Software: Best 10 Tools in 2023 [Cover All Area]
DRM (Digital Rights Management) is an advanced tech employed to stream music, video and eBook for encrypting the digital content from being shared or transferred without gaining permission. This protects the copyright but sacrifices the convenience of enjoying streaming music in a more convenient way. Hence, people desire to get a DRM removal software to help remove the protection. Luckily, this blog is here to help. The 10 best DRM removal software of 2022 will be introduced to you in the following. Check them and pick one to try now.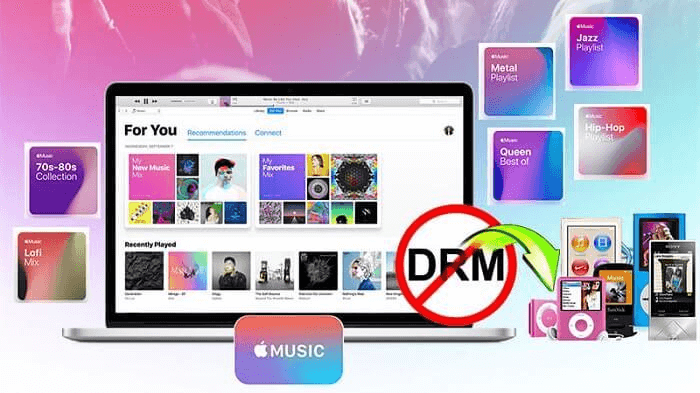 2 Best DRM Removal Software for Streaming Music Services
The two largest music streaming platforms, Apple Music and Spotify, both  apply DRM encryption to protect their music database. Without subscribing to the premium plans, people are not allowed to download the songs for offline listening. Hence, it is necessary for people to use the DRM removal software to get rid of the protection and enjoy the free music playback. This part will firstly introduce two powerful tools that work smoothly and powerfully to remove DRM from Apple Music and Spotify Music.
MuConvert Apple Music Converter
✨
Best for: Quickly batch convert Apple Music in the embedded Apple Web Player without quality loss
To remove DRM from Apple Music, MuConvert Apple Music Converter is the top 1 pick for its security, high quality outputs, and stable performance. The software ensures Windows and Mac users to abandon the DRM protection employed on each Apple Music song at quick speed. After launching the software, you can listen to your favorite music directly on the built-in Apple web player without downloading iTunes, which is a great convenience.
Additionally, MuConvert Apple Music Converter enables its dear users to customize parameter settings such as output format, output file path, etc. for converting the DRM-protected Apple Music tracks. Via the help of MuConvert, the DRM removal process will be simpler than ever before.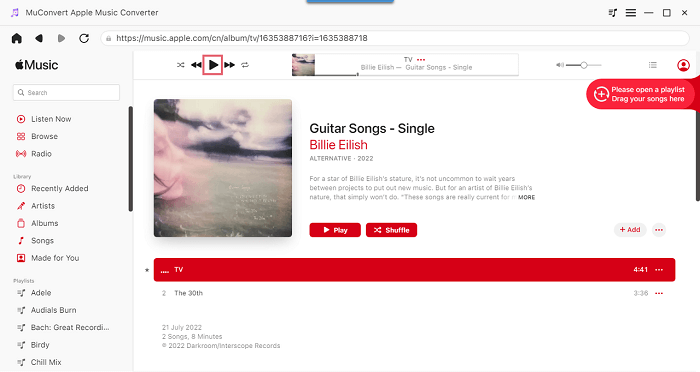 👍Pros

Plays songs on the embedded Apple web player directly;

Provides 10X faster conversion speed;

Available for bulk conversion feature;

Various of mainstream formats such as

MP3

, M4A, FLAC, etc.

Songs can be fully compatible on more devices for streaming such as iPod, Android tablet, MP3 Player, PSP etc.

Preserves the related ID3 tags such as title, artist, album, genre, album art, etc.

👎Cons

Free trial version only allows users to save 3 minutes of each song;

It is recommended to download your songs in Apple Music Library to ensure smooth conversion.

📌Price

 
MuConvert Spotify Music Converter
✨
Best for: Convert Spotify to MP3, M4A, FLAC, or WAV audio with nearly lossless quality
For Spotify, MuConvert also launches the MuConvert Spotify Music Converter that can help DRM removal work to be easier, and users are able to get free Spotify songs downloaded without hassle. Unlike other traditional Spotify Music Converter that requires copying and pasting the Spotify URL, MuConvert Spotify Music Converter embeds the web player inside the program, and users are only required to login their Spotify accounts and open a playlist for auto detection, which helps boost higher efficiency in Spotify songs DRM removal. 
With MuConvert Spotify Music Converter, users are able to enjoy a more convenient and efficient way to remove DRM from Spotify songs and convert the OGG streaming music to mainstream audio files like MP3, M4A, WAV, and FLAC. You will also find that the intuitive interface accelerates the speed of grasping how to use the software, too.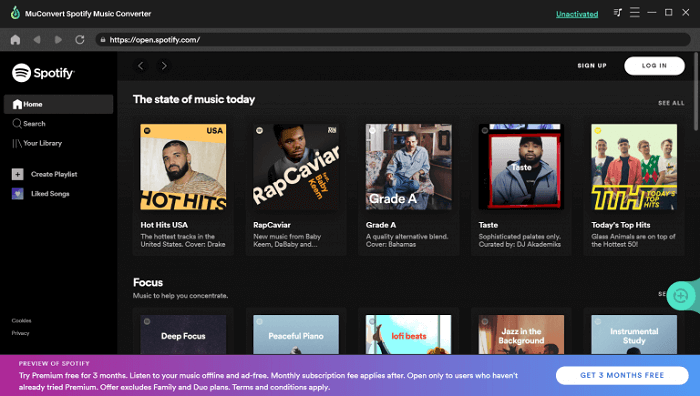 👍Pros

Provides 5X faster conversion speed;

Available for bulk conversion feature;

Preserves ID3 data with Spotify songs to enable more convenient music classification;

Keeps original quality after converting Spotify songs. The highest 320kbps can also be selected as output quality.

👎Cons

The free trial version only allows users to save 3 minutes of each song;

Cannot listen to Spotify songs while converting.

📌Price

 
2 Best DRM Removal Shareware for Audiobooks
Besides Apple Music and Spotify Music mentioned above, people also enjoy listening to audiobooks recently. In this case, Audible is another popular and frequent place where audiobook listeners prefer to locate books to listen to. Very similar to Spotify, audiobooks that you purchase from Audible or iTunes are also DRM-protected. In other words, the Audiobooks under DRM protection in formats such as AAX are only playable on its supported devices. 
MuConvert Audible Converter
✨
Best for: Convert and Organize Audible Audiobooks to MP3, M4A, FLAC, or WAV audio smoothly
MuConvert Audible Converter is specialized in Audible audiobook conversion, which allows you to remove DRM protection from the audiobooks you have purchased and convert them from AAX format to common MP3/M4A/FLAC/WAV audio in just a few clicks. The conversion speed is high and the whole conversion process runs smoothly. 
You can also find a built-in audiobook splitter to separate audiobooks by chapters, by a specific time length, or just split the book average. What's more, in terms of management and playback experience, Audiobook chapters can be completely preserved and MuConvert provides options to freely customize ID3 tags of your every Audible collection. In a word, MuConvert Audible Converter is definitely the one you can't miss.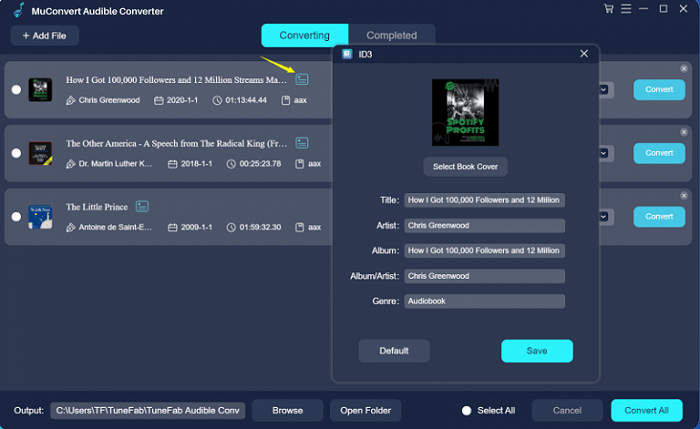 👍Pros

Preserves original sound quality with common output options such as MP3, M4A, WAV, and FLAC;

Provides 60X faster conversion speed;

Available for download and convert 2 Audible books to test its functions;

Keeps chapter info. and helps to organize your converted audiobooks with ID3 editor.

👎Cons

May create a large file size if the audiobook is really long length;

Only supports converting audiobooks from Audible.

📌Price

 

Single Lifetime plan: $34.99

Family Lifetime plan: $69.99
TuneFab iTunes Audiobooks Converter
✨
Best for: Convert iTunes Audiobooks to MP3, M4A, AAC etc. at a high speed without quality loss
TuneFab iTunes Audiobooks Converter lets you quickly convert iTunes audiobooks and podcasts to high-quality MP3, M4A, AAC, etc. formats as easy as adjusting the sound volume on your devices. With TuneFab, you can not only rip Audible audiobooks in a few clicks, but also rip Apple Music songs, iTunes M4P songs, and podcasts easily too, which enables you to keep the tracks forever even when the subscription expires or songs suddenly greyed out on Apple Music library.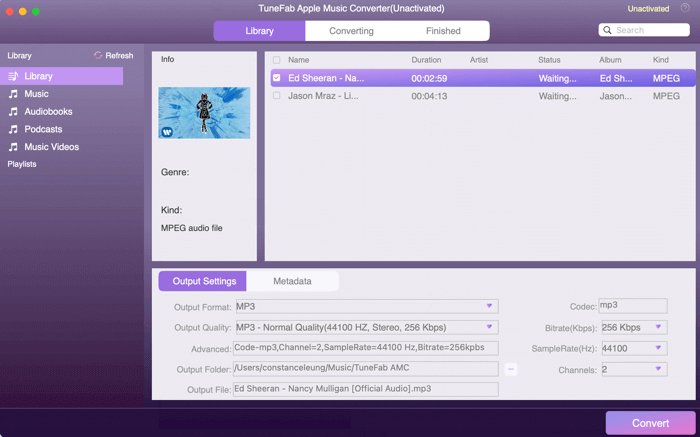 👍Pros

Clear and straightforward UI;

Remove DRM from imported Audible Audiobooks;

Convert tracks at 5X – 10X faster speed;

Diverse output formats are compatible with different devices: MP3, M4A, AAC, FLAC, AC3, AU, and AIFF.

👎Cons

The free trial version only lets you save 3 minutes of each audiobook converted.

📌Price

 
4 Top DRM Removal Tools for Playing Videos
Except for the streaming music, some video resources would also be added to the DRM protection for encrypting the content and prevent them from being used illegally. Thus, this section will also introduce the top 4 DRM removal software to unlock protection added to videos.
✨
Best for: Convert iTunes M4V movies/TV shows/music videos to MP4 videos with original quality preserved
The on-sale iTunes videos are absolutely the representative streaming content that is encrypted by DRM tech. Such DRM removal can easily be completed with the help of MuConvert M4V Converter, a professional software providing convenient service to unlock the DRM protection applied on iTunes videos. Even for the original 5.1 Dolby sound, AD tracks, subtitles, MuConvert M4V Converter will preserve during the DRM ripping process. Users are able to get the DRM-free iTunes videos in original quality for enjoying the same quality playback flexibly.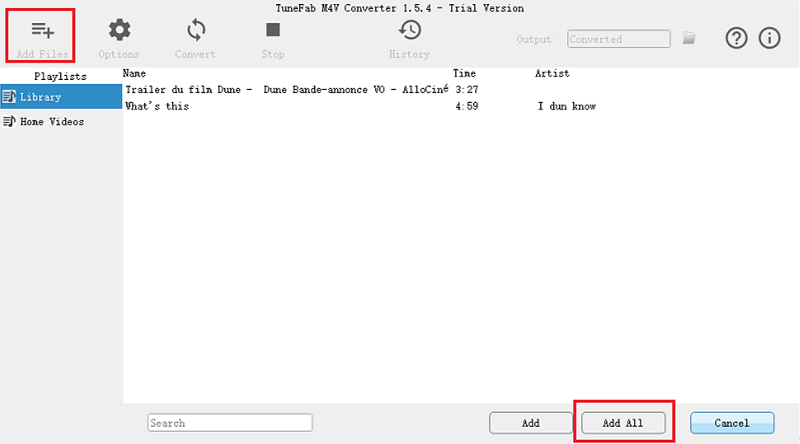 👍Pros

Both purchased or rented iTunes movies, TV shows, and music videos supported;

original Dolby Digital 5.1 track (AC-3 audio track), multilingual subtitles, closed captions (CC), and audio descriptions (AD) preservation;

Full HD 1080p, 720p for encoding converted videos;

Batch converts iTunes videos simultaneously to save time waiting.

👎Cons

Limitation set in using the free version.

📌Price

 

Single Lifetime plan: $44.95

Family Lifetime plan: $79.95
For people who want to digitalize Blu-ray or DVD collections but get frustrated by the DRM encryption and region code problem, VideoByte BD-DVD Ripper will be your best choice. It can help you to rip the DVD/Blu-ray movie disc into a digital video format with high output quality for flexible watching. Meanwhile, the audio tracks and subtitles can be well-preserved in the converted video file. With the advanced decoding and decrypting technology, this program can help you convert DVD & Blu-ray disc/folder/ISO to digital files at a 1:1 ratio.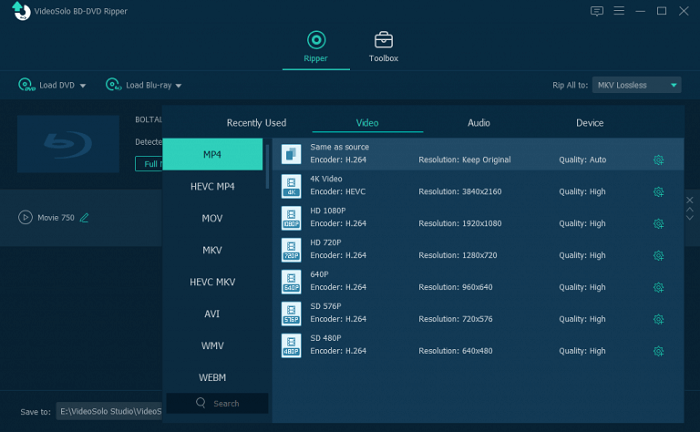 👍Pros

Available to rip Blu-ray/DVD discs of all types;

Provides 6X faster speed;

Supports 300+ mainstream video/audio output formats without quality loss;

Preserves all subtitles and audio tracks.

👎Cons

The free trial version only lasts for 30 days.

📌Price

 

Single Lifetime plan: $49.95
Aimersoft DRM Media Converter
The freeware Aimersoft DRM Media Converter is a Windows software provided for users to remove DRM protection and convert the streaming content to mainstream formats like WMV, WMA, M4P, M4V, M4A, M4B, or ASF. From the conversion control and performance, Aimersoft DRM Media Converter can provide the best services to users. Thus, this is also a trustworthy DRM removal software you can try.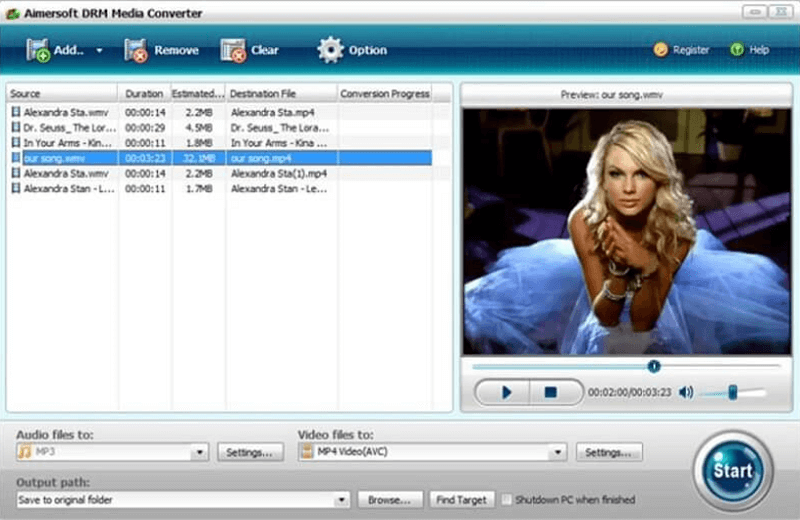 👍Pros

Intuitive functionality to remove DRM from media;

Process multiple tasks with the multi-threaded conversion feature;

Available for parameters adjustment;

A variety of mainstream formats are supported.

👎Cons

Only Windows version available;

Haven't upgraded for years.

📌Price

 
Sharing similarities with MuConvert, DRmare M4V Converter targets at providing the DRM removal services for the encrypted iTunes videos. Mac and Windows users are able to use the software for converting iTunes protected videos to MP4 and other mainstream video formats for having the same quality video streaming locally on any device. For any type of iTunes videos such as movies, TV episodes, podcasts, etc., DRmare M4V Converter is able to convert for you.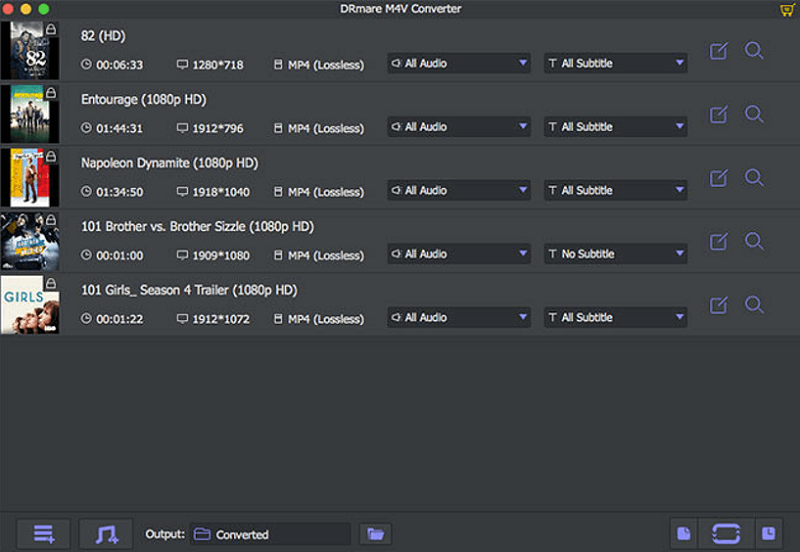 👍Pros

Clean interface and intuitive functionality;

HD 1080p resolution supported;

Accelerated conversion process;

A variety of mainstream formats such as M4V, MP4, MOV, AVI, etc. are supported.

👎Cons

Only 1 minute of each iTunes video can be converted under the free trial.

📌Price

 

single-user license: $44.95
2 Top DRM Removal Software Free for eBook
Another type of content that would be applied DRM tech as a way to protect the copyright should be eBooks. When eBooks are locked with DRM, they cannot be downloaded to listen back at any time. For students, this would be pretty inconvenient. Hence, there is two DRM removal software recommended here to unblock the DRM protection on eBooks for bringing you a better eBook reading experience offline.
ePUBee is a DRM removal freeware that works smoothly to unlock the DRM protection added on ebooks in ePUB, PDF, AZW, AZW3, Mobi, and Prc formats. With ePUBee, you get a free way to enjoy ebooks offline in a more convenient way.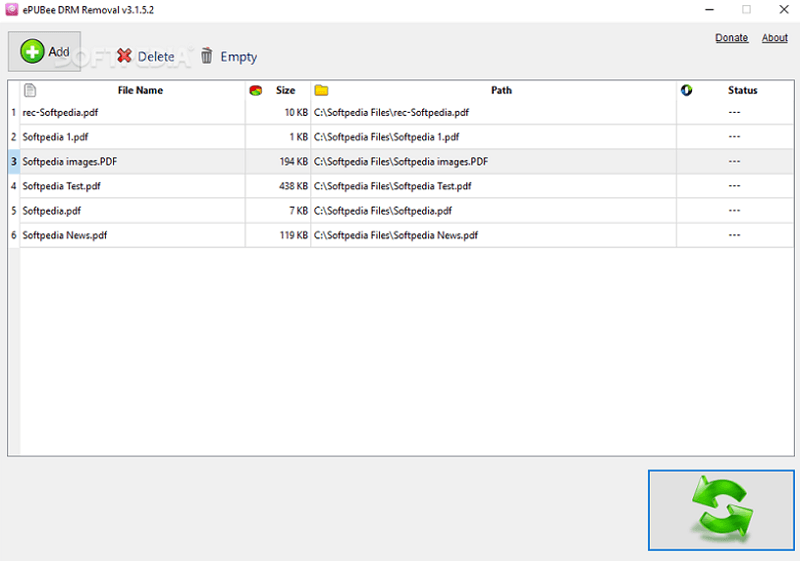 👍Pros

Easy-to-grasp using process;

Absolutely free for removing DRM from eBooks;

All mainstream eBook formats are supported as inputs.

👎Cons

Not equipped with a responsive support team when problems occur.
Calibre provides free service for Windows, Mac, and Linux users to manage eBooks in a convenient way. It provides the tools for people to create, edit, read and also convert DRM eBooks to free digital formats for reading or listening. However, compared to other DRM removal software, Calibre doesn't provide such service itself, but users need to install other plug-ins to achieve the DRM removal goal.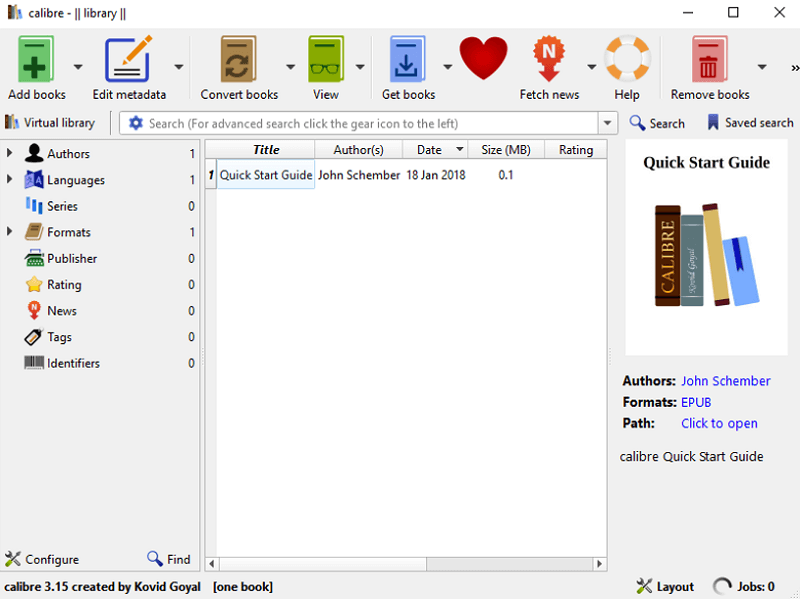 👍Pros

Absolutely freeware requiring no charge;

Multi-functions provided to manage eBooks offline;

Easily convert eBooks to mainstream formats for transferring and offline reading.

👎Cons

Extra plug-in installation is required to remove DRM from eBooks.
Related Information About DRM Removal
Here provides extra info about DRM removal as some people consider knowing more about this digital content protecting tech. Let's see.
What is DRM? How does DRM affect us?
The full name of DRM refers to Digital Rights Management, which is an encryption tech used to protect online streaming media, such as music, videos, eBooks, and so on. When the media content is added DRM, people are not available to download or transfer them casually. This is a way to protect the content from being used illegally and causing any copyright issues. Therefore, for us, the DRM-protected media content, such as Spotify or Apple Music songs can't be downloaded for offline playback as we wish. Instead, we all need to pay for subscribing to their official plans to remove such limitations.
Can DRM removal software be used for commercial purposes?
Absolutely not. This DRM removal software is only developed to help people manage and enjoy their favorite streaming content personally. If anyone uses such software for commercial purposes without gaining permission from the authors who create the music, video, or eBook, he/she would be accused of breaking the copyright law. Hence, for using a DRM removal software, you need to make sure you just use it for personal purposes and will not make the content run into any commercial usage.
DRM removal tools do help us to enjoy streaming media in a more convenient way. With such software tailored for different types of steaming content, we are absolutely getting the great way to make our digital life to be more convenient and colorful. Just enjoy the benefits brought by these 10 best DRM removal software! They deserve your try.