How to Convert M4P to M4A on Windows/Mac [4 Ways]
For the purchased songs in iTunes Library, audio in M4A format requires less memory, boasts higher sound quality than audio in M4P format, and is even compatible with some non-Apple devices or media players. However, music purchased as early as 2009 is set to be downloaded and stored in M4P format, which can not deliver benefits like M4A (launched on iTunes after 2009).
So if you want to enjoy songs from iTunes on multiple devices, the best way for you is to convert M4P to M4A. But this conversion is not possible with your bare hands. You need to seek some technical support, like a reliable M4P to M4A converter. Hence, in this blog, 4 workable music converters or recorders will be recommended to you. With their help, you can have a seamless enjoyment of iTunes songs on different devices.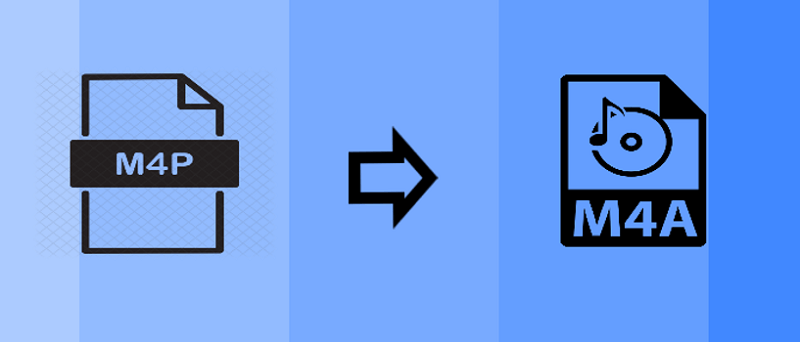 Method 1: Convert M4P to DRM-free M4A via Audio Converter
Speaking of the top performers in changing M4P to M4A, MuConvert Apple Music Converter must be the one that matches reality.
This top-rated program is like a panacea, compatible both with Windows and Mac, which not only can remove DRM protection from M4P, but can also enable you to decode and download these M4P songs to M4A and other more universally used audio formats, like MP3, WAV, FLAC, etc. In this case, multi-device offline playback and saving are like a piece of cake. Better yet, MuConvert Apple Music Converter is able to ensure ultra-high quality output of M4A music format. With no sound quality loss and low memory usage, you can get the most convenient and immersive musical enjoyment with the countable M4P to M4A converter.
Features of MuConvert Apple Music Converter
Available to convert all protected Apple Music to mainstream audio formats, such as MP3, M4A, WAV, and FLAC;
Auto-analyze songs directly in the built-in Apple web player with great convenience;
A large batch of tracks can be converted simultaneously to save a lot of time;
Original music quality and ID3 info preservation;
Up to 10X faster conversion speed at maximum to boost higher music ripping efficiency;
Customizable audio parameters such as Bitrate, Sample Rate, and Output Format.
Now, let's preview this brief guide to grasp how you can convert M4P to M4A via the help of MuConvert Apple Music Converter. The converter will be easy to operate, and you only need several easy clicks to complete the M4P to M4A conversion process.
STEP 1. Freely Install MuConvert Apple Music Converter
Currently, MuConvert Apple Music Converter is available on Windows and Mac systems. Hence, based on your device system and install the right version properly. The free trial is provided for everyone to try.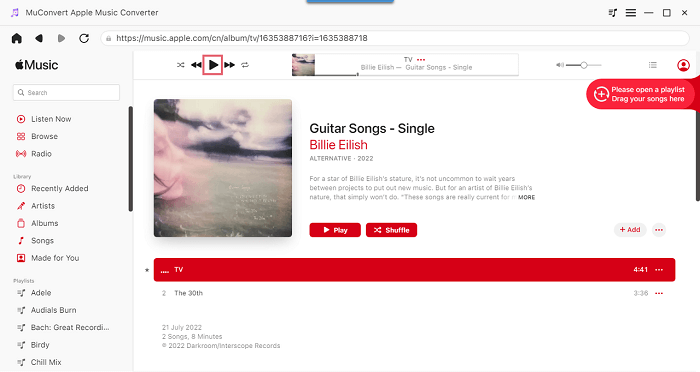 NOTE: You need to log in to your Apple ID to successfully enter first. If you do not import your Apple ID, you will not be able to use MuConvert's built-in Apple Music Web Player.
STEP 2. Auto-analyze Playlist and Select M4P Songs
After entering your Apple ID, you can successfully access the Apple Music Web Player. Before the official music selection and conversion, you need to sync iTunes songs to your Apple Music. After that, find synchronized songs or playlists and drag and drop them to the red "Plus" button. The converter will parse music automatically.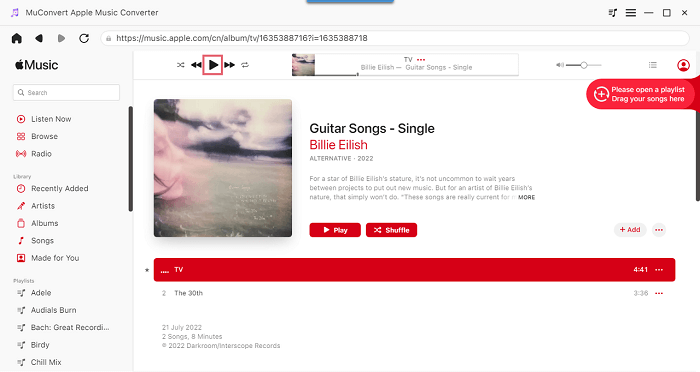 STEP 3. Select M4A as Output Format and Edit Other Settings
Move to the "Output Settings" section, you are available to select M4A as the output format here. Additionally, it is able to adjust Bitrate and Sample Rate for the output songs. Besides, the output folder can also be altered for preserving the converted songs.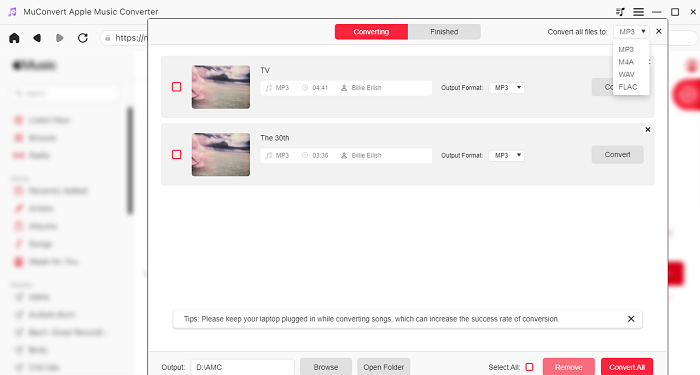 STEP 4. Convert M4P to M4A
When all is ready now, directly hit the "Convert" icon, and the selected M4P songs will be converted to M4A audio files in no time. You just need to wait patiently for the conversion to be completed.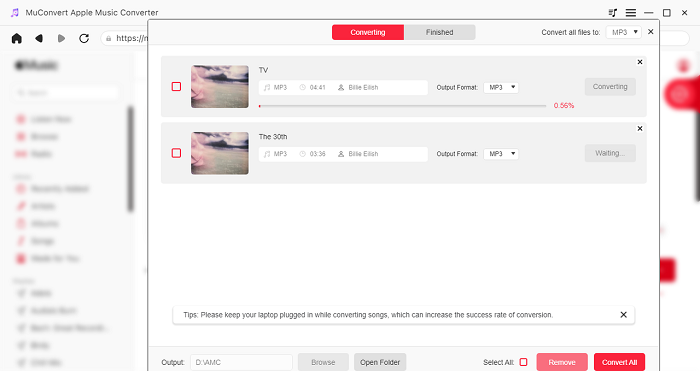 Method 2: Convert M4P to M4A with iTunes Match
Back in 2013, two or three years after Apple adjusted the download format for songs purchased on iTunes to M4A, Apple launched the iTunes Match service in iTunes Store. Simply put, you can redownload M4P songs to M4A audio files using the service, but this redownload service will require $25/year. If you have subscribed to this service, you can refer to the steps below to try to change M4P to M4A.
Step 1. Delete the original M4P songs kept in the iTunes library to proceed with the redownload process.
Step 2. Launch iTunes Store, click on the "Purchased" tab, and find the "Music" option.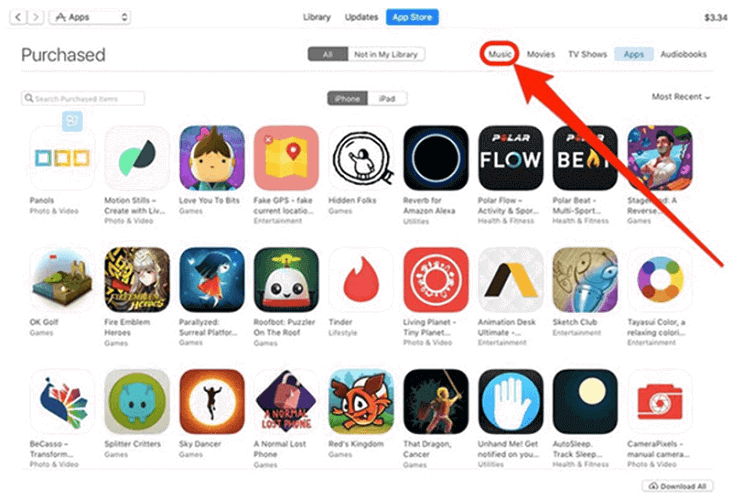 Step 3. Select the songs you want to change to M4A format.

Step 4. Confirm your selection and tap the "iCloud Download" button. Then the songs will be downloaded and saved in M4A format.
Method 3: Convert iTunes M4P to M4A by Recording
Except for format conversion, music recording tools can also do you a great favor. And considering easy operation versatile function, and advanced settings, VideoSolo Screen Recorder is a music recording tool you should give priority to.
VideoSolo Screen Recorder is an all-in-one recorder that caters to all your recording activities on your computer, especially audio recording. With 6 audio formats supported – MP3, M4A, WMA, AAC, WAV, and FLAC – you can control the M4P to M4A recording without hassle. What's more, this industry-leading desktop recording tool is equipped with a noise cancellation feature, allowing you to get much clearer music quality. And the following guide will show you have M4A songs recorded via VideoSolo Screen Recorder.
Step1. Download VideoSolo Screen Recorder and launch it, then choose "Audio Recorder" to begin the recording process.

Step2. In order to avoid unnecessary noise, you can cancel recording voice from the "Microphone" and turn on the "system Sound" to adjust the volume. Moreover, you can turn on the "Noise Cancellation" button to minimize the ambient sound recorded.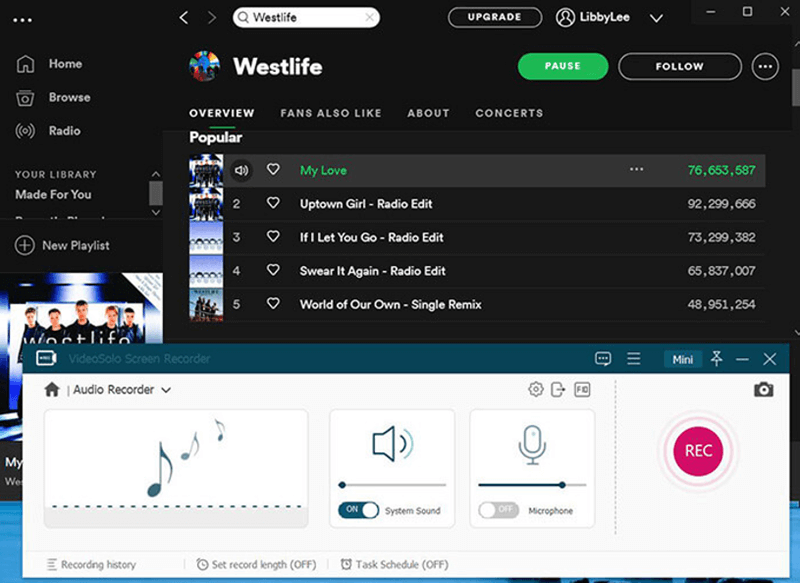 Step3. After all the settings are finished, you can play Apple Music and click the "REC" button to start recording.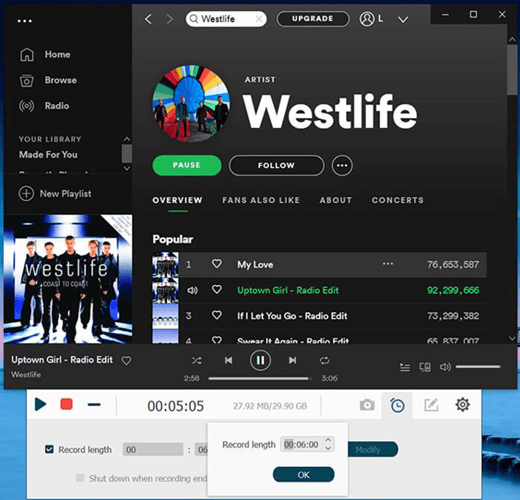 Step4. If you finish recording, click "Stop" and choose M4A as the output format. Then you can listen to M4A music.
Note: VideoSolo Screen Recorder does not support batch recording and output. To save more time and effort, the batch download and download speed acceleration features of MuConvert Apple Music Converter can help you a lot.
Method 4: Convert M4P to M4A Online Free
If you don't want to clutter up your computer with software downloads, you can attempt to convert M4P to M4A online. And FileZigZag is recommended to you here.
FileZigZag, a web-based service, is a free file converter with a music conversion feature. With no more software and a sophisticated engine, this online tool supports music file conversion from many mainstream music providers, iTunes and Apple Music included. In this case, it can enable you to manage the M4P to M4A conversion with smooth performance. And the specific steps below will show you how FileZigZag converts M4P to M4A.
Note: FileZigZag may encounter unstable performance and conversion failure as a non-professional online conversion tool. In this case, MuConvert Apple Music Converter can be your fail-safe.
Step 1. Launch your web browser and go to FileZigZag's M4P to M4A converter. Then, just drop the M4P files to the interface of the converter to upload them.
Note: You can only convert 10 files each day, and each file size of the song can not exceed 50MB.

STEP 2. When the M4P songs are uploaded to the converter, select M4A as the output format in the "Convert to" section.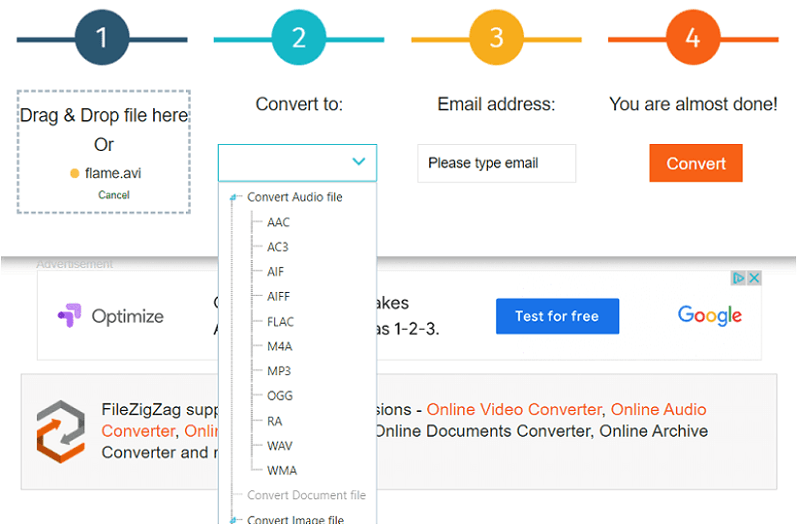 STEP 3. Also, enter your email address to receive the converted files.
STEP 4. Simply hit the "Convert" icon, and wait for the converted M4A songs to be mailed to your mailbox later. Then you can download them for preserving on your device.
FAQs About Converting M4P to M4A
Q1: Is M4P the same as M4A?
M4A and M4P look quite alike, but actually, they have big differences.
M4P is developed by Apple Inc and is applied to encode the on-sale songs in iTunes Library. Protected by DRM-copyright, M4P is less compatible because it is only available on Apple devices such as iPhone, iPad, iPod, and so on.
M4A is encoded with both AAC and ALAC methods. Normally, M4A files are not added with DRM protection, and it has higher compatibility, which can be supported on almost all players and devices.
All in all, the core differences between M4P and M4A formats can be concluded as the points shown in the following table:
M4P

M4A

Copy Protection

Yes

Both DRM-free and DRM-protected files exist

Where to Use

Purchased Songs in iTunes Store

The DRM-protected M4A songs

come

from iTunes Store, and the others are normally copyright-free

Device Compatibility

Apple devices

Almost all devices and players
Q2: How to remove M4P protection?
Generally speaking, the M4P music format is encrypted by DRM protection and can only be removed by some technical software or skills. Luckily, with no more IT knowledge learned, MuConvert Apple Music Converter can help you remove DRM protection from M4P for its built-in conversion feature.
Like MP3, M4A, and MAV, there are some audio formats that are not encrypted because they are put into use earlier and are more commonly used. Therefore, as soon as you use MuConvert Apple Music Converter to convert M4P to these more compatible audio formats, the encryption attached to the M4P format will naturally be removed.
When you know exactly the differences between M4P and M4A formats, you know why some people desire to convert M4P to M4A – for enabling higher compatibility for playing back the songs on more devices, and also getting the DRM-free audio files for preservation and flexible transfer. To convert M4P to M4A, MuConvert Apple Music Converter will be an ideal option for you. It can not only help you convert different Apple Music to common formats with up to 10x access speed, but also ensure the quality of music output. So don't hesitate to download it to enjoy the music you like.