If you used to use iTunes to download music (usually before 2009), you must have stored some purchased songs in M4P format. Apple introduced Digital Rights Management (DRM) to protect their songs, which restricted playback to iTunes/Apple Music and authorized devices linked to the relevant Apple ID. Clearly, the essential solution to regain control over your music is to remove DRM from these M4P files.
The good news is that there are specialized DRM removal tools designed to simplify this process. In this article, we'll introduce two reliable options to help you get M4P DRM removal to unlock protected music. Keep reading to discover how.
1. Remove DRM from M4P Files via MuConvert
Given the special nature of DRM protection, many of the online tools you may have used in the past will fail at this point. The reason is simple, most of them can just help you convert unprotected files, but cannot really unlock the protection as you wish. In this case, maybe a piece of professional converting software is what you are looking for.
From the aspect of security, performance, and reliability, MuConvert Apple Music Converter will be first recommended, which is an excellent DRM removal program for Apple Music with multiple sparkling features. Since its launch, it has attracted a large number of loyal users for processing the DRM removal manipulation and exporting DRM-protected Apple Music to popular audio encoders such as MP3, M4A, WAV, and FLAC.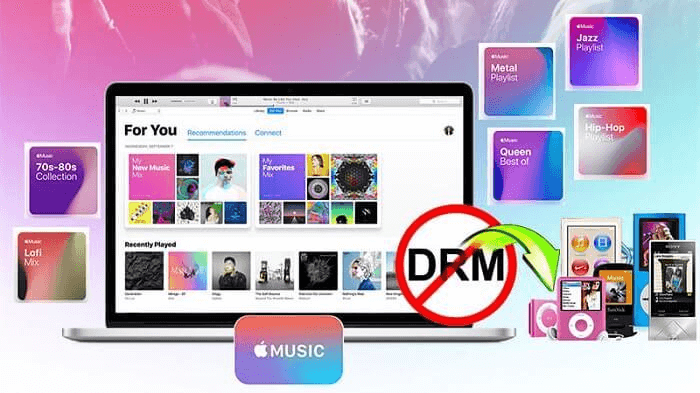 Let's go further to preview the outstanding qualifications it has to benefit the experience as one of the best DRM removal tools.
⭐ Key Features of MuConvert Apple Music Converter
Lossless Conversion: the program can highly maintain the conversion to enable original sound quality to export the converted songs, in that people can enjoy the same streaming experience offline.
Speedy Conversion Performance: high-speed performance enables the program to support up to 10X faster conversion for getting the items converted in an effortless way.
Multiple Output Formats: unlike the official membership, the downloaded songs will be kept forever in common formats including MP3, M4A, WAV, and FLAC without expiring.
Retain ID3 Tags for the Songs: during the converting process, the original ID3 tags will be retained accompanied by the downloaded items for checking back conveniently.
Customized Parameters: the advanced parameter settings assist people in adjusting the Bitrate and Sample Rate casually for exporting the music to personal preferences.
In the following, we also walk through the manipulation of MuConvert Apple Music Converter for pre-checking how we can utilize the program to remove DRM from M4P songs in batches.
Step 1. Install and Launch MuConvert Apple Music Converter
Install MuConvert Apple Music Converter and launch the program to log into your Apple ID. Recently, MuConvert has an update that you can directly play your songs in the built-in Apple Web Player without launching iTunes or Apple Music App.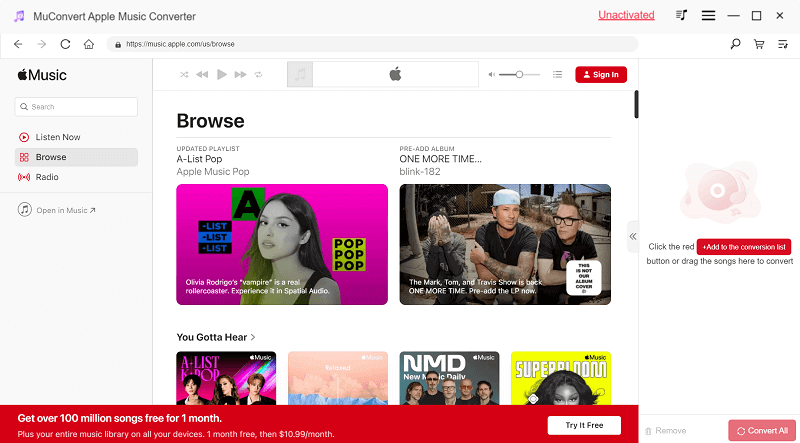 Step 2. Auto-analyze Playlists and Select M4P Songs
After successfully entering the Apple Web Player, you can find the "Add to the conversion list" bar to directly drag and drop your selected M4P songs from the list.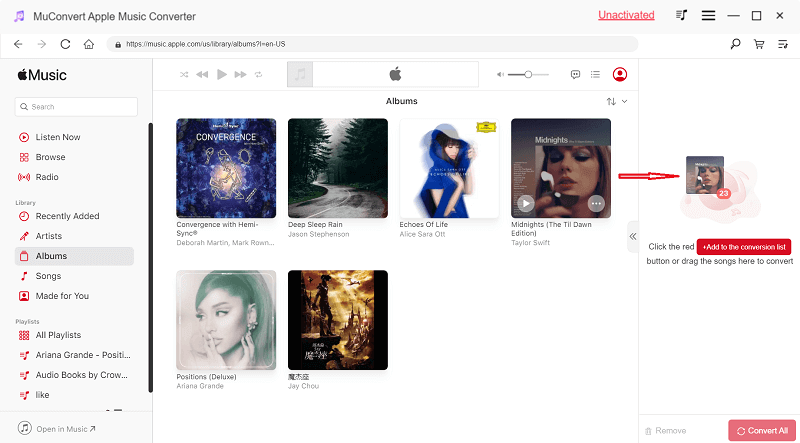 Step 3. Configure Output Parameters
Before beginning removing DRM from the M4P songs, you can go to "Preferences" to reset the output settings. Under "General", you can choose the downloading path to save.
General Setting on MuConvert Apple Music Converter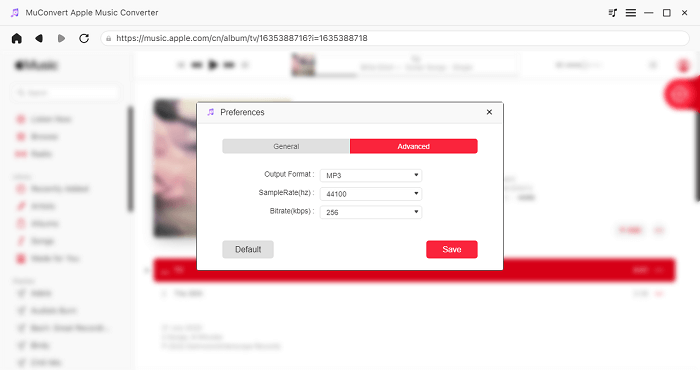 Advanced Settings on MuConvert Apple Music Converter
When all the settings are completed, it is time for the final process! Simply tap on the Convert button to proceed to remove DRM from the protected M4P songs and save them in popular audio encoders now! The conversion will be completed within a short moment, and here you can also change the output settings such as formats and bitrate for each single song.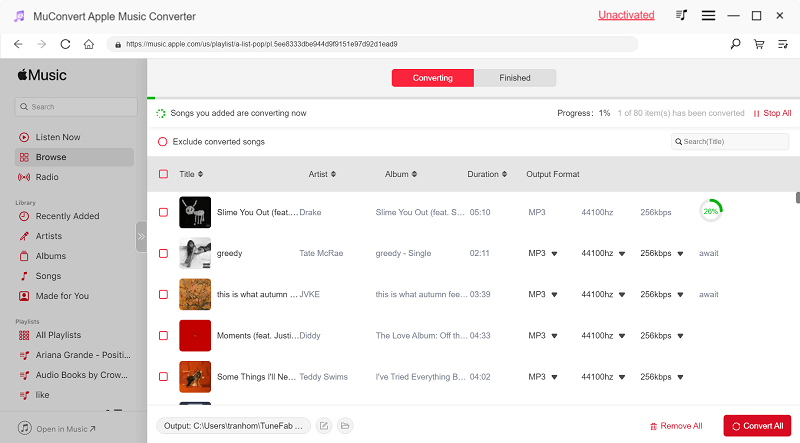 As the conversion is completed, you can check the history by turning to the Finished module. To access the output location, directly move your mouse to the right of each song and click the "File" icon.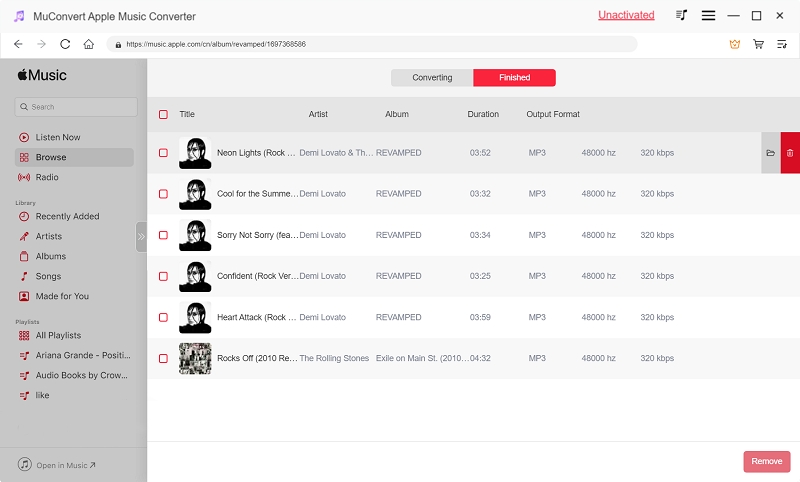 2. Get M4P Files DRM Removal via iTunes
If you don't want to install an extra program to process the M4P DRM removal, you can use iTunes as an ideal alternative option. However, to proceed with such a method, you ought to prepare the following materials ahead of all:
iTunes App on your computer
A blank CD disc
External CD hard drive (for computers without an interface hard drive to read the CD disc).
When such things are well prepared, you can scroll down to proceed with DRM removal to get unprotected iTunes M4P songs now.
Step 1. Insert the blank CD into your computer for iTunes to detect it.
Step 2. In iTunes, create a new playlist for storing all the iTunes M4P songs you wish to unlock the DRM encryption. Subsequently, right-click on the playlist and select "Burn Playlists to Disc".
Step 3. After burning the M4P songs to the CD disc, put it back on the drive for importing to the computer again.
Step 4. Return back to iTunes and go to "Edit" > "Preferences" > "General" > "Import Settings…to" to select MP3 Encoder as the Import Using option.
Step 5. Confirm "OK" and the M4P songs in the CD disc will be ripped to DRM-free MP3 files for storing on your computer again.
💡 NOTE
Since 2009, iTunes, while still available on Windows computers, has been phased out on macOS and replaced platforms such as Apple Music. If your device is not compatible with iTunes, you can use other tools like MuConvert Apple Music Converter to download protected music in a common format compatible with most devices.
3. FAQs About Removing DRM from M4P
Still have some questions surrounding the M4P DRM removal manipulation? See the answers to these FAQs to have a clearer understanding now.
Q1: Is It Able to Remove DRM from M4P Online?
Currently, most DRM removal tools are developed in the form of a desktop program. It is harder to discover online tools to remove DRM from M4P songs without third-party programs installed. You may have come across online converters that claim to remove DRM from M4P files. However, in our tests, none of them were able to accomplish this task. Instead, they merely converted unprotected files to the desired format, and nothing more.
We can anticipate the development of such M4P online DRM removal tools in the future. However, for your current needs, the best solution is to use a professional computer program to help you obtain your Apple Music as unlocked local files, and MuConvert Apple Music Converter will be the tool you require.
Q2: Is It Legal to Remove M4P DRM?
As DRM is utilized for protecting the copyright of the media content, it would be illegal to remove Apple Music DRM when you consider using the songs or audiobooks for second-selling or other commercial purposes. However, if you just remove the DRM encryption to have a more enjoyable playback by yourself after purchasing the songs, it would be legal because you are not causing any loss to the original authors.
Q3: Can I Get Unprotected M4P Music from iTunes?
Unfortunately, no. DRM protection is a form of digital copyright restriction that iTunes adds to its content, which results in all files being rendered in the M4P format only after output and can only be played in iTunes or on a platform authorized by Apple, such as QuickTime Player on Mac computers.
Therefore, to get unprotected iTunes songs, you can use a third-party DRM removal tool like a MuConvert Apple Music Converter. It can assist you in converting DRM-protected M4P files into a format like MP3 that doesn't have DRM restrictions, and then you can transfer them to any device you prefer for free offline playback without worries.
Final Words
It won't be tough to manipulate the DRM removal with the effortless and professional program, MuConvert Apple Music Converter. In addition, you can also select the free solution, which is to use iTunes for proceeding to remove DRM from the protected iTunes M4P songs. Both options allow people to get rid of the DRM encryption for enjoying iTunes songs on a freeway. Try them and bring them free to your music journey now!
Convert Apple Music to MP3 Losslessly
Remove DRM from Apple Music songs and convert them to MP3 without quality loss.