How to Get Spotify Premium for Free [2023 Ultimate Guide]
Spotify provides premium plans so that users can enjoy advanced services for streaming Spotify music in a more enjoyable way. For example, shuffle the playlist, download Spotify songs for offline listening, and remove the ads appearing under the free plan. However, Spotify premium is not a one-time purchase, you need to renew the subscription to continue using the premium features.
Luckily, for those who desire a way to get Spotify premium free forever, this blog collects the 7 best tricks for you. Now, let's get down to the blog and find the right way to premium download feature.
A Comparison of Different Methods (Pros & Cons)
Methods to Get Spotify Premium Free

Pros

Cons

 

Use MuConvert Spotify Music Converter

Download Spotify songs to audio files to keep forever in one-shot

More stable and secure to use

The free trial is only available for a 3-minute conversion

Use tools available for mobile devices

It's free to get Spotify Premium features

 

The security of the app is not guaranteed

The app and your Spotify account have the risk of being banned

It's somehow complicated to install the tools

Get Spotify Free Trials or Free Premium Account

 

 

You cannot use the free trial anymore if you have already gotten one.

You need to remember to cancel the subscription

You can only use Spotify free trials or a free premium account within a limited time
Best Way to Enjoy Spotify Premium Features Forever 🔥
Even though Spotify premium provides more enjoyable services to stream Spotify music such as offline playback, it still has limitations. For example, users are only allowed to play the downloaded Spotify songs within the Spotify app, while they cannot play them on other media players that they like.
To keep Spotify's premium features forever, even with accessibility to play songs from Spotify on other devices and players, an easy-to-grasp software,
MuConvert Spotify Music Converter
is able to help. It provides the
Spotify songs downloading
service for both Spotify free and premium users to keep their favorite songs in mainstream formats such as MP3, M4A, FLAC, or WAV with original quality. Other features of this program are shown below.
Mainstream Output Formats – MuConvert Spotify Music Converter can help you convert and download Spotify music, playlist, albums, podcasts, etc. to more compatible formats, like MP3.
High Efficiency – This program offers you a batch conversion feature to download music from Spotify at up to 5X faster speed, which can save you a lot of time. What's more, it offers you a built-in Spotify web player that you can directly drag and drop the songs you like to convert without installing iTunes.
Reset Output Parameters with Original Quality – You can flexibly customize the output parameters, like Bitrate and Sample Rate, to the highest 320kbps and 44800hz, which are the original quality settings of the converted songs.
ID3 Tags Preservation – After finishing downloading Spotify content, you can keep the music forever with the ID3 tags kept, which can help you with better management.
Here is how to download Spotify songs via MuConvert Spotify Music Converter:
STEP 1. After installing MuConvert Spotify Music Converter, launch the software and enter the built-in Spotify web player for login.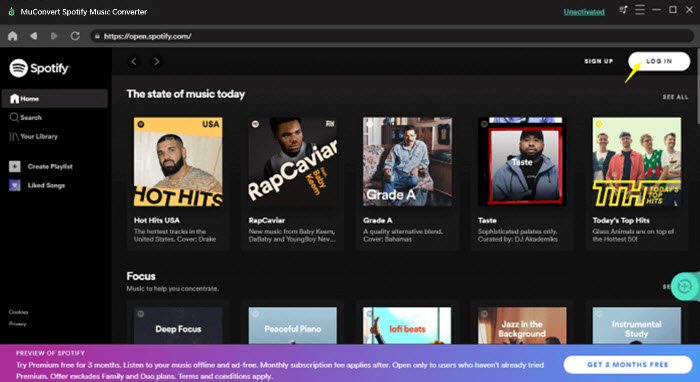 STEP 2. Open a Spotify playlist or album. Then, hit the "+" icon to start converting the song list.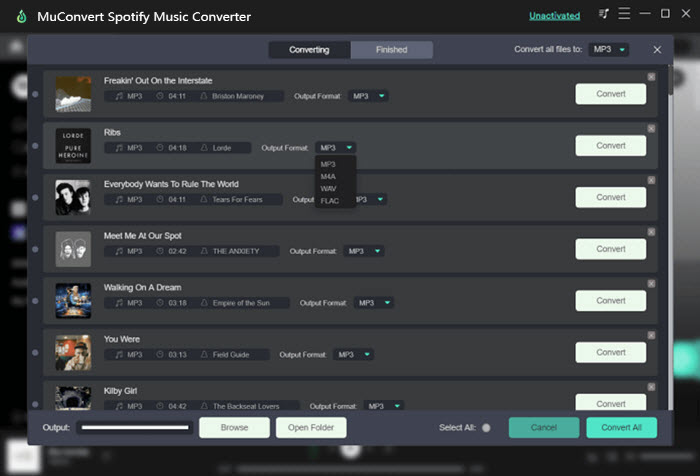 STEP 3. Select the Spotify songs you want to download. And also choose an output format under the "Convert all files to" menu.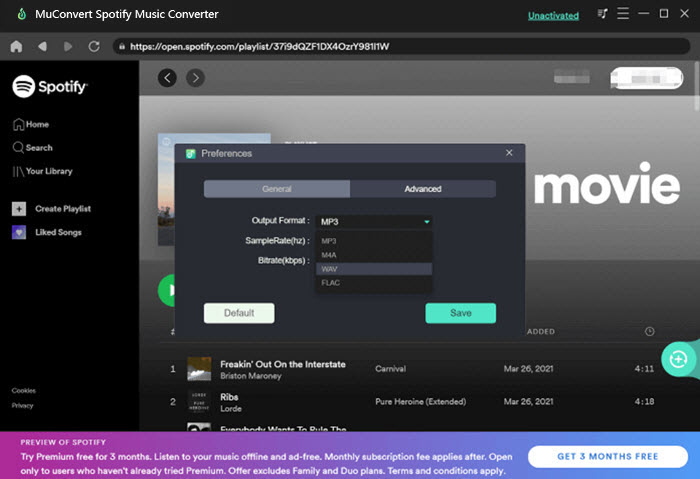 STEP 4. Start downloading Spotify songs by hitting the "Convert All" icon.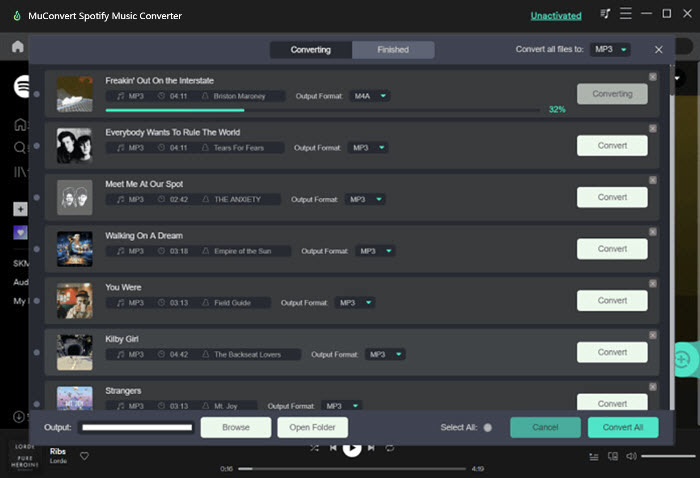 The Spotify songs will all be downloaded to your computer as local audio files. Unlike Spotify premium, which will remove the downloaded songs when it expires, using MuConvert Spotify Music Converter is able to preserve the downloaded Spotify songs forever offline.
How to Get Spotify Premium Free Without Jailbreaking on Mobile Devices
Due to Apple products' special performance, it may be hard for iPhone users to find a way to enjoy Spotify premium for free. However, there are still ways available for you. Cydia Impactor, which is developed by saurik, is a GUI tool that can work with your iPhone devices to get Spotify Premium free. The operation to use it may be a little complicated, you should read the steps below carefully.
STEP 1.
Connect your iPhone and your PC with a USB. Then download
Cydia Impactor
and the Spotify app on your computer.
STEP 2. Decompress the file (CydiaImpactor Download) into a new folder and then find this app to open it.
STEP 3. Drag the Spotify app to Cydia Impactor, then click "Start" to get Spotify Premium free.
You will be asked to use your Apple ID to confirm your identity, just enter your Apple ID number and then click "Enter".
STEP 4. After entering your Apple ID, tap "OK", then the Spotify Premium app will appear on the first page of your home screen.
STEP 5. Open this app, and there will be the Untrusted Developers Message, you are supposed to go to Settings > General > Profiles to trust the developers, then you can successfully get the Spotify Premium free.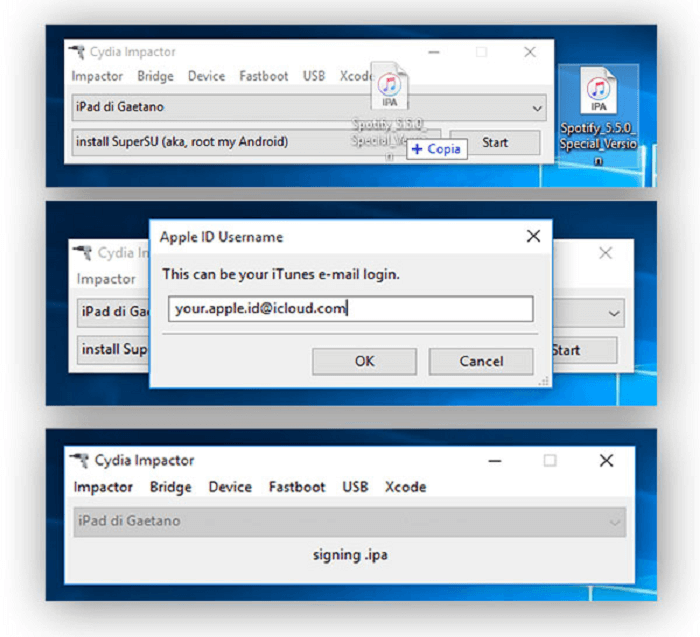 For Android users, you can get Spotify Premium for free with the Spotify mod apk. It's a workable tool that helps you download music from the Spotify playlist with unlimited skips and ad-free features. And you will be allowed to use the seek bar too. Follow the detailed steps to begin.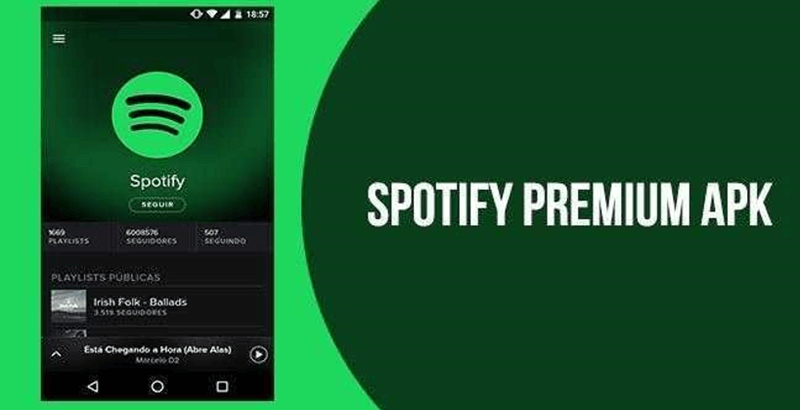 STEP 1. Likewise, you should uninstall the Spotify app from your Android device first.
STEP 2.
Use this link
to download another modified Spotify installation package. You need to use a file explorer to unzip the file after downloading the apk file.
STEP 3. Install the app to your Android device and launch it to log into your account. Then you are able to enjoy the Spotify Premium features just like using Spotify premium.
If the premium features don't show up, then you can close the app and then re-install it once or twice to activate the premium.
How to Get Spotify Free Trials or Free Premium Account
Depending on the type of your device, you can choose any of the methods described above to get free Spotify Premium. Of course, there're other ways to get a free Spotify premium and all you need to do is to get a free Spotify premium account. Here are a few official ways to get a free Spotify account.
Get Spotify Premium Free with Spotify Free Trial
For new Spotify users, it would provide some free trial promotions to attract users to subscribe to the premium plans. The free trial days would be changed based on Spotify's promotions plans, such as
30 days, 60 days, 3 months, and even 6 months (usually it supports 30 days).
So, to get Spotify premium free, the best way is to start with the Spotify free trial. Once you start it, you are able to
cancel the subscription
before the renewal date. Then you can enjoy the premium features without paying a penny.
NOTE: Make sure your account is a new one to use the Spotify music streaming service.
STEP 2. In the upper right corner of the webpage, click "Premium" to find "START FREE TRIAL".
STEP 3. Click "Sign Up" to create a new account, then pick a payment method and fill in the blank with the information required. And then you can start the 30-day trial of Spotify Premium now.
Be an AT&T Unlimited Customer
If you are also an AT&T unlimited customer, you are actually getting a free way to use Spotify premium! Spotify has cooperated with AT&T for providing such users to enjoy Spotify premium without any fee required. Hence, if you also need to use AT&T daily but haven't applied for Spotify premium through this path, follow the steps here to do it:
STEP 1. Create an AT&T WatchTV account if you haven't gotten one yet.
STEP 2. Select Spotify premium and hit the "Confirm choice" icon to get a premium plan for free.
STEP 3. Login to your Spotify account and submit "I agree" to start using Spotify premium subscription without paying a penny.
If you have PayPal, then the way to get a free 3-month Spotify premium trial that is well-suited to you. If you pay with PayPal when you buy a Spotify Individual Premium plan, then you can get a 3-month free trial on Spotify. If you are eligible to buy this, you need to buy it before September 15, 2023, or the promotion will end!
Similarly, you can cancel your subscription at any time during the 3-month Trial Period. If you do not cancel your subscription before the end of the 3-month trial, you will automatically become a recurring monthly subscriber to Spotify Premium and be charged for the monthly price ($9.99).

STEP 2. Click the Get Offer button and sign in with your PayPal account. (If you don't have PayPal, you can sign up for one first)
STEP 3. After signing in, you can get Spotify Subscription free through PayPal.
NOTE: This promotion is valid for users with an active US account.
Get Walmart Plus Membership
From March 8, 2022, Spotify and Walmart+ are working together to provide new and existing Walmart+ members with a six-month trial of Spotify Premium, valued at $60. And before March 6, 2023, those new and existing Walmart+ members who have never tried Spotify Premium can participate in the program.
STEP 2. Head over to Spotify and choose your Premium plan.
STEP 3. Enjoy 6 months of ad-free music listening on any device.
If you buy a Samsung Galaxy phone or tablet after May 31, 2022, or if you plan to buy a Samsung Galaxy mobile device before May 30, 2023, you are eligible to participate in the Samsung and Spotify joint promotion that will give you a free six-month Spotify Premium trial.
But if you don't buy Samsung Galaxy devices between May 31, 2022, and May 30, 2023, you are not eligible for this promotion. And the activity is also not available for users who are already Spotify subscribers.

Only residents of the United States and the District of Columbia who have purchased Samsung Galaxy phones or tablets during the activity period are eligible for redemption.
STEP 1. Open the Spotify app preloaded on your Samsung Galaxy smartphone or tablet.
STEP 2. Log in or create an account, and click the "Premium" option.
STEP 3. Tab "Spotify Premium for Samsung".
STEP 4. Click "Try 3-Month Free" to redeem the offer.
Borrow an Account to Get Spotify Premium for Free
If your family members or your best friends have subscribed to Spotify premium, you are able to borrow the account from them to enjoy the premium features for free. Spotify won't limit the premium account to log in on any device, however, multiple users would fail to use the same single premium account to stream Spotify music. To overcome this, you just need to enable the "Offline Mode" on through the steps below:
STEP 1. Launch the Spotify app and hit the gear icon on the upper-right corner to go to "Settings".
STEP 2. Scroll down to "Playback" and enable the "Offline mode" on.
Under offline mode, you are only allowed to stream the downloaded Spotify songs. So, you are required to download the songs after borrowing the premium account and login on your device.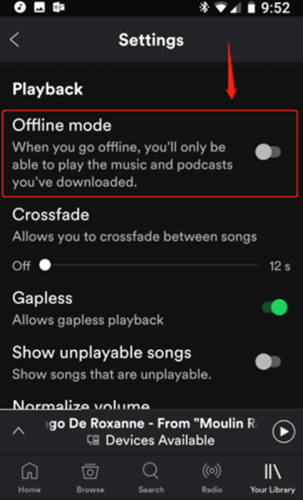 Ask for a Spotify Premium Gift Card
Some retail or electronic stores would give customers Spotify premium gift cards as a reward to purchase items from their stores, and many popular online shopping platforms such as Amazon, Walmart, Paypal, etc. would give such benefits. The duration of Spotify premium redeemed from a gift card would be varied. The least level would give you a one-month trial for the Spotify premium plan. Therefore, when you are going to purchase items online from these shoppers, you are able to ask them to see if they can give you a Spotify premium gift card as a return for the goods purchased.
After you get the Spotify premium gift card, you are available to follow the steps below to redeem it:
STEP 1. Navigate to Spotify's official website and log into your Spotify account.
STEP 2. Go to "Redeem" from the left navigation panel and enter the code provided on your Spotify premium gift card to redeem it.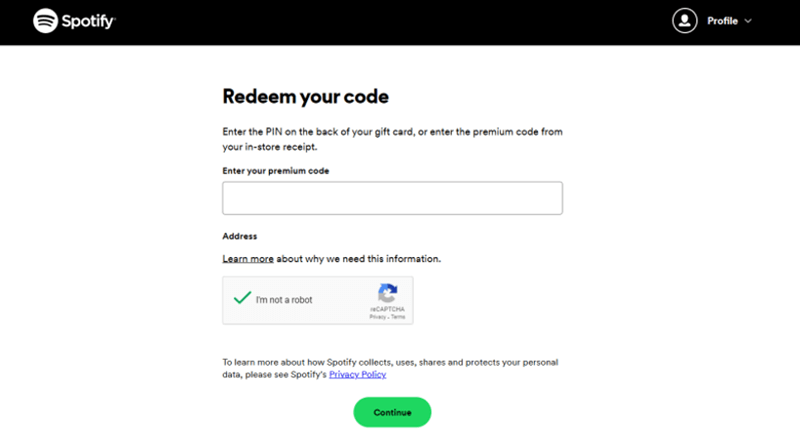 STEP 3. Submit "Continue" and the premium plan will be activated to your account.
What is a Starbucks partner? A Starbucks partner is actually an employee who works at Starbucks. Starbucks employees are called partners because these employees share in the success of Starbucks.
In daily life, not only do Starbucks partners get free drinks and discounts on purchases, but they can also listen to full-service Spotify. They can choose what to listen to, create radio stations, and access Starbucks' in-store playlists.

STEP 1. Log in or sign up for a Spotify subscription.
STEP 2. Connect your Spotify account with Spotify's Partner Provisioning Portal. This will help link Spotify and Starbucks verification systems.
STEP 3. Verify you're a partner by entering your last name and Starbucks Global User Name. Your Global User Name is your 2-character country code + your partner number.
STEP 4. Now you're registered! Click to start listening. Please note it could take a few hours to activate your new subscription.
If you already have a Premium subscription, you must cancel your premium subscription first, and return it once your current billing period has ended. Don't worry—your playlists and preferences will be maintained.
FAQs about How to Get Spotify Premium for Free
Difference between Spotify free and Spotify premium?
Spotify offers users two types of accounts:
Spotify Free: It only takes you a few minutes to register your email to get Spotify free. But it has limitations, such as no download function, shuffling music play, no skips, and having audio/video advertisements.
Spotify Premium: Spotify premium offers users plenty of features. You can download music offline with high quality, skip wireless songs, and don't receive ads.
Is it legal and safe to get Spotify premium for free?
It's legal to get Spotify premium free for personal use. But you should seek a safe way to help you. If you're trying to hack Spotify premium with some hackable programs, it's not safe. While if you sign up for a free trial or use
MuConvert Spotify Music Convert
, then it's safe.
Now you get several ways to get free Spotify premium for downloading, and shuffling Spotify songs in a more convenient and enjoyable way. Just as the comparison table shows
in the first part
, there are some cons and pros of these methods.
If you want to get a free Spotify premium account, you should know that the free trial isn't promoted at any time and sometimes you need to meet some conditions for getting it. While if you choose to get a free Spotify premium using some mobile programs, you should make sure the app is safe for you to use.
Therefore, among all the methods,
MuConvert Spotify Music Convert
is a better choice for you. Its security is guaranteed and you can even get the downloaded files to play on other media players. Why not pick your ideal option and save your budget to enjoy high-quality music streaming with the world's largest platform from now on?