[Solved] How to Download Music from Spotify Free Without Premium
We all know that Spotify only allows Spotify Premium users to download Spotify songs for offline listening inside the platform. What about free users who want a way to download music from Spotify? Or even you are a Spotify Premium user, can you download Spotify songs to audio files like MP3 for playing back outside Spotify?
The simplest way to solve these problems is just about selecting a reliable Spotify Music Downloader, a tool supporting to download music from Spotify even without paying for Spotify Premium plan. Today, this article will introduce the best one to you.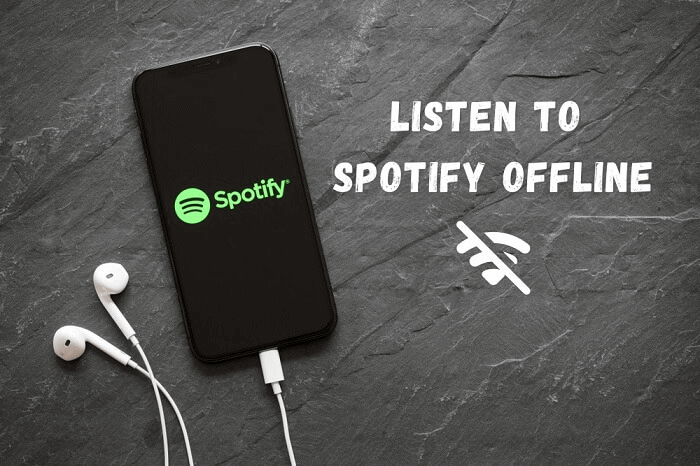 Best Tool to Download Music from Spotify without Premium
When we are selecting a Spotify Music Downloader, we should look into its features and benefits that it could bring to us before deciding to use it. So what factors people would consider when they select the "best" Spotify Music Converter? Here are some of them.
Safety: Software safety is the most important thing, which brings no harm such as virus or malware to your computers.
High quality: Keeping the converted Spotify songs with high quality makes sure better offline listening experience.
Output formats: You can convert the Spotify songs to MP3 and other common formats for making the music playable on more devices.
User-friendly UI: Let people have a simple way and easy steps to convert Spotify to common formats.
Considering these factors, MuConvert Spotify Music Converter is selected as the best converter to convert Spotify to MP3. Except for including all the needed factors mentioned above, MuConvert Spotify Music Converter also has the advantages as below:
Supports a built-in web player for automatically analyzing Spotify playlists
Offers 5X faster conversion speed to convert Spotify songs
Saves ID3 tags and metadata information for more convenient songs management
Changes output settings such as the format, sample rate, and bitrate as people need
Converts Spotify songs to MP3, M4A, WAV, and FLAC with lossless quality
Also, MuConvert Spotify Music Converter provides very easy UI to convert Spotify playlist. The whole conversion process will be completed within very easy clicks. In the next part, you will be guided on how to download Spotify songs on Windows or Mac.
How to Download Music from Spotify Free on Windows/Mac
To download Spotify songs with MuConvert Spotify Music Converter, you need to firstly install the software. You can freely get the software for installing on Windows or Mac by pressing the download button provided here. Then you can get started with the Spotify downloading process.
Step 1. Log in Spotify Account
After opening MuConvert Spotify Music Converter and enter its web player, you should press the "Login" button and logging in with your Spotify account.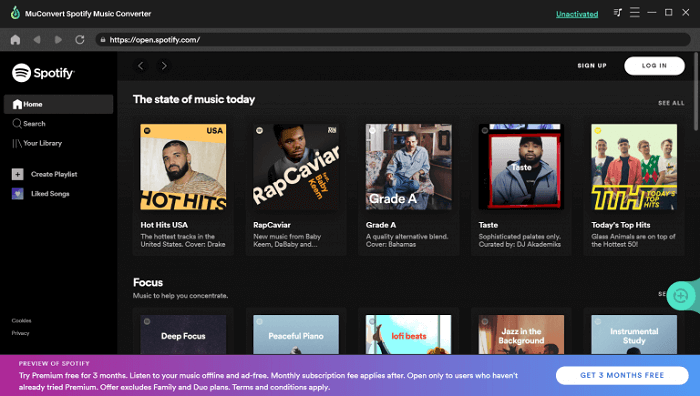 Step 2. Convert Spotify Playlist
When you log in your Spotify account, just open a playlist and click the "+" button, then MuConvert Spotify Music Converter will automatically convert the Spotify playlist. Just wait for seconds and you will be allowed to select songs from the playlist for downloading.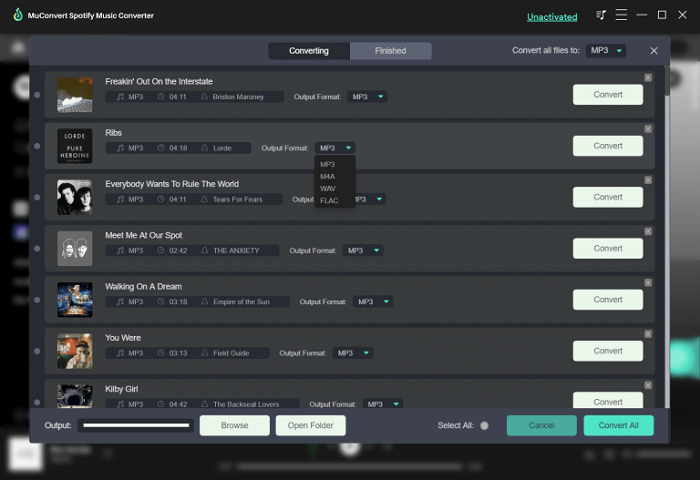 You can select an output format for each of them one by one. Or you can go to the format menu for selecting one for all of them at once. There are four options, including MP3, M4A, WAV, and FLAC.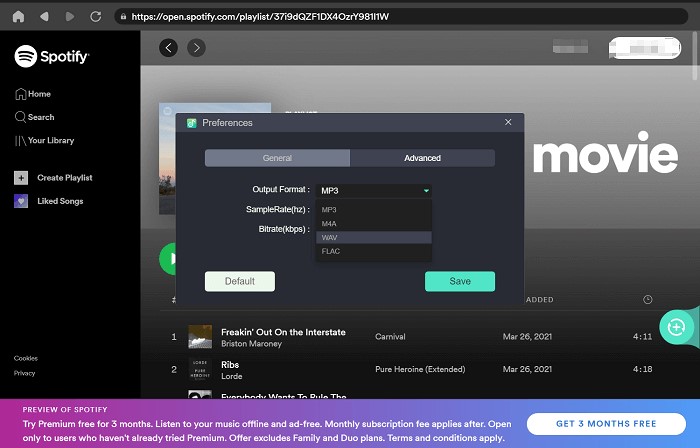 NOTE: It is able to check the output settings of the Spotify songs by going to "Advanced" settings in "Preferences". You can also adjust the quality here.
Step 4. Download Spotify Songs
Finally, simply click the "Convert All" button to download Spotify songs to local folder immediately. With 5X faster speed and batch download feature, the downloading process will be finished within a short time.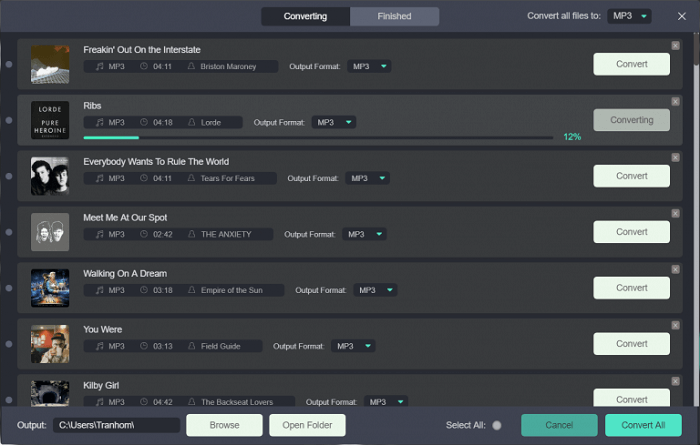 During the Spotify songs downloading process, if you meet any trouble, you can contact the technical team to help.
Provided that you want to download music directly on your phone, there are some applications that enables you to download music from Spotify to Android and iPhone for free. Here are two apps provided for you.
Download Music from Spotify Free on iPhone with TweakBox
iOS users seldom enjoy the freedom to download whatever files you want due to the system limitation, but this limitation is not 100%. TweakBox is a third-party app for iPhone to download Spotify songs with no jailbreak and you can download Music from Spotify Free on your iPhone easily. Not only is it effective at what it does, but it is also easy to use.

Step 1. After installing the TweakBox, you need to navigate to Apps for adding Spotify++ to your device.
Step 2. Go to Settings > Profile Downloaded. Then click "Install" to start downloading.
Step 3. Launch TweakBox, then please tap on "Apps" button on the menu bar and choose "Spotify". Now you get the free access to download Spotify songs.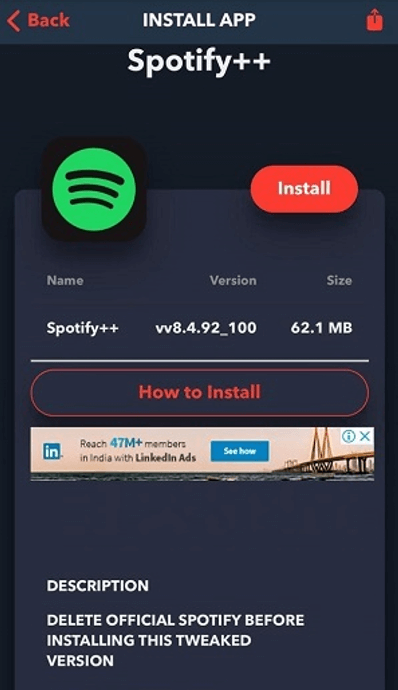 Download Music from Spotify Free on Android with SpotiFlyer
SpotiFlyer is an apk for Android to download albums, tracks, and playlists for offline listening on Android devices. Therefore, you can download your favorite songs from Spotify directly into your android device. The application is effortless to operate and doesn't need any license and API verification keys. This is a free app, and it doesn't need to pay for using the services.

Step 1. Firstly, select Spotify platform inside the app and install SpotiFlyer to your Android device.
Step 2. Then paste the URL of the Spotify song to the search bar for reaching the source.
Step 3. Paste the link into the search box and tap "Download" to start Spotify download free music.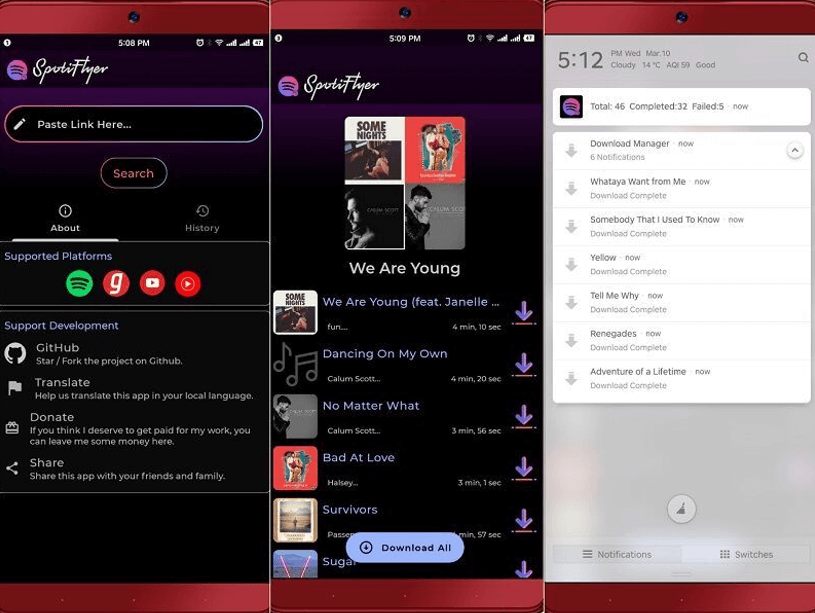 How to Download Spotify Songs Online without Premium
If you want to try an online way to Download Spotify Songs Online without Premium, then Spotify Deezer is a way for you. It is a Chrome extension that allows you download music from Spotify without any cost. After all, it is a freeware that comes with some disadvantages. For example, it sometimes crashes unexpectedly, and the output quality of Spotify tracks could be lossy. Some users complained that music is likely to be mistakenly downloaded to the wrong song. If you can live with these, you can play Spotify music on other devices without putting a hole in your wallet. You can check the user tutorial of this Chrome extension as follow:
Step 1. Launch Google and head to the "Chrome Web" Store. Then search for the Spotify Deezer Music Downloader.
Step 2. Once showed up, please click the "Add to Chrome" tab to add it to your Chrome.
Step 3. Then hit on the "Spotify Deezer" icon in the top-right toolbar of your Chrome and launch to the "Spotify Web Player".
Step 4. Now, log in to your Spotify account by entering the name and passwords.
Step 5. Once log in successfully, you can search and select multiple songs with Spotify Deezer Music Downloader online.
Step 6. Launch the downloading process by clicking "Download" button.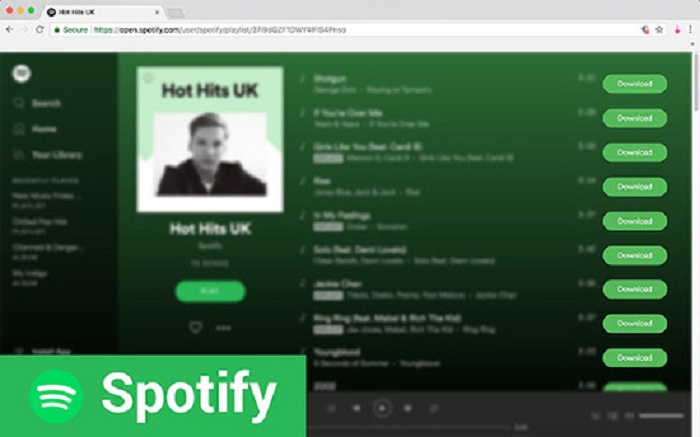 How to Download Music from Spotify to Computer Using Premium
If you don't want to use third-party software for downloading Spotify songs, the best way is to download through official way, which is to subscribe to the Spotify Premium.
When you have subscribed to the premium, you can directly find the download switch bar provided in the Spotify playlist. Simply enable the bar on and the whole Spotify playlist can be downloaded for offline playback.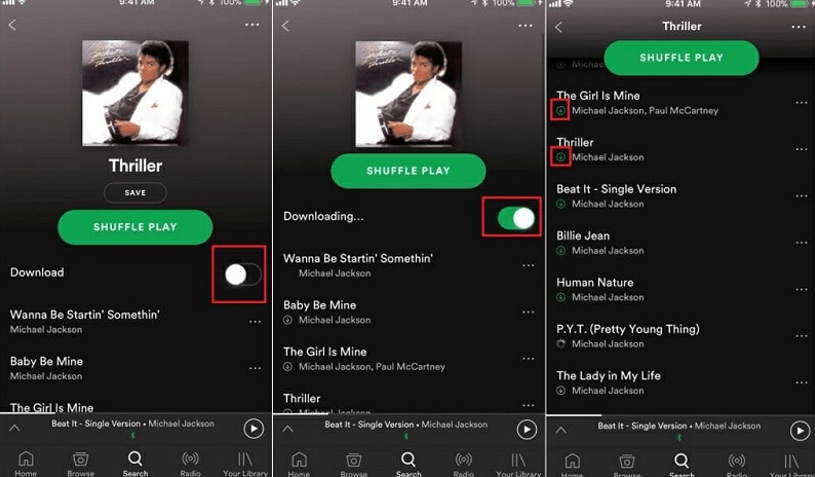 Difference Between Spotify Free vs. Premium
Comparing to the Spotify Premium account, Spotify Free has the main following limitations:
Not supports to download Spotify songs offline
Inserts ads during the songs playback process
Can't skip songs while playing the songs
So if you need to use the premium features such as the ability to download Spotify songs or play Spotify songs without playing the ads, you need to subscribe to Spotify Premium, and that's how Spotify earns profits.
Table Compare Among 5 Ways to Download Music from Spotify
 

Compatible OS

Supported Output Format

Conversion Speed

High Output Audio Quality

Overall Rating

Mac, Windows

MP3, M4A, WAV, and FLAC

5X Faster Speed

√

(From 128 Kbps to 320 Kbps)

4.9

TweakBox

iPhone/Android

MP3

Low

×

4.6

SpotiFlyer 

Android

MP3

Low

×

4.6

Spotify Deezer

Mac, Windows, Linux

MP3, M4A, WAV, and FLAC

Normal

×

4.7
From the table comparison suggested above, a truth can't be denied that Chrome extension and applications share some common downsides. For example, although you could get Spotify music files for free, you may have to sacrifice conversion rate, output audio quality, music information and so on to some extents. Moreover, apps will take much of the phone's storage and cause latency issues. Under such a scenario, it is vital to successfully use a reliable, advanced yet straightforward Spotify downloader to complete the task.
FAQs about Downloading Music from Spotify
Can you burn songs onto a CD from Spotify?
You can't directly burn songs onto CD from Spotify, because the music from Spotify has DRM (Digital Rights Management). However, you can burn those tracks which are downloaded from Spotify by using MuConvert Spotify Music Converter.
Can you screen record music from Spotify?
Due to DRM, you are not allowed to download Spotify music except your Spotify account. However, it is possible to remove DRM from Spotify files with a screen recorder. With VideoSolo Video Screen Recorder, you just need to select "Audio Recorder" feature to download Spotify songs and convert them out as MP4 format with few clicks.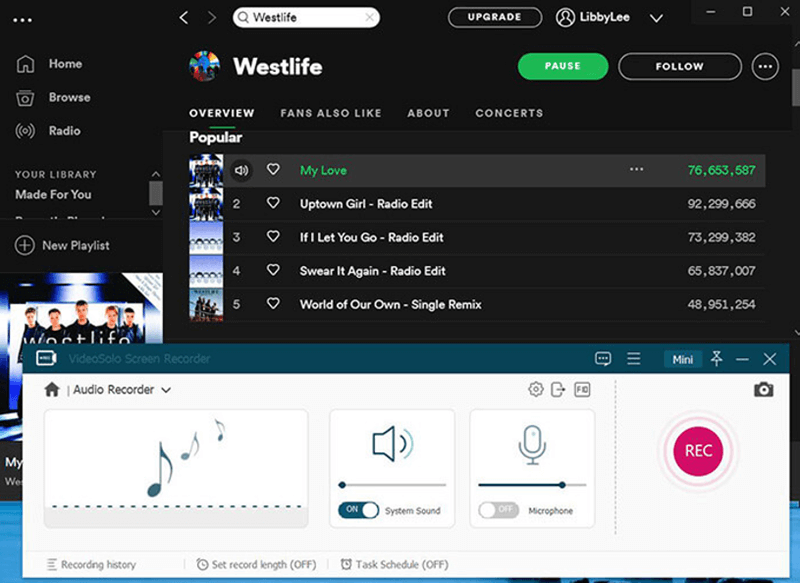 We have discussed enough ways for every single platform so that you can select based on your need. But if you highly value lossless Spotify audio quality, abundant audio formats, and faster conversion speed. MuConvert Spotify Music Converter is of highly recommendation. Free Download and have a try, then you will figure out why I recommended it!