As we know, in addition to providing music streaming services, Spotify is also a very popular podcast provider, offering a plethora of premium exclusive content to entice more users to engage. Moreover, there are various methods for enjoying Spotify podcasts, some people prefer to listen online like most people do, while others may choose to download Spotify podcasts ahead of time and listen to them during their commute due to poor Internet connection.
If you want to download podcasts from Spotify as well for offline listening, you've come to the right place. This post will introduce the official way, the freeway, and a better way to help you download Spotify podcasts on computers or mobile phones without hassle, and you can the method that suits you best to dive in!
How to Download Spotify Podcasts to MP3 in Batches (Windows & Mac)
MuConvert Spotify Music Converter gained great popularity for its marvelous service. It removes DRM limits from Spotify to help you download Spotify podcasts to MP3 or other common audio formats on your computer. With up to 35X faster download speed, you can have a 1-hour podcast downloaded in less than 2 minutes. Better yet, it also allows you to download Spotify music as local files for free, including songs, albums, and playlists, which means you can enjoy uninterrupted offline playback on any device.

More Features of MuConvert Spotify Music Converter:
Lossless Quality – Download Podcasts from Spotify at 320kbps equivalent to the best audio quality.
Video Podcast Preview – Provides the function to preview the video podcast you want before downloading it.
DRM-Free Formats – Download Spotify podcasts to MP3, M4A, FLAC, WAV, AIFF, AAC, and ALAC without DRM protection.
ID3 Tags Preservation – Keep media data of the downloaded Spotify podcasts for easy management.

Ease of Use – Build a Spotify web player inside the app and download podcasts from Spotify with a button.
Working as a Spotify Podcast downloader, MuConvert Spotify Music Converter can batch download all episodes of a Podcast from Spotify. Here's how to download Podcasts on Spotify.

STEP 1. Launch MuConvert Spotify Music Converter and hit the "Open the Spotify Web Player". Then, please log in to your Spotify account.
💡 NOTE: Both Spotify free and Premium accounts are available to download Spotify podcasts to MP3.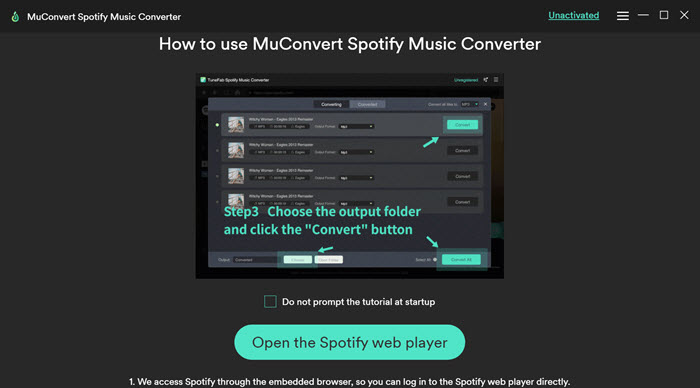 STEP 2. After the account is logged in, you will be able to open the page of the Spotify podcast you'd like to download directly. If it's a video podcast, you can click on it and preview its content in a small window that pops up on the right, before downloading it to audio files as well.
Then, tap the "+" icon to analyze it. It only takes a short while to fetch data from Spotify.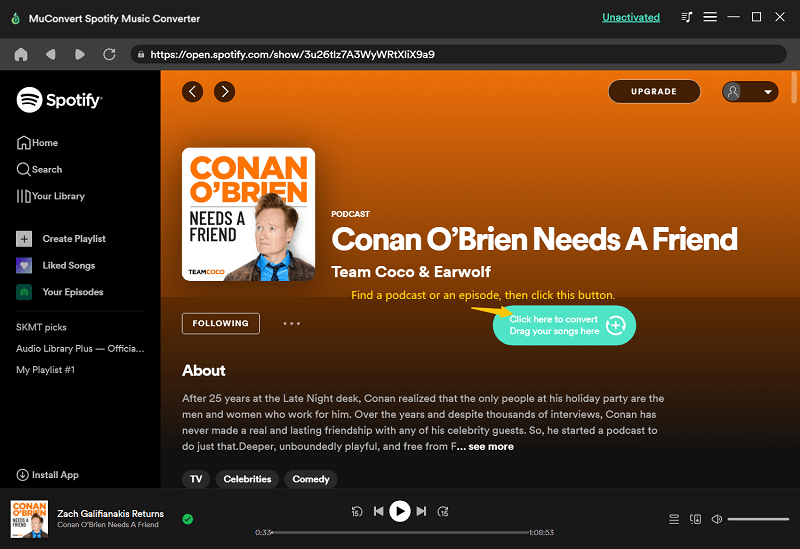 Once the podcasts have been added to the Converting List, you can simply click on the "Switch" icon at the top of the list by song title, artist, album, or duration to change the conversion order before you start.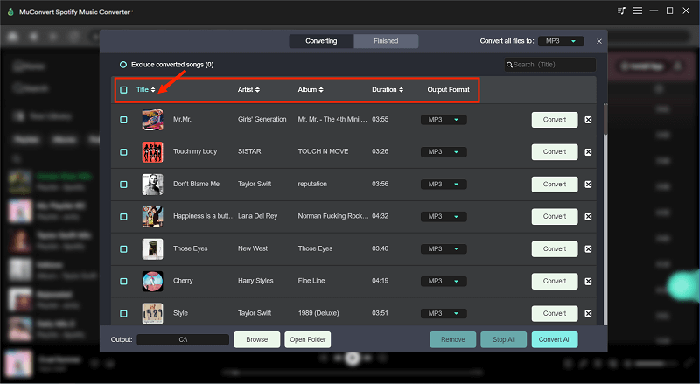 STEP 3. Select the output format as MP3 or others as you like. Or you can navigate to "Menu" > "Preferences" > "Advanced" to adjust the advanced output parameters. It is available for you to customize the output format, sample rate, and bitrate for outputting the Spotify podcast.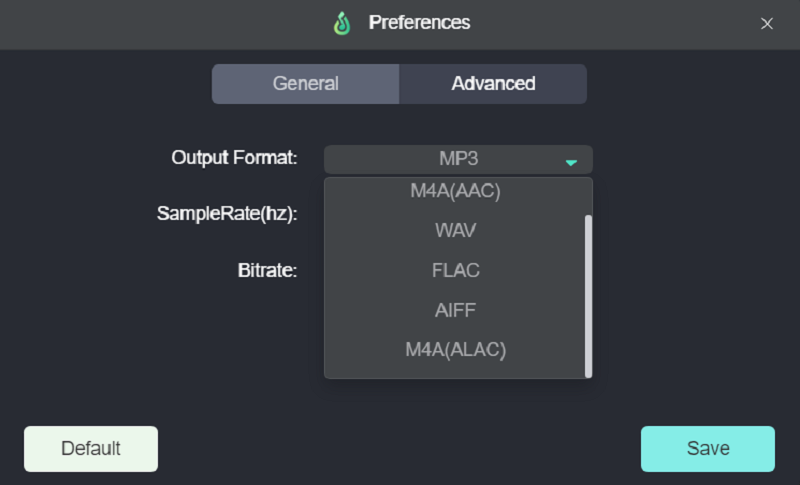 Under the "General" tab, you are also allowed to change the default output folder and download Spotify podcasts as mp3 to that folder. Besides, the output location, output tracks archive, and file name can also be customized here before downloading.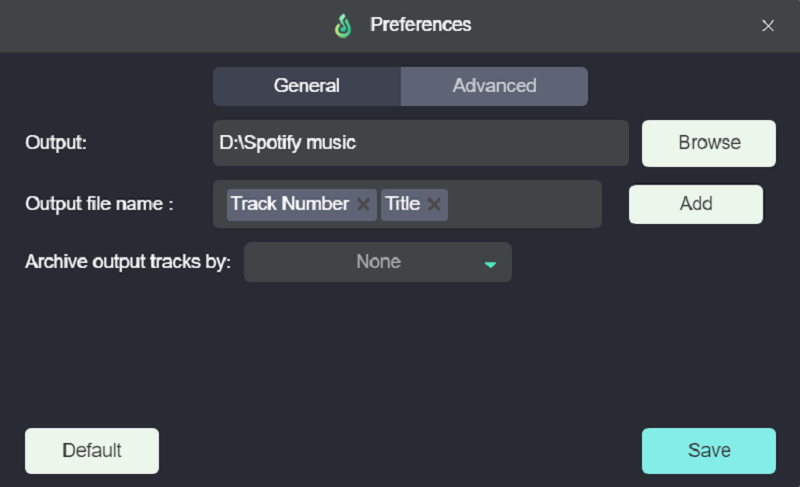 STEP 4. Hit the "Convert All" icon and MuConvert Spotify Music Converter will download Spotify podcasts to the computer. Just wait patiently till the conversion completes. After downloading, you can preview the music by clicking the "Play" button to the left of the podcasts.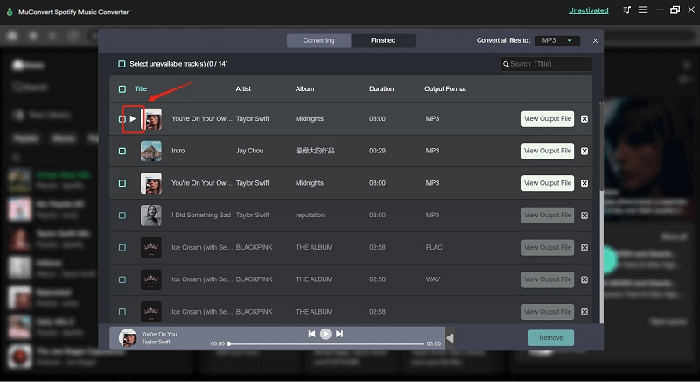 You can click the download button below to download Spotify podcasts to MP3 in batches. After that, you can easily get Spotify downloads on Apple Watch, MP3 players, and more external devices you like for unlimited playback

How to Download Spotify Podcast on the Spotify App
According to Spotify's download service, free users are also available to download Spotify podcasts directly on both mobile and computer apps without Premium, which brings great convenience and flexibility for podcast lovers to enjoy Spotify podcasts offline. However, you can only download one episode of a Podcast at a time. Follow the tutorials below to grasp the download feature on the Spotify app.
NOTE
The downloaded audio is only available for offline playback within the Spotify app. If you want to batch download Spotify podcasts to MP3 with multiple episodes, MuConvert Spotify Music Converter will be a better choice to consider.


On Mobiles
You have two options to download Spotify podcasts on your Android or iOS devices: downloading audio only or downloading both audio and video. Simply go to "Settings" > "Data Saver" to enable the "Download the audio only" button if you prefer audio-only downloads. If the button is off, the app will default to downloading video podcasts from Spotify if they are available.
STEP 1. Install the Spotify app and launch it to log in to your Spotify account. You also need to check the stability of the Internet status in advance.
STEP 2. Directly navigate to the podcast you desire to download offline.
STEP 3. Tap on the "Download" button below the preferred episode and it'll download the Spotify podcast episode and save it to your library.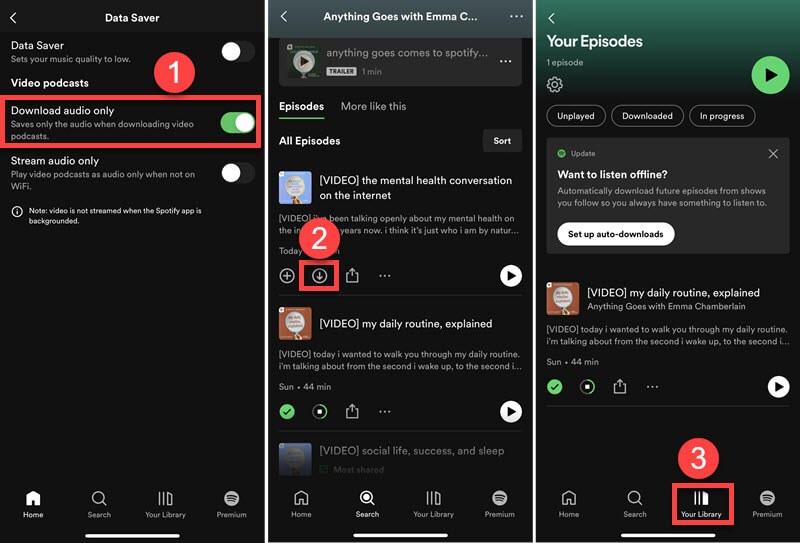 On Computers
The steps to downloading Spotify podcasts to a computer are quite simple as well. But the difference is that you can only download the audio of Spotify podcasts on your desktop Spotify app because you cannot download Spotify video podcasts on desktops/laptops.
STEP 1. Simply open the Spotify app on your computer and then sign in with your Spotify account.
STEP 2. Access to the podcast you desire to download for listening offline.
STEP 3. There will be a "Download" arrow icon provided beside the episode's title. Directly hit it and you can download Spotify podcast for offline playback.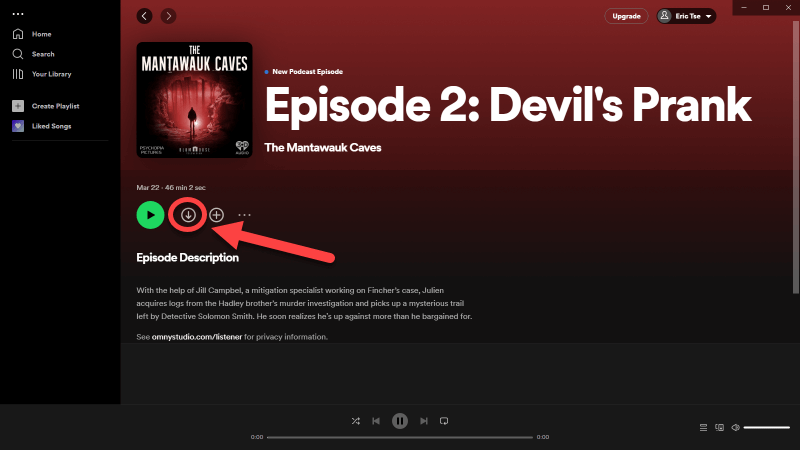 How to Download Spotify Video Podcast for Offline Viewing
For downloading Spotify video podcasts on your phone, you can directly select the available ones on the Spotify mobile app to download both audio and video versions as previously mentioned (jump to the steps). However, if you want to download Spotify video podcasts on your computer, the process will be a little complex, since Spotify's desktop app only allows you to save their video podcasts as audio files. To solve this problem, you'll need help from third-party tools, like extensions on Google Chrome. Here are the steps.
NOTE
Only exclusive Spotify podcasts can be downloaded as MP4. Otherwise, they can only be saved as MP3 formats.
Step 1. Launch Google Chrome on your computer, and install the "Video DownloadHelper" extension. After preparation, turn to Spotify Web Player and log into your Spotify account.
Step 2. Play one of those video podcasts you like, open the extension you've got just then, and you'll see a list of all the media in this tab. Click one of them to download.
Step 3. On the pop-up window, choose "Use Companion App". When the app is ready, you can go back to Spotify Web Player and click your selected video podcast listed on the extension again.
Step 4. Once finished, a local folder will appear, showing you that your Spotify video podcast has been saved in "C:\Users\Administrator\dwhelper".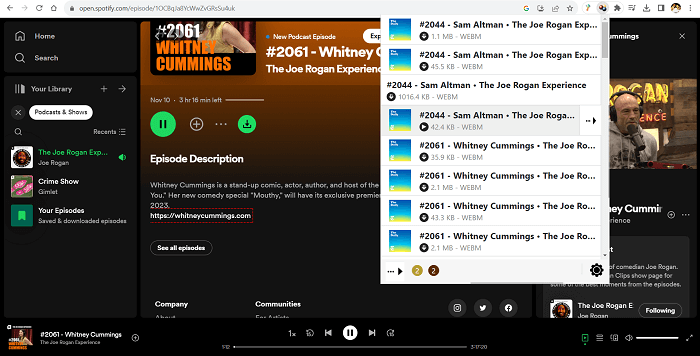 FAQs About Downloading Spotify Podcasts
Q1. What Is the Format of Podcasts Downloaded on the Spotify App?
After you download Spotify podcasts on the Spotify app, you may find the format changed from ".ogg" to ".file". But the downloaded Spotify podcasts with the ".file" extension are still encrypted using DRM so that you can only play these downloaded files within the Spotify app.
Q2. Can You Download Spotify Podcast Video to MP4?
Unfortunately, Spotify only allows you to download Spotify video podcasts with its mobile app. Regarding the mentioned method using a Google Chrome extension on the desktop, it's limited to downloading exclusive Spotify video podcasts in MP4 format. So to get rid of those limits, you can get help from screen recording tools to capture Spotify video podcasts in MP4 format.
Additionally, it should be noted that Spotify video podcast creators often upload the same videos to YouTube. If you're looking for an easier download option, you can directly search for the accurate podcast on YouTube, and then use a YouTube downloader like VideoHunter to download Spotify podcasts to MP4.
Conclusion
Whether you're a Spotify Premium user or not, you can download Spotify podcasts from the official app, the third-party Spotify downloader, or the Google plugin by following the steps outlined in this article. But among those ways, using MuConvert Spotify Music Converter is no doubt the best choice, since it can batch download Spotify podcasts in MP3 or other popular formats at 320kbps. Additionally, other Spotify content like playlists and albums can also be downloaded for unrestricted offline playback with ease.

Convert Spotify Music to MP3 in 320kbps
Drag and drop to convert Spotify songs, albums, playlists, and podcasts to MP3 easily.