When it comes to enjoying streaming music these days, Spotify must be the first choice for most people. But a wonderful feature of Spotify remains undiscovered for some of us – podcasts. And if you haven't tried it yet, then you're missing out.
However, with millions of podcasts out there and a huge amount of content to choose from in this new digital landscape, it can be overwhelming to find the best Spotify podcasts. If you're not sure where to start, don't worry.We've picked 9 of the best Spotify podcasts from the Spotify podcast library, ranging from true crime to comedy to history to business and more, that you can add to the mix the next time you launch the Spotify app on your device.
Keep reading and you're sure to find something you like in the list of recommendations below, no matter what your content preferences are.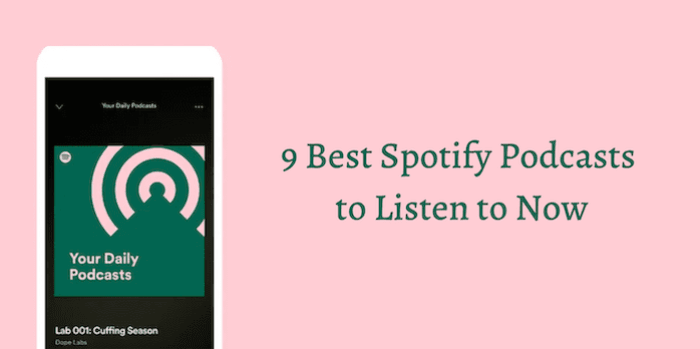 CONTENTS

Casefile True Crime

Category: Best True Crime Podcast on Spotify
✨Best for: Crime enthusiasts
Average Length: 30-90 minutes
Casefile True Crime is a true crime podcast that started out focusing on criminal cases in Australia and has since covered the world. Hosted anonymously and in a straightforward style, the show covers different types of cold cases and solved crimes. All episodes are carefully choreographed and the narratives are based on original police or mass-media documents, interview or archival footage, and eyewitness accounts.
His narratives are factual, no-nonsense, and as comprehensible as possible, making you feel like you are listening to a story from a book. Now that the podcast has been updated to over 200 episodes, you can choose any true crime story that interests you to listen to.
The Joe Rogan Experience

Category: Best Comedy Podcast on Spotify
✨Best for: Comedy fans
Average Length: 2-3 hours
The Joe Rogan Experience is an entertaining podcast covering a wide range of topics, from politics and philosophy to martial arts to sports and more. Host Joe Rogan is a well-known comedian, actor and sports commentator who talks with remarkable insight and infectious enthusiasm. He usually invites guests from a variety of fields, such as actors, musicians, writers and more, to participate in his inspiring discussions.
No matter what your interests are, you can finally find something that appeals to you from this combination of fascinating topics, interesting guests and Joe's enthusiasm. Even if you just want to have some fun, this podcast is funny enough to keep you listening.
Scare You To Sleep

Category: Best Horror Podcasts on Spotify
✨Best for: Horror lovers
Average Length: 10-60 minutes
Scare You To Sleep is a horror podcast that features true horror stories, short scary recordings, ghost and paranormal stories, funny ghost stories submitted by kids, and more. All the episodes of this podcast are both chilling and soothing. The host Shelby Scott reads the scripts in a very calm and soft voice, giving the listener the feeling that she is reading you a bedtime story.
For those who long to fall asleep listening to spooky horror stories, but want them to be not overly scary, "Scare You to Sleep" is the perfect podcast to listen to. If you have no idea where to start, some of the most popular episodes are "God Will Provide", "Good Hair", and "Horror: A True Tale".
The Daily
Category: Best News Podcasts on Spotify
✨Best for: Journalism fans
Average Length: 20-30 minutes
The Daily podcast comes from the New York Times, so each episode focuses on the newspaper's coverage, and host Michael Barbaro often interviews the reporters behind the big stories. Rather than trying to cover all current news, this podcast does a great job of diving into a specific current e
Each episode is about 20 minutes long, just enough to give you a fairly in-depth look at the news without being all over the place; the show is available five days a week and will be updated every morning at 6am.
Dan Carlin's Hardcore History

Category: Best History Podcasts on Spotify
✨Best for: History fans
Average Length: 3-6 hours
Dan Carlin's hardcore history podcast is an exceptional exploration of historical events and people. Carlin often offers a unique perspective that delves into a variety of key historical topics such as wars, rulers, catastrophic events, the nuclear industry and more.
The podcast is well produced, with carefully staged sound effects and music to add to the immersive storytelling experience. And the content is both educational and entertaining, making complex topics easy for listeners to understand and engage with.
It is a master class in historical storytelling. It's a must-listen for anyone who wants to gain a deeper understanding of the events and people that have shaped our world.
The Resilience Podcast

Category: Best Motivational Podcasts on Spotify
✨Best for: Psychology lovers
Average Length: 30-60 minutes
The Resilience Podcastis a motivational podcast designed to explore how to develop resilience and adaptability in your life. The podcast features guests from a variety of fields who share their strategies and techniques for coping with setbacks and difficulties. Through these guests' experiences, listeners can learn practical tips and advice and find ways to maintain mental and physical health under stress.
Each episode focuses on a specific theme, such as mental health, leadership, and career development, covering various aspects of resilience. If you're interested in these types of topics, then this show is definitely worth checking out.
Business Wars

Category: Best Business Podcasts on Spotify
✨Best for: Business lovers
Average Length: 30-40 minutes
The Business Wars podcast is a popular series that delves into the fierce rivalry between some of the biggest companies in history. Each episode focuses on a different industry battle, such as Nike vs. Adidas or Netflix vs. Blockbuster. The show provides some behind-the-scenes insight into the strategies and tactics these companies used to gain a competitive advantage. The production quality of the show is top-notch, with excellent copywriting and narrative sense, as well as immersive sound effects that bring each story to life.
Overall, if you are interested in business competitions or just like a good story, I highly recommend you check out the Business Wars podcast.
The Moth

Category: Best Story Podcasts on Spotify
✨Best for: Story lovers
Average Length: 20-50 minutes
The Moth podcast is a unique storytelling experience that features real people on stage sharing their personal experiences. Each episode focuses on a different theme, such as love, loss or adventure. There is a strong authenticity to this podcast because it's all about each person telling their real experiences; and a strong uniqueness in that these stories are often funny and thought-provoking because each person's story and feelings are different.
Overall, if you like to listen to life experiences and stories, The Moth Podcast is definitely worth a listen to.
99% Invisible

Category: Best Educational Podcasts on Spotify
✨Best for: Design fans
Average Length: 30-60 minutes
99% Invisible is a podcast about design and architecture, featuring the things we see and use every day, as well as the stories and design ideas behind them. Each episode is about a specific topic, such as green roofs, underground music clubs, or urban sign design.
The podcast gives the listener a glimpse into the scenes of their own lives from the smallest to the largest through small stories. These stories reveal the minds and creativity of designers and help listeners appreciate their surroundings.
Overall, if you are interested in design or architecture, or just like to learn about new and interesting things, I highly recommend listening to 99% Invisible.
FAQs About the Best Spotify Podcast
What Genre of Podcast is Most Popular on Spotify?
According to Spotify podcast statistics, more than 20 percent of U.S. respondents prefer comedy podcasts, making them the most popular genre, followed by true crime and news.
This trend reflects the growing demand for entertainment. True crime podcasts attract viewers for their heart-pounding stories. News podcasts provide up-to-date information on global issues, politics, and culture and are widely viewed for their authenticity and timeliness.
What are the 10 Best Most-listened Podcasts on Spotify?
Here are the top 10 most listened-to Spotify podcasts in the US:
The Joe Rogan Experience
Call Her Daddy
Anything Goes with Emma Chamberlain
Huberman Lab
This Past Weekend
The Basement Yard
Crime Junkie
Brain Leak
The Megyn Kelly Show
Wiser Than Me with Julia Louis-Dreyfus
Tips: How to Find Podcasts on Spotify
For those unfamiliar with Spotify podcasts, we've listed some tips on how to find, browse and search for podcasts on Spotify.
Finding Podcasts on Spotify

To explore Spotify's podcast offerings, simply click on the "Browse" tab in the app's bottom menu and select "Podcasts". This will take you to a page where you can see featured podcasts, top charts, and newly released content.



Browsing Spotify Podcast Categories:

Spotify has a large number of podcast categories to choose from, and you can browse through to find the topics that interest you. Some popular categories include Comedy, True Crime, News, Sports, and Technology. To view the list of categories, go to the "Podcasts" section, scroll down to the bottom of the page, and select "Categories".



Searching for Specific Spotify Podcasts:

If you already know the name of the podcast you're looking for, you can easily find it by using the search bar at the top of the screen. Simply type in the name of the podcast or the host's name, and Spotify will pull up relevant results. You can also use advanced search filters to narrow down your options based on criteria like category, episode length, or language.



Conclusion
Now you have got the 9 best Spotify podcasts above. Whether you're interested in news, entertainment, education, or something else entirely, there's sure to be a podcast that caters to your interests on this popular streaming platform.
In addition, if you want to download Spotify podcasts or video podcasts to audio files for offline and flexible listening on any device for free, we highly recommend MuConvert Spotify Music Converter.
Convert Spotify Music to MP3 in 320kbps
Drag and drop to convert Spotify songs, albums, playlists, and podcasts to MP3 easily.