10 Best Audiobooks on Spotify to Listen to Right Now
Nowadays, people are busy in both work and life. It may take a week or even longer to read a book completely. Thus, Audiobooks have become increasingly popular in today's world, which does not require your eyes or hands and allow you to pick up your favorite novel while doing sports, housework, or other tasks. It is killing two birds with one stone.
Spotify not only specializes in offering a wealth of music resources but also audiobooks of all types. In this article, we have picked out a list of the 10 best Audiobooks on Spotify for you, including romance, classics, horror, reality, and more. Now check them out and start your audiobook reading journey with the one that interests you
10 Best Audiobooks on Spotify
The Kiss Quotient by Helen Hoang​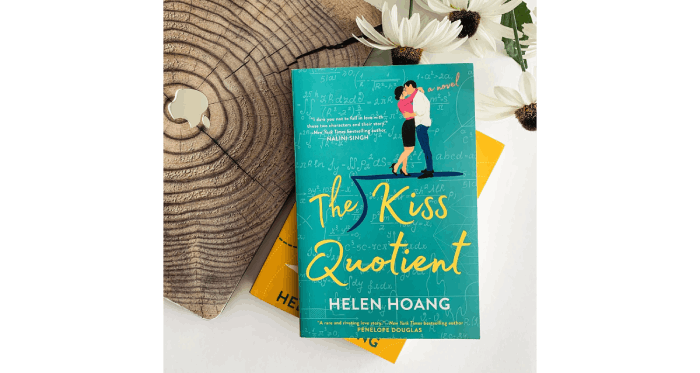 ?Category: Contemporary Romance
✨Best for: The audience who is sensitive and likes romantic stories.
The Kiss Quotient is a modern romantic novel written by Helen Hoang. It shares the story between Stella, an econometrician with autism spectrum disorder, and Michael, the escort she hires to teach her about sexual and romantic relationships.
The novel is about how Stella pushes her limits and learns to be in a romantic partnership. The author Helen Hoang is also a patient with an autism spectrum disorder. That's why she has vividly described how Stella struggles with physical intimacy. The narrator does a great job of bringing the characters in this story to life.
Jane Eyre by Charlotte Brontë​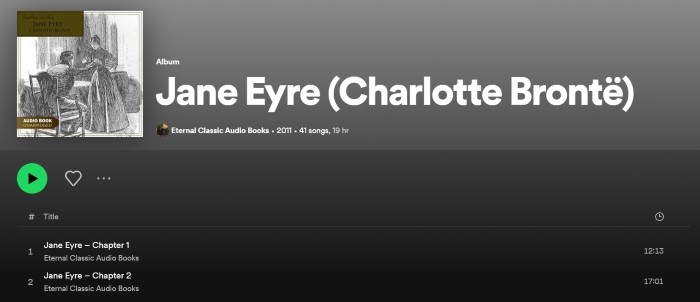 ?Category: Gothic, Bildungsroman, and Romance
✨Best for: Listeners who like stories of personal growth in hard times.
You may have read Jane Eyre or heard this title when you were in university as it was so popular. Now it is available on Spotify as one of the original Spotify audiobooks. Jane Eyre tells her story in first-person point of view as she looks back on her life after her marriage to Edward Rochester. It is an autobiography.
So, when the narrator tells the story, you'll feel like you are a friend of Jane Eyre. You will sympathize with her suffering while also being inspired by her courage not to give in.
The Hunger Games by Suzanne Collins​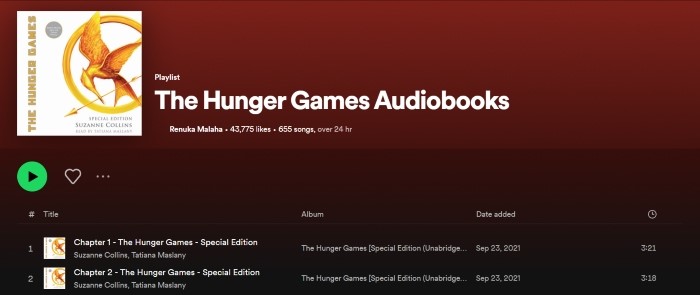 ?Category: Science fiction
✨Best for: People who enjoy competition and exciting plot.
If you are a sci-fi novel lover, you shall not miss The Hunger Games, which is one of the best audiobook series on Spotify. The book follows the story of Katniss Everdeen, a 16-year-old girl who offers herself as a tribute in the annual Hunger Games. She undergoes several trials and tribulations to stay alive.
With many helps from others, she and Peeta end up winning a dual victory. The plot is really impressive and exciting. With the wonderful narration, you'll feel like you are the character in the story.
The Great Gatsby by F. Scott Fitzgerald​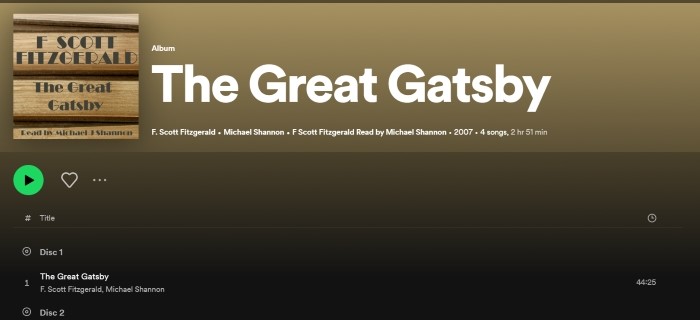 ?Category: Tragedy and Modernism
✨Best for: Listeners who like tragic love stories with unexpected endings.
If you are a tragedy lover, The Great Gatsby is one of your best bets. This is the crowning work of F. Scott Fitzgerald. Though it has already been adopted into a big Hollywood movie, the audiobook version can bring you a totally different experience. You'll hear the actual words of this American classic. It is a standalone audiobook that lasted for about three hours.
The story follows an eccentric millionaire and his lover in the Jazz Age. Its wonderful narration as well as the unexpected ending make the three-hour story a fleeting moment.
Little Women by Louisa May Alcott​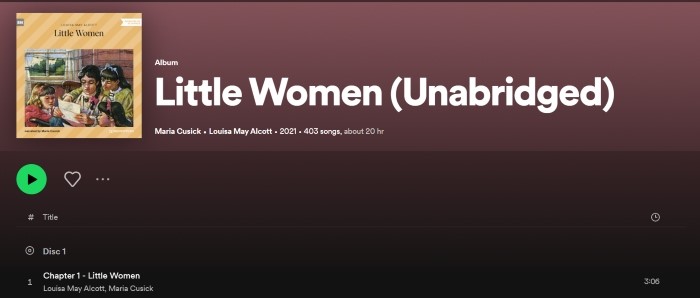 ?Category: Classic Coming-of-Age Story
✨Best for: People who are interested in feminism.
First published in 1868, Little Women by Louisa May Alcott is still one of the best-selling books after over 150 years. Based on the background of the American Civil War, this standalone audiobook follows the life of four sisters.
It emphasizes individual dignity, self-reliance, and self-discipline. This classic is a semi-autobiographical novel with female characters and feminist consciences.
The Metamorphosis by Franz Kafka​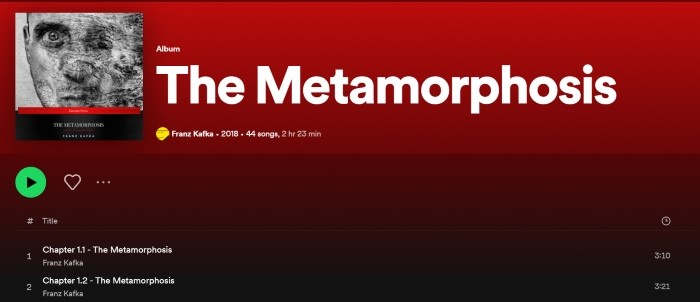 ?Category: Absurdist fiction
✨Best for: Listeners who like absurd stories and realistic novels.
Written by Kafka, The Metamorphosis is perhaps his most well-known work which follows an absurd and incredible story of Gregor Samsa, the leading character, transformed into an insect. His life reflects a series of dissatisfactory events that he as a salesman recalls.
The book brings human existence to another level of social awareness. If you what to know what has happened to the character, listen to this audiobook. You'll have an unforgettable listen.
Rich Dad Poor Dad by Robert T. Kiyosaki and Sharon Lechter​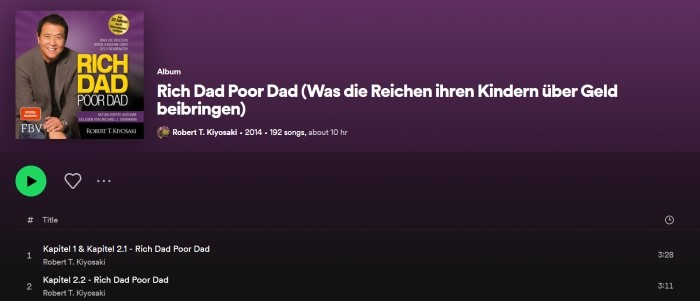 ?Category: Personal finance book
✨Best for: Listeners who are interested in money making and financial management.
Rich Dad Poor Dad is the true story of author Robert Kiyosaki, whose biological father had very different views on money than his friend's father, which led him to become interested in learning about money. He eventually took the advice of his friend's father, which is what the book says.
The rich dad is not being a slave to money, but making money work for us. Finally, he became a legendary and successful investor. If you are interested in the financial category, don't miss this audiobook.
Goosebumps Series by RL Stine​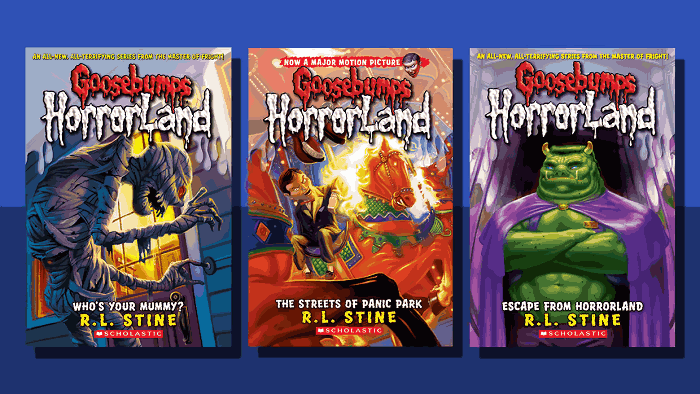 ?Category: A series of children's horror fiction books
✨Best for: Listeners especially kids who like horror and mystery story.
Goosebumps is a series of horror novels written by American author R. L. Stine. Characters in these stories are tweens or young teens who find themselves in scary circumstances usually involving the supernatural, the paranormal, or the occult. Stine characterizes the series as "scary books that are also funny".
Sixty-two books were published under the Goosebumps umbrella title from 1992 to 1997. Each book features different child characters and settings. If your kid enjoys horror and thrillers, this series will surely surprise him.
A Danger to Herself and Others by Alyssa B. Sheinmel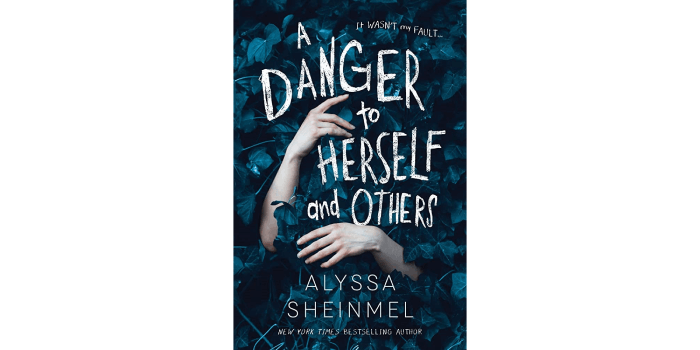 ?Category: Young Adult Dark Contemporary Book
✨Best for: Audiences who prefer realistic and depressing tones.
A Danger to Herself and Others is another standalone audiobook. It follows a girl's struggle inside a mental health facility, stripped of all autonomy and confined to a single room. This title is a great story full of mystery, heartbreak, and hope.
The narrator's voice will draw you into the remote treatment facility with a mysterious tone, offering you an honest look at a young person's experience with mental illness, as well as the impact mental disease has on others.
The Age of Innocence by Edith Wharton​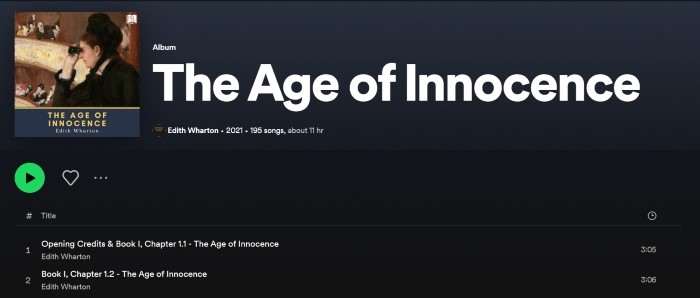 ?Category: Romance Book
✨Best for: Audiences who love romance in the old world of rigid.
The Age of Innocence, Wharton's classic appearing as an audiobook on Spotify, follows a love story among a young popular, and successful lawyer, Newland Archer, his wife May Welland, and May's cousin Ellen Olenska. The title is set in the aftermath of World War I when the old social order was crumbling and Americans were struggling with the pain of disillusionment.
It's an ironic comment on the polished outward manners of New York society when compared to its inward machinations. Coming in at about 11 hours, it might be perfect for your next long road trip!
Tips: How to Find Audiobooks on Spotify
If you're interested in the titles mentioned above, you can browse this audiobooks on Spotify directly. If you haven't listened to an audiobook, you may not know how to get them on Spotify. Read on for this section. It will show you a few steps to navigate through all audio content on Spotify as easily as possible.
Step 1. Open Spotify and enter "audiobooks" into the search box on the top of your Spotify screen.
Step 2. Then, you'll see Top Result, which is Spotify's own audiobook playlist. It's a big list of audiobooks, where you can browse and find one you like.
Step 3. Or just scroll down the search result page. Then you can see "Songs", "Artists", "Albums" and "Playlists".
Step 4. Then, select any of them and click "See All". And browse and find the one that interests you.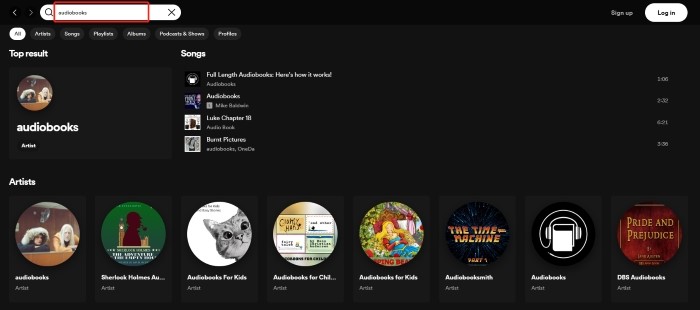 Note: If you have an idea in your mind, you can also search the name of the book on the search bar and click enter. Then you can see the Audiobook you want to listen to.
These are the top 10 Spotify audiobooks chosen for you. These are fantastic stories that gain popularity and are famous around the world, which are well worth listening to. If you're bored while doing housework or running in the gym, tune into an audiobook on Spotify. You might be surprised by what you hear.