How to Listen to Audiobooks on Spotify in 2023
Do you know that Spotify is available for audiobooks? Actually, now people can satisfy themselves with audiobooks on Spotify as it has provided rich audiobook resources from a lot of famous writers since late 2022.If you are still not aware of that, you should have a try!
Since audiobooks on Spotify are still a new product, you may not be familiar with how to listen to them. Don't worry, this article will guide you carefully on how to listen to audiobooks on Spotify.
Spotify launched its audiobook service in September 2022. About 300,000 audiobooks have been made available to Spotify users. However, only a small fraction of these volumes are available free to users, meaning that most audiobooks have to be purchased before listening to them on Spotify.
For audiobook purchases on Spotify, Spotify audiobooks are a one-off purchase that needs to be made through Spotify Web Player, even for Spotify Premium users. If you find an interesting audiobook in the Spotify app and want to read it, you will have to use Spotify Web Player to finish the purchase. But after you buy it, you can enjoy the audiobook resource on the app all the time.
How to Listen to Audiobooks on Spotify
You must be eager to know how to listen to audiobooks on Spotify. Follow the next steps and you are sure to enjoy wonderful books quickly!
Step 1. Open the Spotify app and tap the "Search" tab.
Step 2. Select the "Audiobooks" under the title "Browse all". Then you will see a list of different audiobooks. Select the one you want to listen to and tap it.
Note: If you already have a goal in mind, you can just search directly in the search bar.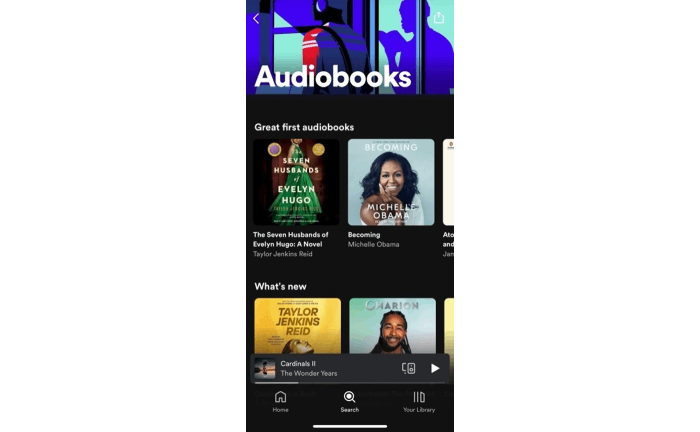 Step 3. When you open the audiobook you want to listen to, you will see the "Play" button with a lock. If you're sure you want to buy this audiobook on Spotify, just tap "Play". However, if you are not very sure, you can find that there is a 5 min sample for you to listen to. Just select the sample under the title to have a trial listening.
Note: Users can only buy one book at a time, and one book can not be bought by individual chapters.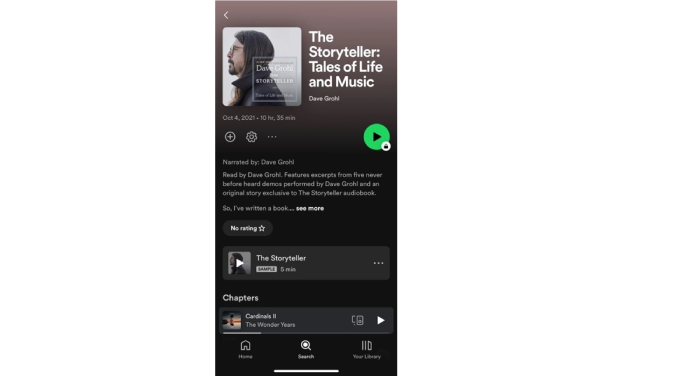 Step 4. A page will pop up telling you that you can't buy it directly. Don't worry, just tap "Get email" to get a purchase link in your Spotify-associated email. Or you can go directly to Spotify Web Player and choose the audiobook to buy.
Note: Because of Apple's strangling of competitors, iOS users can't jump to Spotify Web Player via email from the Spotify app, like Android users, but have to make the purchase from the browser.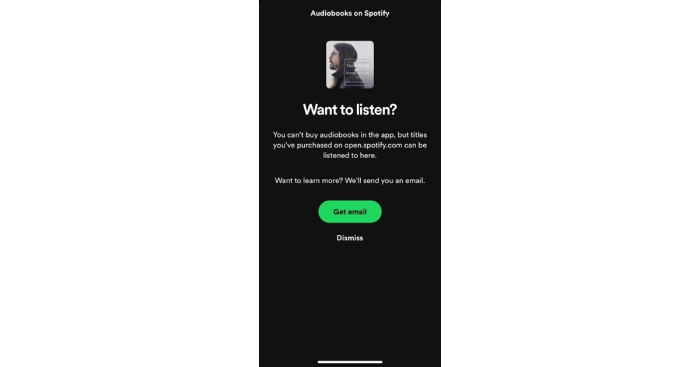 Step 5. Go to your email and check the email sent by Spotify. You'll see a green "BUY AUDIOBOOK" button on the page. Tap it to continue.
Note: Prices for audiobooks can only be found on Spotify Web Player, or in an email sent by the Spotify app at the time of purchase.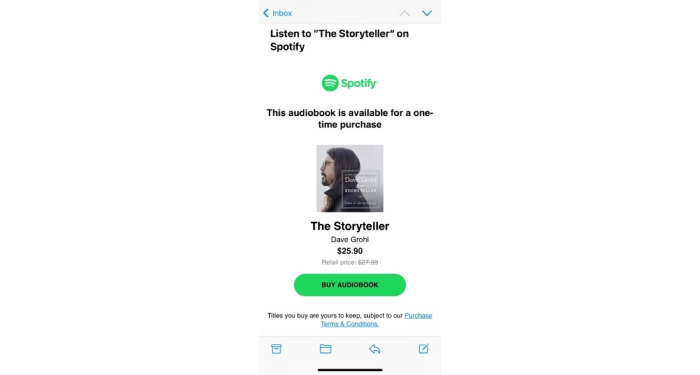 Step 6. Now you should be redirected to the web version of Spotify, and then tap the green "Buy" button on the right side to finish the purchase.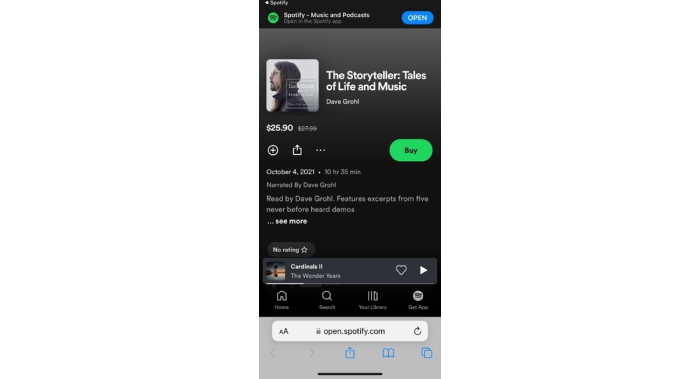 Step 7. Add your payment information to the checkout page, and then you can buy the audiobook successfully. For payment, users can choose a credit card, debit card, or PayPal, all of which are acceptable.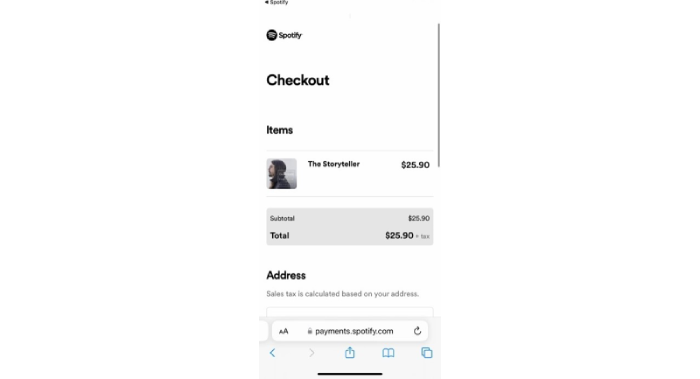 Step 8. After the previous series of steps, all you have to do is to reopen Spotify and select "Your Library" at the bottom to see the audiobook you've just purchased. Tap it to start your listening tour!
How to Download Spotify Audiobooks to Listen Offline
After successfully buying an audiobook, you may be wondering can I download it and listen to it offline? The answer is yes, but only if you already have a Spotify Premium subscription. For Spotify, only Premium users will be able to download audiobooks for offline listening after purchasing them.
Follow the next steps to download Spotify audiobooks and listen to them under offline mode:

Step 1. Select the audiobook you want to download on Spotify.
Step 2. Click the download bottom below the title.

Step 3. Open the menu in the upper-left corner; Select "File" and click "Offline Mode" to turn on the offline mode of Spotify to listen to audiobooks offline on Spotify.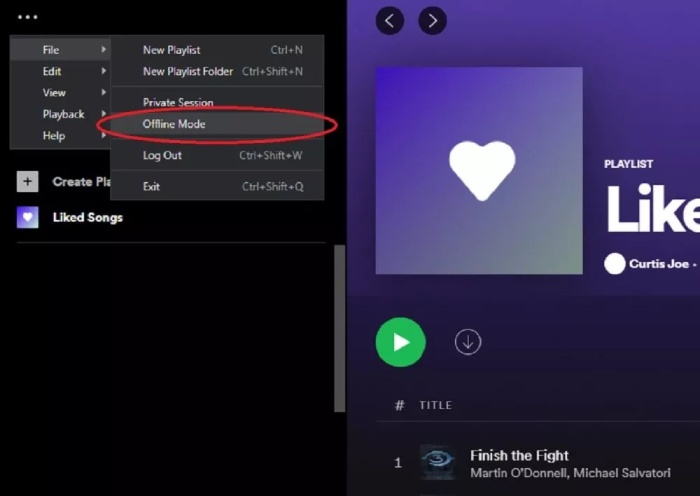 Now, even if you are in an offline status, you can enjoy audiobooks as you like!
How to Listen to Spotify Audiobooks Offline Without Premium​
With the previous introduction, now you know that only the audience with Spotify Premium can download audiobooks for offline listening. But is Premium the only way to listen to audiobooks offline? Of course not. This article provides a new way for you to download audiobooks and listen to them offline without subscribing to Spotify Premium.
This approach is to use MuConvert Spotify Music Converter, with which you can download audiobooks for your offline listening without premium while the official download feature is solely available to premium users. This Converter is powerful software that can help you download various audiobooks from Spotify and convert it to MP3, M4A, WAV, and other formats that you can listen to offline.
In addition to those benefits, Muconvert also performs well in downloading Spotify songs, playlists and podcasts, which means that you don't need to worry about those download difficulties due to not subscribing to Premium. What's more, the download speed and quality are also highly guaranteed by its superb technical support.
Key features of MuConvert Spotify Music Converter:
No Need for Premium: Without a subscription to Spotify Premium, users can enjoy audiobooks and music from Spotify offline.
Various Format Options: The converter offers formats from MP3, M4A, WAV to FLAC to choose from, giving users great flexibility.
Ultra-High Music Quality: This product has been carefully developed with advanced technology to ensure that the sound users receive is of high quality.
Easy to Operate: The converter is very easy to use with simple operation pages, familiar music software, and intuitive operation instructions.
Follow the following steps and you'll be able to download Spotify audiobooks without Premium:
Step 1. Download MuConvert Spotify Music Converter. Click the Download button below and start it up.
Step 2. Find the Spotify "Log in" logo at the top of the page, and then click it to log in to your free Spotify account or premium account.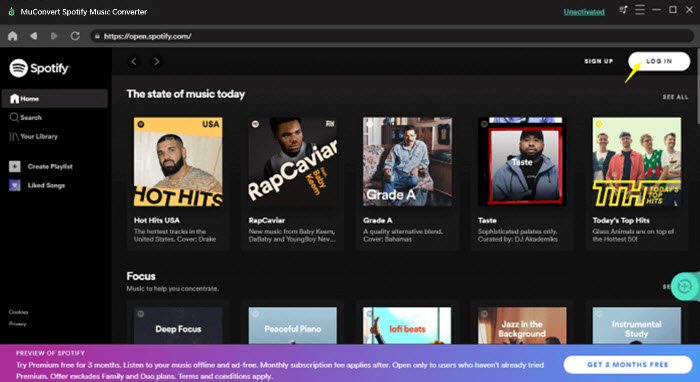 Step 3. There will be a green floating ball on the right side of the page. Drag the audiobooks you want to convert onto the floating ball. Then you will get the analyzed list of the audiobooks.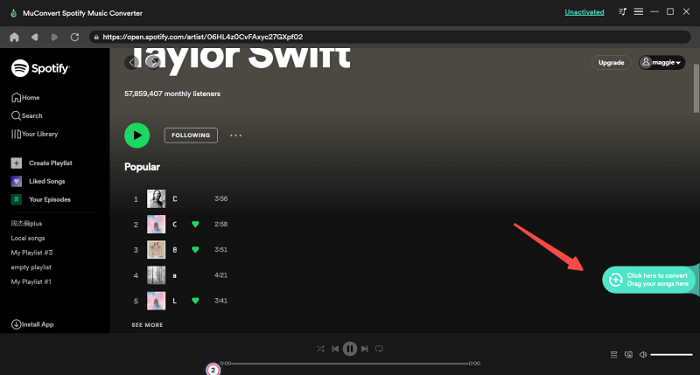 Step 4. Tick the audiobooks you want to convert and select the output format.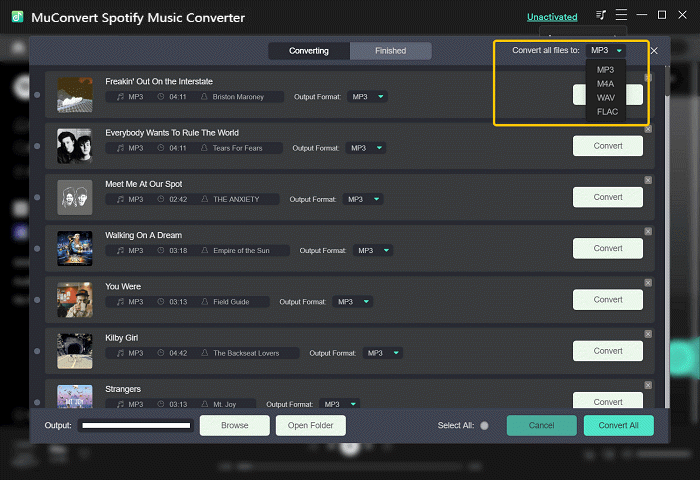 Step 5. Confirm the output path in the bottom left corner and click on "Convert All" in the down-right corner to download the audiobooks.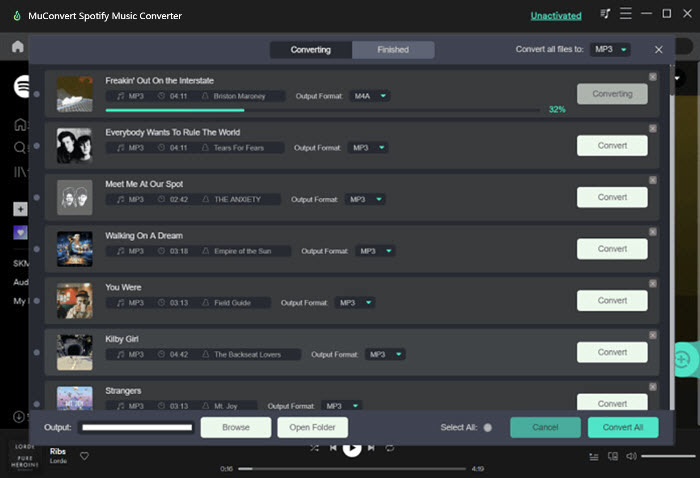 Then you will be able to enjoy your audiobooks offline after a quick conversion!
Now you don't have to worry if you find you can't download those audiobooks without Spotify Premium. With the help of MuConvert Spotify Music Converter, you can download and enjoy listening to audiobooks all the time. A 30-day free trial is offered and now let's try it!