Convert Spotify to MP3: 4 Best Ways Recommended in 2022
As the largest music streaming platform in the world, Spotify provides abundant songs for people to enjoy. But the DRM encryption added to the songs from Spotify results in the failure of listening to them outside the Spotify app offline. So, many people are looking for ways to convert Spotify music to MP3, a format that is compatible with most media players, even without subscribing to Spotify Premium.
Hopefully, in this post, there are several methods that guide you to convert Spotify music to MP3. You can read on and choose the one that suits you most.
What Should You Consider When Converting Spotify Songs to MP3?
Before introducing you to the best methods to convert Spotify music to MP3, you may wonder what the criteria is to evaluate the method. Based on our investigation and program testing experience, we concluded the following qualifications that the best Spotify to MP3 converter should process.
Lossless Audio Output Quality
To ensure the best offline Spotify music streaming, we value the quality of the converted Spotify songs. Therefore, you should consider whether you can get a high-quality MP3 audio file after you use the method to convert.
Spotify Contents to Convert
Spotify contents include songs, playlists, albums, podcasts, and so on. When you choose a method to convert Spotify music to MP3, you need to consider what Spotify content this way can convert for you.
You may be annoyed and impatient if the process of converting music from Spotify is too long. Thus, you need to choose an efficient method, preferably with batch conversion capability, to save you more time.
After you download and save the converted MP3 files to your computer successfully, you need a way to save ID3 tags for better management. With ID3 tags kept, you can create a folder based on the name of the artist, or you can listen to the songs recognized with the song's name on your car.
Stability and Success Rate
When you choose the best way to convert Spotify to MP3, especially when you need to download a lot of songs at once, you also need to think about whether the program is stable enough. Because some tools, especially online tools, are greatly affected by network restrictions, they may sometimes be unstable during the conversion process.
What's more, some tools, especially free tools, may fail to convert from time to time. So you need to choose a way to convert Spotify to MP3 with more stable software, achieving 100% successful conversion.
Based on all these fundamental qualifications, this article will recommend 4 ways that can satisfy some of these points, to help you convert Spotify to MP3. If you want to choose the best idea, then it should satisfy all the qualifications. Please read on!
How to Convert Spotify to MP3 with MuConvert on Windows/Mac🔥
With the intuitive main feed and embedded Spotify web player, the program facilitates easy manipulation in converting Spotify to MP3. Not only that,
MuConvert Spotify Music Converter
also has the following amazing features:
User-friendly experience:

provide with an easy UI to facilitate converting Spotify songs to audio files with ease.
5X faster speed: offer 5X faster converting speed to get Spotify songs converted within seconds.
Batch conversion: process multiple songs conversion at once to be time-saving.
Several useful formats: provide common format options such as M4A, FLAC, and WAV to encode Spotify songs.
Keep metadata: save the music metadata and ID3 tags of Spotify songs to facilitate convenient offline song management.
Retain lossless quality: convert Spotify songs and playlists to lossless audio files to ensure the same high-quality offline streaming.
In the following, we will guide you through the tutorial on using MuConvert to convert Spotify playlists to MP3 in one shot.
Step 1. Free Download MuConvert Spotify Music Converter
First, please click on the provided Free Download button to install MuConvert Spotify Music Converter.
Step 2. Log into Spotify Web Player
After launching MuConvert Spotify Music Converter and entering its main feed, you will access the built-in Spotify web player. Please log into your Spotify account by clicking on the Login button on the top right corner.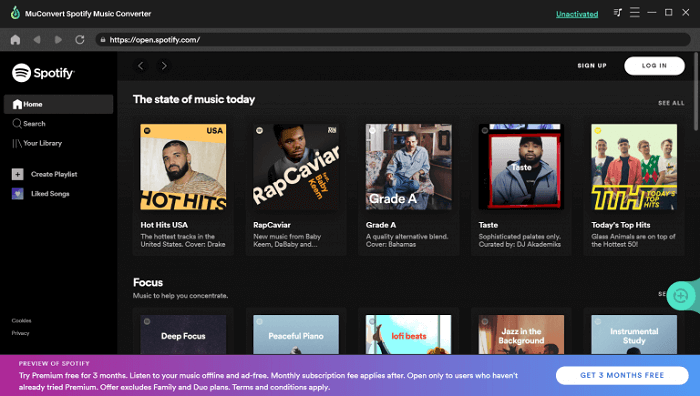 Step 3. Analyze Spotify Playlist and Select Songs to Convert
Start the conversion process now! Please open a Spotify playlist or album you are about to convert to MP3. Subsequently, click on the green plus icon floating on the right side of the converter, and MuConvert Spotify Music Converter will initiate the Spotify playlist analysis process right away. When the playlist is analyzed, you can select the songs for conversion.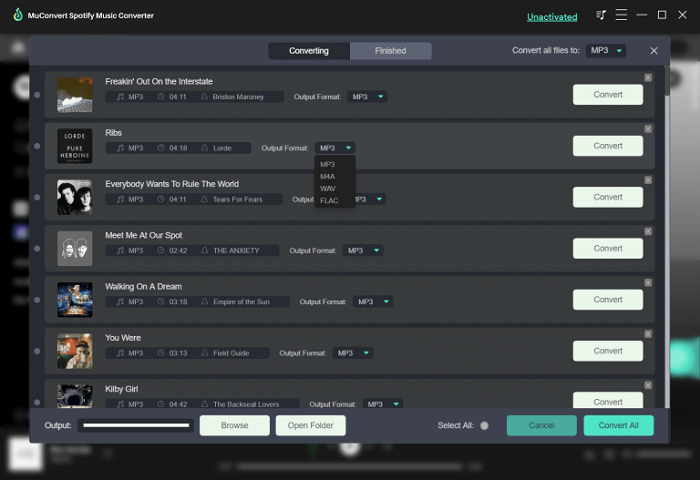 Step 4. Select MP3 as Output Format
Please navigate to the top right format selection drop-down menu to select MP3 as the output format. You can also go to Menu >> Preferences >> Advanced to adjust the Sample Rate and Bitrate for encoding the output Spotify songs.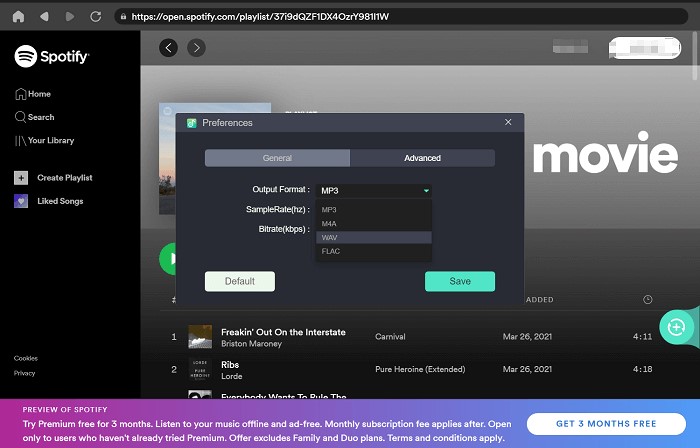 Step 5. Start Converting Spotify to MP3
Eventually, you just need to tap the Convert All button for converting Spotify songs to MP3. In just a while, the songs will all be saved in MP3 audio files locally. You can access the folder by clicking on the View Output File button.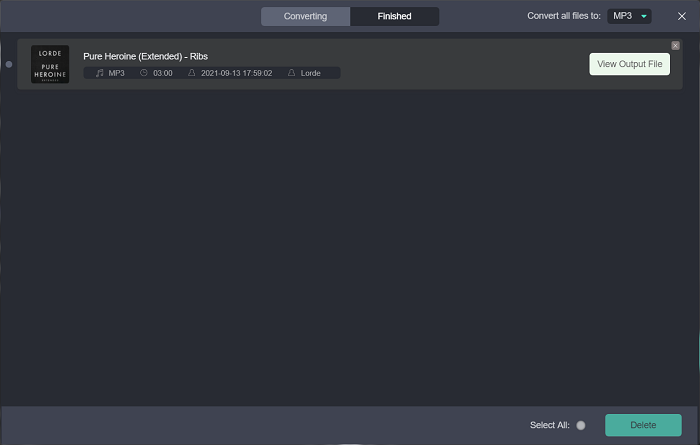 Easy, right?
MuConvert Spotify Music Converter
is a program that can meet all the
qualifications for pleasant music conversion
. Also equipped with a responsive support team, MuConvert Spotify Music Converter ensures the best service to convert Spotify songs. So, when you run into any troubles while converting Spotify songs with MuConvert, you can reach the support team to help you out.
How to Convert Spotify Songs to MP3 with AllToMP3 for Free
AllToMP3
is open-source software that enables users to download songs from Spotify and save them as MP3. This free Spotify to MP3 converter is a desktop application available for Windows, Mac, and Linux. Moreover, it can keep ID3 tags, album art, and even lyrics. However, AllToMP3 provides an unstable real-time conversion that could make your computer hang up and the software sometimes crashes before downloading. Below are the steps to convert Spotify to MP3 with AllToMP3:
If you find it unstable when you are converting music from Spotify using AllToMP3, then you can turn to MuConvert Spotify Music Converter
, it's a more stable tool for you to convert.
Step 1. Download and install AllToMP3 Spotify to MP3 converter to your device.
Step 2. Open the Spotify Web Player or Spotify desktop or mobile app, and browse the music or playlists that you want to convert to MP3.
Step 3. Copy the URL of the music and paste it into AllToMP3 Spotify MP3 converter. Then press Enter, and it will start to convert Spotify to MP3.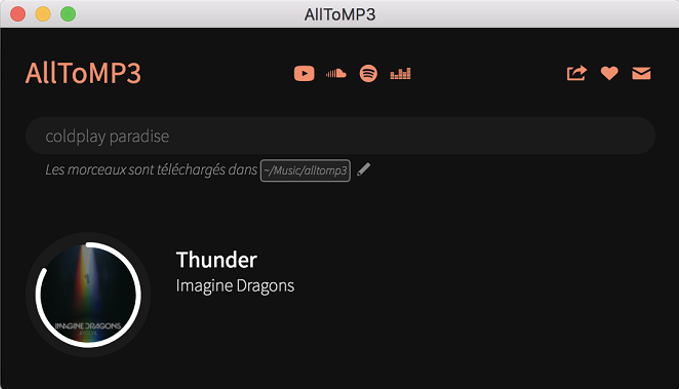 How to Convert Music from Spotify to MP3 via Soundloader Online
If you are looking for an online way to convert Spotify music to MP3, then
Soundloader Spotify Downloader
is a helpful online tool to help you. It is a totally free tool that constitutes 6 parts: Spotify Downloader, YouTube Downloader, Apple Music Downloader, SoundCloud Downloader, Deezer Downloader, Napster Downloader. After converting Spotify songs to MP3 with it, you can get a 320kbps audio file with ID3 tags preserved. Its operation process is quite simple, you can follow as below.
Soundloader Spotify Downloader only allows you to convert Spotify songs to MP3, while playlists, podcasts, albums, etc. from Spotify cannot. Therefore, if you want to convert such Spotify content to MP3 with batch download feature, then you can try
Step 1. Navigate to the website of Soundloader Spotify Downloader, then go to the Spotify app or web player to find the song you want to convert.
Step 2. Click the three dots to find "Share", then select "Copy Link" to copy the link of the song.
Step 3. Paste the link to the text input on Soundloader's main interface, and click "Search".
Step 4. Click "Download track" to start converting the song to MP3.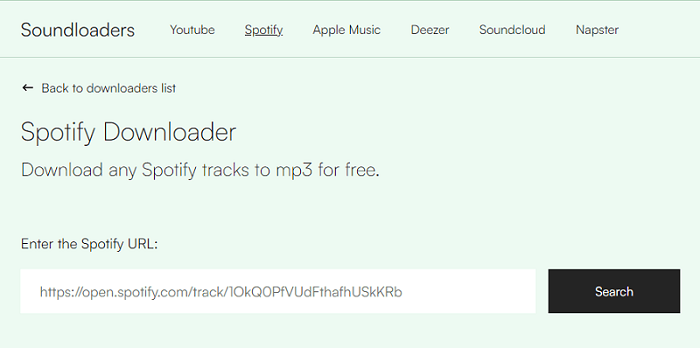 What About Recording Spotify to MP3 with Audio Recorder
Another reliable way to convert Spotify to MP3 songs is to record the songs and save the audio recordings in MP3 format. For this purpose, you can try the industry-leading program, FonePaw Screen Reocrder.
Overview Features of FonePaw Screen Recorder:
High-quality recording outputs
Various output formats to save audio recordings
Effortless recording process
Soundcheck feature
Scheduled recording setting
Of course, using a recorder can also help you convert Spotify to MP3 successfully in an indirect way, but it's somehow cumbersome and time-consuming without ID3 tags saved. So, if you want to convert Spotify to MP3 more efficiently, you can use a converter, such as MuConvert Spotify Music Converter
, to convert music from Spotify directly.
Step 1. Open FonePaw Screen Recorder and go to Audio Recorder on the main feed.
Step 2. Check the volume of your system sound. It is recommended to turn off the microphone for avoiding unnecessary noise.
Step 3. Go to Settings >> Output to select MP3 as the output format.
Step 4. Play the Spotify songs and initiate the recording meanwhile.
Step 5. End the recording when the Spotify song stops playing.
Step 6. Save the Spotify song recording.

4 Best Ways to Convert Spotify to MP3: An Overview
After introducing the guides to converting music from Spotify using 4 different tools, here is a chart for you to make a comparison, and you can choose the one that suits you most.
Convert Spotify to MP3 via

AllToMP3

Soundloader Spotify Downloader

FonePaw Screen Recorder

 

Price

$14.95/Month

Free

Free

$19.56/Month

Compatible OS

Mac, Windows

Windows, Mac, Linux

Online

Mac, Windows

Supported Output Format

MP3, WAV, FLAC, M4A,

 

Only MP3

 

Only MP3

WAV, AIFF, Ogg Vorbis, FLAC and MP2

Conversion Speed

Fast

Middle

Middle

Middle

Customize Output Quality

High

Medium

High

Medium

ID3 Tags Preservation

YES

 

YES

YES

NO

Supported Spotify Contents

Songs, Playlists, Albums, Podcasts, etc.

Tracks, Albums, Playlists, etc.

 

Only single songs

 

Only single songs
Extra Tips to Use Spotify
As you have realized that utilizing a convenient program like
MuConvert Spotify Music Converter
is able to help manage Spotify songs more flexibly. Actually, there are more tricks to using Spotify for enjoying songs playback better. Here are some tips for you.
Tip 1. Recover Spotify Playlist
If you accidentally delete a Spotify playlist and wish to recover it back, simply go into the Spotify web player to log into your account. Scroll down the left sidebar and you can access Recover playlists option. Click on it and select the deleted playlist you wish to restore, subsequently, tap Recover.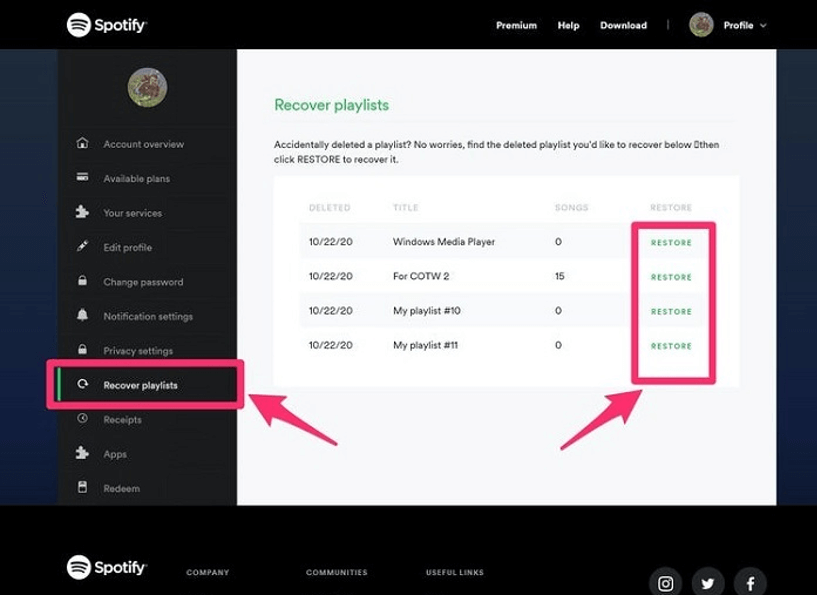 Tip 2. Hide Streaming Habits
Spotify's algorithm enables the app to read your streaming habits, then recommends the related categories for you to discover more songs. But as for some people who wish to keep their activities on Spotify private, they can make the playlist secret to hide their streaming habits. Simply create a secret playlist by tapping the three dots icon under the playlist name, and there will be a Make Secret option for selecting.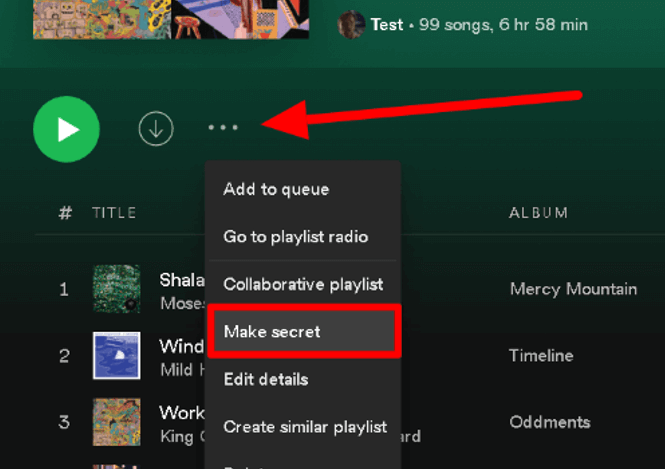 For the already-have playlists, people can also change them to the private situations in the playlists' privacy settings.
Tip 3. Customize Higher Quality
Spotify allows people to customize sound quality for facilitates decent playback. By default, the streaming quality will be set to Automatic. To ensure higher quality playback, you can go to the settings menu and choose the music quality from Low (24kbps), Medium (96 kbps), High (160 kbps) or Very High (320 kbps) options.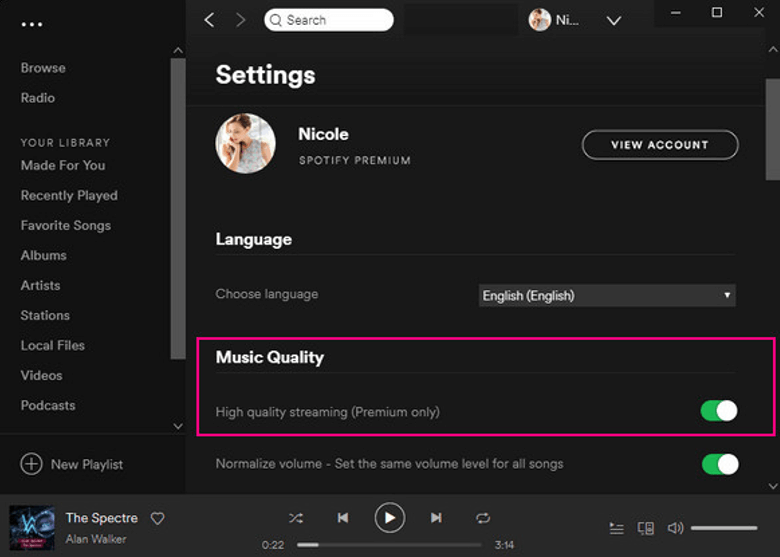 Tip 4. Import Non-Spotify Songs
When you fail to discover some songs absent from Spotify, you can add them to the Spotify app for playback from other sources. Please navigate to Preferences on the desktop app, then scroll down to select ADD A SOURCE. Following, you can import a folder which stores your own music files to Spotify for later streaming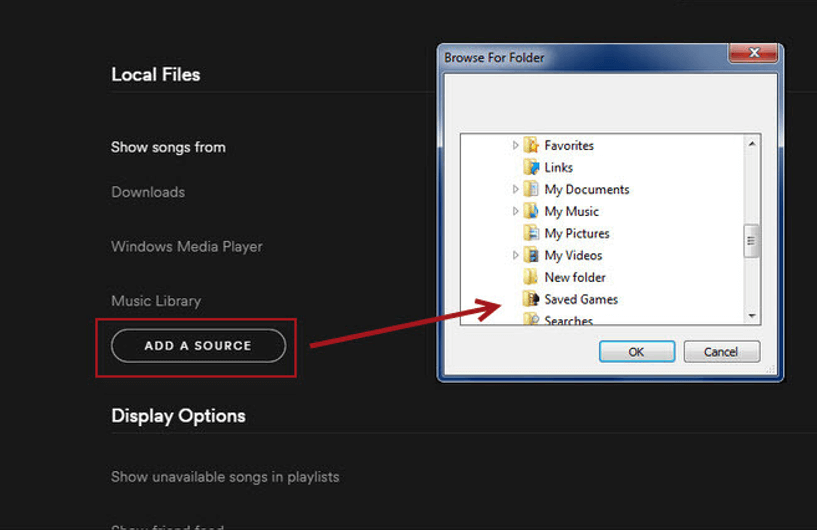 FAQs About Converting Spotify to MP3
Here, we also collect some frequently asked questions surrounding the topic of converting Spotify songs to MP3. Go through them if you have the same confusion.
1. How can you convert Spotify to MP3 on Android/iPhone?
Despite the Spotify Music Converter for Windows and Mac, some people are also seeking workable tools to convert Spotify to MP3 on Android or iPhone. Of course, there are some tools that work. For Android users, you can try SpotiFlyer, while for iOS users, you can use Spotifydl (a shortcut) to help you convert and
download Spotify music to iPhone
.
Actually, in addition to using a phone tool directly, you can also convert Spotify to MP3 with a desktop tool, like
MuConvert Spotify Music Converter
, then transfer the converted songs to your phone.
2. Except for converting Spotify songs/playlists to MP3, can I also convert Spotify podcasts?
Sure!
MuConvert Spotify Music Converter
can help you convert Spotify podcasts to MP3. Just like converting Spotify music on this program, all you need to do is to choose the podcasts you want to convert, drag and drop them to the green Add button, then this tool will start converting them as actual MP3 audio files.