5 Best AAX to MP3 Converter Online/Offline
People have switched the way of reading into listening to books and Audible provides countless of resources to them. But a disadvantage of the AAX audiobooks provided on Audible is that they are all locked with a technology called DRM, which stops people from transferring the AAX audiobooks to other devices for playback. As a result, this article will introduce the 5 best AAX to MP3 converters for people to solve this problem and remove the DRM protection from the AAX audiobooks. Now just read the introduction and select the best tool for yourself.
Top 3 AAX to MP3 Converter Mac/Windows
For Windows and Mac users, a safe platform, the fluent performance, small size of the program, and its quick speed in converting audiobooks are all important factors for people to select a third-party software. Based on these basic features, we selected the top 3 AAX to MP3 desktop converters for Windows and Mac. They are MuConvert Audible Converter, OpenAudible, and Epubor Audible Converter.
MuConvert Audible Converter
MuConvert Audible Converter provides reliable services for Windows and Mac users to convert audiobooks from Audible to common formats such as MP3, M4A, WAV, and FLAC. By deleting the DRM protection on the Audible audiobooks, people can get a free audio file and transfer it to playback on all devices or players. With a straightforward design, MuConvert Audible Converter offers an easy way for people to operate the conversion process. The AAX to MP3 conversion can be a really simple thing.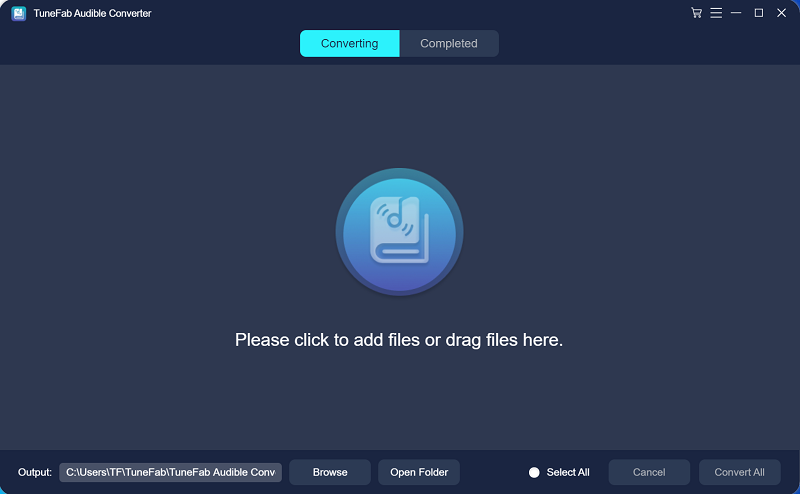 Other Highlight Functions:
Audiobooks splitting - MuConvert Audible Converter is able to cut the audiobooks into smaller parts according to the chapters, time, or segments, which is more convenient for saving the content.
Full content conversion - Except for the audio content of the audiobooks, MuConvert Audible Converter will also convert the chapters, ID3, and metadata information together with the books for easy playback offline.
Customization settings - MuConvert Audible Converter allows people to edit the parameters of the audiobooks such as codec, channel, bit rate, and etc. before converting them.
Pros:
l Runs fluently on both Windows and Mac
l Offers 60X faster speed to convert Audible audiobooks
l Keeps the converted audiobooks in 100% original quality
l Uses batch conversion to make the conversion process to be even much faster
l Supports multiple foreign languages for users of the whole world to use
Cons:
l If you are using the free version, you can only convert Audible audiobooks for up to 3 minutes each.
OpenAudible is the second-ranking AAX to MP3 converter that works for Windows, Mac, and even Linux users to manage and convert audiobooks with easy-to-use operations. More than converting Audible audiobooks to common audio files, OpenAudible also supports to export the book lists to formats like html, json, or spreadsheet. With more professional functions to manage audiobooks, OpenAudible can be more suitable for those who want to tidy up their audiobooks in more convenient ways.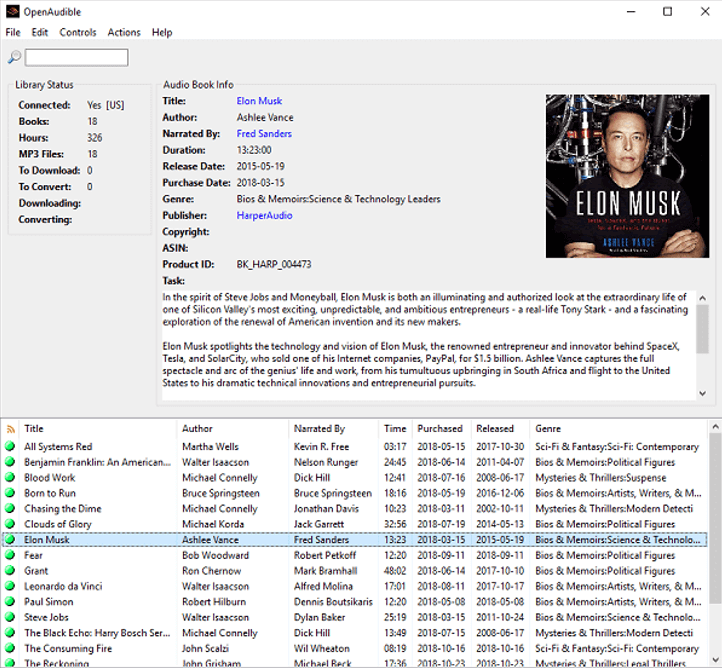 Pros:
l Supports to export audiobooks in both audio formats and html, json, or spreadsheet
l Supports to import titles to audiobook library
l Allows users to split or join chapters within clicks
l Connects with your Audible library automatically
l Supports all Audible regions without limitations
l Provides different languages for foreign users to use the software easily
Cons:
l Would be more complex for people who just want an easy AAX to MP3 converter
Epubor Audible Converter also offers the reliable software for Windows and Mac users to easily convert AA and AAX Audible audiobooks to MP3 by removing their DRM. By keeping the original quality, after converting the AAX audiobooks to MP3 with Epubor Audible Converter, people can still enjoy the original audiobooks playback offline. With the DRM-free audiobooks, people can even save the files to any players such as iPod, Kindle, Sony Walkman, iRiver and other iOS, Android mobile phones or tablets for enjoying in more flexible way.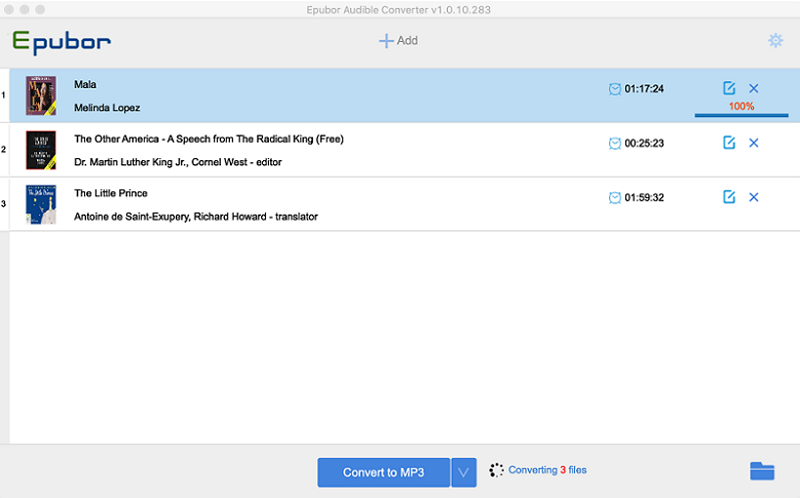 Pros:
l Provides an easy-to-use UI to convert audiobooks
l Offers splitting mode to cut audiobooks into smaller parts
l Converts audiobooks with 60X faster speed
l Keeps updating the software for always providing the best services to people
Cons:
l People have to pay for using the full features provided by the software
2 AAX to MP3 Converter Online Free Recommended
Another good way to convert AAX to MP3 is to use the online AAX to MP3 converter. In this way, people don't have to install software but just open the converter in browser for completing the audiobook conversion process. The following 2 AAX to MP3 converters are both reliable to help.
123APPS Online Audio Converter
The online Audio Converter provided by 123APPS is an all-in-one tool that supports to convert audios of different formats to common audio files such as mp3, wav, m4a, flac, ogg, and more. Except for this, people can also make iPhone ringtone within this audio converter directly without downloading other software. By connecting to GoogleDrive and Dropbox, people can even save the converted files or import from these two platforms directly. 123APPS Online Audio Converter provides an easy way to convert AAX to MP3.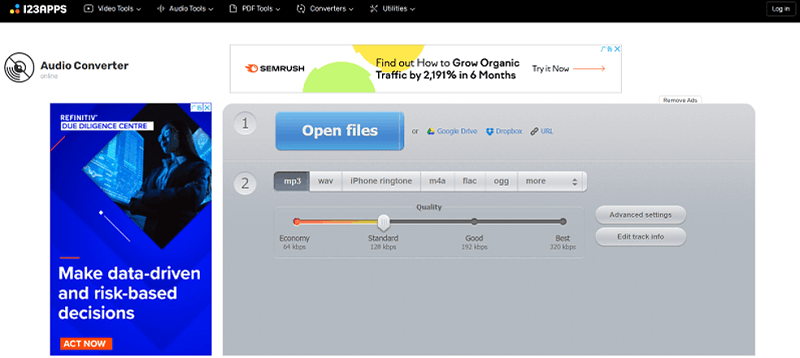 Pros:
l Offers easy-to-use online service to convert audio files
l Allows to create iPhone ringtone online directly
l Doesn't require to install software
l Supports to use the tool on all devices
l Provides advanced settings to adjust the audio files before the conversion
l Supports to edit track info if people need
Cons:
l The audiobooks with DRM protection may not be able to convert
l There have ads listed on the UI, which may interrupt a fluent conversion process
AnyConv is also a reliable file converter that works fluently to convert AAX audio files to MP3 format. Other than AAX and MP3, AnyConv provides the conversion functions for people to easily convert file formats among those common media as well as succulent formats. Also with the high compatibility, AnyConv can be used on all devices, including your mobile phones, tablets, and so forth. People can get the files converted at any time when they need to.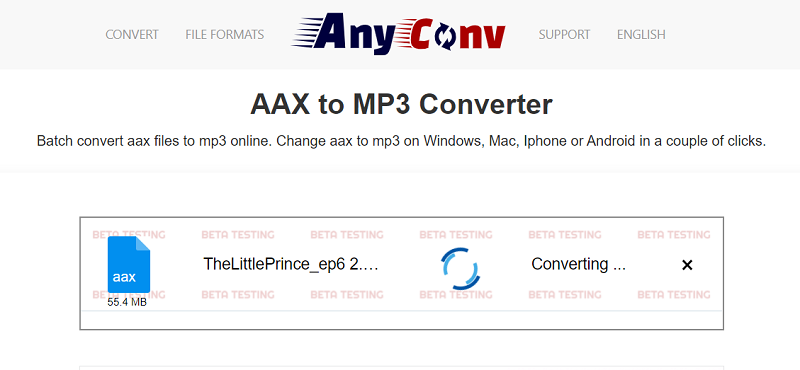 Pros:
l Supports to convert files on any devices
l Converts with fast speed to save much time for people
l Offers safe function to make sure the secure and user-friendly conversion process
l Supports various media as well as document formats
Cons:
l Lists multiple ads on the UI, making the UI to be a bit annoying
l Each uploading file cannot be over 100MB
Tip: Desktop Converter VS Online Converter
After introducing both desktop AAX to MP3 converters and online converters, you may easily notice the differences between them. For the AAX to MP3 converters for desktop, the functionality would be directly focused on the audiobook's conversion or management, while online converters cover more format conversions other than audiobooks. That means the desktop software could be regarded as the expert in dealing with audiobook conversion.
Except for this, the AAX to MP3 converters also provide much stabler function to convert audiobooks. They can speed up the conversion to the highest 60X faster speed, and even provide the splitting as well as chapter saving functions for people to manage the audiobooks more conveniently. These functions are not provided by the online converters.
Although different people would have different preferences, if you just want a reliable and more professional AAX to MP3 audiobook converter, it is better for you to choose the desktop software. In most cases, the Audible audiobooks are protected by DRM, and such protected audiobooks should be converted using more professional converters like MuConvert Audible Converter.
Convert AAX to MP3 with the Best AAX Converter
Online AAX to MP3 would be easy to use, so does the desktop software. In order to help you quickly grasp the way to convert protected AAX audiobooks from Audible to MP3, this part will show you the way to use MuConvert Audible Converter, the best option for most people. Let's see the tutorial now.
Step 1. Install MuConvert Audible Converter and Download Audible Audiobooks
If you are using Windows or Mac computers, directly press the download button provided here to install MuConvert Audible Converter at first. At the same time, you should also go to Audible platform and download the purchased audiobooks you want to convert to MP3 format as preparation.
Step 2. Add AAX Audiobooks to MuConvert Audible Converter
When MuConvert Audible Converter is installed, run the software and directly press the icon in the middle of the UI for adding the downloaded AAX audiobooks to the converter. You can also drag the audiobooks for importing in a faster way.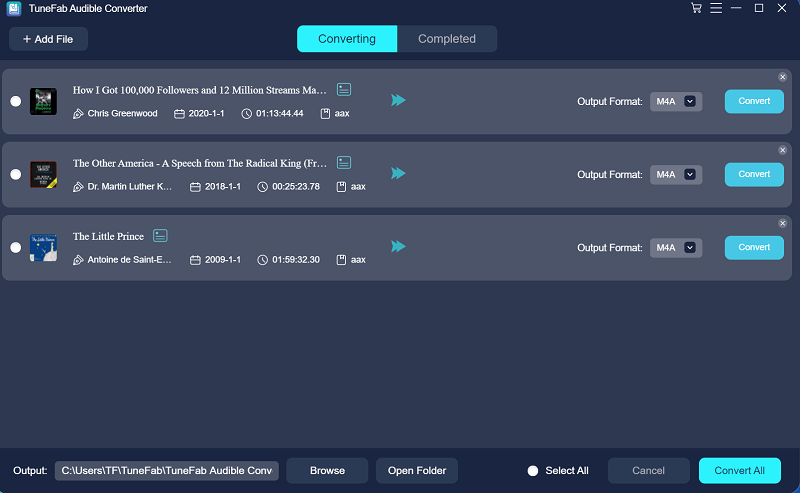 Step 3. Select MP3 to Convert Audiobooks
After adding the audiobooks, you can choose the output format as MP3 for each of them.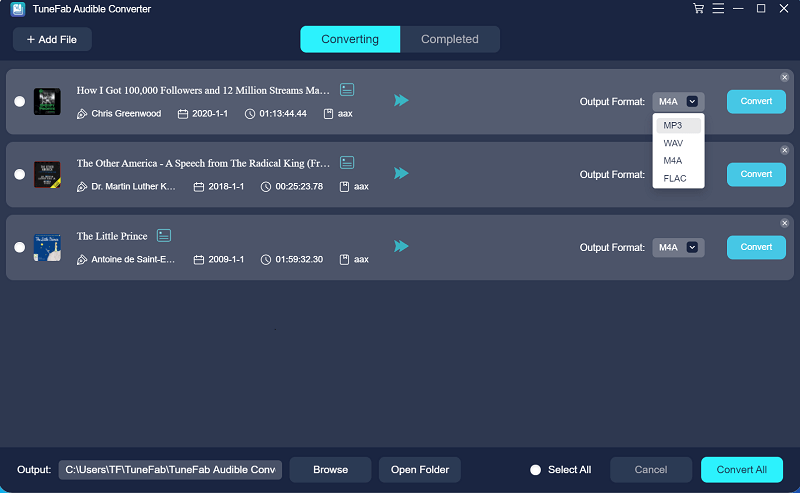 Except for this, by clicking the ID3 icon behind the audiobook title, people can edit the ID3 information of the audiobooks such as the Title, Artist, Album, Album/Artist, and Genre.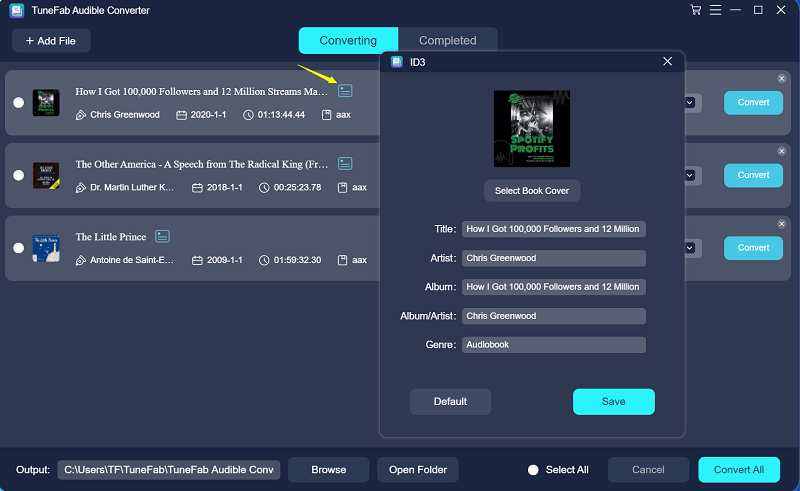 Step 4. Do More Preference Settings
By going to the "Preferences" in the settings menu, people can also change the SampleRate, Bitrate, and even split the audiobooks by chapters, time, or segments. This place provides a chance for people to customize the converted audiobooks freely.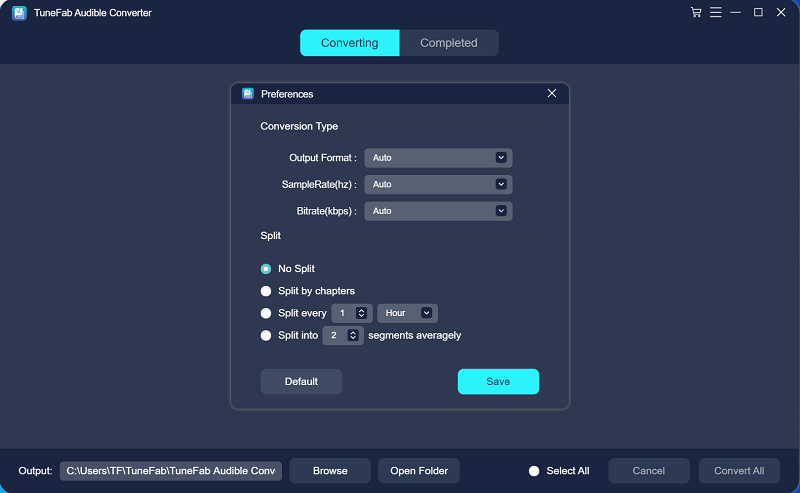 Step 5. Convert AAX Audiobooks to MP3
When everything is ready, you can directly click the "Convert All" button to start converting the added AAX audiobooks to MP3. With 60X faster speed, MuConvert Audible Converter will finish the conversion with quick speed. All you have to do is to wait for a moment and get the converted MP3 audiobooks to enjoy offline.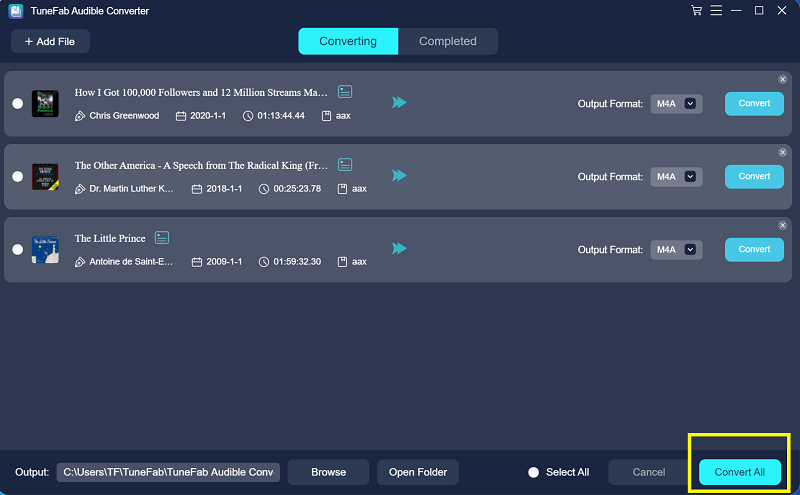 By using the best AAX to MP3 Converter, people get the way to remove DRM from AAX audiobooks and convert them to MP3 format with original quality for enjoying more flexible offline audiobooks playback. Among so many converters, MuConvert Audible Converter is a good software that you can trust. Try it and use to convert your AAX audiobooks to MP3 now.