Audible is a streaming platform for listening to audiobooks online. But at some point, you might want to download your favorite audiobooks, either so you can listen to them after your Audible Membership expires, or to keep them on your own devices so you can still enjoy them regardless of network conditions.
Unfortunately, the download feature on Audible's official platform may not help you with these wishes, as it has many restrictions. For example, it only offers you to download audiobooks in AAX format. Worse still, these downloads have DRM protection, so the audiobooks can only be accessible in Audible's official app even after you get the file.
Is there any way to get Audible books freely on your devices? Of course there is! Read this article and get your solutions.
Part 1: How to Download Audible Books on Windows/Mac
Whether you're on a Windows or Mac computer, you can download your favorite audiobooks directly from the Audible Website. It's important to note that all downloaded audiobooks are in AAX format, which can't be played on platforms other than Audible.
Before you download an audiobook, don't forget to make sure that you have purchased the audiobook you want. You can check it out on Audible Website or the official App.
How to Download Audible Books from Audible Website
Step 1: Sign in to Audible.com and Enter "Library."
Run the browser on your computer and visit Audible's official website to sign in to your account. Click on "Library" and you can find the audiobooks you have purchased.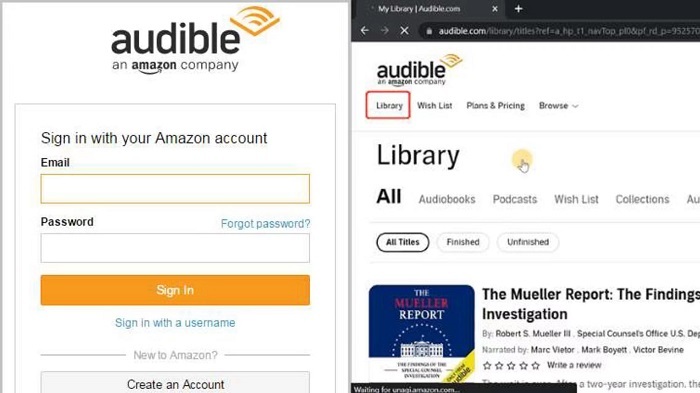 Step 2: Download Selected Books and View Output Folder
Select the book you want and click the "Download" button in the lower right corner to start the work. When the download is complete, you will get the AAX file of your book.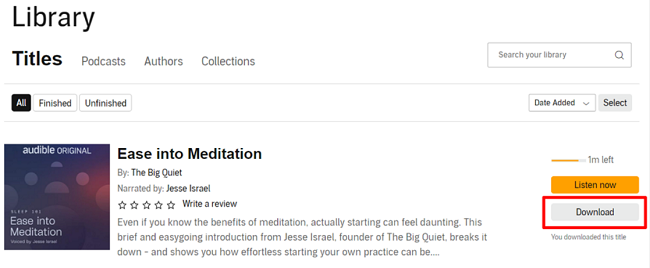 Note:
If you don't find the "Download" button next to the audiobook, try refreshing the page or checking to see whether you have purchased the book or not.
Before downloading, a page will pop up and ask you where you want to download the file, and you can select the location you want. After the download is complete, you can easily locate the file you downloaded in the corresponding folder.
On Windows, you can click "Settings" in your browser and find "Downloads" to view the file, or just go to the location you chose to check the work.
On a Mac, you can go directly to "Finder" and click "Downloads" to find the downloaded file.
Pro Tip: Authorize Audible to Listen to Downloads Directly
Click your downloaded audiobook files, and you need to authorize Audible on your computer to play them.
On Windows, click "OK" on the popped-up page, and it will go back to Audible Website to authorize.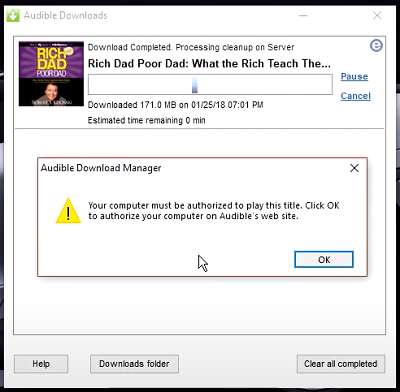 On Mac, this happens in 2 different ways. If you are using a version before MacOS Catalina or Big Sur (MacOS 10.14.6 Mojave or earlier), you can open the downloaded Audible AAX files in iTunes, and they will show up in the "Audiobooks" section. But if you're using MacOS Catalina or Big Sur, you'll need to import the downloaded file into Apple Books and click "YES" on the pop-up page to authorize Audible to play it. You can find them in the "Audio Books" section of Apple Books.

How to Download Audible Books from AudibleSync
In fact, Audible even provides a specific app to help you get your purchased books for local storage. AudibleSync is an assistant app that supports downloading audiobooks on Windows 8/10/11. Select the audiobooks you prefer, download them in AAX format, and play them within Audible's official platform seamlessly.
Step 1:Install AudibleSync on your PC, and run it to sign in.
Step 2: After signing in, you will be brought to the "Library". Click the Download button next to the title of the book to download the audiobook.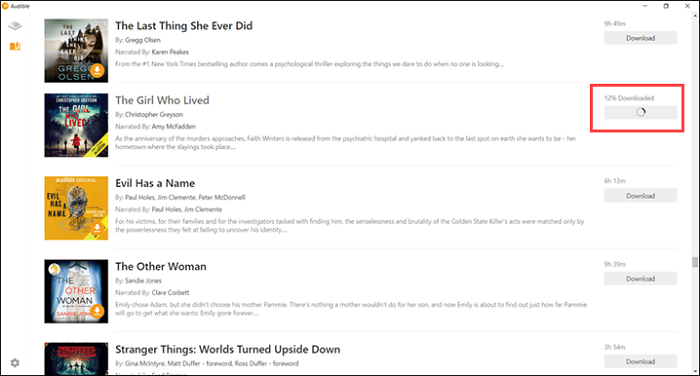 Step 3: After downloading, you can click "My PC" on your computer desktop and find the "AudibleSync" folder to view the file.
Part 2: How to Download Audible Books on iPhone/iPad/Android Devices
To download Audible audiobooks on your mobile devices such as iPhone, iPad, and Android phones, you will need to install the official Audible App on your device before following the steps below. Visit the App Store to download the official App before starting.
Step 1: Click "Library" and Start Downloading
When you've installed the Audible app on your iPhone/iPad/Android devices, just launch it and sign in. Click "Library", and you can see all the purchased titles here. Click the "Download" button to start.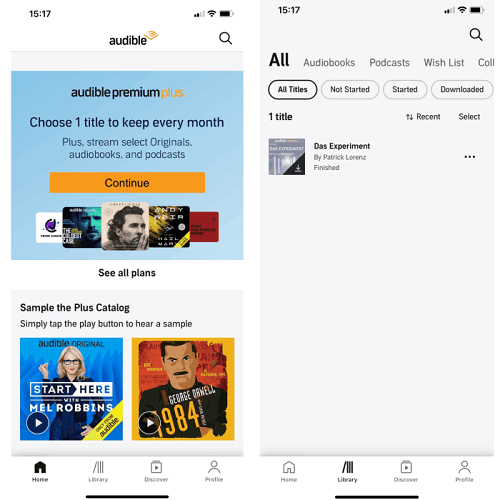 Step 2. Customize Download Settings
To better control the download quality of Audible books, you can change the quality to "Standard" or "High" via "Profile" > "Data & Storage".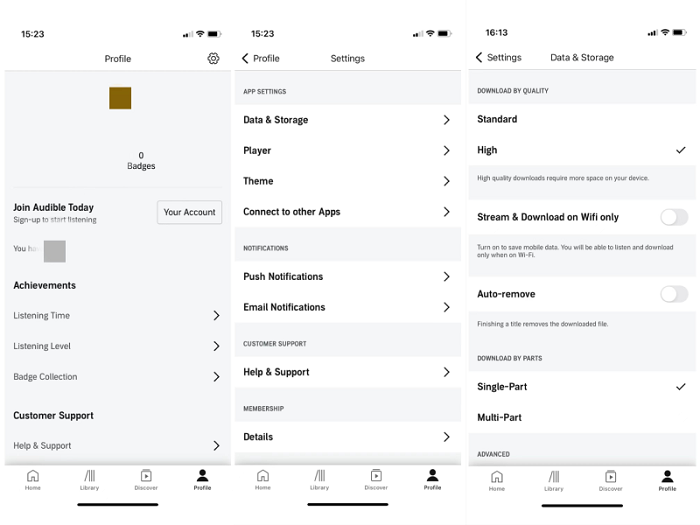 Part 3: Tips on Listening to the Downloaded Audible Books on iTunes or Other Players
As mentioned above, downloading Audible audiobooks directly to listen to them has some limitations, such as the format not playing directly, the official App doesn't work on all systems, and so on. Is there any way out of this dilemma that you can freely play audiobooks on your computer and even transfer them to more players? The following will help you.
How to Add and Play Audible Books on iTunes
After you download Audible audiobooks on your PC, you can sync those books to your mobile devices by adding them to iTunes for all versions of Windows and Mac (MacOS 10.14.6 Mojave or earlier). Before adding, make sure to authorize your account when you play the audiobooks. You can scroll back to "How to Download Audible Books from Audible Website" in "Part 1" for more details.
Here are the steps for you to add audiobooks to iTunes.
Step 1: Run iTunes, and add your files to "Library".
Step 2: Find the location where your Audible files are put. This location will be based on your preferred browser settings, and your chosen folder before downloading.
Step 3: Locate and double-click the Audible files you wish to import. Click on the "Book" icon which can be found in the menu of the iTunes window.
How to Play Audible Books on Any Player
Since you've already known how to add Audible books to iTunes, just note that the books are still encoded in AAX format attached with Audible's proprietary copy protection. This may cause inconvenience when you want to enjoy playback on devices that are not compatible with the Audible app. Therefore, the ultimate solution is to convert downloaded Auidble books from AAX into MP3 or other mainstream audio formats and get rid of all obstacles.
MuConvert Audible Converter is here for you. It's a PC program that smoothly works on both Windows and Mac devices, offering you to convert your selected audiobooks to mainstream formats including MP3, M4A, etc. It also keeps ID3 tags of audiobooks for you to manage conveniently, and saves the original audio quality of the files. With its help, downloading audiobooks to MP3 players and beyond will no longer be difficult, even without iTunes and Audible authority.

100% Secure

100% Secure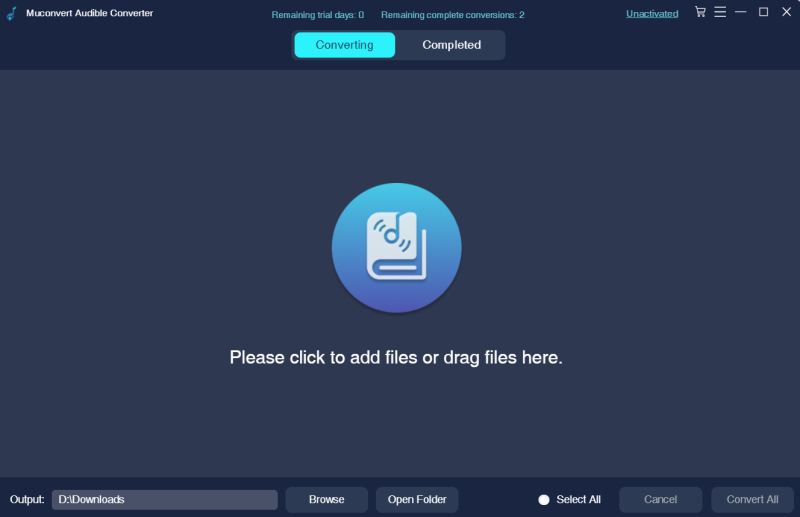 Part 4: FAQs About Downloading Audible Books
How to Fix Audible Download Manager Not Working Windows 10
Previously, Windows users needed to use Audible Download Manager to get their purchased audiobooks. But on July 31, 2022, Audible officially announced that it was deactivated, so they will have to switch to another platform to download the audiobooks you purchased from Audible.
If you are a Windows 8/10/11 user, you can download it using AudibleSync. For its introduction and how to use it, please read How to "Download Audible Books from AudibleSync" from Part 1.
Also, regardless of which system you're on, you can choose to go to Audible's official website, log in to your account, and download audiobooks.
Why Can't You Download Audible Book to PC on the Audible Website?
If you find that you can't download audiobooks on the Audible Website, the most common reason is that you didn't purchase your selected books, so there will not be a "Download" button on the right. Also, if publishers that offer audiobooks have disabled the feature, then even if you bought audiobooks with the disabled download feature, they will not be downloaded.

So before you want to download an audiobook, make sure that you have purchased it. If it still doesn't work, try refreshing the pages or checking your order on Audible Website.
How to Download Audible APP for Windows 11?
Audible's official Android App is also available for Windows 11 as soon as it is released. You can download it from the Amazon Appstore. The procedure is as follows.
Step 1: If you don't already have the Amazon Appstore, just download and install it, and sign in with your Amazon account.
Step 2: Enable virtualization on your device to run the Windows Subsystem for Android. Click "Set up" and "Restart" your computer.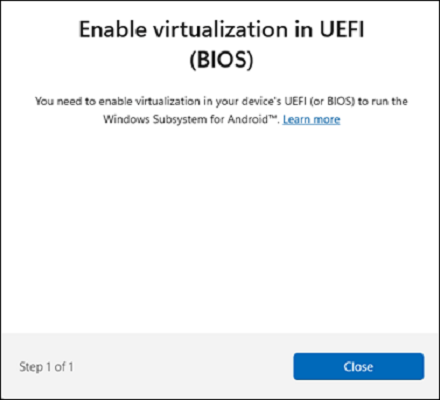 Step 3: Download the Audible Android app for Windows 11 on Amazon Appstore.
Conclusion
Audiobooks are now an important way for us to get selected content and enjoy ourselves during our spare time. The above article has solved your problem by showing you how to download Audible books to your computer and mobile devices. If you also want to download AAX audiobooks into more formats to add them to more players, the MuConvert Audible Converter will be a good way to do it.
MuConvert Audible Converter
Free converter to convert your AAX/AA audible books to MP3 with chapter kept.