When Audible adopted DRM to encrypt all its audiobook resources, it leads to the incompatibility of Audible books with other media players, making it only possible to enjoy the playback on the Audible platform or using iTunes Player. Therefore, some of you wish to remove Audible DRM and enjoy Audible books playback in more flexible ways.
Today's post will walk you through 3 feasible ways to process Audible DRM removal step-by-step. Please scroll down and master how to remove DRM from Audible in no time.
What is Audible DRM
DRM is an advanced technique used by many popular platforms to protect streaming media, such as music, video, audiobook, and more to prevent others from pirating or using them illegally. When Audible DRM has applied to Audible formats and used to encrypt Audible audiobooks, it means that you can only follow Audible's regulations to enjoy the audiobooks streaming within the official platform.
We all know that Audible uses AAX and AA for its audiobooks. The two formats would have some differences. Here we bring the extra information to let you know more about Audible DRM-protected audiobooks based on the Audible formats.
| | AA | AAX |
| --- | --- | --- |
| Audio formats | Format 4 | Enhanced |
| File formats | .aa | .aax |
| Sound quality | 32 Kbps (standard MP3 level) | 64 Kbps (CD-quality) |
| File size for 1 hour of audio | 14.4 MB | 28.8 MB |
| Sample rate | 22.050 kHz | 22.050 kHz |
Tip: To provide higher quality in streaming audiobooks, Audible has switched all its audiobooks format to AAX from AA in 2020. Therefore, the currently provided audiobooks on Audible are all in AAX format, which is also added DRM protection.
Remove DRM from Audible with MuConvert
For sure, to remove DRM from Audible, you would need a third-party tool to help. MuConvert Audible Converter is such a reliable software that brings a powerful Audible DRM removal function to get Audible books downloaded into DRM-free audio files. Let's learn more about it.
MuConvert Audible Converter provides quick service for Windows and Mac users to remove Audible DRM and get Audible books converted into popular formats such as MP3, M4A, WAV, and FLAC formats. Then you can transfer them to facilitate a more effortless Audible books streaming experience locally without Audible app installation needed. Better yet, the manipulation of this full-fledged software can be easy as a piece of cake, which only requires a simple drag-and-drop movement.
Not only that, more sparkling features of MuConvert Audible Converter you can explore:
● Supports protected Audible books – for both DRM-protected and DRM-free Audible (AA/AAX audiobooks, ) MuConvert Audible Converter can detect the content and convert them to common audio formats for you.
● Provides common audio formats – users can choose to convert the Audible books to common audio formats such as MP3, M4A, FLAC, and WAV, which are supported formats of almost all devices such as MP3 players.
● Keeps original information – during the process of removing DRM from Audible books, all the chapters and ID3 information of the books will be detected and saved together with the downloaded files, which lets people manage the downloaded audiobooks more conveniently.
● Splits audiobooks flexibly – MuConvert Audible Converter provides the in-built splitting tool to divide the added audiobooks into smaller audio clips by chapter, time, or segments flexibly.
● Ultra-fast conversion speed – with faster speed to save your time in waiting, MuConvert Audible Converter can speed up the Audible books DRM removing process to 60X faster, and it can even batch download more audiobooks at once.
● Saves in original quality – to make sure you can have the same audiobook playback experience offline, MuConvert Audible Converter will keep the original quality to download audiobooks without compression.
MuConvert Audible Converter is also attractive because of its easy-to-use UI. Within only several easy steps, people can operate the software to remove DRM from audiobooks. The tutorial on how to remove DRM from Audible using MuConvert Audible Converter will be introduced here:
Step 1. Import Audible Books to MuConvert
At firstly, you need to download MuConvert Audible Converter to Windows or Mac for installing the software. After this, run it and you can directly add the Audible audiobooks to the interface by dragging them here.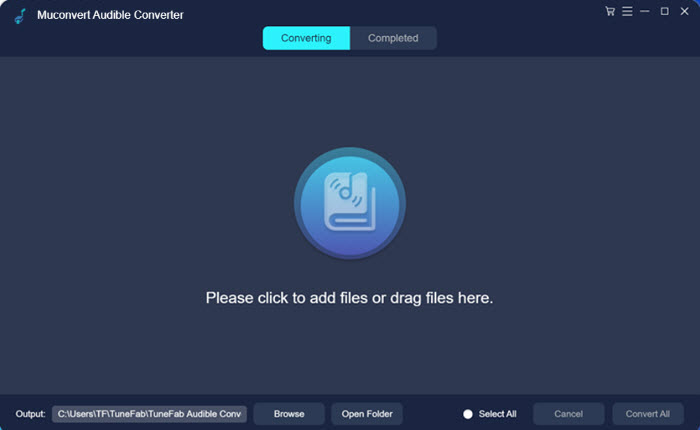 Step 2. Choose Output Format for Audible Books
MuConvert Audible Converter provides 4 format options for you to select, which as MP3, M4A, WAV, and FLAC. Simply choose an output format to save your downloaded Audible books after importing them to the converting list in the program.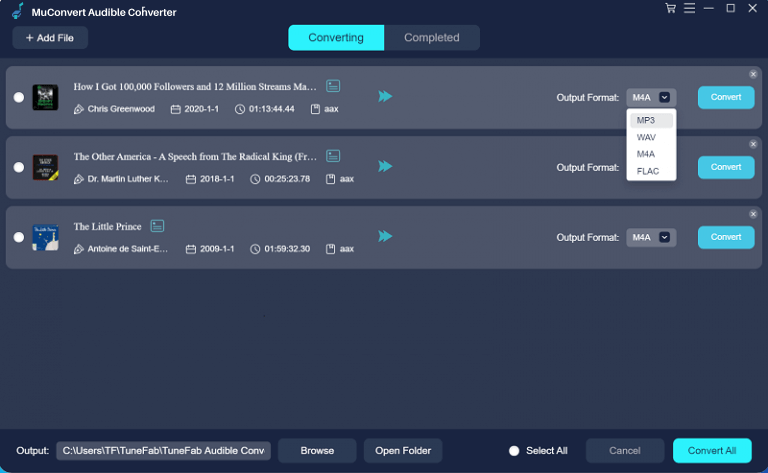 By going to the settings and choosing "Preferences", MuConvert Audible Converter also provides the options to let you change the "SamepleRate", and "Bitrate" to determine the audiobook quality, or set audiobooks splitting mode here if you need.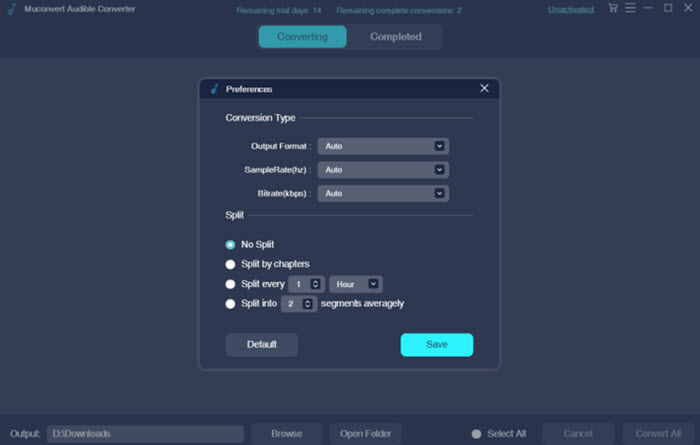 Step 3. Edit ID3 Information
If you want to edit the ID3 information, simply click the icon provided behind the audiobook title. Here you can change the cover of the book, and also edit information on "Title", "Artist", "Album", "Album/Artist", and "Genre". Click "Save" when you have changed the information.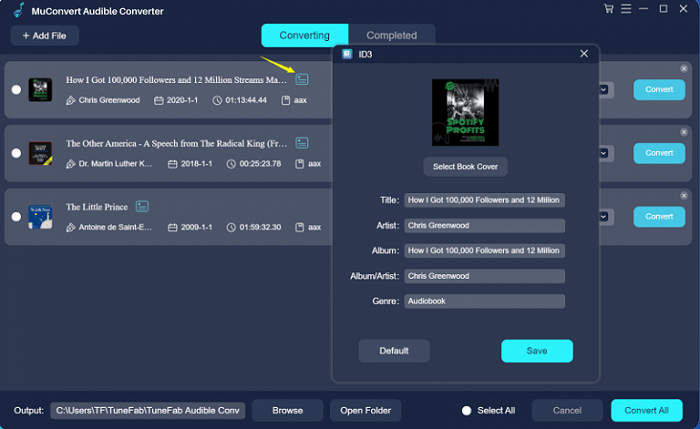 Step 4. Remove DRM from Audible Books
When the settings are all done, directly press the "Convert All" button and MuConvert Audible Converter will begin to remove DRM from audiobooks and download them in audio files with your selected output format.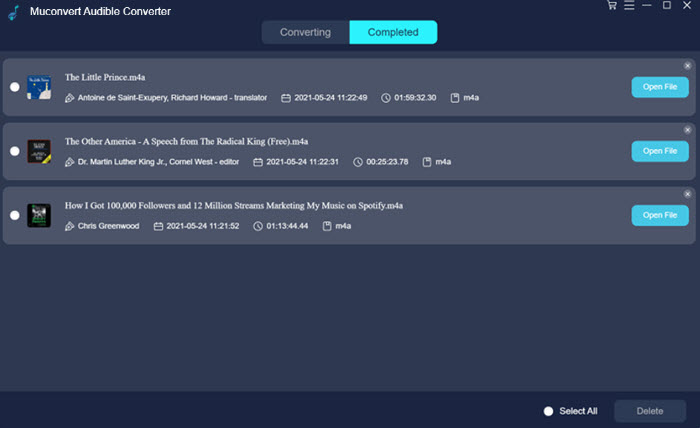 When you get the DRM-free Audible books with this best DRM removal software, you can freely transfer them to the devices even not supports Audible platform to enjoy the audiobooks offline.
Remove DRM from Audible with iTunes
Besides using AAX to MP3 converters, another way to remove DRM from Audible audiobooks without using third-party software is to burn them to CD. This function is provided by iTunes, so for people who want to keep the audiobooks on CD forever, this method will be helpful. You can see how iTunes manages to remove Audible DRM and burn the audiobooks to CDs.
Step 1. To connect your Audible Library to iTunes, you need to go to the platform, sign in your Audible account, and select to activate the connection with iTunes. After finishing the authorization, the audiobooks saved in your Audible Library will also appear in iTunes.

Step 2. Find the audiobooks in your iTunes and create a playlist to save them together. This would be more convenient to burn all of them to CD at one time.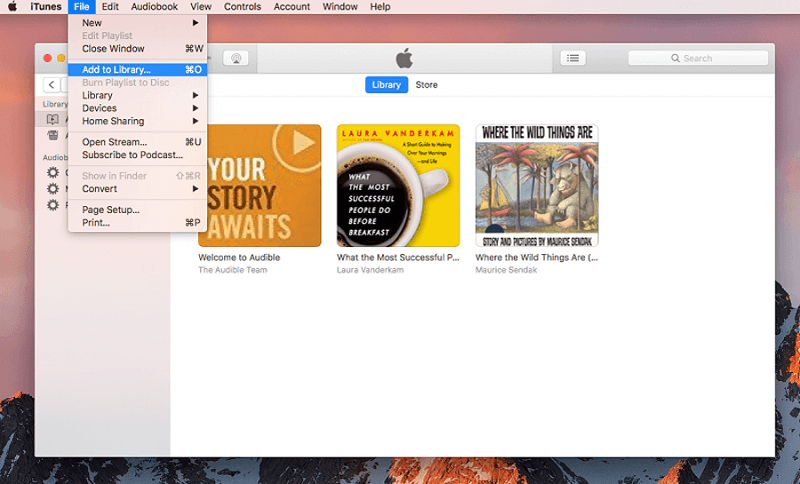 Step 3. Now insert a blank CD to your computer, and also right-click on the audiobook playlist in iTunes to select the "Burn Playlist to Disc" option. Then you can select the settings to burn the audiobooks.
Step 4. Finally, just press the "Burn" button and iTunes will remove Audible DRM and help save the audiobooks to your blank CD immediately.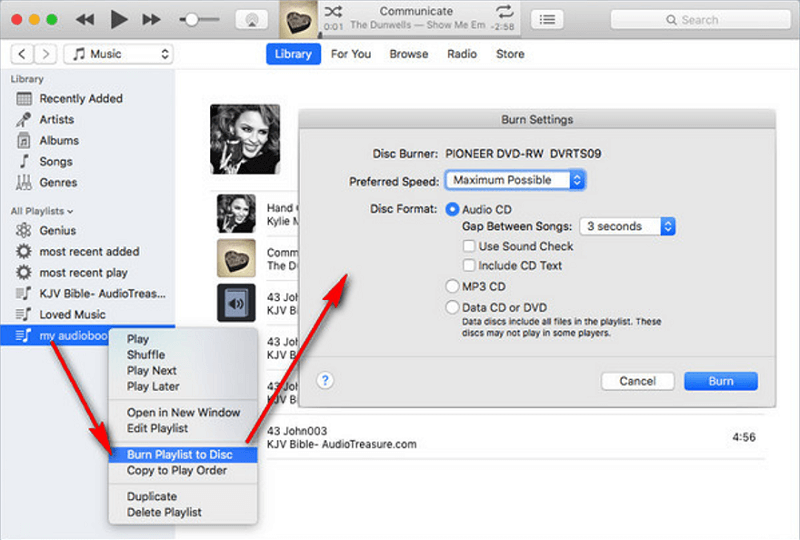 However, this method would lead to inconvenient playback, because people always have to find a CD player to insert the disc for getting the audiobooks played. It is more suitable for collecting audiobooks in a long term. To remove DRM from Audible and convert the audiobooks to a popular formats compatible with more devices, MuConvert Audible Converter would be a more rational option for you.
Remove DRM from Audible via Online Tool
When all kinds of online tools are thriving, there also an online Audible DRM removal service, AAX Checksum Resolver appeared to provide a free function to remove Audible DRM for you without installing any other third-party program. Once you have prepared the Audible books downloaded on your devices, then you can open this website and proceed with the Audible DRM removal manipulation following the procedures below:
Step 1. When you have prepared the Audible file wish to remove DRM, open AAX Checksum Resolver and upload it to the platform.
Step 2. Once imported, please click on the REQUEST ACTIVATION BYTES button to continue.
Step 3. Subsequently, the tool will let you select the output format and also the operating system in order to process successful Audible DRM removal. There are popular options provided, including both MP3 and M4B.
Tip
You can also remove DRM from Audible using this online service with FFmpeg to convert Audible to more formats. As the online platform only provides 3 options for you to select.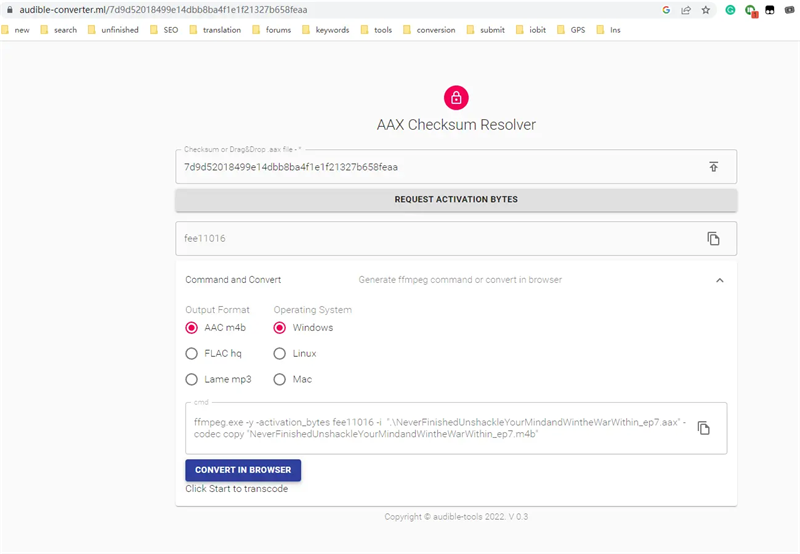 Step 4. Eventually, when AAX Checksum Resolver completes the Audible DRM removal, download the DRM-free Audible book and you can enjoy it without the Audible app locally.
FAQs about How to Remove DRM from Audible
Before ending, also walk through these most frequently asked questions on how to remove DRM from Audible if you still get some confusion.
Is It Legal to Remove DRM from Audible?
Most of you would also have the confusion that whether DRM removal is actually legal or not. As mentioned above, DRM technology is used to save audiobooks for not letting others copy the content for doing illegal things, this is a way of breaking the copyright law.
However, situations can be different based on how you use the converted DRM-free Audible books after processing the Audible DRM removal manipulation. If you have purchased Audible audiobooks, which means that you have to pay for the copyright, then removing DRM from Audible books for getting more flexible offline playback personally is completely legal.
However, you need to pay attention that using DRM-free Audible audiobooks for any commercial purposes, which may put you at risk.
Where Else to Find DRM-free Audiobooks?
When listening to audiobooks become a trend today, there are actually more streaming platforms provided with both DRM-ed and DRM-free audiobooks for you to take and enjoy. Here are several websites providing DRM-free audiobooks for you to stream both online and offline, you can discover more audiobooks on them to enrich your audiobooks enjoying journey!
Here are several recommended ones:
● Librivox
● OverDrive
● Downpour
● Google Play Audiobooks
Conclusion
To sum up, the best and simplest way to remove Audible DRM is to use a reliable software just like MuConvert Audible Converter. However, you need to make sure you have purchased the Audible audiobooks and you just unlock its DRM for personal enjoyment. Otherwise, you may be against the copyright law.

100% Secure

100% Secure
MuConvert Audible Converter
Free converter to convert your AAX/AA audible books to MP3 with chapter kept.