How to Remove AZW DRM from Kindle Audiobooks
Even if you have purchased the Kindle audiobooks for downloading and streaming offline, you would find that they are only available on Kindle devices, preventing you from transferring the audiobooks for listening elsewhere.
This limitation exists because of Kindle DRM, a tech applied to restrict the usage of the purchased Kindle audiobooks. If you desire to play them elsewhere, removing Kindle DRM should be the first thing you need to do. Hence, we have collected two effective ways to help. Now, grasp them and enjoy Kindle audiobooks flexibly!
Method 1. Freely Remove DRM from Kindle Audiobooks Via Calibre
Some of you may hear about Calibre, an open-source audiobook managing software, that provides audiobook preservation, format conversion, and also DRM removal services to users. Hence, using Calibre to remove Kindle DRM shall be the first ideal pick you can try. Once you complete installing the software, you are able to follow the steps below to process the Kindle audiobook DRM removal right away:
STEP 1. As Calibre requires an extra plugin to process the Kindle DRM removal, you are required to download this latest DeDRM-tools and make sure the "DeDRM_calibre_plugin" folder is kept there.
STEP 2. Now, launch Calibre and navigate to "Preferences" > "Change Calibre behavior".
STEP 3. In next step, you need to select "Advanced" > "Plugin" > "Load plugin from file" and choose to open the "DeDRM_calibre_plugin" folder. Once the plugin is added, you are able to find it in the "File type plugins" section.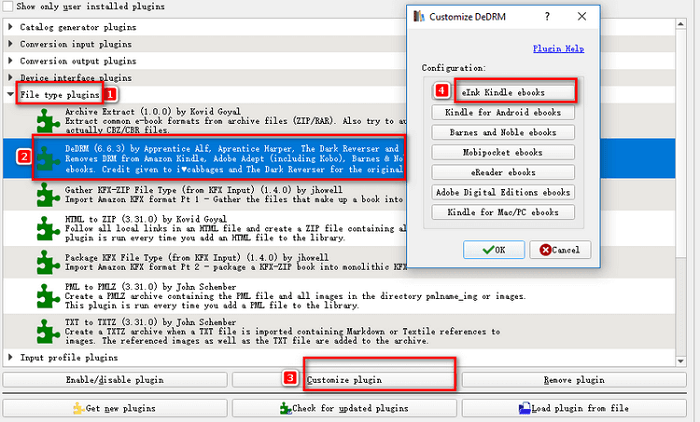 STEP 4. Once the plugin is added, simply by importing the Kindle audiobooks to Calibre now, and then their DRM will automatically be stripped even without giving a tap!
Method 2. Easily Remove Kindle DRM Via Kindle AZW DRM Removal
Unlike Calibre, Kindle AZW DRM Removal provides a simplified process to remove Kindle DRM just by clicking on Windows, without the requirement to install extra plugins at all. Simply by getting the software installed on your Windows desktop, you are able to import Kindle audiobooks to it and process the Kindle DRM removal with just one click. Now, the brief guide will show you how to do it:
STEP 1. After completing the installation, launch Kindle AZW DRM Removal on the desktop.
STEP 2. You are able to directly drag the Kindle audiobooks to its interface for importing. As the software supports batch converting up to 50 audiobooks at once, you are able to import more items to process DRM removal simultaneously.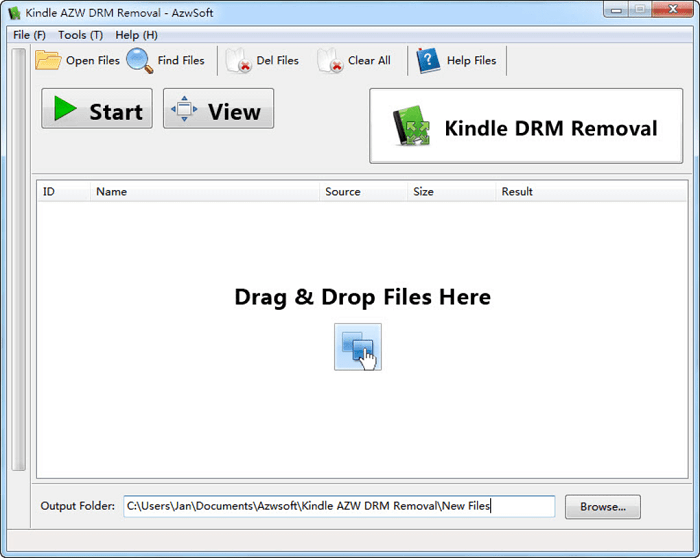 STEP 3. Finally, simply give it a go by hitting the "Start" button, then Kindle AZW DRM Removal will complete the Kindle DRM removal for you. Once complete, tap "View" and access the DRM-free Kindle audiobooks to enjoy offline!
FAQ: Are Audible Books DRM-free?
Despite Kindle audiobooks, some of you may wonder if those provided on the largest audiobook streaming platform, Audible, are free of DRM encryption?
Unfortunately, just like the on-sale Kindle audiobooks, Audible books are all encrypted via DRM. Hence, to remove Audible DRM and enjoy them without any limitation, you require extra help from Audible DRM removal software as well.
MuConvert Audible Converter is the best DRM removal software, and provides effective DRM removal functionality just as simple as Kindle AZW DRM Removal. You are only required to import all Audible books to it and the software will batch convert them to MP3, M4A, WAV, or FLAC audio files with original quality and full chapter as well as ID3 info preserved. The software offers 2 free opportunities to convert Audible books without paying a penny. You are able to install it and try it now: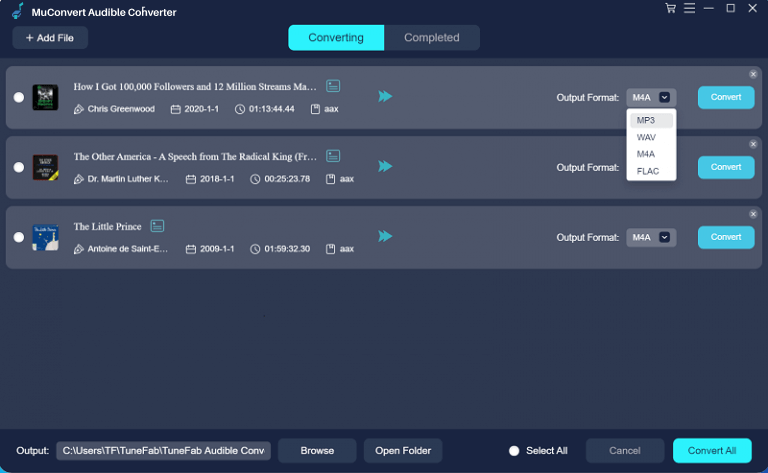 Don't be frustrated when you find the Kindle or Audible audiobooks fail to be streamed outside the platforms as you desire, because there are appropriate solutions to help remove DRM from them! Now, just grasp the way to enjoy free Kindle and Audible books playback offline!