3 Best Ways to Convert AAX to MP3
"I want to download the AAX books to my MP3 player for offline listening. But the AAX audiobooks can only be played on my PC. What can I do? Or if there are any ways I can convert AAX to MP3?" – From a forum
AAX is an audio format used by Audible to encode its audiobooks. However, AAX books released on Audible are all protected by DRM (Digital Rights Management), and this is the main reason stopping people to download AAX audiobooks from Audible for playing on other media players. Why do we need to convert AAX to MP3? Is there an AAX to MP3 converter that can help? These questions will be answered in this article.
How to Convert Audible AAX Books to MP3 (Windows & Mac)
To convert Audible AAX books to MP3, there are different ways to help. But finding the most efficient and easy way is not simple. To get accessed to the solution, you should first figure why we need to convert AAX to MP3 and what stops us from downloading and converting Audible AAX books.
As we've mentioned above, AAX is widely used as an audio format for encoding audiobooks, a kind of book delivered through sound, which is a popular way for people to read today. AAX is used on Audible, iTunes Store, and AudibleKids platforms, and the AAX files are locked by DRM, a technology used to provide streaming content such as music, audiobooks, videos, and so on.
Audible sets limitations to its AAX books by using DRM technology.   In other words, the AAX Audible books can only be listened to, downloaded, and shared on Audible platforms such as its desktop and mobile apps. This makes AAX books cannot be played flexibly. For instance, it becomes inconvenient to listen to audiobooks on an MP3 player or devices that are incompatible with the Audible app. That's also why so many people want to convert AAX to MP3 — to make the AAX books playable on more devices and media players even it is offline. By converting AAX audiobooks, it also makes it easier to share the audiobooks among family members and friends.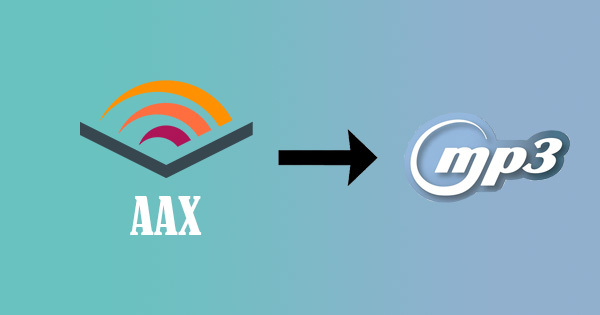 Best AAX to MP3 Converter for Windows & Mac
The good news is that you can easily realize that by using an AAX to MP3 converter. And the ultimate target should be removing the DRM protection from the audiobooks. Based on this need, the best AAX to MP3 converter is selected here, which is the MuConvert Audible Converter.
MuConvert Audible Converter is a powerful AAX to MP3 converter, which employs a smart technology that can easily remove DRM from the AAX Audible books. With MuConvert Audible Converter, you can easily free all AAX Audible books from the DRM garden and convert them to MP3 for making the Audible books can also be played back on more devices without limitations.
Features
Offers very simple methods to convert Audible AAX/AA books to MP3, M4A, FLAC, and WAV
Saves the chapter and ID3 info of the Audible books after the conversion
Provides the function to split Audiobooks by chapters/time/segments to keep the files smaller
Supports 60X faster speed to batch convert Audible books
Offers customization settings to alter the codec, channel, bit rate, and other parameters freely
The Quick Guide to Convert AAX Audible Books
With a simple and user-friendly UI, MuConvert Audible Converter will be very easy to use, making it possible to convert Audible AAX books to MP3 with only very simple clicks. This quick guide will show you how.
Step 1. Install MuConvert Audible Converter
MuConvert Audible Converter can be installed on both Windows and Mac computers now. You can click the "Download" button provided here to start trying the MuConvert Audible Converter for free. The free trial version enables you to convert 2 complete Audible books conveniently.
Step 2. Open MuConvert Audible Converter and Add AAX Books
When you have installed MuConvert Audible Converter on your Windows or Mac computer, open the software and you can directly drag and drop the AAX audiobooks to the home page of the software.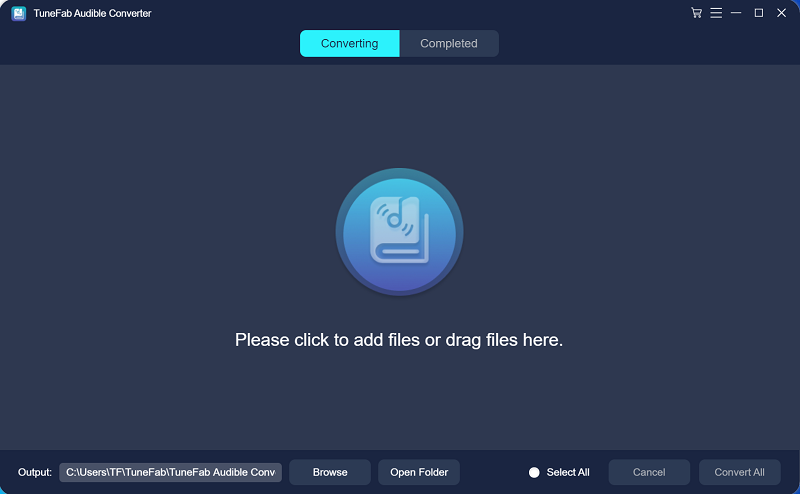 Step 3. Choose Output Format
By going to the "Output Format" menu set behind the title of the audiobook, you can get the four format options including MP3, WAV, M4A, and FLAC for converting the AAX book. Choose the format you need here.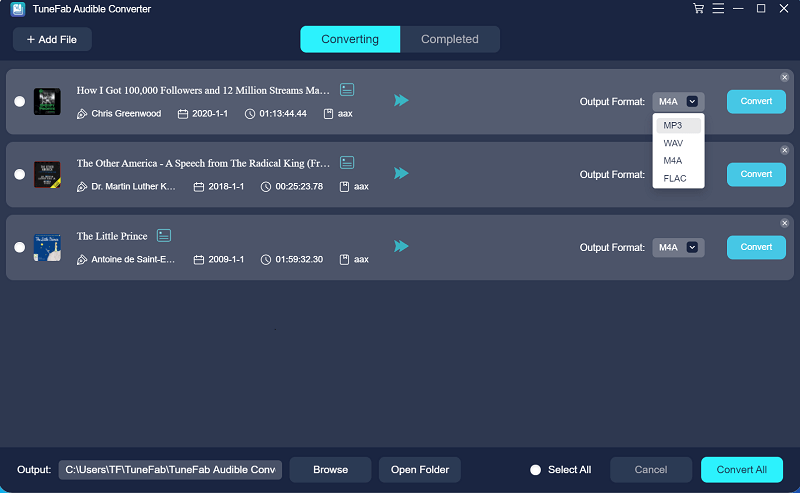 Step 4. Split AAX Audible Books Before Conversion
By going to the "Settings" menu on the upper right corner, and you can find the "Preferences" option. Go into Preferences settings and you can choose to split the AAX audiobooks by chapters/time/segments if you need to.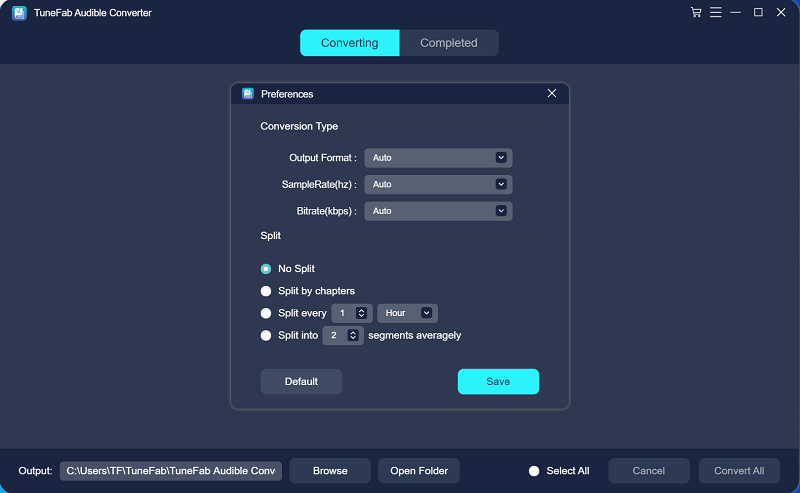 Step 5. Edit ID3 Tags of the AAX Audible Books
By clicking the ID3 tag icon behind the Audible book title, you can change the information of the "Title", "Artist", "Album", "Genre" of the AAX book freely.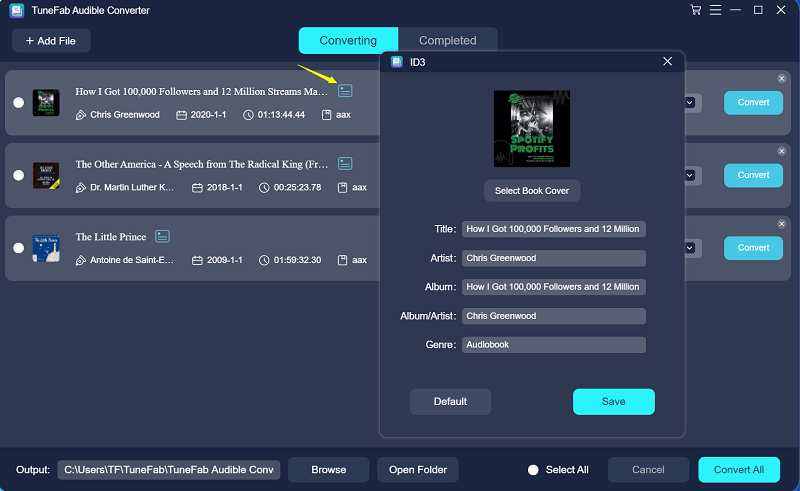 Step 6. Convert AAX Audible Book
When you also finish editing the ID3 tags, you can begin the conversion by pressing the "Convert All" button. Several minutes later, the added AAX files can all be converted to the select audio format offline without the protection of DRM anymore.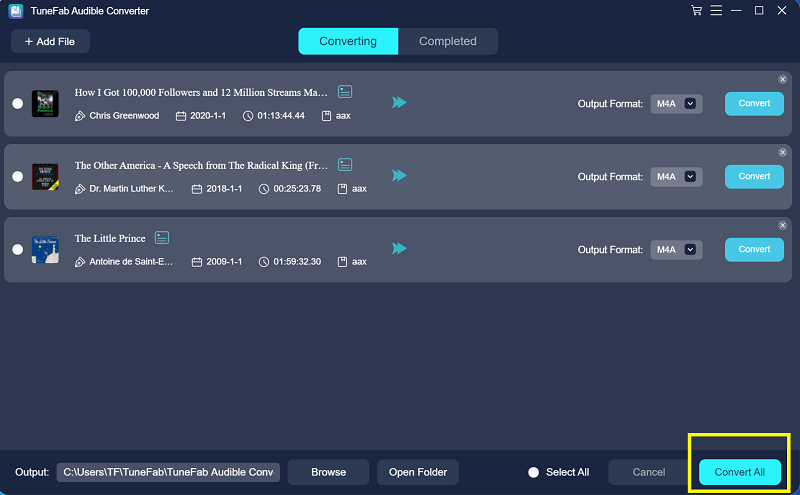 When you get the DRM-free AAX books, you can freely share them with your friends for listening to together, or adding them to your MP3 player for playing back at any time as you wish.
How to Convert AAX to MP3 Online (Free Method)
If you don't want to download extra software for converting AAX audio to MP3, then using an online converter is also a good idea. To finish the online AAX to MP3 conversion task, Convertio Audio Converter is a trustworthy helper, which is an online platform that provides conversion service between audio formats.
Pros
Offers a simple interface and easy function to convert audio
Doesn't require people to install any software to use on computer
Adding files from Google Drive, Dropbox, an URL, or local folder are all available
Cons
Can't converted encrypted AAX files to MP3
Files larger than 100MB can't be converted
Highly rely on a good network
How Convertio Works to Convert AAX to MP3
Step 1. Open Convertio Audio Converter in your web browser.
Step 2. Press the "Choose Files" button for adding the AAX files you need to convert to MP3.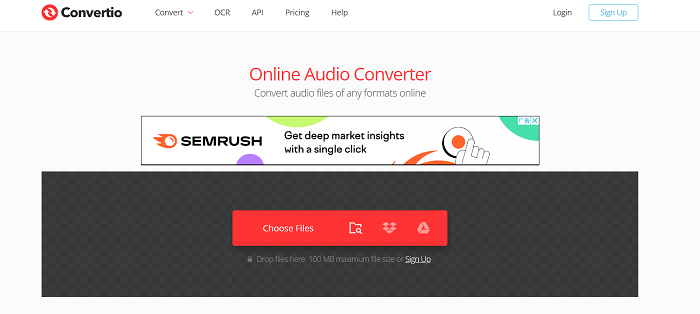 Step 3. Select MP3 as the output format, then click the "Convert" button.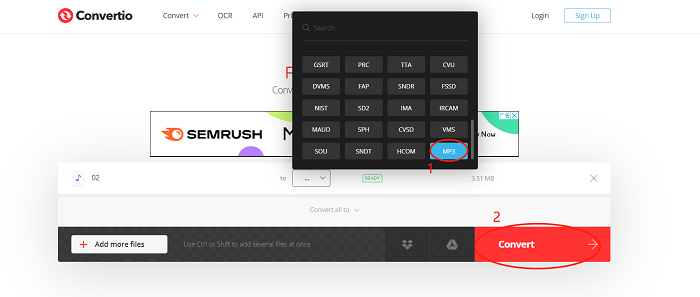 Step 4. When Convertio converts the AAX to MP3, you just need to download the file offline.

Convert AAX to MP3 with iTunes for Free
In fact, Apple's iTunes has also provided a simple way to convert AAX files to MP3 format, which is by burning your imported AAX books to a CD. Let's see how iTunes works to help.
Step 1. Open iTunes on your computer and then go to authorize your Audible account in the "Authorization" menu of "Account" on the menu bar.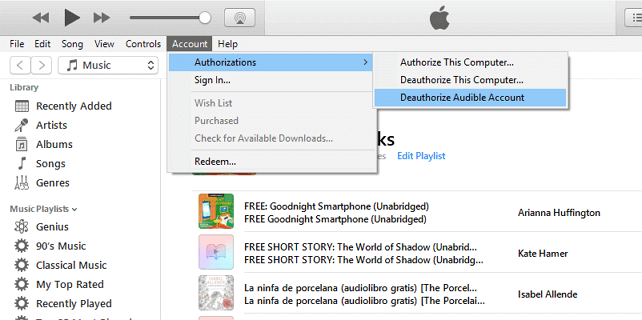 Step 2. Now, you should add the Audible books to a new playlist. In the "New" section under "File", you will find the option to create a playlist.
Step 3. Insert a blank CD to iTunes, and you also need to go to the audiobooks playlist for clicking the "Burn Disc" button.
Step 4. Select the CD for burning the AAX books and also the write speed. After this, you can click the "Burn" button to get started.
Step 5. When the Audible AAX books are burned to your CD, just by reimporting the CD to your iTunes library, the Audible books can be converted to MP3 format.
By comparison, this method would be more complex and you need to prepare a blank CD as a piece of helping equipment. Thus, it is not suitable for everyone to try.
FAQs on AAX to MP3 Converter
In the final part, if you still have some confusion on the AAX to MP3 converter, you may check these FAQs to see if they can solve your questions.
1. Is the AAX to MP3 converter legal to use?
Most AAX to MP3 converters provided today are only used for personal purposes but not commercial use. Only for converting AAX to MP3 for personal playback, this action is completely legal.
2. Is AAX to MP3 converter safe?
This is an important thing you should check when you choose an AAX to MP3 converter. For example, MuConvert Audible Converter places no ads inside the software, and it also won't collect any user data. Such kind of AAX to MP3 converter is safe to use.
3. Will my AAX files be playable after converting them to MP3 using MuConvert Audible Converter?
MuConvert Audible Converter helps remove DRM from the AAX books, and it will keep the files as original as the source. As a result, after removing the DRM and converting to MP3, the AAX files can even be played on more devices without limitations, and their quality will also be retained.
Throughout the article, the 3 ways and their advantages to converting AAX to MP3 are all introduced. Based on your needs, you just need to choose the one way you prefer for starting the AAX to MP3 conversion. Hope this article can solve your problem in converting AAX audiobooks.