How to Convert AAX to MP3 for Free [3 Methods]
AAX is a file extension, which is launched with bonus functions like the display of images, videos, links for more visual books. But it gets very frustrating to find out that AAX is heavily encrypted and only accessible for some authorized devices with Audible subscription account. Thankfully, here in this article, we will offer you three methods to easily remove AAX's DRM and convert it to common MP3 played by most portable devices.
Why Do You Need Convert AAX to MP3?
The AAX file is an enhanced version of the AA format that provides more restrictive DRM protection and additional features like containing images and links in the multimedia digital audiobook. Thus, due to DRM restrictions, the AAX files are only supported by the devices that come with the Audible account, which means you are not allowed to share and transfer the files between various devices.
Besides, once you cancel your paid Audible account, you are no longer authorized to play AAX audiobooks on the appointed devices or media players like iTunes, the Audible app, Amazon Fire, and so on.
Therefore, getting rid of the DRM limitations on AAX files and keeping them on the most-used MP3 format seems like a good solution. With the converted MP3 format, it is quicker and easier to save the AAX audiobooks onto any devices you like so that you can enjoy them anytime, anywhere!
Best AAX to MP3 Converter: MuConvert Audible Converter
It's rational to turn to a third-party tool to unlock DRM and convert AAX to MP3. MuConvert Audible Converter is the best converting tool for effortlessly converting your AAX or AA to DRM-free MP3 in a very high audio quality. It is well-designed as a clean, fast and user-friendly interface to let you handle the conversion process at once.
This best AAX to MP3 Converter also lets you get personalized parameters for downloaded Audiobook like all types of export audio formats, sample rate and bit-rate. Featuring a built-in splitter, it relieves you from a mass of pages just by separating a large Audible audiobook into multiple smaller parts according to time length, chapters and segments.
Furthermore, this converter has a FREE 15-day trial available for you to convert two complete audiobooks! All you need to do next is to download it first.
The Key Features of MuConvert Audible Converter
Completely bypass DRM lock from AAX or AA audiobooks for endless playback.
Converts AAX to more compatible audio formats including MP3, M4A, FLAC, and WAV.
Customizes the output parameters of the audiobooks.
60X super faster converting speed with 100% original quality retained.
Keeps the entire chapter as original and ID3 tags information such as book title, artist, year and genre.
Batch conversion supported simply by one click.
Is It Safe to Convert AAX to MP3?
Of course, it is absolutely safe to use MuConvert. Not only are all payments executed on the most reliable platforms, but all account data and transaction information will be encrypted and secured. In addition, there are no ads inside the app, unlike other tools, ensuring a smooth and uninterrupted user experience.
How to Convert AAX Files to MP3 with Profesional AAX Converter (Hot!)
Takeing advantage of an intuitive and user-friendly interface, MuConvert Audible Converter really saves a lot of time and removes the hassle for you. Now, to get started with MuConvert Audible Converter, below we will quickly guide you on how to convert Audible AAX to MP3 with MuConvert in three simple steps.
Step 1. Import Audible Books
Click to add or drag&drop the desired AAX files onto MuConvert's main windows. Since it is capable of converting files in batches, you can also select all selected files at a time.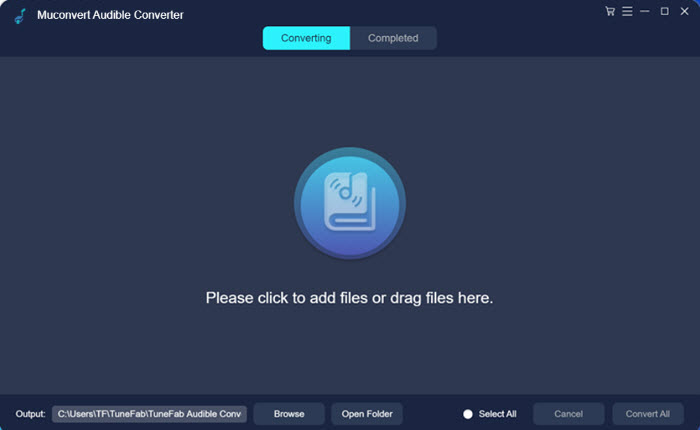 Step 2. Set the Parameters
Choose the output format as MP3 from the drop-down menu at the rear of each file. To set the output folder for the converted file, you can click on Browse behind the output box.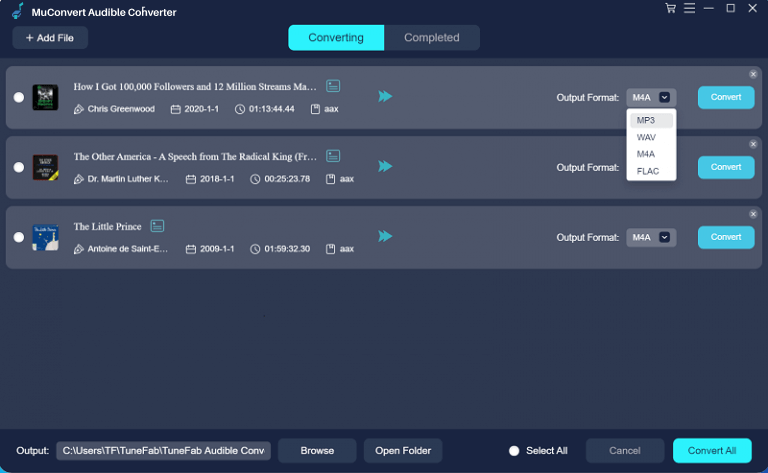 For more settings like SampleRate, Bitrate and Split mode, select Output Settings from the menu in the top right corner. Under Preferences, you can edit the settings for the output file based on your own needs. If you would like to split the big audiobook file into small bits, then choose the options by chapters, time, and segments under Split mode.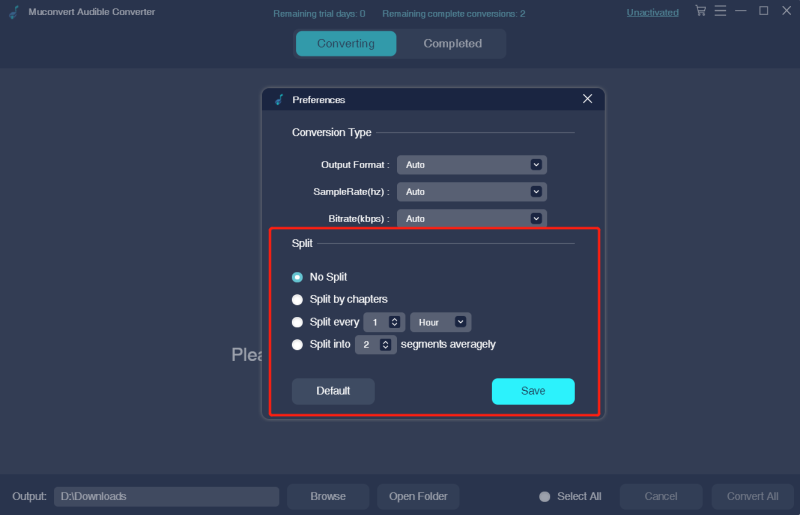 Note: ID3 tags such as title, artist, album and genre, can be altered by tapping on the icon next to the name of file.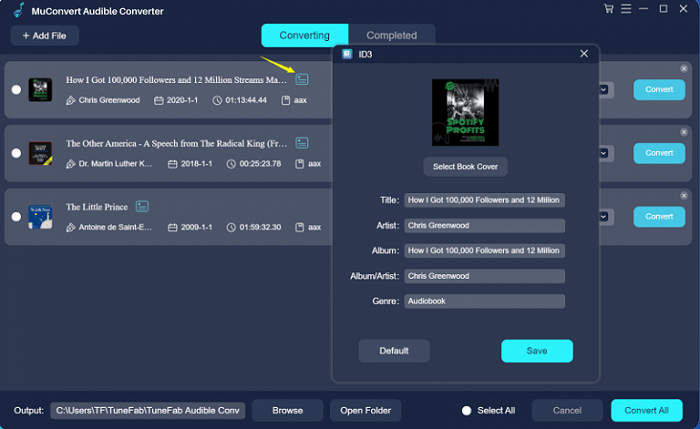 Step 3. Convert AAX Files to MP3
After the process of settings, click Convert All button to start conversion at a super-fast speed. Once finished successfully, the converted files will be automatically saved onto the target folder.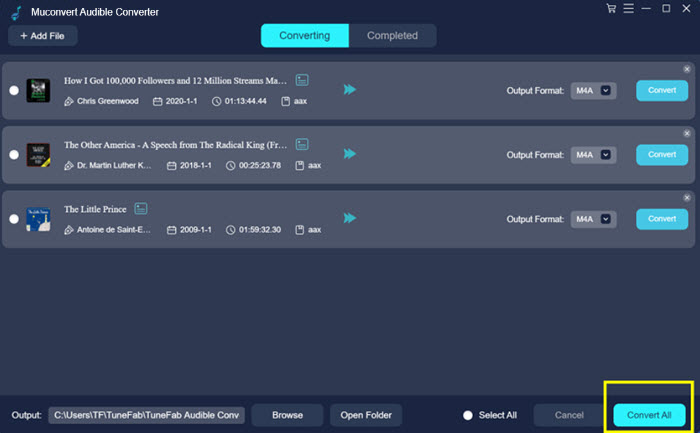 Note: MuConvert Audible Converter is intended for personal use rather than commercial use, so it is legal to convert Audible audiobooks.
How to Convert AAX to MP3 Free
While MuConvert Audible Converter is prominent for its outstanding features, numerous free tools and apps such as Aconvert and AAX Audio Converter can still be found online, making it possible to conveniently convert your audio files without incurring any costs.
Convert AAX to MP3 with Online Converter
Aconvert is a free online converter software that enables you to convert images, videos, documents, audios and all kinds of media files. Luckily, there's no need to have any software installed on your computer! With the support of all popular output audio formats including MP3, WAV, AC3, WMA, AAC, FLAC, AIFF and many more, you can freely decide the different target formats as you want.
And it also has easy-to-use windows that get your work done with ease. Just upload AAX files directly from computer or URL, and you're done with the parameters you like. Finally, click Convert Now! button to convert AAX to MP3 for free. Regretfully, the size of your input audio file is limited. And the video conversion speed is a bit time-consuming and not faster than MuConvert Audible Converter.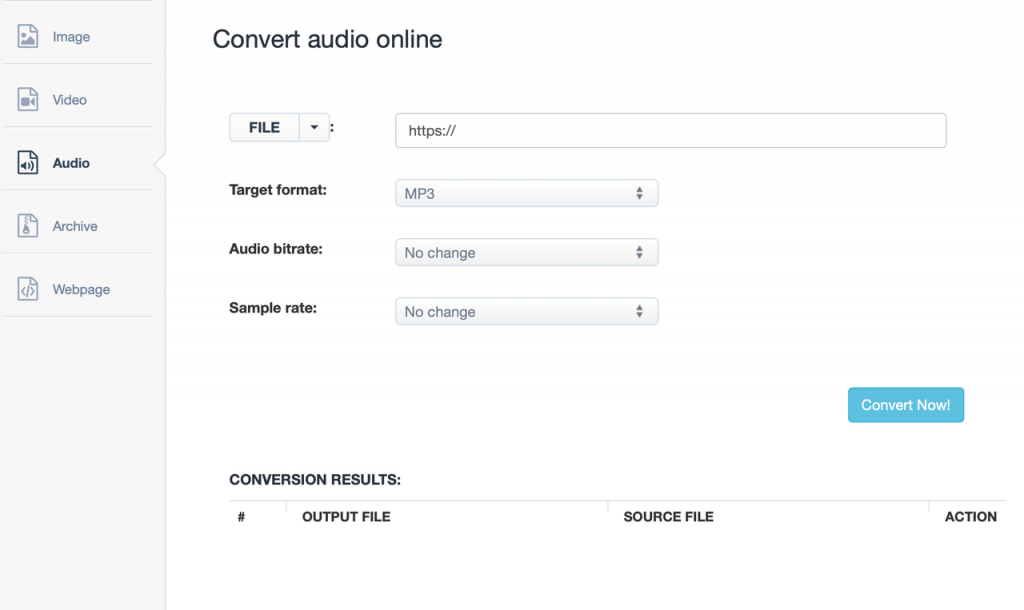 Convert AAX to MP3 with Free Open Source Software
AAXAudioConverter is also a great choice used to convert Audible AAX files to MP3, M4A, or M4B, which can support over 255 chapters of a book. Similar to MuConvert Audible Converter, it has a wealth of features like metadata information preserved, batch conversion, and cutting the long audiobooks by chapters. To convert AAX to MP3, simply import the AAX file into the app, select MP3 as output format, choose the splitting choices from Mode and click Convert icon.
But there is a shortcoming that it only works with Windows versions and the Framework is necessary to be installed on the computer. If you are using macOS, MuConvert Audible Converter may be more suitable for you in this case.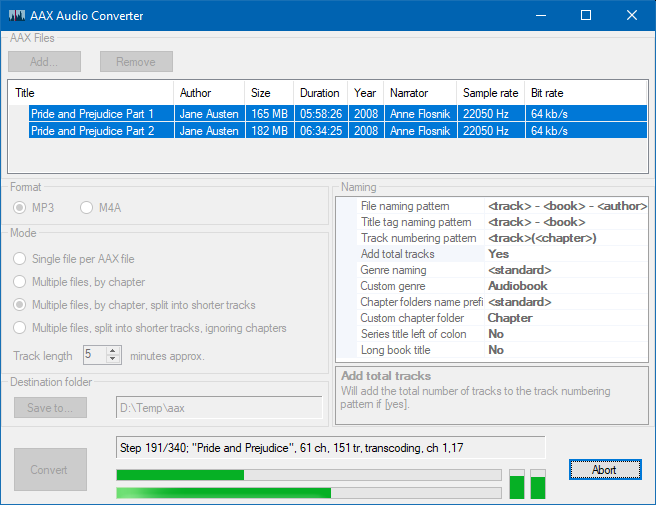 FAQs about Converting AAX to MP3
How to Convert AAX to MP3 with Chapters?
MuConvert Audible Converter can keep your audiobooks organized by chapter, which is a pretty useful feature that allows you to go for the right chapter where you want it and organize your audiobooks perfectly. You can follow the steps as below.
Click on Output Setting from the menu, and Preferences windows will pop up. Then tap Split by chapters option under Split mode and click Save.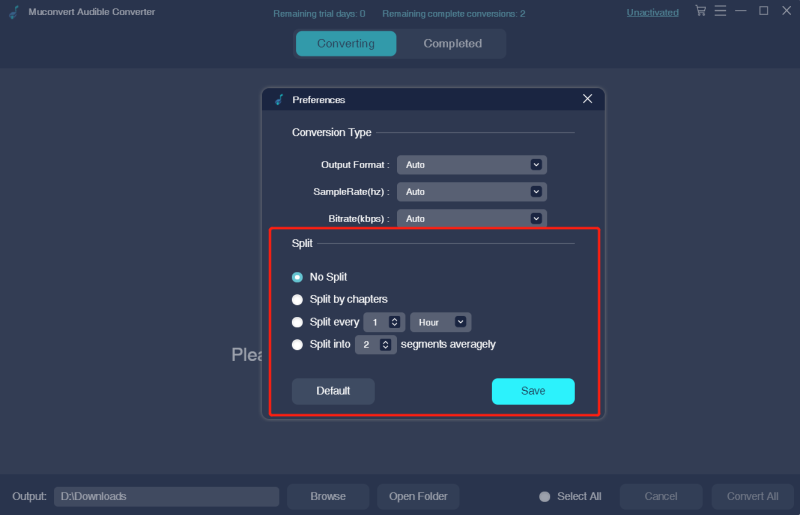 Can VLC Convert AAX To MP3?
For some of the AAX audiobooks that are DRM-free, VLC can easily convert them to MP3 files. But for some others that are DRM-encrypted, VLC is not able to strip off their DRM and turn them to MP3. Undoubtedly, MuConvert Audible Converter is your trusted converter that removes DRM from any Audible AA or AAX audiobook.
All in all, we have concluded the 3 free methods mentioned above for picking the top AAX to MP3 converter for you. Among them, there is no denying that MuConvert Audible Converter is the most desirable and ideal Audible audiobook converter that beats many traditional ones on the market because of its excellent performance and unique features. It is 100% professionally developed to easily and quickly export DRM-free audiobooks onto any portable device for offline listening. But anyway, it is still fine to choose a totally free converter online or on desktop if you prefer this way more.