How to Convert Audible AA to MP3 on Windows/Mac (2 Ways)
In today's modern world, audiobooks are a desirable form to help you escape from the hustle and bustle of the city. With headphones and the Audible app alone, you can read them while doing your workout or commuting. However, due to digital rights management and the audio's AA audio format, Audible audiobooks can only be played on its official app and authorized devices, which is inconvenient.
To listen to audiobooks at any time without device restriction, converting Audible audiobooks from aa to MP3 is a perfect solution. This method enables you to play Audible books on the majority of devices and music apps. This also requires a computer (Windows or Mac, either is fine) and Audible audiobook converters. In this article, we will show you how to convert audiobooks from AA to MP3 through efficient applications like MuConvert Audible Converter and free online converters such as AnyConv on your Windows/Mac.
Things You Need to Know Before Converting AA to MP3
Is There a Free Tool to Convert Audible AA to MP3?
Of course, there is. But most of them are online tools with certain limitations. For example, free online tools can only work when Audible audiobooks are DRM-free. Since Audible audiobooks are DRM-encrypted in aa. format, free online tools in this case fail to work. Besides, if the audio file size is large, or you want to convert multiple files in one go, online tools also are still unhelpful. Besides, their technical support is not stable. Thus, chances are that they work today but somehow don't tomorrow.
These problems, on the other hand, never occur in paid Audible converters. With affordable prices, Audible converters help you convert multiple audiobooks to high-quality ones. Of all the Audible converters available on the market, MuConvert Audible Converter is highly recommended for its free trials, batch download, speedy performance, and other powerful functions.
Why Do You Choose MuConvert Audible Converter?
MuConvert Audible Converter is a powerful desktop Audible converter that helps you convert DRM-encrypted AA files to MP3 without authorizing your Audible account. With advanced technology, MuConvert Audible Converter can remove DRM from audiobooks easily. With the batch conversion feature, the app enables you to convert your AA audiobooks with one click, which makes the download process efficient and fast. Designed with a built-in splitter and ID3 tag editor, this app helps you manage the converted audio files with ease. Better still, MuConvert Audible Converter offers you two free trials, which means you can convert two audiobooks from AA to MP3 for free!
✨Detailed features of MuConvert Audible Converter:
60X faster conversion speed: With advanced technology, MuConvert Audible Converter can convert your Audible audiobooks at a speed of up to 60X.
Batch conversion with one click: With the batch download feature, MuConvert can convert many audiobooks simultaneously to save you time.
100% lossless sound quality: For Audible book lovers that may have a high need for sound quality, the app uses advanced technology to convert AA audiobooks to MP3 without compression. This ensures the same audiobook playback experience offline.
Better management of downloads with ID3 editor: The app will retain the original ID3 information or you can edit the ID3 tags as you like. No more fumbling with a clutter of files.
More flexible playback: When the audiobooks to be converted are too long with a large file size, MuConvert Audible Converter allows you to divide them by chapter/time/segments with its built-in splitter option.
Support multiple mainstream output formats besides MP3: In addition to helping you convert the AA Audible files to MP3, this tool can also help you convert them to other popular formats, like WAV, M4A, and FLAC.
Method 1: Convert Audible DRM-Protected AA to MP3 on Windows/Mac
Now, the detailed tutorials below will show you how to convert the DRM-protected AA Audible books to MP3 using MuConvert Audible Converter on your computer. Of course, this method is also suitable for those who want to convert DRM-free audiobooks to MP3. The following procedure works on both Windows and Mac.
Step 1. Install MuConvert Audible Converter and Launch It
Click the download button below to install MuConvert Audible Converter on your computer, and run it. At the same time, go to the Audible platform to download the AA audiobooks you have purchased.
Step 2. Add the AA Files to the Program
After launching MuConvert Audible Converter, directly drag and drop the downloaded AA audiobooks to the blue circle, or click the blue icon in the middle to add the downloaded files to the converter.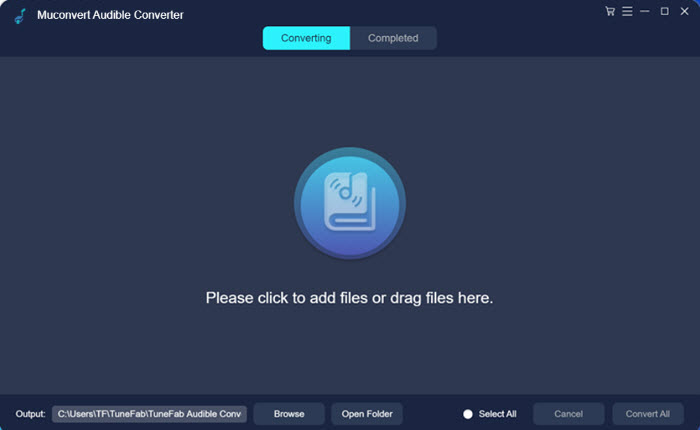 Step 3. Choose MP3 as the Output Format
Click the Output Format button to choose MP3 as the output format. Other audio formats available in MuConvert Audible Converter include WAV, FLAC, or M4A.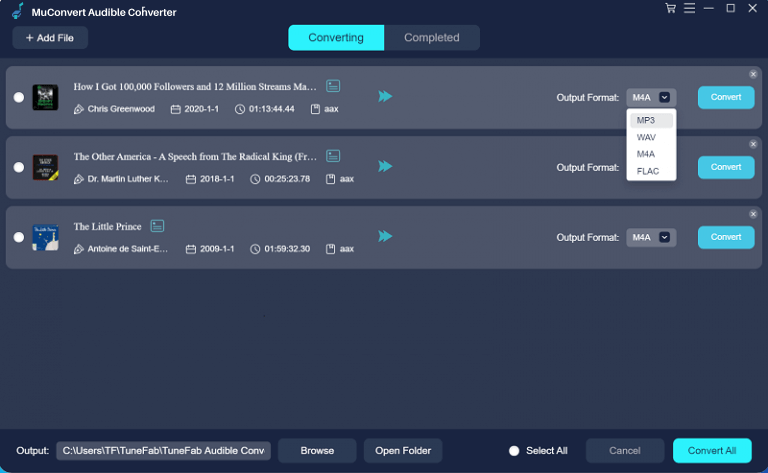 Step 4. Edit the ID3 Tags and Splitting Mode
Next to the book's name, you can click the square shown in the picture below to edit the ID3 information, such as cover, title, artist, album, and genre, for better management.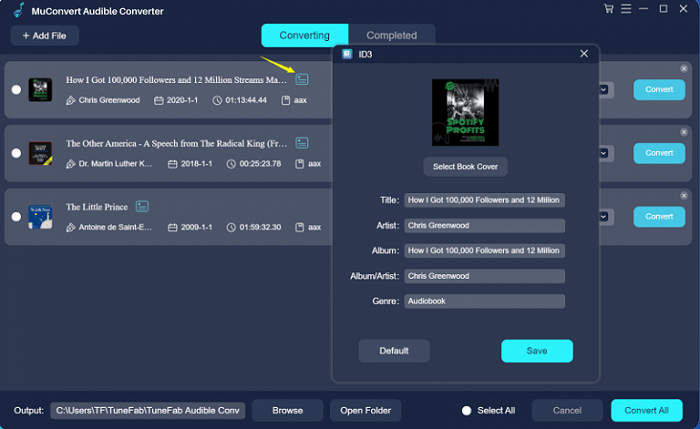 Also, if you feel that the audio is too long to play in a period of time, then you can also navigate to the "Preferences" in the setting menu to choose the splitting mode according to your own needs. There are 4 modes provided for you: no split, splitting by chapters, splitting by time, and splitting by segments.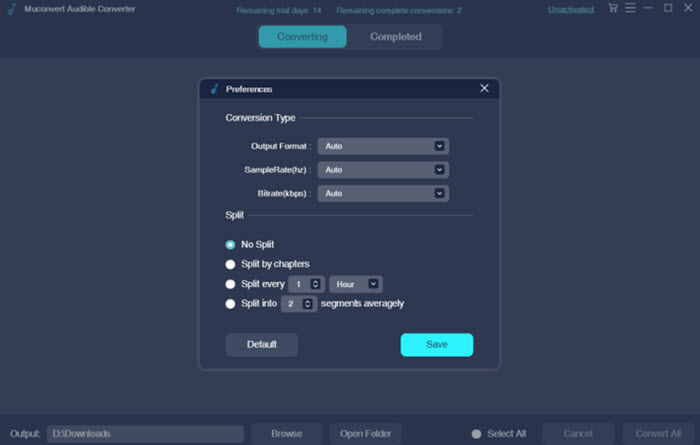 Step 5. Convert AA Audible Books to MP3
After things are all ready, click Convert All to begin converting the added AA audiobooks to MP3. With 60X faster speed and batch conversion function equipped, MuConvert Audible Converter will finish the conversion quickly. All you have to do is to wait for a moment and get the converted MP3 audiobooks to enjoy offline.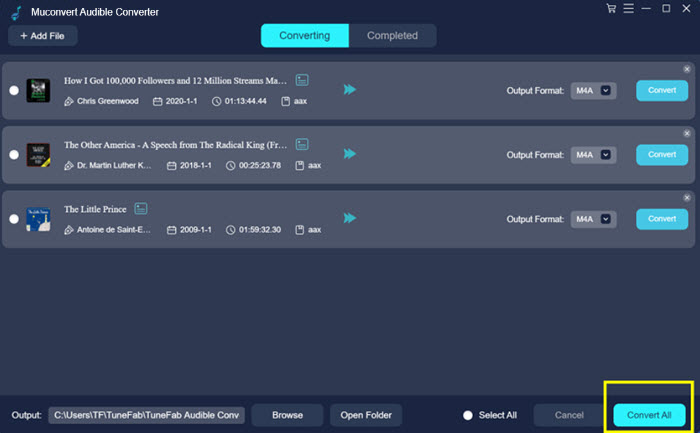 Method 2: Convert DRM-Free AA Files to MP3 Online
There are some online audio-converting tools that can convert aa to MP3 for free. But due to the particularities of AA files, the online tools only support uploading DRM-free AA files. So if the audiobooks you want to save are DRM-free and you want to convert them to MP3 without downloading any app, then you can read on.
AnyConv is a workable free online audio converter that can easily help you convert different formats. With high compatibility, it can be used on almost all devices, ranging from tablets to mobile phones and computers. But remember that it only supports converting AA files whose file sizes are less than 100MB, you can follow as below and have a try.
Remember that the online audio converter can only allow you to convert DRM-free AA Audible books to MP3. If you want to convert DRM-protected AA audiobooks, then you can turn to MuConvert Audible Converter.
Step 1. Choose the AA files you want to convert, then go to the AnyConv website.
Step 2. Click Choose File to upload your DRM-free AA Audible books, then hit Convert to begin converting AA to MP3.
Step 3. It will take some time to finish the conversion, just wait patiently.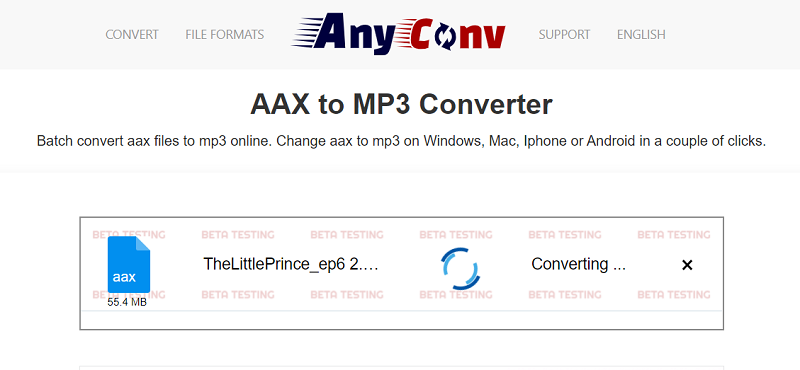 From Audible AA to AAX format: A Brief Summary
Now that you've known how to use desktop apps and online tools to convert Audible audiobooks from AA to MP3, you may already notice there is another format offered by Audible: AAX. If you wonder about their difference or which one is better, keep reading.
In the beginning, Audible audiobooks were generally downloaded in AA format. To enhance the audio quality, Audible developed the AAX format. Users who prefer superior audio quality could therefore save audiobooks in the AAX format to have a CD-quality listening experience. Since June 2020, however, Audible began to stop supporting the AA format because the platform decided to provide a better listening experience and enhance device compatibility.
In a nutshell, AAX is the enhanced version of AA and it provides better audio quality and higher compatibility.
Both software and online converter can convert aa to MP3 format. But the best way to get it accomplished is using MuConvert Audible Converter as it can convert DRM-protected AA files to MP3 in batches with original quality and ID3 tags kept, and allows you to edit the downloads, whereas online tools can only convert the DRM-free ones. MuConvert Audible Converter beats online tools with its stable performance and various functions. Anyway, hope this article helps.