[Solved] How to Convert Audible AA to MP3 Easily
With the benefits of relieving stress and relaxing eyes, audiobooks occupied people's life gradually. To protect the digital right, producer encrypted their audios with extension .aa or .aax, which makes it inconvenient for users to play them freely on common players. So how to convert AA to MP3? Converters like MuConvert Audible Converter software or other online tools can help you with it.
Things You'll Need to Know Before Converting AA to MP3
Knowing that both online and offline converters can help you achieve converting AA to MP3, you may ask what the common software are besides MuConvert Audible Converter. Well, some people use iTunes as a converter. Let's see what are the differences between them.
MuConvert Audible Converter
MuConvert Audible Converter is a powerful tool that helps you convert AA files to MP3 extraordinarily simple steps. With a clear interface and some bonus functions, it also supports customizable settings for the converted audio as follows:
Editing Metadata
Selecting output format, sample rate and bitrate
Splitting the audio when converting
Batch loading and queueing
Outputting audios as multiple formats
You might have tried or want to try converting AA to MP3 on iTunes as you don't wish to download any other software and you are familiar with iTunes. But if you try it, you would find it unpractical because you need to connect your audible account to the iTunes on your computer and activate it first. Then add the AA file to the library on iTunes and convert the file with the iTunes audio converter.
On downloading new software, it does save you some trouble if you've already had your own iTunes account and iTunes the software on your PC. But it's much more complicated and less versatile than MuConvert Audible Converter. With MuConvert, all you need to do is to get this software installed on your computer and drag your AA files onto it, select the output format of MP3. Then finish the last operation by hitting the Convert All button at the bottom right.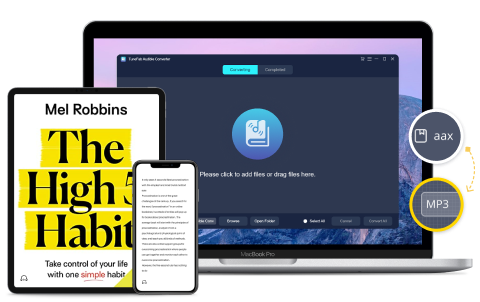 Convert AA to MP3 on PC (Without iTunes)
Below is the detailed guidance with some hidden surprises when converting AA to MP3 on MuConvert. Check it out.
Step 1. Download, install MuConvert Audible Converter and launch it.
Make sure that you've got your AA or AAX files on the computer where the MuConvert Audible Converter is installed. I believe that new audiobooks downloaded recently are AAX format that has been encoded at 64 Kbps, a double of AA, to enhance the audio quality. If you bought the audiobooks before June 2020 and you wish to get a high-quality one, just download it again on the website. But no matter what the format of your files is, this excellent software can convert both AAX and AA files to MP3.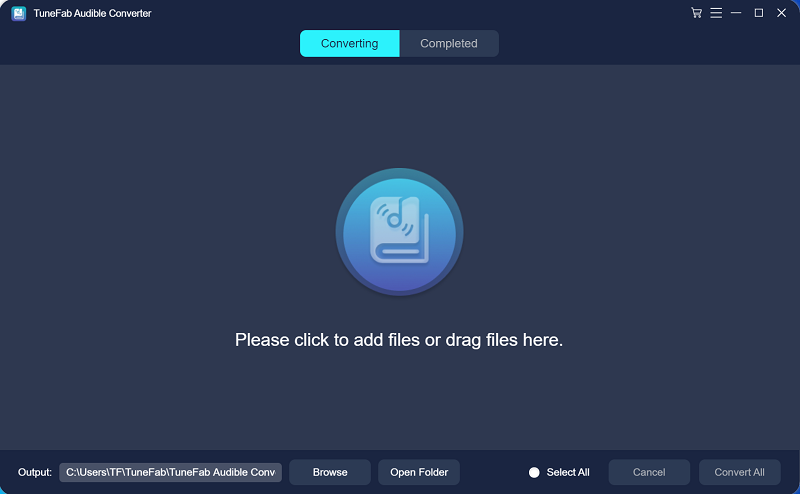 Step 2. Click to add your files or drag the files to the program.
You are able to add more than one file to it at a time and they will wait in line. If you've already opened the folder in which your AA files are kept, directly drag them to the software and it would load the audios really quick which is way faster than an online converter.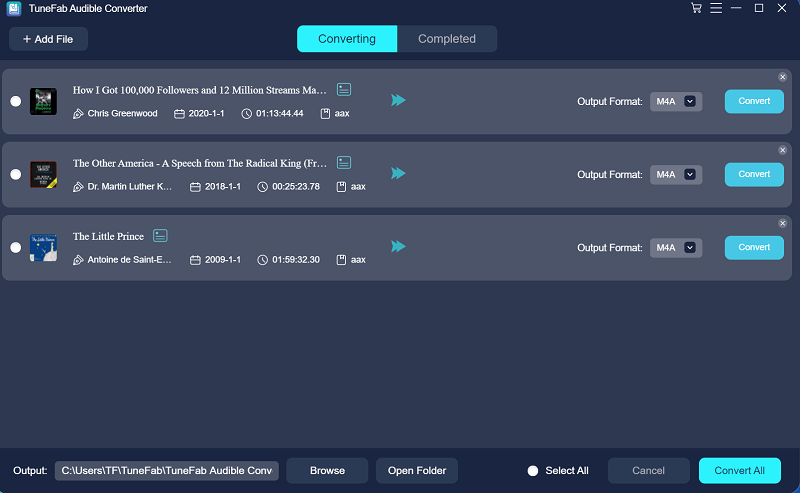 Step 3. Hit the edit button for ID3 Tag editing
For better further audio sorting management, editing the metadata will definitely do you a favor. Here you are able to edit the cover, title, artist, album, album/artist and genre for the AA files that are about to be converted to MP3. And you don't need to be worried if you still want to use the original information after saving your own ID3 Tag version. The default button will help you out.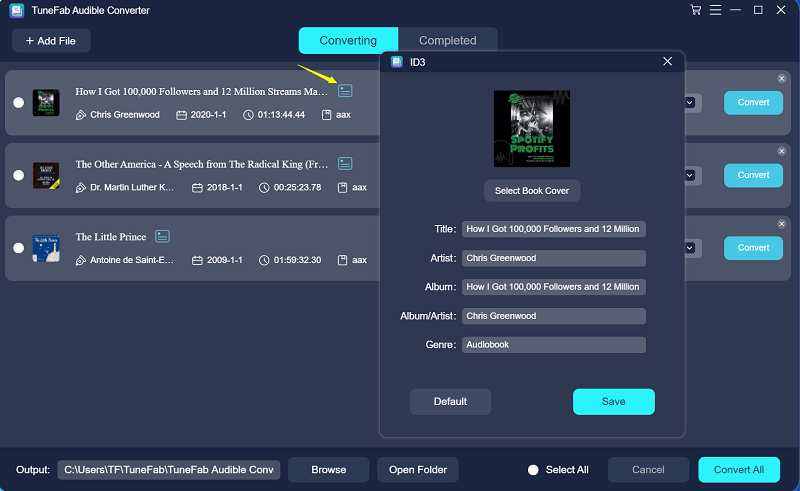 Step 4. Select MP3 from the output format drop-down list and select an output folder
Not only can you convert .aa to MP3, but also you may choose WAV, M4A or FLAC for different devices. Meanwhile, you are able to open the output folder freely with just one simple click on the button Open Folder at the bottom. If you prefer to customize the output folder, click the button at the bottom to browse and select one.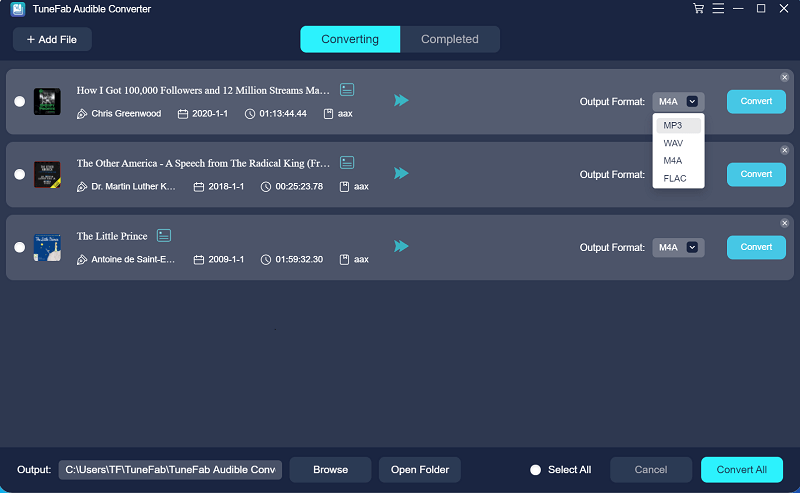 Step 5. Select the output setting in the dropdown list and edit the quality.
MuConvert allows you to convert AA to MP3 with original quality. At the same time, click the drop-down menu and hit Output Setting and you can edit your preferences such as SampleRate and Bitrate.
Also, you may feel that the audio is too long to finish listening in a period of time. And you need to mark down the point when you stop listening or else you won't remember where you were. MuConvert provides split functions such as split by chapters/hours, or into segments averagely that will solve the problem.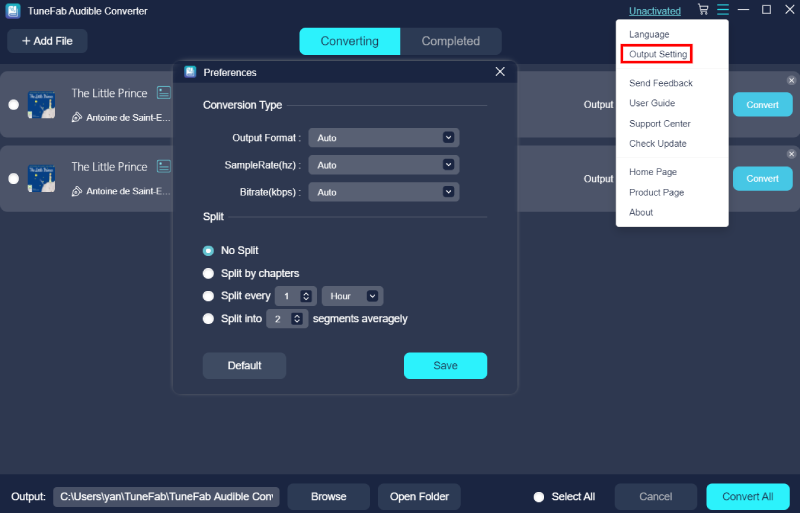 Step 6. Click convert all.
It will take you just a few seconds to convert your AA files to MP3 with original quality and you can cancel them if you want. After they are done, you will find them in the Completed tab. MuConvert performs more stable and efficient than some other software or online tools, which makes it gain tons of fans. Besides, our technical team is ready to help as long as you meet some problems.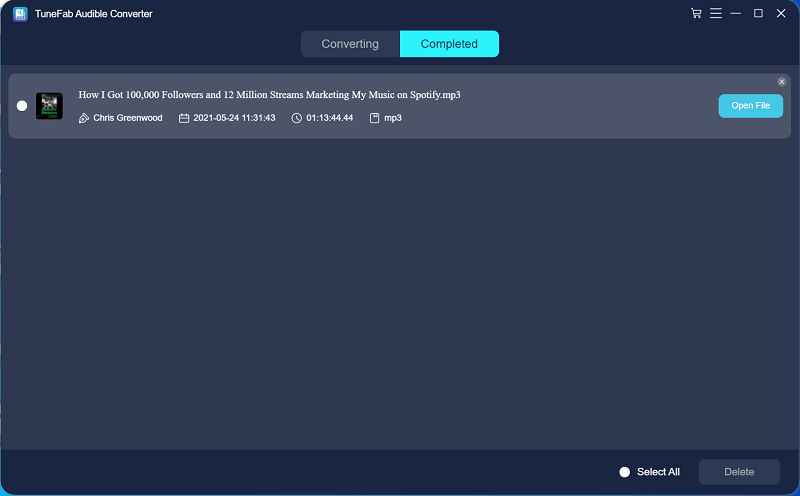 How to Convert AA to MP3 Online
AA files can be converted online easily. After you open the website, take AnyConv as an example, upload your AA file by selecting it through the browser and hit Convert. You don't need to pay for it and it's promised to be safe to convert files to MP3 for free on AnyConv because they would get the uploaded audios deleted at once.
However, you would find it takes you much more time to load the file and convert it into just MP3 without other formats. A few minutes would be taken to finish the converting if the file is a big one and an error may pop out – which did happen to me when I am testing. And as it's an online tool, you will see many ads on it and you are not able to convert your files when you are not accessing the internet. In terms of stability and functionality, MuConvert always wins.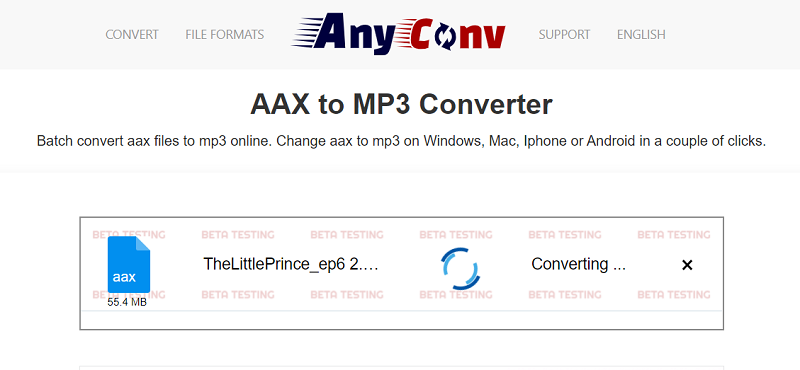 FAQs About Converting AA Files to MP3
Encoded at 32 Kbps, the AA file is the audio that is DRM-protected by Audible, for which little software or few devices can play them successfully.
Where we can get AA files?
There are many online websites such as Audible and Amazon from which you can download AA files. Files downloaded from these websites would be AA or AAX. But actually, AAX has taken place of AA nowadays.
Is it possible to convert DRM-protected AA files to MP3?
Yes, it is. Using powerful software like MuConvert Audible Converter with encryption removal technique bypasses the DRM protection and helps you convert AA files to MP3 amazingly.
Both software and online converter can convert .aa files to MP3 free. But the best way to get it accomplished is using MuConvert Audible Converter as it can satisfy you with original quality, speed, metadata editor and multiple output settings including formats and bitrate. It beats online tools with its stable performance and various functions. Anyway, hope this article helps!