How to Download Audible Books to MP3 Player [Solved]
Q: "When I meet a favorite audiobook on Audible, how can I download it to MP3 audio file so that I can transfer the audiobook to my MP3 player for listening?"
You may also have an MP3 player and want to keep the purchased Audible books to it for playback at any time you want offline. As we know, the audiobooks provided on Audible platform will be saved in AA or AAX format, and most of them are locked with DRM. As a result, the best way is to use an Audible Downloader supporting to remove DRM from Audible books and convert them to MP3. Here, MuConvert Audible Converter is highly recommended.
How to Download Audible Books to Any MP3 Player (Recommended)
MuConvert Audible Converter is a powerful software for Windows and Mac users to easily remove the DRM protection on Audible books and help to convert them to common media formats such as MP3, M4A, WAV, and FLAC. When people get the DRM-free Audible books, they are also getting a free way to manage and enjoy them offline. For example, these converted Audible books can be transferred to any MP3 player for offline playback at any time you like. More importantly, MuConvert Audible Converter will keep the audiobooks converted with original quality, so the playback experience can be maintained as the same as it used to be.
Features:
Offers simple UI to download Audible books to MP3 easily
Supports MP3, M4A, FLAC, and WAV to keep audiobooks
Saves the chapters and metadata information for the downloaded Audible books
Allows to split audiobooks by time, chapter, and segments
Offers 60X faster speed to process the Audible books conversion
Keeps 100% original quality to save Audible books offline
Now let's see how to operate MuConvert Audible Converter and download Audible books for MP3 player.
Step 1. Install MuConvert Audible Converter and Download Audible Books
At first, you should install MuConvert Audible Converter to your computer. The software now supports Windows and Mac, so just press the download button provided to download and install the software.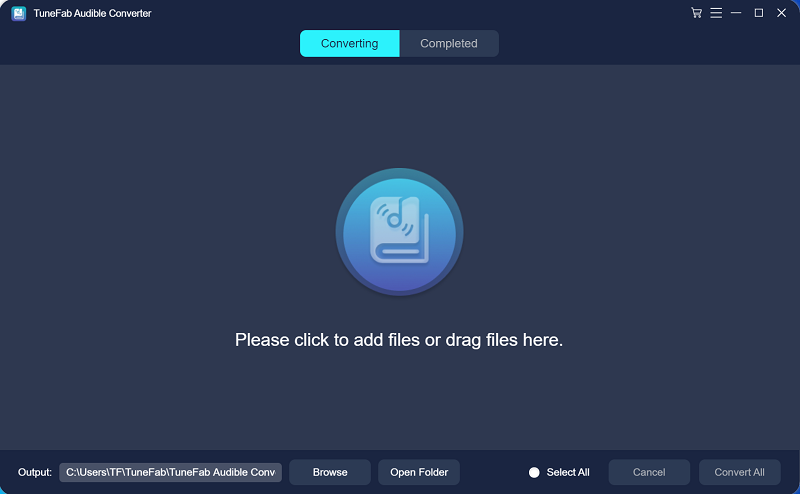 Then you should also make sure you have kept the Audible books downloaded locally in AA or AAX format.
Step 2. Add Audible Books to MuConvert Audible Converter
When you have installed MuConvert Audible Converter, open the software and add the Audible books to the interface of the software. Then MuConvert Audible Converter will read the information of the books and lists them in the interface for you.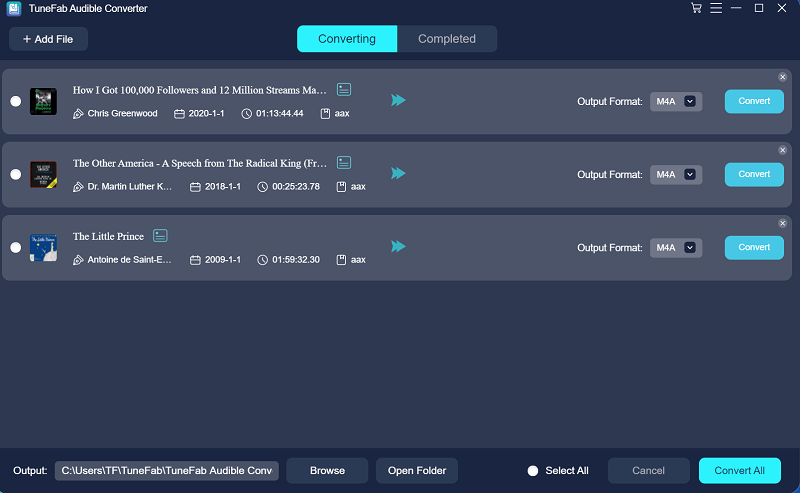 Step 3. Select MP3 Format and Change Parameters
Now you should select MP3 format as the output format for the Audible books you are going to download for MP3 player. You can directly select the format on the main interface for each of them.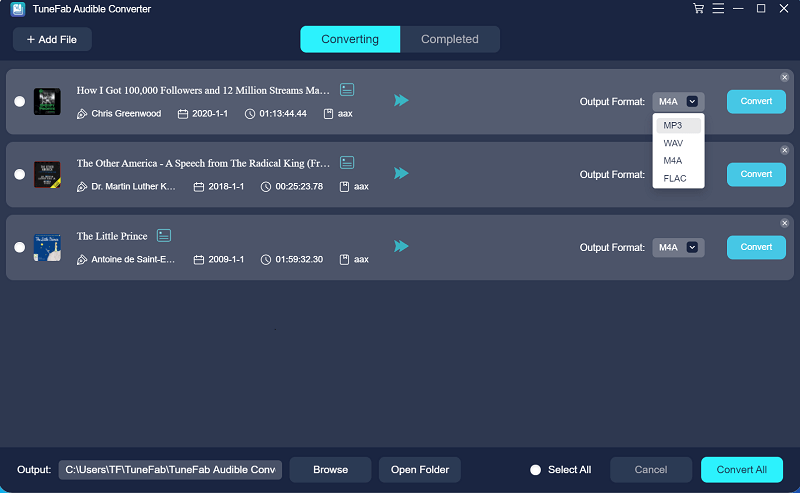 Or you can go to settings and find "Preferences" for changing the "Output Format", "SampleRate", and "Bitrate" of the Audible books at once. For splitting audiobooks, it is also able to do the setting here.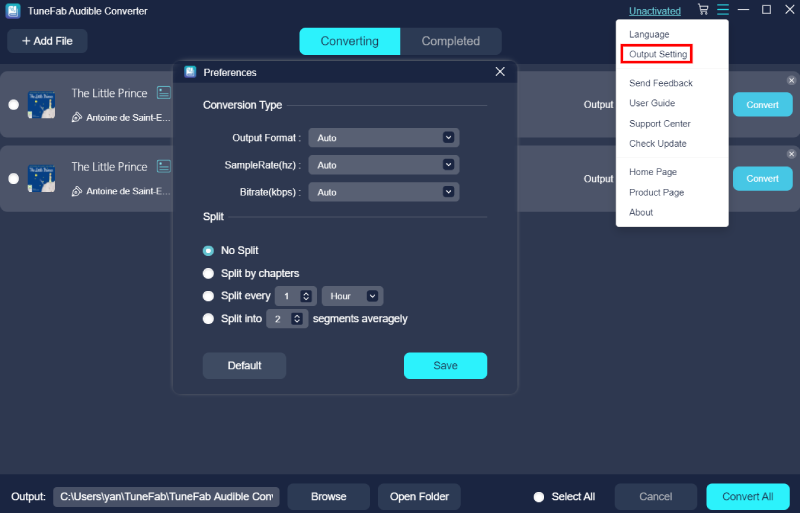 Step 4. Edit ID3 Tags of the Audible Books
MuConvert Audible Converter allows you to change the ID3 information and cover of the Audible books. Just click the edit icon provided behind the Audible book title and you can enter the ID3 tag editing window.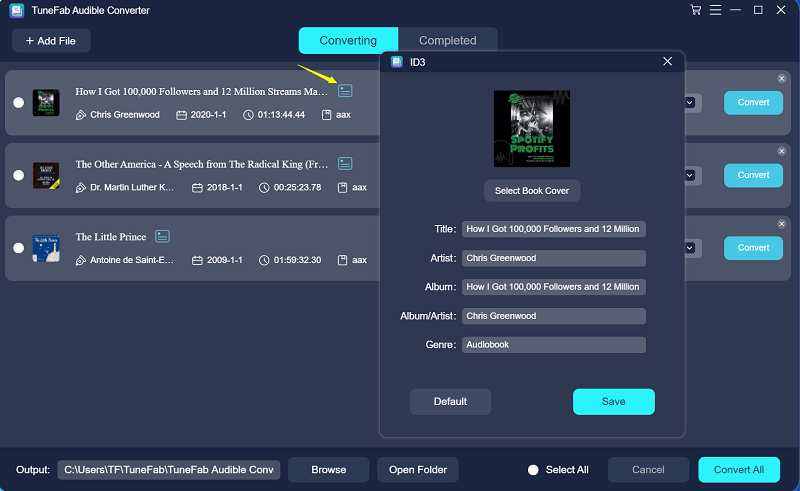 Step 5. Download Audible Books in MP3
When the settings are finished above, you just need to press the "Convert All" button and all the Audible books will be added into the converting list and download to MP3 format for you.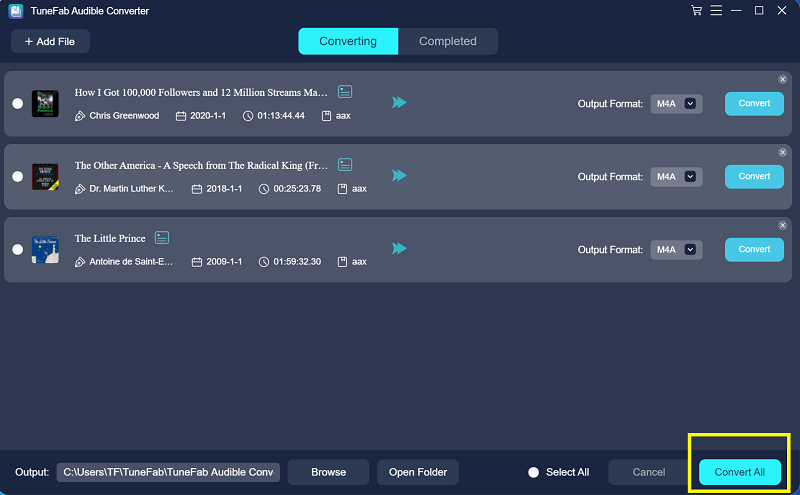 Step 6. Transfer MP3 Audible Books to MP3 Player
After the download process finished, you can open the output folder by clicking the "Open File" in "Completed". When you open the folder and get the downloaded MP3 Audible books, use a USB cable to connect the computer with your MP3 player and add the books to it for offline playback.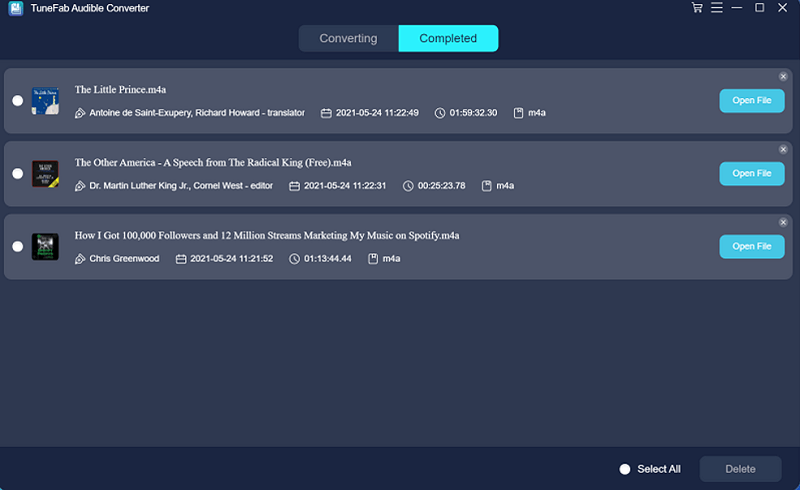 Ways to Download Audiobooks to Audible-ready MP3 Players
MuConvert Audible Converter helps to download Audible books for any MP3 players regardless of whether the devices support Audible or not. But actually, if your MP3 players are compatible with Audible platform, you can get much easier way to download Audiobooks to them. Here are two ways provided for iPod and Android users.
How to Download and Transfer Audible Books to iPod
If you use iPod to listen to Audible books, you can follow this guide to transfer them with the help of iTunes. Audible has authorized iTunes to read Audible books. Here provides the guide for you to download and transfer Audible books to iPod easily.
Step 1. On Audible library, there will provide an "Activate Now" button to let you authorize iTunes to read the books saved in your Audible library. Just click it to finish the authorization.

Step 2. Once this function is activated, the Audible books will automatically link with your Apple ID. And the Audible books can be directly saved to iOS's iBooks app.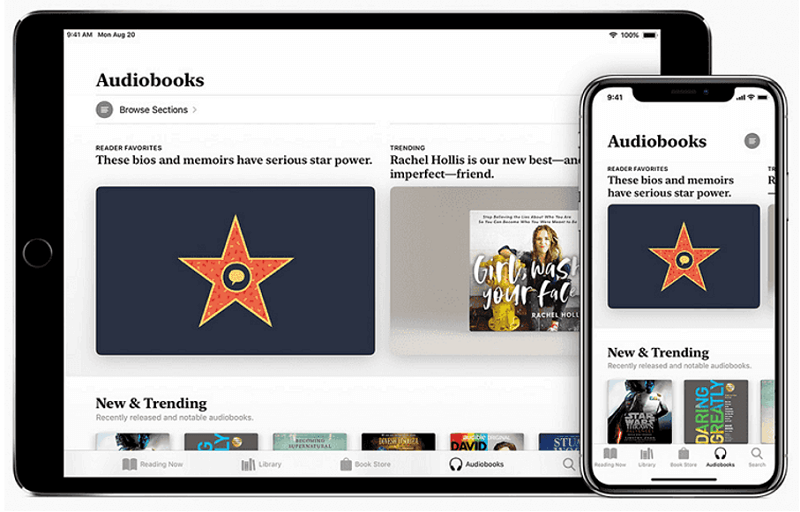 Step 3. You just need to open the iBooks app on your iPod and go to the "Audiobooks" section for opening the added Audible book for playback.
Download Any Audible Books to Audible-Compatible MP3 Player
Actually, Audible also offers an official way for people to download Audible books to the MP3 players that are compatible with the platform. To do this, it launched an app called AudibleSync to help.
Tip: AudibleSync is only supported on Windows computer now. It is not workable for Mac users.
Step 1. To begin, you need to download and install AudibleSync to your Windows computer.
Step 2. Open the software, then you should sign in with your Audible account, then you can access your Audible library in it.
Step 3. There will be a "Download" button provided to you. Click it and the Audible book can be directly downloaded to your Windows computer.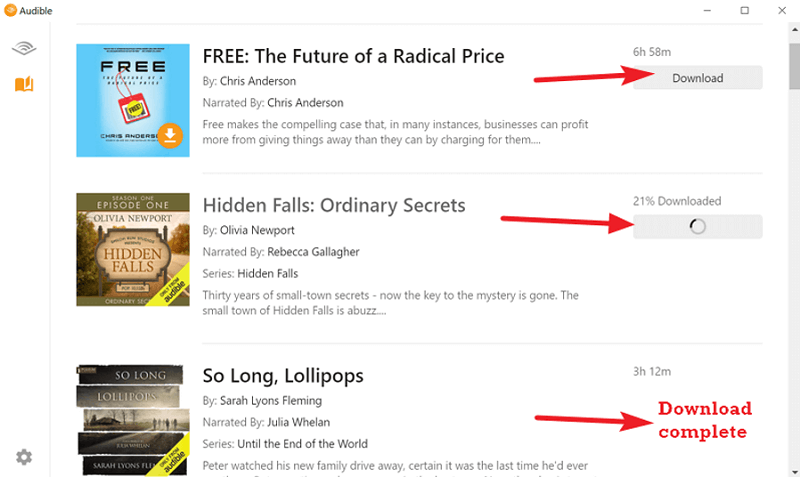 Step 4. Now connect the MP3 player which is Audible-supported to your computer. Then the device icon will show up on the left side of AudibleSync's interface. Click it.

Step 5. Activate the device to authorize it for accessing the Audible library. Then go to the Audible book and there will provide a "Copy to Device" icon for you to transfer the audiobook to MP3 player for offline playback.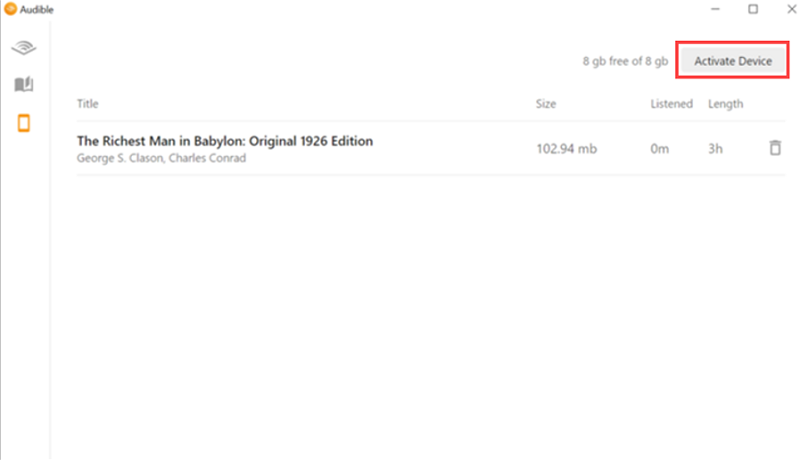 List of Some MP3 Players Compatible with Audible Books
As we know, because of DRM protection, the locked Audible AA/AAX audiobooks cannot be downloaded to the MP3 players that are not supporting Audible. But if you are using the following MP3 players, it would be a benefit because Audible has authorized them to access Audible library and listen to original Audible books even with DRM. They are iPod, Creative MP3 Players, SanDisk MP3 Players, and MP3 player powered by Android.
iPod Touch 7th Generation
The latest iPod Touch will be the best MP3 player that supports Audible playback. With the advanced technologies applied by Apple, iPod Touch can support high audio quality for streaming music, audiobooks, and other media content with the best effect. The latest iPod Touch 7th Generation has been released for you to select if you are finding a great MP3 player.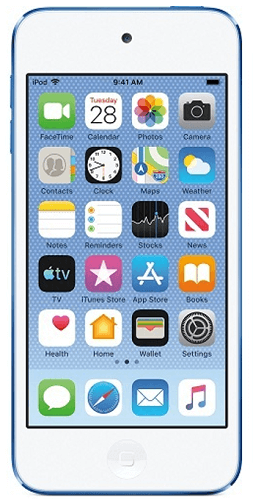 Another brand that supports Audible playback is Creative MP3 players. The latest and most popular series of all time should be the Zen series, which has a large buyer group and enjoys high reputation. The capacity of Creative Zen series can reach 30GB at max, which can allow people to store as many as audiobooks as they need. Also with great audio quality, people can have an enjoyable experience in listening to Audible books with its MP3 players.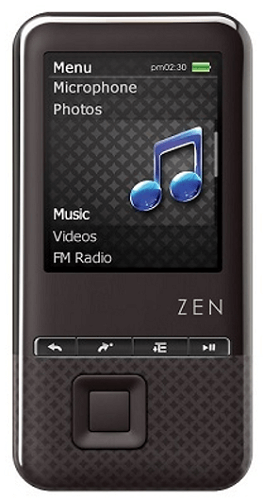 SanDisk Clip Jam is also a popular brand that is famous for its reliable MP3 players. The average capacity of SanDisk Clip Jam is around 8GB (but you can add an external SD card to expand the storage space by more than 20GB), which is less than Creative and iPod, but it is still enough for storing thousands of audiobooks for listening offline. By adding support with the Audible platform, people can access their Audible books conveniently and have a pleasant Audible playback offline.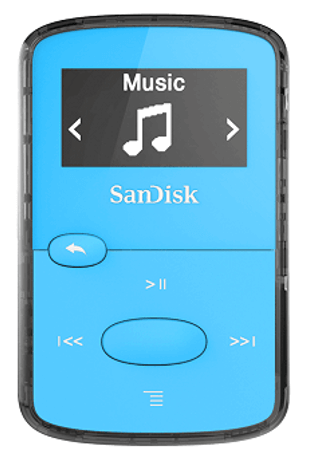 Audible has announced its compatibility on Android devices. Therefore, you can also choose an Android MP3 player, which is fully compatible with Audible, so that you can access your purchased Audible books in Audible library for playing the audiobooks offline on your Android MP3 player.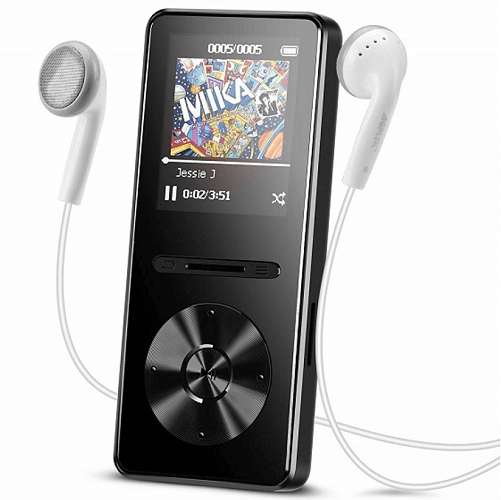 Extra Information: Other Popular MP3 Players for Audible
An extra table comparison on the popular MP3 players for Audible is provided here. Based on the listed information, you can select your favorite MP3 player version to enjoy Audible books in more flexible way.
| | | | | | |
| --- | --- | --- | --- | --- | --- |
| Device | Resolution | Storage | Battery Life | Compatible Formats | Price |
| iPod Touch 6 | 1136-by-640-pixel | 128 GB | average of 8 hours | AAC (8 to 320 Kbps), Protected AAC, HE-AAC, MP3 (8 to 320 Kbps), MP3 VBR, Audible (formats 2, 3, 4, Audible Enhanced Audio, AAX and AAX+), Apple Lossless, AIFF and WAV Video: H.264, m4v, mp4, mov, M-JPEG | From $189.99 |
| iPod Nano 7 | 240 x 432 at 202 pixels per inch | 16 GB | 30 hours of music playback | AAC (8 to 320 Kbps), Protected AAC (from iTunes Store), HE-AAC, MP3 (8 to 320 Kbps), MP3 VBR, Audible (formats 2, 3, 4, Audible Enhanced Audio, AAX, and AAX+), Apple Lossless, AIFF, and WAV | From $138.95 |
| SanDisk Clip Jam | 480 x 480 pixels | 8 GB | up to 18 hours | MP3, AAC, WAV, FLAC, Ogg Vorbis, DRM-free WMA, and AA | From $39.99 |
| Creative Zen | 320 x 240 pixels | 32 GB | 32 hours for music and 4 hours for video | AVI, WMV, and MPEG | From $229.99 |
| Zune HD | 480 x 272 pixels | 64 GB | 33 hours of audio playback | WMA, AAC, MP3 | From $168.00 |
This article brings you the full ways to download Audible books for MP3 player, and also introduces the popular MP3 players supporting the playback of Audible for you. Hope it has helped you to have a more convenient way in enjoying Audible content from now on.