How to Share Audible Books 2023 (No DRM Included)
Audible provides lots of audiobook resources for people to enjoy reading in a new way. When you have a great listen on Audible or find a nice Audible book on the platform, you may want to share Audible books with family or friends. But how?
This article brings the three best and quick ways to share Audible books easily, including two official methods and an easy hack trick. If you want to share Audible books out of Audible, the free hack method is strongly recommended. Now, keep reading.
Best Way to Share Audible Books with Family (Win & Mac Compatible)
Many services bring family sharing options for people to share their purchases easily. Perhaps you also wonder whether Audible books are shareable with your family members so as to save more money and energy. The following will solve all your puzzles.
Can You Share Audible Books?
Yes. Audible does bring the family sharing option for people to share Audible books with family members easily. The service is called "Family Library Sharing".
By joining the "Family Library Sharing" service, you can share your favorite Audible books with the other members who have to join the Amazon Household without a difficult process. But a limitation for this service should be that those Audible books included in the Audible Plus Catalog are unable to be shared through the "Family Library Sharing" service.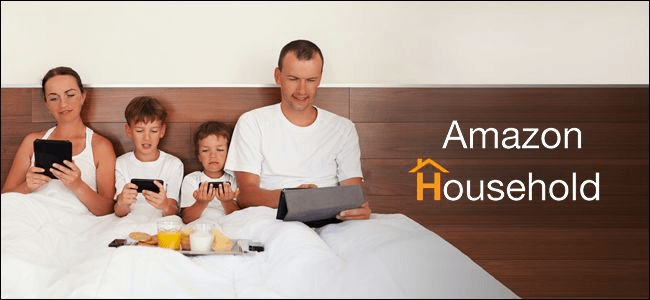 Remove DRM from Audible Books
But an obvious disadvantage of using the "Family Library Sharing" service to share Audible books with family should be the fact that the books can only listen inside the Audible platforms. For elders or small children who don't have a suitable device to install the Audible app, they may fail to enjoy Audible books.
But to get Audible books out of the platform for sharing, a thing we need to do is to remove DRM from them. By getting rid of this protection from the Audible books, the content can be shared outside the Audible platform and people can enjoy the books offline using any device. The only tool you will need is MuConvert Audible Converter, a powerful software program that can help you remove encryption from Audible books and convert them to MP3 for more convenient sharing.
MuConvert Audible Converter is a Windows and Mac supported software, which will work to remove the added encryption from Audible books, meanwhile, convert the AA/AAX books to MP3, so that people can get the MP3 Audible books for offline listening and sharing without limitations. It has a very simple interface, so the functions will be easy to use.
Features
Converts Audible AA/AAX books to audio formats such as MP3, M4A, FLAC, and WAV
Saves all the chapters and ID3 information of the Audible books during the conversion
Offers 60X or even faster speed to ensure an efficient Audible books conversion
Splits Audible books by time/chapters/segments if you only need to save a small part of them
Keeps the Audible books at the best quality without quality loss
Offers the batch conversion feature and the simplest drag-and-drop way to add Audible files
To remove DRM from Audible books with MuConvert Audible Converter, you only need to follow the following steps.
Step 1. Install MuConvert Audible Converter and Open It
MuConvert Audible Converter can be installed on Windows and Mac now. Click the "Download" button provided here and you can download and install the software. When finished, open it.
Step 2. Continue to Free Try the Software
When you open MuConvert Audible Converter, a window will lead you to register the software, or you would have limitations in using it, for example,
You can only convert 2 Audible books for free
And the 2 free conversions will be expired after 15 days
If you don't need to purchase the license now, just click the "Continue Trial" to use the free conversion.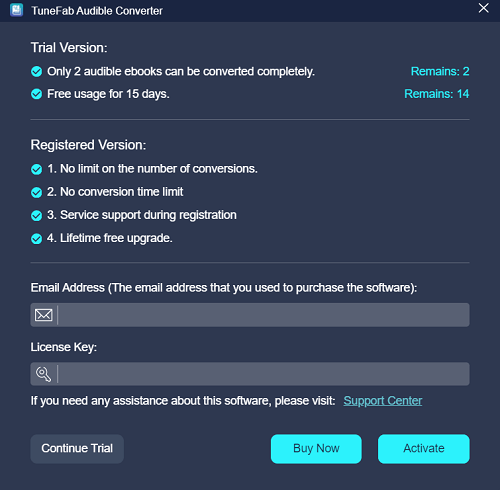 Step 3. Add Audible Books to MuConvert Audible Converter
On the home page of MuConvert Audible Converter, you can directly drag and drop your AA/AAX Audible books to the software for adding. Click the big icon in the middle, and you can also browse a folder on your computer for selecting the books to add.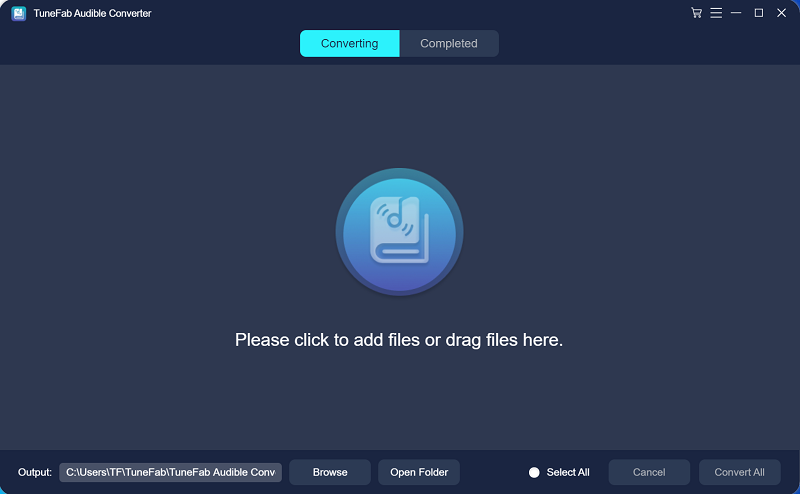 Step 4. Select Format to Output the Audible Books
When the Audible books are added, you can select a format to save the Audible books. There are four options provided, including MP3, WAV, M4A, and FLAC. Select the one you need.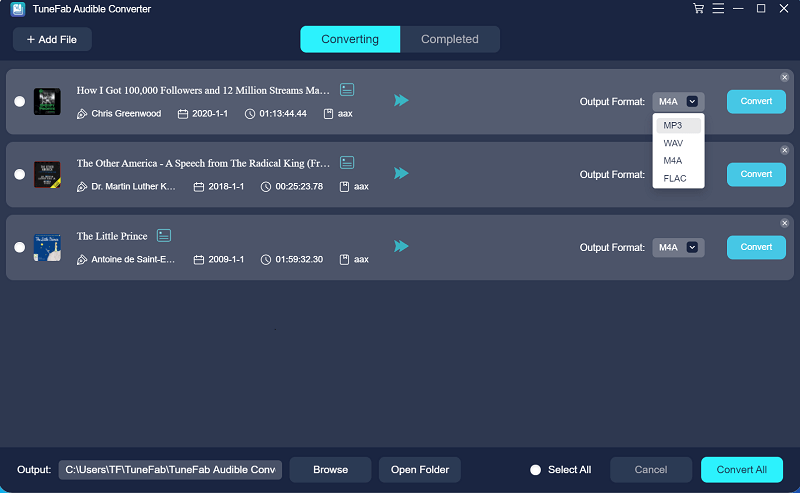 Step 5. Convert Audible Books to Audio Files
Finally, when you have selected the output format, click the "Convert All" button and all the added Audible books will be converted to the selected format as you need.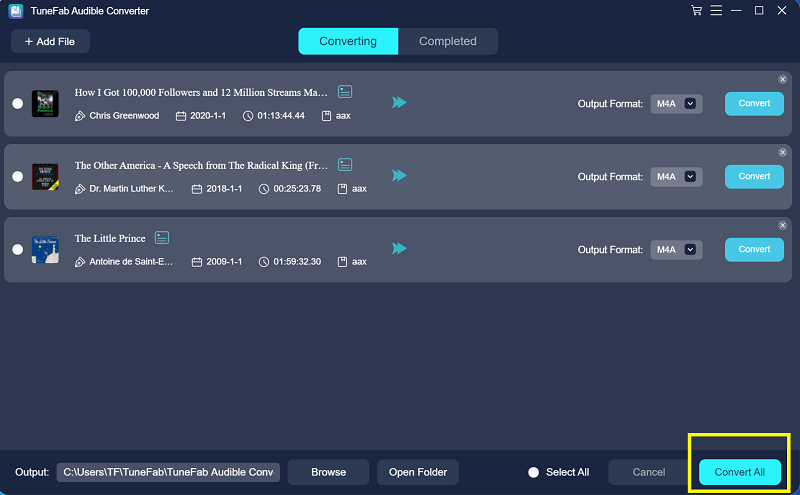 When you get the Audible books in audio files, you can share them with your family or friends by easily transferring them. It will be more convenient for Audible sharing now.
2 Official Ways to Share Audible Books with Your Friends for Free
If you would like to use the official way to share Audible books instead of using other third-party apps, this part will guide you to realize the goal. Two official ways are provided by Audible for people to share Audible books. Let's see what are and how to use them.
Way 1. Share Audible Books Through Amazon Household Sharing
This Audible books sharing method has been mentioned above, which is the "Family Library Sharing" service provided by the official. To share Audible books with family members using the Amazon Household, you need to make sure your family members have been added to the service.
Step 1. You need to go to "Preferences" in the "Manage Your Content and Devices" section. Then find "Households and Family Library" for getting to the "Learn about Households" button.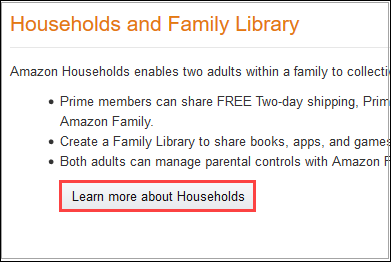 Step 2. Now, you can click the "Add an Adult" for adding your family member to the service.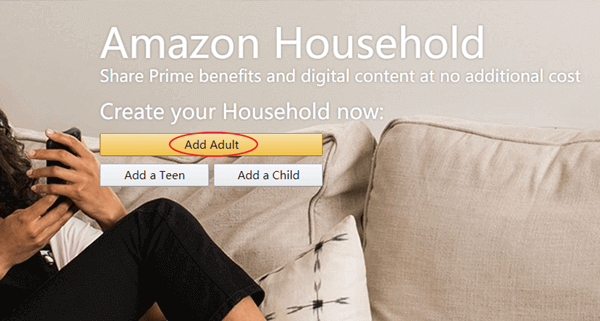 Step 3. You can continue adding another member by entering his/her email address. To finish adding, click "Confirm Account" and then "Produce Household".
Step 4. When the Household account is created, you can add the Audible books to the family library. Then the Audible books that appeared in the family library can be accessed by all the Household members.

Way 2. Use "Send this book" to Share Audible Books with Friends
If the person you want to share an Audible book with is not a member of your family Household account, then he/she has one chance to receive a free book using the built-in sharing function provided by Audible.
This function is easy to use. When you go to the Audible book you want to share with your friend, click the three-dots next to it, and there will be a "Send this book" option provided in the menu.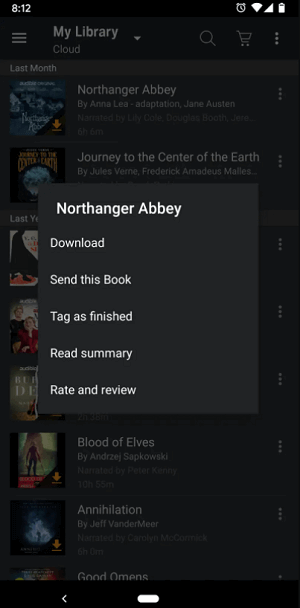 Click the option and Audible provides three ways to share the book, including "Message", "Mail", and "WhatsApp". Simply select the option you want to share the book. This service is free to use.
Now you got all the ways to share Audible books. Using MuConvert Audible Converter, you can share Audible books freely no matter what Audible account you are using. The playback will also be more flexible offline. That's why this is our top recommended method among the three.