While you can enjoy Audible audiobooks offline, hour-long Audible books take up space on your phone. It's wise to download Audible books to MP3 and enjoy them on your MP3 player. But the fact is that Audible doesn't support MP3 output format, which is why you have to convert Audible audio files from AAX/AA to MP3 first before downloading and transferring them to your device.
This post will share with you different methods to download and convert Audible audiobooks to MP3. Desire to know how? Just keep reading!
Can Audible Books be Downloaded and Converted to MP3
Yes, you can. But you need the help of third-party apps.
All Audible audio files are encrypted with DRM in AA/AAX formats for copy protection, which also makes it hard for users to listen to Audible audiobooks on their non-Audible devices which are compatible with MP3. To get these AA/AAX audiobooks downloaded and converted to MP3, third-party programs like powerful Audible audio converters can be helpful.
Here we've collected 4 different methods to help you. Keep reading and follow the step-by-step guides to download and convert your audiobooks from Audible to MP3 immediately. 
Method 1: Convert Audible to MP3 with MuConvert Audible Converter
The first method is using audio converters designed for converting Audible to MP3, which is also the fastest and easiest. With so many AAX to MP3 converters out there, here we choose the best one – MuConvert Audible Converter.
Compared with other Audible to MP3 converters, MuConvert Audible Converter stands out with its ability to convert them to MP3 or other mainstream formats such as M4A, WAV, and FLAC, and strip DRM encryption from all Audible AA/AAX audiobooks for flexible listening. If you have a large audiobook collection, MuConvert Audible Converter can speed up the Audible books conversion 60X faster in batch and save a lot of time.
Why MuConvert Excels in Audible to MP3 Conversion
Multiple Formats More than MP3 – Support mainstream formats such as MP3 and M4A as well as high-quality WAV and FLAC.
Best Audio Quality – Guarantee original quality, sound, and music effects after the AAX to MP3 conversion for the best listening experience.
Enjoy Audiobooks Offline without Audible – Remove DRM from Audible books easily so that you can enjoy audiobooks on any device (MP3 player, phone, speaker, etc).
Different Splitting Features – Split hour-long Audible books by time, chapter, or segment as you like.
60X Speed & Batch Conversion – Convert hour-long audiobooks to MP3 in batches at blazing-fast speed.
Easy Management of Large Audiobook Library – Preserve chapters, titles, and other details of audiobooks to help you find the audiobook you want easily.
Using MuConvert Audible Converter to convert Audible books to MP3 can be much easier than you thought. Follow the steps below to find out how to convert Audible books to MP3 and save them as  MP3 files permanently on your computer.
STEP 1. Import Audible Books
First, you need to download Audible books from the official website on your desktop. Then, open MuConvert Audible Converter and directly drag them to the interface of the software for uploading.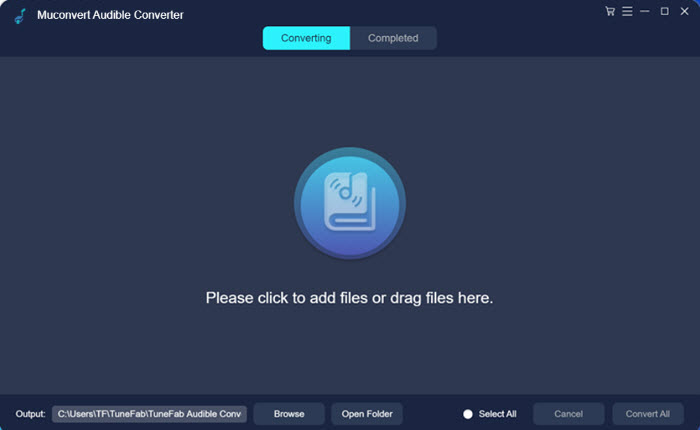 STEP 2. Select MP3 and Parameters
To convert the Audible file to MP3, select the output format as MP3. If you need to split your audiobooks, especially those over 6 hours, navigate to "Menu" > "Preferences" to try splitting mode. Click Split by chapters to save Audible books into smaller parts for preserving flexibly.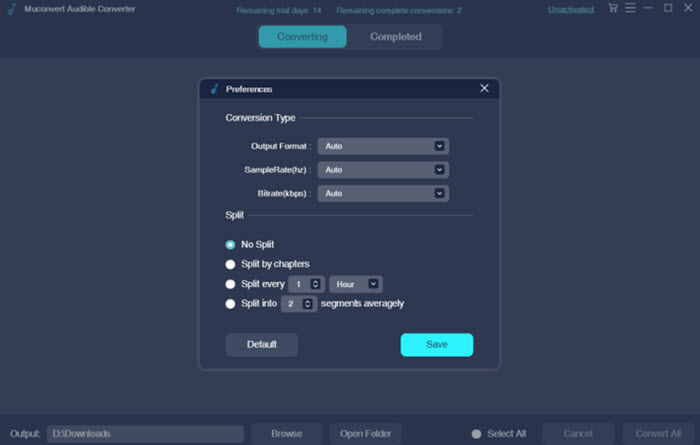 STEP 3. Edit ID3 Information (Optional)
If you have plenty of audiobooks to convert to MP3, you can edit their title, artist, album, and genre, or change the book cover for more convenient audiobook management.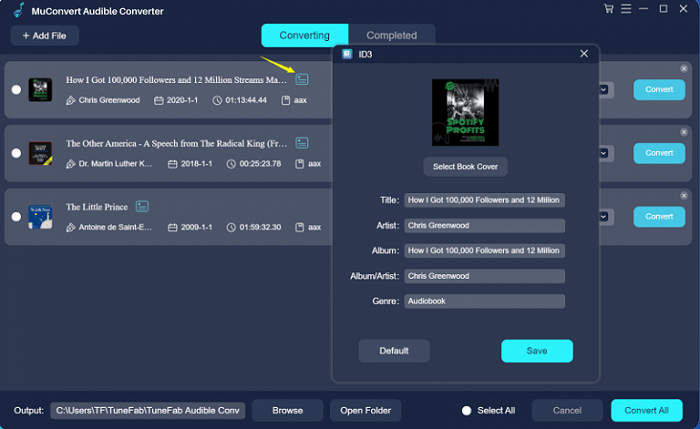 STEP 4. Convert Audible Books to MP3
Finally, as all the settings and editing are completed now, just give it a go by hitting the "Convert All" icon. Then, the MuConvert Audible Converter will quickly convert Audible books to MP3 at 60X faster speed and download the audiobooks as MP3 files on your computer. Wait for the conversion to complete!
Now that you get your AAX/AA audio files converted to MP3, you can transfer and play them on MP3 players, speakers, android, iPhone, and more.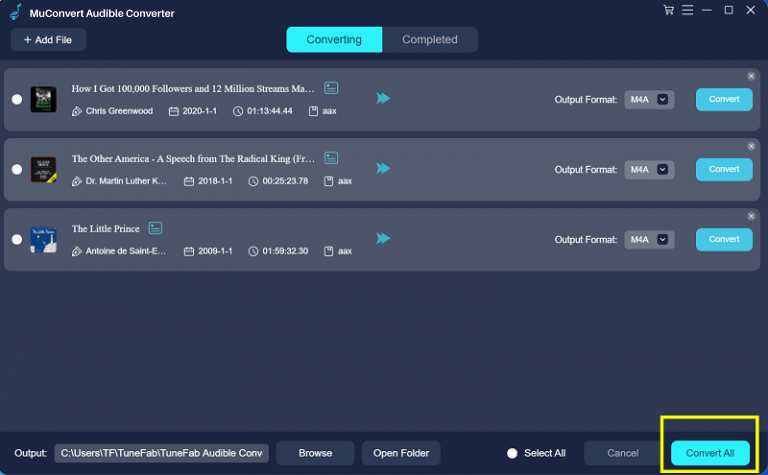 Method 2: Convert Audible to MP3 for Free with iTunes
If you happen to have a blank CD and install iTunes, you can use this official way to convert Audible to MP3 and download the audiobooks as MP3 audio files. However, the process might be complicated for beginners.
Now, prepare a CD and follow the guide to learn how iTunes helps to convert Audible books to MP3 for free.
STEP 1. Launch iTunes on your desktop. Now, you are required to authorize your Audible account in iTunes by navigating to "Account" > "Authorization" > "Authorize Audible Account".

STEP 2. Then, create a playlist by going to "File" > "New" > "Playlist". Then, import the Audible books from your account to the newly-created playlist by dragging them here.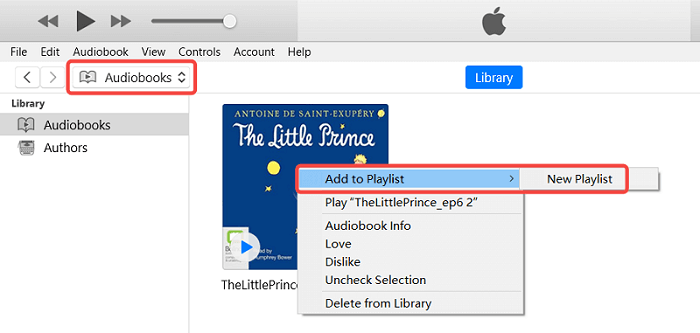 STEP 3. Now, insert a CD into the computer, and select the iTunes Audible book playlist. Right-click on it and choose the "Burn Disc" option to submit burning the Audible books to the CD right away.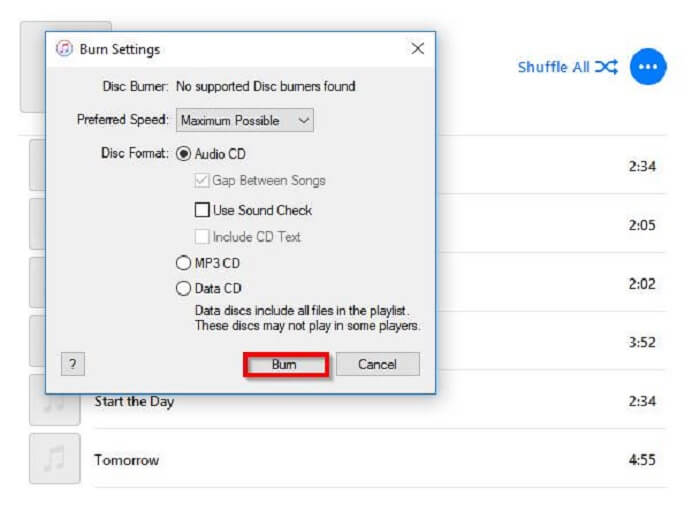 STEP 4. After the burning completes, insert the CD again. This time, you are required to go to "Edit" > "Preferences" > "General" to customize "MP3 Encoder" in the "Import Settings" section.
STEP 5. Hit the "Import" icon now, then iTunes will import the Audible books just burned to CD back to the iTunes library again. Now, iTunes will convert Audible audio files to MP3 for you without DRM encryption.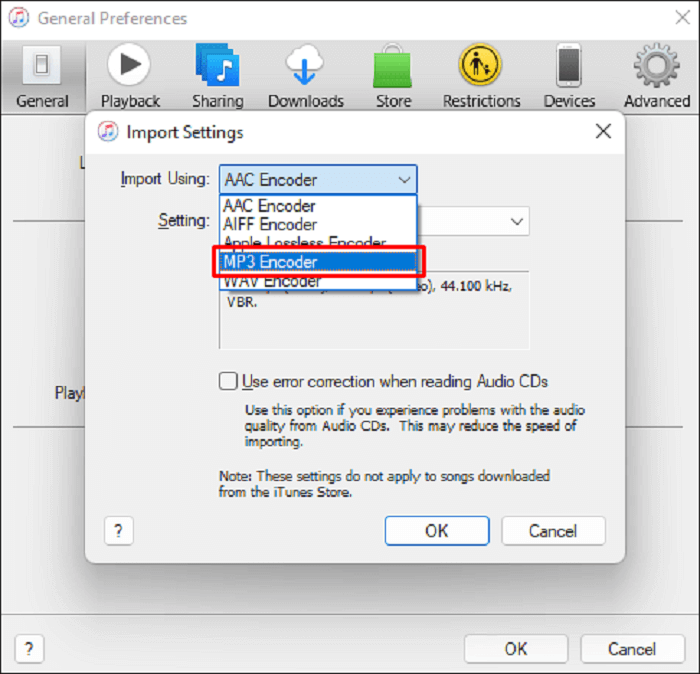 Method 3: Convert Audible Books to MP3 via Online Audible Converter
If you are just a beginner with a few audiobooks to convert to MP3, try online Audible converters like Audibleconvert. This online converter helps to convert AAX to MP3 for free without letting you install other software anymore. No matter what devices you are using, you can directly open this website in a browser and then upload an Audible audio file here to convert it to MP3 immediately.
Before starting the conversion, do note that online Audible to MP3 converters can't convert DRM-protected Audible books to MP3. This means you need to remove DRM from the Audible books before using Audibleconvert for free audiobook conversion.
If you have made sure that you are going to convert the DRM-free AAX Audible books, just follow the steps below to convert an audiobook online for free and download it.
Step 1. Open the Audibleconvert website in a browser, and then click the "Choose file" button provided on its Home Screen to select the AAX book you want to convert to MP3.
Step 2. After uploading the AAX file, click the "Convert" button next to the "Choose file" option, then the online tool will begin to convert it for you.
Step 3. When the converting process finishes, there will be a download button provided. Click and then you can download the converted MP3 Audible book to playback offline. Wonder more free methods to convert Audible to MP3? Check the post: Different Methods to Convert AAX to MP3 for 100% Free.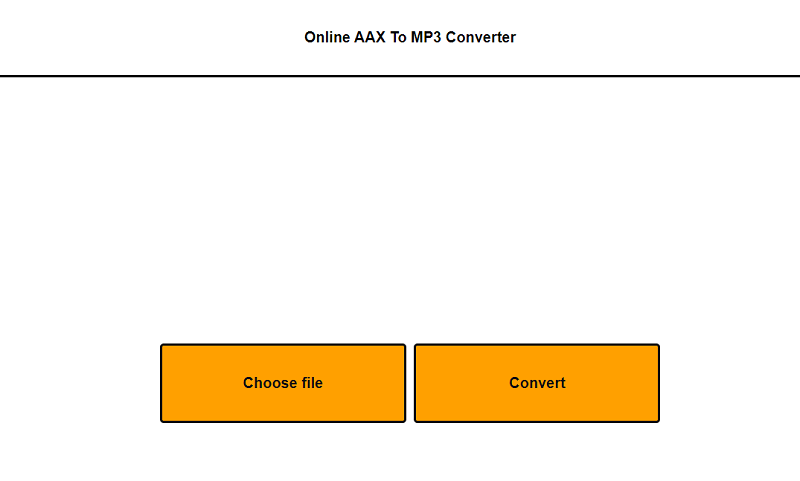 Method 4: Convert Audible AA/AAX to MP3 by Recording
For those who have an extra-long audiobook and just want to a part of it, you can use a recorder to flexibly control getting any part of an Audible book. Here we will choose Free Sound Recorder, a piece of software for Windows and Mac users to capture Audible books with good quality.
Free Sound Recorder will offer quality setting options to record Audible to MP3 in the quality you need. Its schedule feature is a time-saver, with which you can create a schedule to make it start or end recording automatically at a specific time. More importantly, because this software is totally free, you take advantage of it to convert Audible books to MP3 for free! 
Step 1. After installing Free Sound Recorder, open it on your Windows/Mac computer and do the quality as well as other recording settings first.
Step 2. Then play the Audible book you want to convert to MP3, and also click start recording in the software to process capturing it.
Step 3. When the recording finishes, stop it and then the Audible recording will be saved as an MP3 file with your selected quality immediately. To record another Audible audiobook, repeat the process above. Now you have audiobooks in MP3 and you can play the audiobook on Android, iPhone, or MP3 player even without Audible.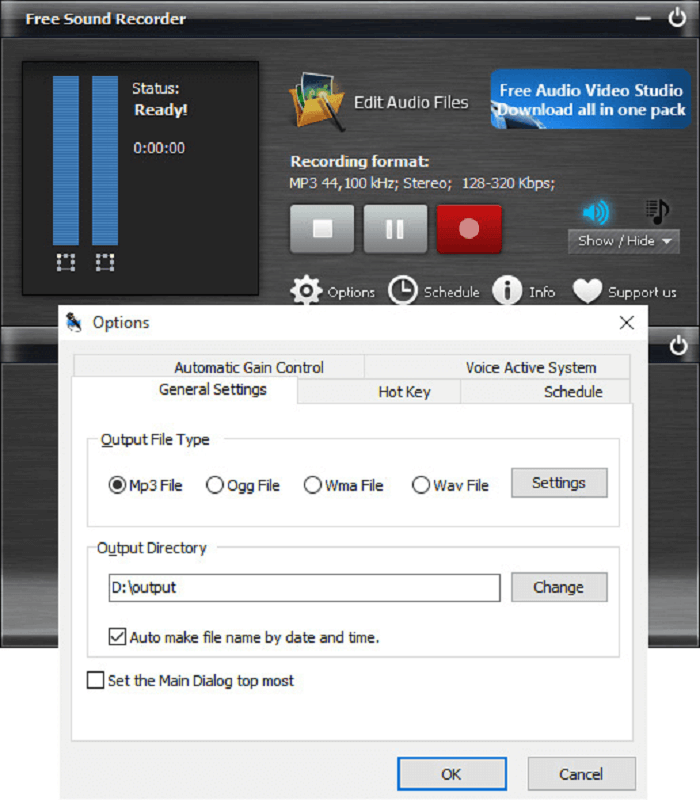 Which is the Best Method for Converting Audible to MP3
Now that you know how to download and convert Audible audiobooks to MP3, here we've compared them to help you choose the best method. Check it out.
Use professional Audible audio converters: It is fast, easy, and quick to use MuConvert Audible Converter, with which you can convert Audible to MP3 within a few clicks. This professional Audible to MP3 converter also offers a built-in splitter to help you cut extra-long audiobooks.
Use online Audible to MP3 converters: This method is free with limitations. Most online converters limit the file sizes of uploaded audiobooks, and they can't help you convert protected Audible books at all.
Use iTunes: iTunes lets you convert Audible books to MP3 for free. Yet you need to prepare a blank CD. If you don't have one, then try the other 3 methods.
Using audio recorders: Recording Audible books can help you save Audible audio files as MP3 while getting rid of DRM, which is free yet time-consuming, especially hour-long Audible books. It takes great effort and time.
Conclusion
These 4 methods help you permanently download Audible audiobooks to MP3, letting you enjoy them offline on phone, MP3 player, or other devices you like. For the best way, try MuConvert Audible Converter to convert your audiobook library to MP3 at 60X lightning-fast speed with the original quality right now.