How to Download Harry Potter Audiobooks [2023 Latest]
J.K. Rowling's Harry Potter series is a legend work that is loved by many people from all over the world. Over the years, the Harry Potter books, movies, and audiobooks are translated into different foreign languages for global audiences to enjoy without language barrier.
Do you also want to download Harry Potter audiobook series offline for your children to listen or keep it as your own collections? The most convenient method to process Harry Potter audiobook download on computers will be introduced in the following article. Now, follow the guide to download Harry Potter audiobook series for playing and saving offline.
How to Download Harry Potter Audiobooks from iTunes Store
For Apple users, you must be familiar with iTunes Store, where people can find all kinds of music, video, and audiobook resources for purchasing to enjoy on computers. Luckily, Harry Potter audiobook series is provided in iTunes Store, and people can purchase them then download for playback offline. Now, follow the tutorial here to buy and download Harry Potter audiobooks from iTunes Store to keep in your own iTunes Library.
Step 1. Open iTunes on computer. Then you should use your iTunes or Apple ID to sign in the software.
Step 2. Now you go to the sub-menu on the top-left corner of iTunes. After clicking the pull-down list, select "Audiobooks" and you will open the iTunes Store.
Step 3. In iTunes Store, directly search for Harry Potter. When the search results are provided, open each Harry Potter audiobook and choose the buy them immediately.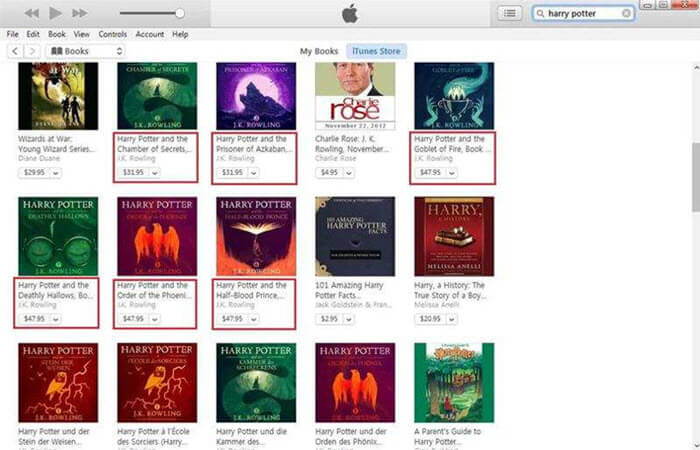 Step 4. After the payment is made, the purchased Harry Potter audiobook will be saved to your iTunes Library. There will be the download button provided for you to download Harry Potter audiobook to listen offline.
Remove DRM from Harry Potter Audiobooks and Download
Other than iTunes Store, another place we can find Harry Potter audiobooks and download them offline for playback without network connection is Audible. Although Audible limits the offline download function and it is not possible for you to play the downloaded Harry Potter audiobooks only in Audible player or iTunes, MuConvert Audible Converter can help you break the limitation.
MuConvert Audible Converter provides powerful service to help people remove DRM protection from Audible Harry Potter audiobooks (the technology mainly used to protect the audiobooks from being played or copied for playback outside Audible or iTunes). By converting them to the common audio formats such as MP3, M4A, WAV, or FLAC, people can use any players on all devices to play the Harry Potter audiobooks without the limitations brought by Audible.
Key Features:
Supports removing DRM from Audible audiobooks and download them in common formats such as MP3, M4A, WAV, and FLAC
Saves both the chapter and ID3 information to easily manage and play the downloaded Audible audiobooks offline
Downloads all Audible audiobooks with original quality
Supports the fastest 60X speed to batch download audiobooks from Audible
Offers in-built spitting mode to cut audiobooks by time/chapter/segment based on your needs
Provides free service to download 2 audiobooks in the free version
Now, check the brief guide here to grasp the way to download Harry Potter audiobooks from Audible to MP3 via MuConvert Audible Converter on desktop.
Step 1. Add Harry Potter Audiobooks to MuConvert Audible Converter
Firstly, you need to install MuConvert Audible Converter on your computer. Then open it and you can directly add the Harry Potter audiobooks to the interface of the software by dragging them here.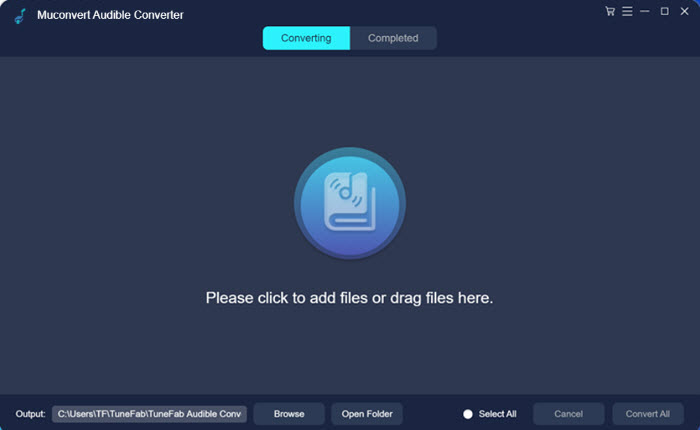 Step 2. Select Format and Other Settings to Download Harry Potter Audiobooks
When the Harry Potter audiobooks are added to MuConvert Audible Converter, you can directly select the output format as MP3 for them.
By going to "Menu" and tap the "Output Setting" option, you can open "Preferences" and also adjust the "SampleRate", "Bitrate", or select the splitting mode to cut audiobooks by time/chapter/segment.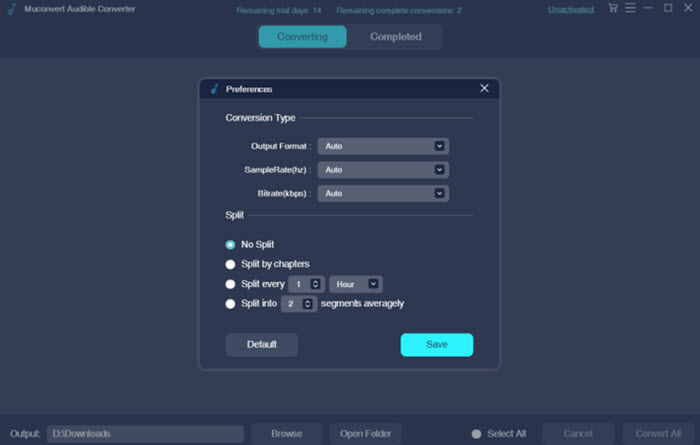 Step 3. Edit ID3 Information of the Harry Potter Audiobooks
To better organize and manage the downloaded Harry Potter audiobooks, you can directly hit the edit icon after the name of each audiobook to edit its ID3 information, such as the "Title", "Artist", "Album", and so on.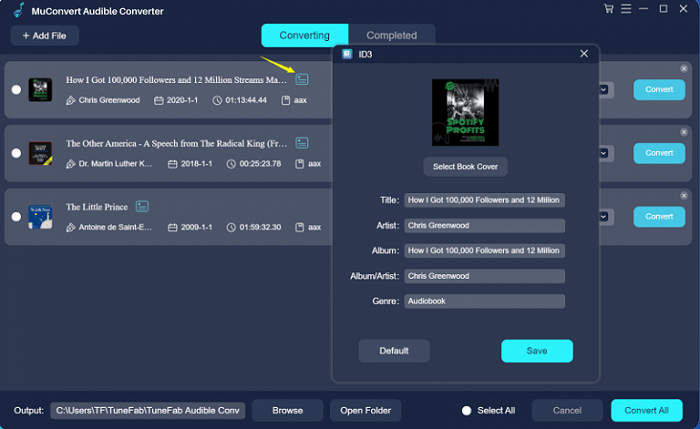 Step 4. Download Harry Potter Audiobooks to MP3 Offline
Finally, click the "Convert All" button, and MuConvert Audible Converter will download the Harry Potter audiobooks in MP3 format offline for you. When it finishes, you can directly play the audiobooks offline or collect them on any devices forever.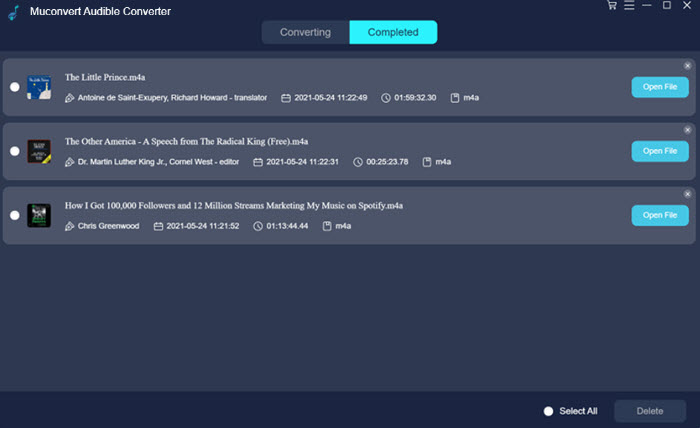 Remove DRM from Harry Potter Audiobooks and Download
Instead of using MuConvert Audible Converter to download full Harry Potter audiobooks, it is also a good choice to record them with an audio recorder to save only some interesting parts from them, and VideoSolo Screen Recorder is a good tool you can try.
The "Audio Recorder" provided by VideoSolo Screen Recorder can help people to record any system audios or microphone sounds with high quality on computers only by doing some simple clicks. The output audio recordings can also be saved in common audio formats like MP3 and M4A, which makes people easier to keep them on more devices to play offline. Also, VideoSolo Screen Recorder will provide the audio enhancement mode if you want to record your microphone but have less noise. Now, you can see how simple it would be to record Harry Potter audiobooks using VideoSolo Screen Recorder.
Step 1. When you have opened the Harry Potter audiobook and is ready to play it, also open VideoSolo Screen Recorder and enter its "Audio Recorder".

Step 2. After testing the volume of the system sound, you can go to "Preferences" to set some output settings such as the quality, format, and so on.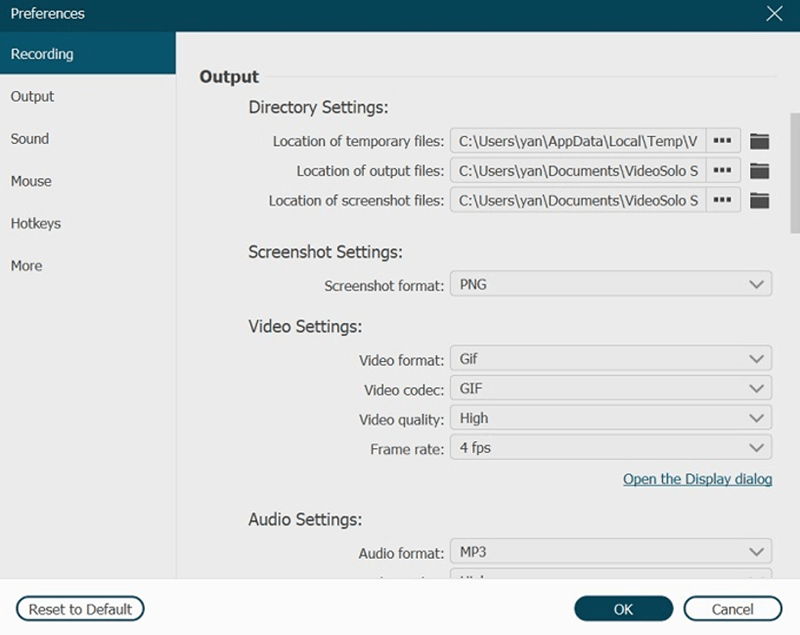 Step 3. When you come back to the screen of the "Audio Recorder", start playing the Harry Potter audiobook and also click the "REC" button in VideoSolo Screen Recorder to start recording it.
Step 4. When the recording is over, click the stop button and VideoSolo Screen Recorder will allow you to listen to the recorded audio at first. By clicking the "Save" button here and you can save the recorded Harry Potter audiobook offline.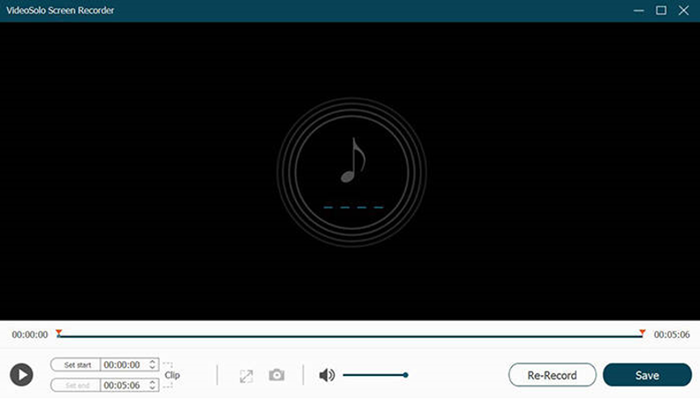 Extended Reading: Brief Introduction and Review of Harry Potter Series
Harry Potter is a fantasy novel series written by J.K. Rowling, which includes 7 seasons in total. The whole story chronicles the lives and adventures of the young wizard, Harry Potter, after entering the wizard school, Hogwarts. There he meets his lifetime friends Hermione Granger and Ron Weasley, and they just begin a series of adventures and try to save the peaceful life by defeating their great enemy, Lord Voldemort.
Since the release of the first novel, Harry Potter and the Philosopher's Stone in 1997, Harry Potter's name gained much attention, and this work became quite popular around the world. For decades, there are millions of copies sold globally and the Harry Potter movies also grasp the attention of many audiences.
Many readers give review on Harry Potter, saying that the plots, and the great qualifications presented by the characters, such as the braveness, sincerity, kindness, and more will be the best references for us to learn from. And this is also the reason for why Harry Potter can be so successful.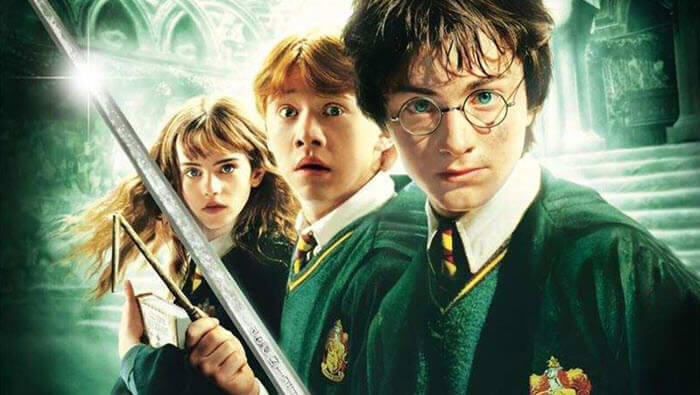 Do you also want to download Harry Potter audiobooks for your children or as personal collections to save offline? As you can find the resources in many different platforms, just choose the most suitable method to process the download. For Audible, MuConvert Audible Converter is the best choice as it can remove DRM from the audiobooks and allows you to save on all devices for offline playback. Now, just pick the method to try.