3 Simple Ways to Play Audible on Sonos (Even Without Premium)
When people are more likely to enjoy reading through listening to audiobooks, Audible becomes a palace where they are able to discover all types of resources as they like. However, when it comes to stream Audible books on devices with better audio quality like using Sonos speakers, people may not be familiar as controlling the mobile devices.
Thanks to Audible's great compatibility, playing Audible on Sonos is not a difficult task at all. So, in this blog, the details guiding you to stream Audible books on Sonos will be described. If you also consider streaming Audible on Sonos for listening to audiobooks more comfortably, check the tutorials below.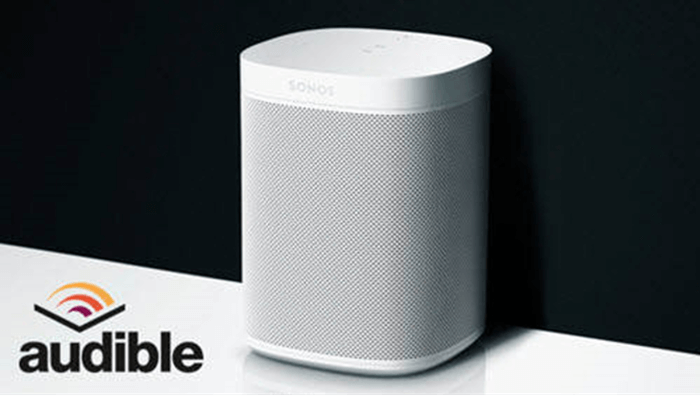 Play Audible on Sonos Directly via Audible App
When you have installed Audible app on your mobile device, it would be the simplest access to directly connect it to Sonos and play the Audible books on Sonos with Audible app. Here's the process to do it:
STEP 1. After turning on the Sonos speaker, connect both your mobile device and the speaker to the same Wi-Fi.
STEP 2. Launch Audible app on the mobile device. Within it, you should select to connect with the Sonos speaker.
STEP 3. Then, simply select an audiobook in your library and tap to stream it right away. When the notification "Sonos devices are available" pops up, submit to "Connect to a Device" to continue playing the Audible book.
STEP 4. When the audiobook starts streaming on Sonos, you are able to control the playback using the voice commands of Alexa when you need.
NOTE: However, some audiobook streaming features are still not available on Sonos currently, including the narration speed, sleep timer, bookmarks, chapter navigation, Stats and Badges, and Audible Channels.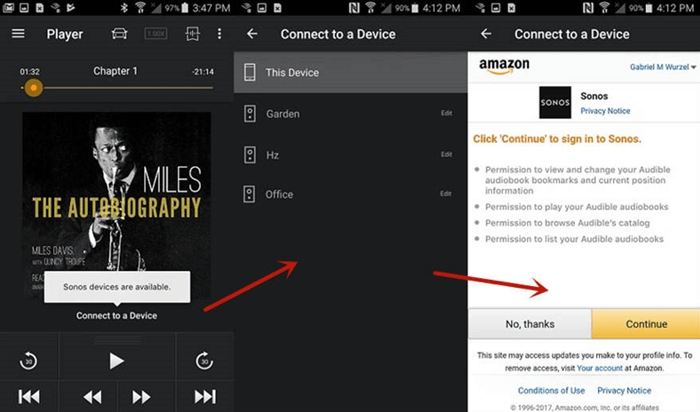 Listen to Audible Books from Sonos App
As Audible has rolled out to be compatible with Sonos devices, users are also able to play Audible on Sonos directly by adding Audible service to Sonos app for controlling the audiobook playback. Even for the new Audible subscribers, who submit to join the Audible 30-days free trial subscription through Sonos app, Audible would award two free credits and one complimentary audiobook. Now, you are able to follow the steps below to add Audible service to Sonos app and process the audiobook listening:
STEP 1. When you have installed Sonos app on the mobile device, launch it and head to "More" > "Add Music Services".
STEP 2. Scroll down to find Audible and tap in the option. Then, hit the "Add to Sonos" icon.
STEP 3. When you have submitted to add Audible to Sonos, you are required to login your Audible account to complete the authorization.
STEP 4. After successfully adding Audible to Sonos, you are able to return to Sonos app and directly stream the Audible books through Sonos speaker within the app.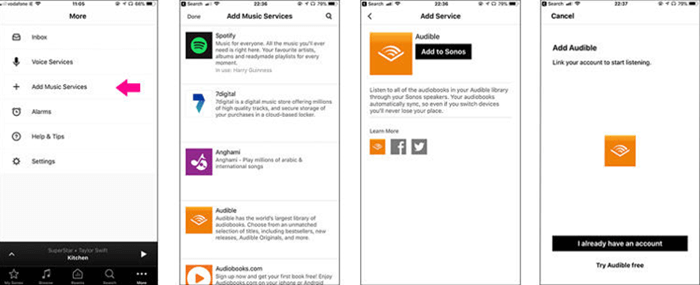 Play Audible Audiobook on Sonos by Converting Audible Formats
However, as the line-in connection could easily cause playback errors when the connection fails or the network is not stable enough, some users are considering whether they could directly download the Audible books to Sonos's supported formats and import them to make the speaker play them with the default media playback app. If you desire to process the Audible playback on Sonos through this way, then you require the help from an extra software, MuConvert Audible Converter.
MuConvert Audible Converter provides out-performing and high-quality Audible books conversion service to enable users to save Audible books offline in mainstream non-DRM files, highly boosting flexible audiobook playback experience on any device as users require. It would preserve the full chapter info as well as the ID3 tags for the downloaded Audible books, enabling users to organize the offline audiobook library without hassle.
Highlighted Features of MuConvert Audible Converter
A variety of mainstream formats such as MP3, M4A, WAV, and FLAC supported;
100% original quality ensured to output the converted Audible books;
Full chapter info and ID3 tags preservation;
Extra built-in splitting feature available to split audiobooks by time, chapter, or segment;
Embedded acceleration tech ensuring the 60X faster conversion speed;
Batch conversion available to boost higher efficiency by processing multiple audiobooks simultaneously.
Now, check the brief guide here to grasp the way to convert Audible books to Sonos supported formats via MuConvert Audible Converter on desktop.
STEP 1. Launch MuConvert Audible Converter. On the main interface, directly import the Audible books you desire to import to Sonos for listening by dragging them to the converter.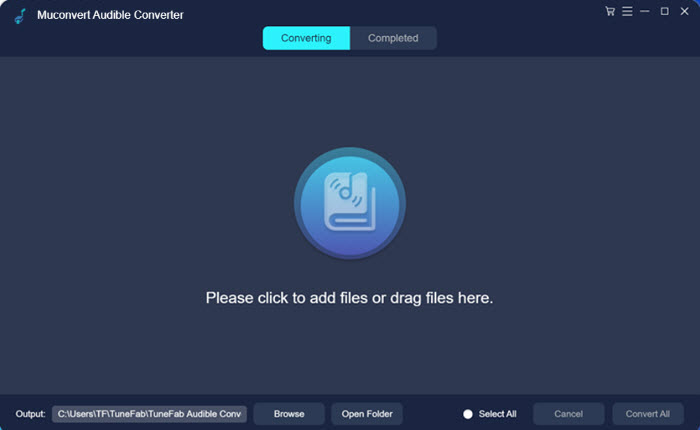 STEP 2. When the Audible books are added, select an output format for them one by one. Or you are able to navigate to "Menu" > "Preferences" to customize the output parameters based on your own requirements.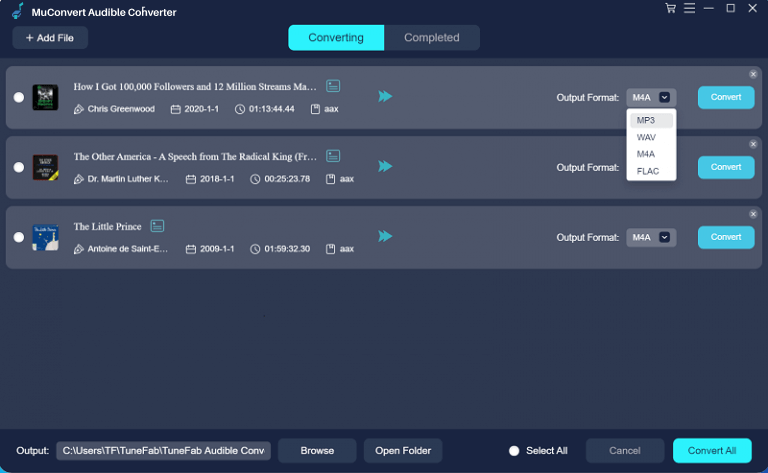 STEP 3. To edit the ID3 info of the audiobook, you just need to hit the edit icon after the audiobook title before the conversion starts.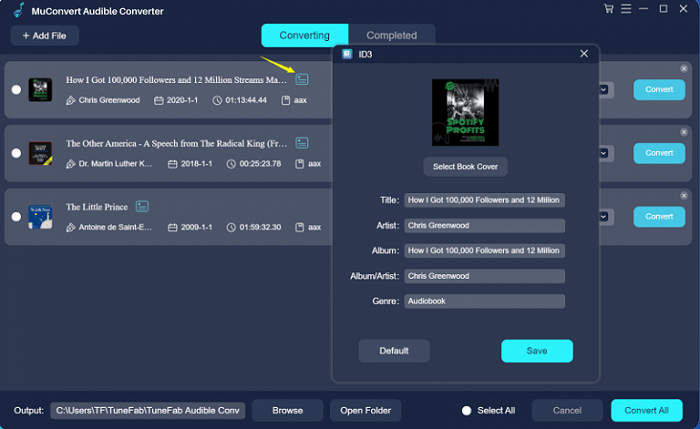 STEP 4. Finally, start converting Audible books to your selected format by hitting the "Convert All" icon. Meanwhile, MuConvert Audible Converter will remove the DRM encryption to enable the audiobook playback on any device as you desire.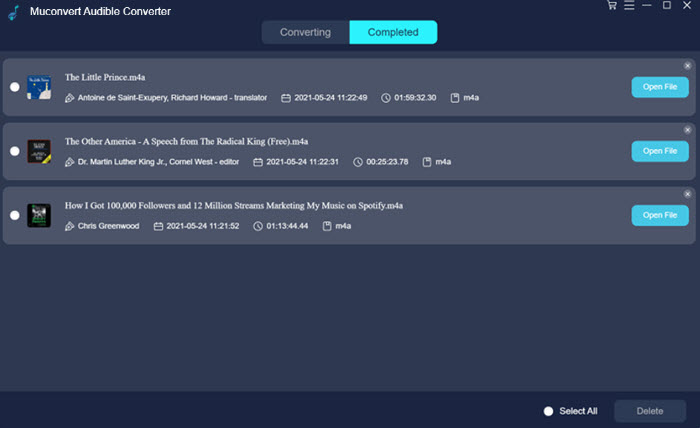 Once the Audible books are downloaded offline without DRM encryption anymore, you are able to transfer them to Sonos for streaming within Sonos default media player offline, without connecting to Audible app or a Wi-Fi network. In this way, the Audible playback on Sonos can be smoother and with better audio quality.