How to Cast and Play Audible on Chromecast (2 Easy Ways)
The launch of Chromecast Audio has greatly pushed the media streaming life to a higher level, as people can enjoy the music and audiobooks playback lying on the cozy sofa, meanwhile with the resources streaming at a beautiful quality. Nevertheless, while Spotify, YouTube, Netflix, Pandora, and more streaming services are supported by Chromecast, a frustrating fact for Audible users should be the incompatibility of Audible app on Chromecast Audio at present. You may also ask whether there has a solution to bypass Audible's streaming restriction set for Chromecast Audio and assists Audible audiences to cast the audiobooks on Chromecast for streaming with great sound quality as well?
Don't worry! You now get two options to figure it out. Simply scroll down the post to access the first solution – downloading Audible audiobooks to make them compatible with various devices for streaming without Audible app.
Cast and Play Audible on Chromecast on Various Devices
MuConvert Audible Converter
Downloaded Audible audiobooks
Windows/Mac desktops
Google Chrome browser/Google Play Music app
Chromecast Audio
What Is Audible Converter?
MuConvert Audible Converter is an outstanding program developed for unprotecting Audible audiobooks from the platform, in that downloading them to popular encoders offline, such as in MP3, M4A, WAV, or FLAC. When the Audible audiobooks are re-encoded, they are recognized as normal audio files, subsequently, users can directly cast them through Chromecast Audio and realize the playback on larger-screen televisions or speakers without awesome sound quality.
Advantages of MuConvert Audible Converter
Popular audio encoders to select: to ensure the high compatibility of the converted Audible audiobooks, the program provides the 4 most popular encoders, including MP3, M4A, FLAC, and WAV to export the downloaded audiobooks for support on more devices.
Original audiobook information and quality retained: to maintain the same audiobooks streaming offline, the original audiobook information such as the ID3 tags, and chapter menu will all be retained, plus the source quality.
Batch convert feature at 60X faster speed: by speeding up the conversion to 60X faster, the program can proceed with multiple conversions at once to facilitate higher productivity and save time.
Audiobook splitting function provided: with an embedded splitting tool, people can select to split a large audiobook into smaller sizes for saving offline according to the time, chapter, or segment in preferences.
How to Download Audible Audiobooks to Cast on Chromecast Audio
The introduction of MuConvert Audible Converter is over now. In the following, let's put our understanding into practice. You can follow this handy manipulation to try casting Audible audiobooks on Chromecast Audio within the procedures stated below. Please install the program and give it a go now.
Step 1. Add Audible Audiobooks After Launching MuConvert Audible Converter
First, please launch the well-installed MuConvert Audible Converter on your computer. It is recommended to first try the free version for evaluating if the program meets your needs. So directly skip the registration and add the Audible audiobooks to the main feed by dragging and dropping the files.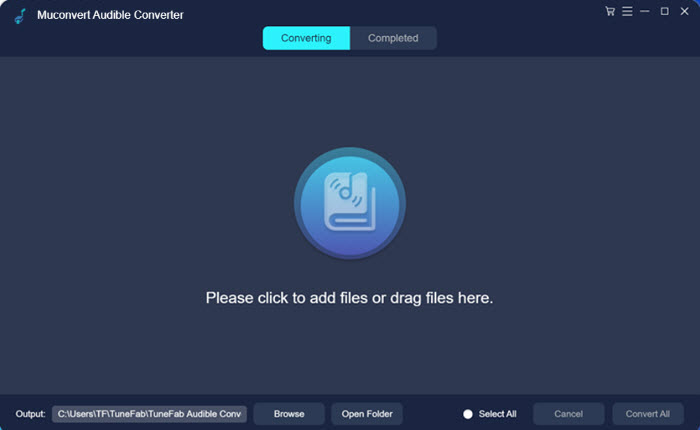 Step 2. Select Encoder to Export Audible Audiobooks
When the Audible audiobooks are imported, please select an Output Format to get ready for proceeding the conversion. More parameter settings like the SampleRate and Bitrate can be altered in Settings >> Preferences.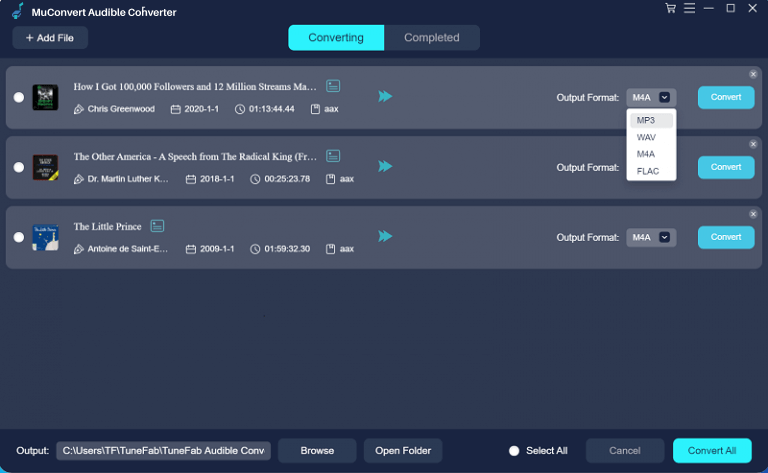 Step 3. Split Audiobooks in Preferences
Since you have opened the Preferences dialogue, rather than altering the Conversion Type, you are allowed to select a splitting mode to save a large audiobook in smaller sizes. Confirm the changes you have made simply by tapping the Save button.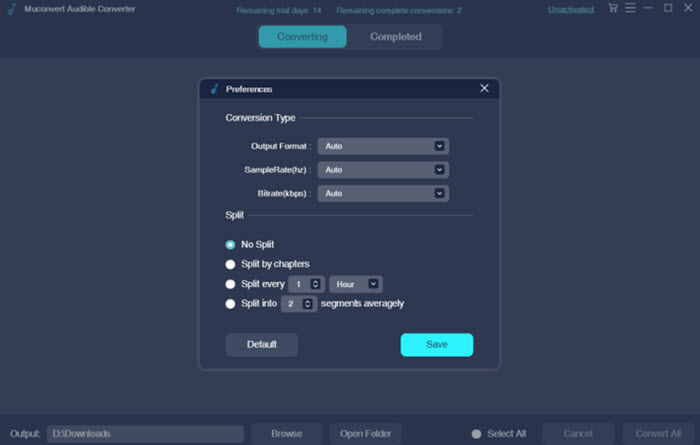 Step 4. Proceed Downloading Audible Audiobooks Offline
Once the settings are completed, congratulations! You are moving to the final step. Now, please confirm the Convert All button to initiate downloading Audible audiobooks offline in no time. You can finally access the downloaded audio files under Completed tab and pressing the Open File button.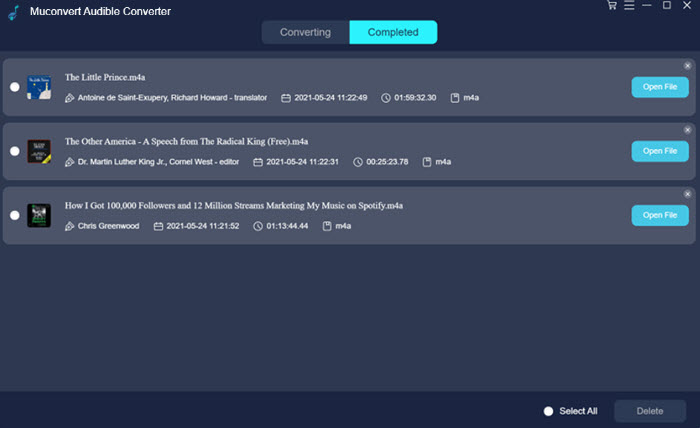 Step 5. Cast Audible Audiobooks to Chromecast
Once you have gotten the downloaded Audible audiobooks in popular audio encoder, please turn to Google Home app or the Chrome browser for help to directly cast the audio on Chromecast and enjoy the audiobook streaming through the connected televisions or speakers!
You are also recommended to directly sync the downloaded Audible audiobooks to the supported Chromecast casting app such as Google Play Music to stream the files on Chromecast Audio for having an enjoyable playback in no time.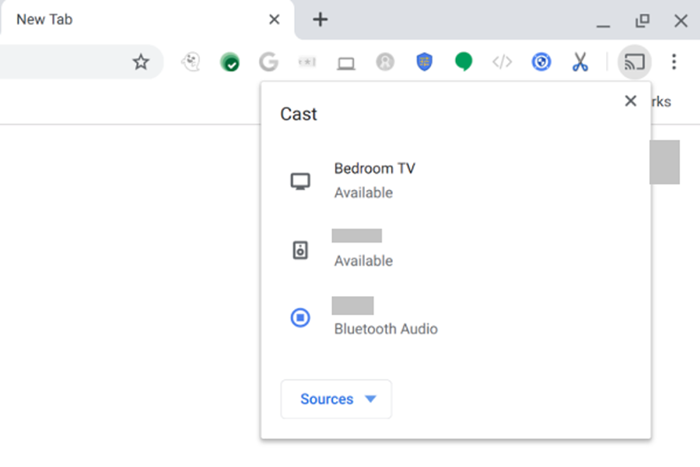 Stream Audible Audiobooks to Chromecast from Android
Although Audible hasn't released an app for Chromecast to play audiobooks directly, the good news for Android users is that you can use Google Home app as an alternative to proceed the Audible audiobooks casting through Android without third-party helps. Simply connecting the Google Home app with Chromecast Audio through Bluetooth, the connection will realize the Audible audiobook streaming through the device.
Android device
Google Home app
Audible app
Chromecast Audio
Wi-Fi modern
How to Cast Audible Audiobooks to Chromecast Directly
Open your Wi-Fi modern, subsequently, connect both the Android device and Chromecast Audio to the same Wi-Fi signal.
Launch Google Home app on Android now. Please turn to Google Home >> Cast my audio >> Cast audio.
As the Android device is building up the connection with the Chromecast Audio, please open Audible app and start playing an audiobook.
Now, the audiobook will be casted on Chromecast Audio successfully with great sound quality to enjoy!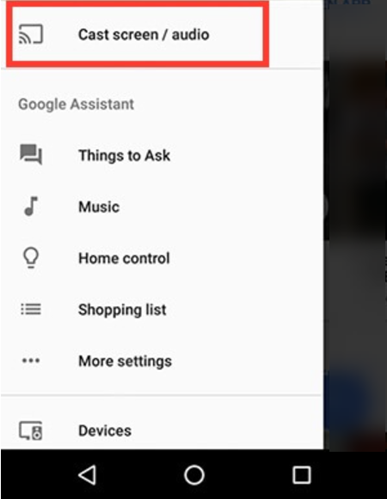 Unfortunately, Audible app has not yet supported on Chromecast Audio for casting audiobooks directly. But a lucky news is that both the Google Home app and MuConvert Audible Converter could be the substitutes to bypass the restriction and realize audiobooks casting through Chromecast. Please make your choice to enjoy the Audible audiobooks playback on better devices from now on!