You can access your Spotify Library at any time and search for your favorite songs to easily listen to. However, in order to protect Spotify songs from being copied or transferred, all of them are encrypted with DRM (Digital Rights Management). This is a very good initiative, but on the other hand, it stops you from downloading Spotify music to MP3, M4A, and more mainstream audio formats to enjoying them on more devices like the MP3 player, Switch, and so on.
Hence, this blog will provide you with several Spotify DRM removal tools. Keep reading on, and pick one of these easy ways to get rid of DRM, download songs from Spotify to MP3, and enjoy convenient offline playback.
Further Reading: How to Get Spotify Premium Cracked on PC/Mac in 2023
Part 1: Spotify DRM Removal on Windows and Mac 🔥
Due to DRM protection, the music you download from Spotify can't be played on other devices. So to solve the problem, you may need to use a third-party tool on your computer (Windows or Mac) to remove DRM from Spotify and then convert Spotify music to MP3 so that they can be played freely on most devices.
MuConvert Spotify Music Converter is a professional computer program for Spotify DRM removal. It works on both Windows and Mac systems, and is capable of downloading Spotify songs to MP3, M4A, FLAC, WAV, ALAC, and AIFF with just click and drag. After that, you are able to get Spotify songs transferred to more devices such as MP3 players, game consoles, etc. for enjoying high-quality playback without subscribing to Spotify Premium.
More Attractive Features of MuConvert Spotify Music Converter:
● No Spotify App required: Its built-in Spotify Web Player allows you to access the whole Spotify Library after logging in to your Spotify account even without Premium.
● Download Songs Preview: When the song is downloaded, it supports you to click on the selected songs for preview listening.
● Output Settings Customization: Keeps music downloads in lossless quality while supporting you to select personal output settings such as SampleRate (up to 44100 hz) and Bitrate (up to 320 kbps).
● ID3 Tags Preservation: Saves the original ID3 tags and metadata info for each Spotify song to help you with easier management.
● 35X Faster Speed & Batch Conversion: Accelerates the conversion speed to 35X faster and is equipped with the batch convert feature for saving Spotify songs/albums/playlists simultaneously.
With the help of MuConvert Spotify Music Converter, removing DRM from Spotify and downloading Spotify songs for free offline playback will be a piece of cake. The guide below will briefly show you how to process Spotify DRM removal via this powerful software.
STEP 1. Install MuConvert Spotify Music Converter
To get started, install MuConvert Spotify Music Converter on your Windows or Mac device properly. After the installation, launch the software and enter the interface of the Spotify Web Player.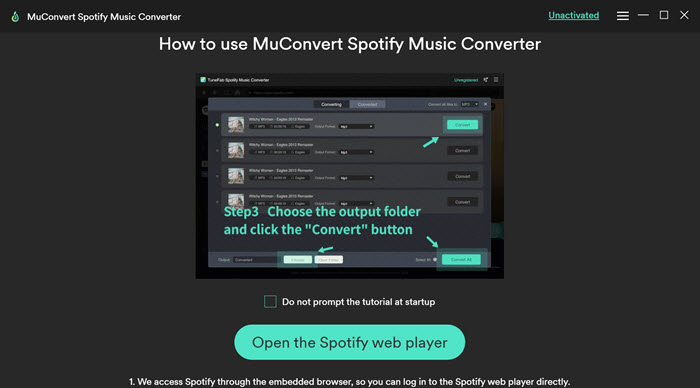 STEP 2. Log in to Spotify Web Player and Convert Playlist
In the built-in Spotify Web Player, log in to your Spotify account, or you would fail to analyze your Spotify playlist successfully. After that, simply open a playlist or album and hit the "+" icon, MuConvert Spotify Music Converter will start to convert the song list for you. Just select the songs you desire to remove DRM and download them from the playlist.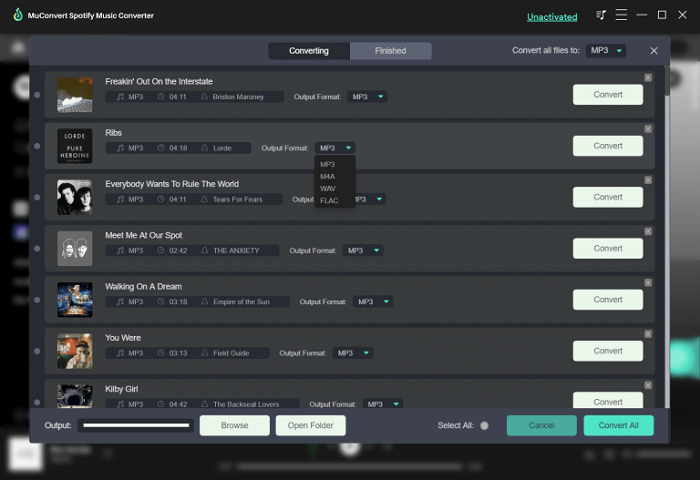 STEP 3. Adjust Output Parameters
You are able to navigate to "Menu" > "Preferences" and adjust the output parameters under the "Advanced" tab. Output format, SampleRate, and Bitrate can all be adjusted here according to your requirements.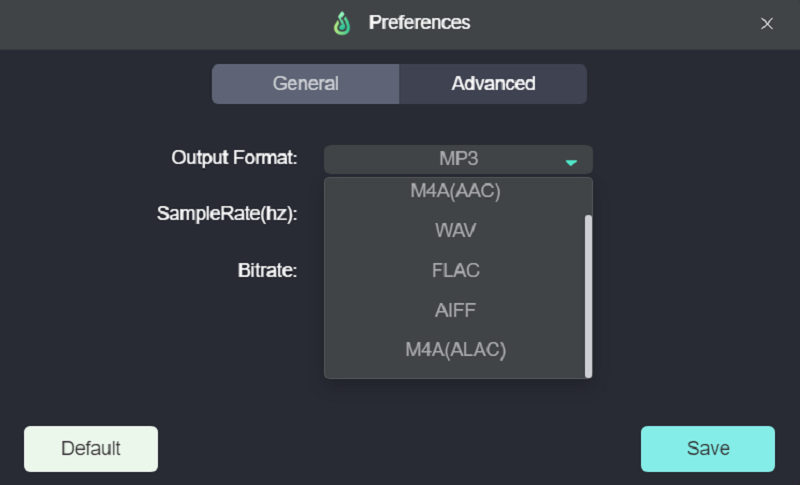 In "General", you are also available to change the default output folder, customize the output file name, and archive the output tracks by different categories if you need.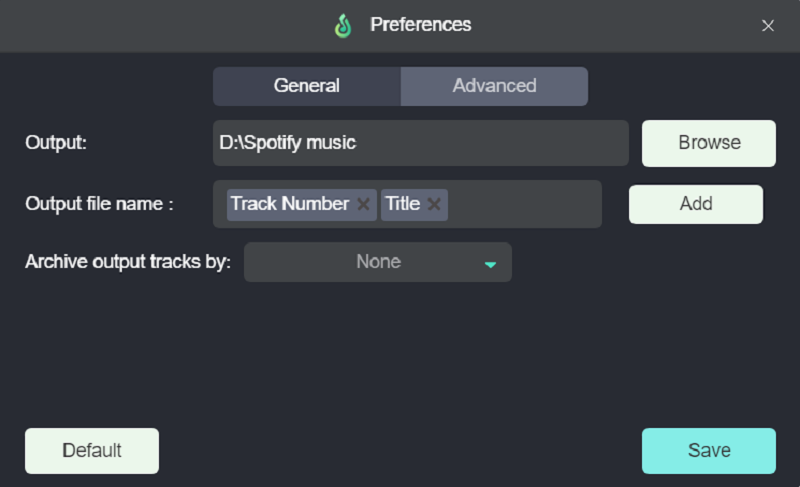 STEP 4. Remove DRM and Download Spotify Songs
When the Spotify songs are selected and output parameters are adjusted, you are able to start the DRM removal process and download Spotify songs by hitting the "Convert All" icon. Then, MuConvert Spotify Music Converter will start converting and downloading them in batches. Just wait for the process to be completed patiently. You can pause the download at any time by clicking the "Stop" button to the right of the song.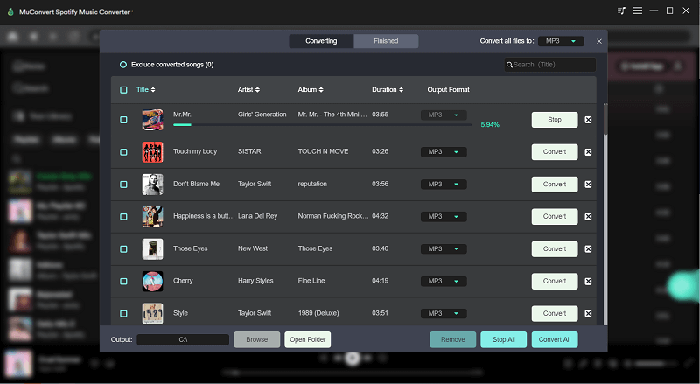 Part 2: Spotify DRM Removal Using Free Tools
In addition to the MuConvert Spotify Music Converter, there are 2 other tools in different forms that can help you achieve your goal of removing Spotify DRM: a screen recorder and an online Spotify downloader. You can browse their introduction and operations, comparing the pros and cons to pick the most suitable tool for you.
Audacity
Audacity is the cross-platform audio software you're looking for. It works on Windows/Mac/Linux systems, and allows you to output your selected audio to different formats after you have recorded them. With its help, you can record DRM-protected Spotify songs to unlimited audio files for saving locally to playback. Here's the guide to using it.
Step 1. Visit the Audacity official website to download and install the software.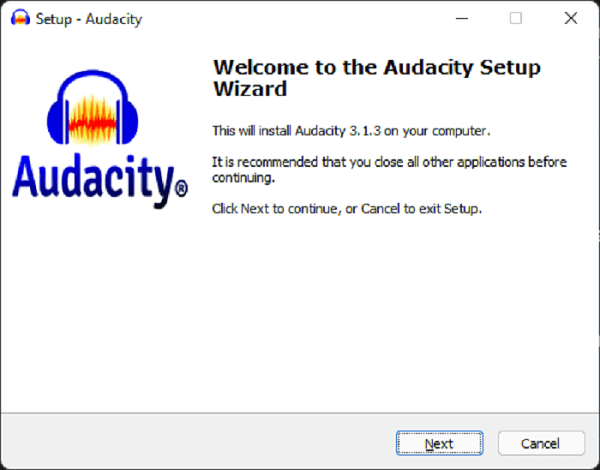 Step 2. After launching, run it and go to settings, select "Windows WASAPI" as the recording host, then tweak the device you're using to listen (usually speaker or headphones) as the recording device. You can also select more settings on this tag for your needs.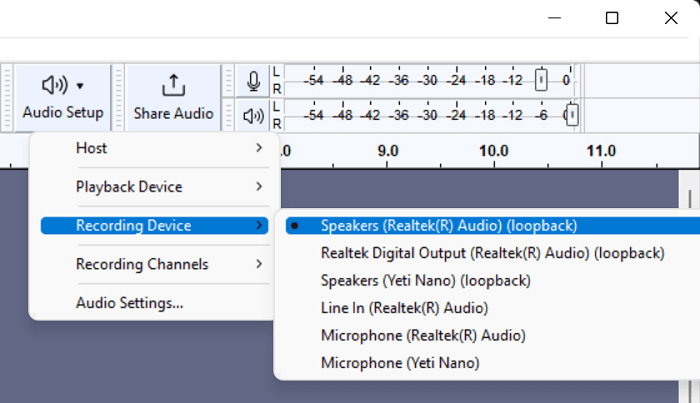 Step 3. Now, you can click the "Start Recording" button, and turn to Spotify to play your selected songs while recording. During the recording process, do not open other web pages or software with sounds otherwise their sounds will be recorded together.
Pros & Cons of Audacity:
Pros:
● The sound quality of Spotify song recordings is good.
● Allows you to record music from platforms other than Spotify.
Cons:
● You need to reorganize the downloaded files and rename them one by one.
● Requires a long wait to finish recording when you cannot do other things on your computer at the same time.
SpotiDown
SpotiDown Free Spotify Downloader is a free online Spotify music downloader that allows you to remove DRM from Spotify songs and then download Spotify music to MP3 without the Spotify App or account. The downloaded music also keeps ID3 info. It has no ads, and it's easy to handle. The steps are similar to most Spotify Downloaders.
Step 1. Visit Spotify Official Website, select your favorite song, and copy the URL.
Step 2. Turn to SpotiDown's home page, and paste the URL on the search bar. Press "Download", and wait for the Spotify song to be downloaded on your computer.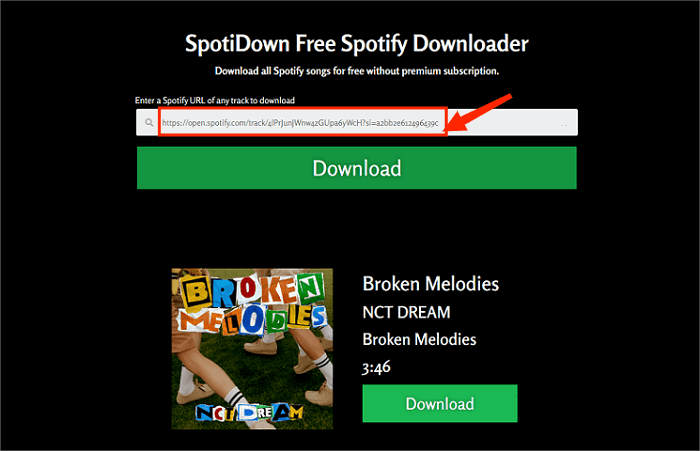 Pros & Cons of SpotiDown Free Spotify Downloader:
Pros:
● No need for a Spotify account.
● The operation procedure is simple and easy to follow and use.
Cons:
● It only allows you to download Spotify songs one at a time by copying and pasting their URL.
● The selection of output formats and quality is not supported.
Combining the above two products, you may discover that MuConvert Spotify Music Converter may be your best choice on computers, because it has the best performance in the case of Spotify DRM removal. It not only supports online listening, but can also directly and efficiently download Spotify songs to DRM-free mainstream formats without any loss of quality.
Part 3: Spotify DRM Removal for Android and iPhone
Except for downloading Spotify songs to MP3 and other DRM-free mainstream on your computer, you can also perform Spotify DRM removal directly on your Android and iPhone devices. The clear and detailed introduction below with 2 useful tools will help you to achieve the goal.
On Android
SpotiFlyer is an App designed specifically for streaming platforms like Spotify. It helps you remove DRM protection from Spotify songs, playlists, albums, and more. The converted Spotify music will be exported in MP3 format while retaining all ID3 tags and metadata info.
Step 1. Download and run the SpotiFlyer App on your Android devices.
Step 2. Turn to Spotify App, copy the URL of your selected song, and go back to SpotiFlyer. Put the link into the search blank, then tap the 'Search' button to import Spotify music files.
Step 3. When the song pops up, tap the "Download" button to download Spotify music to MP3 without DRM.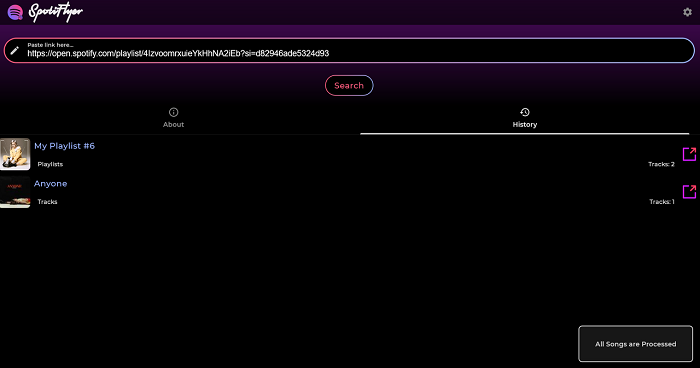 Pros & Cons of SpotiFlyer:
Pros:
● Besides Android, it can also work on Windows and Mac.
● Keeps 320kbps output quality.
Cons:
● It doesn't provide batch ripping function.
● Fail to rip sometimes.
On iPhone
Given the nature of iOS, removing DRM from Spotify directly on iPhone might require Shortcuts. These shortcuts are available for all iOS devices running iOS 12 or later (some functionality is only available in iOS 13 or later). It will take a few more steps to complete. Here's how.
Step 1. Visit routinehub website, and tap "get shortcut" to add the shortcut "Spotify to MP3" to your iPhone.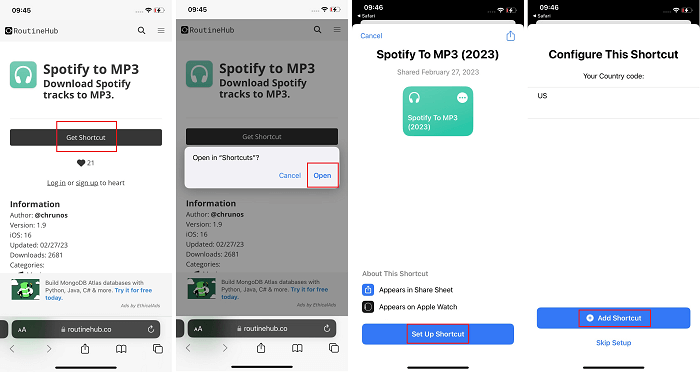 Step 2. After copying the URL of your chosen song from Spotify, go back to the "Shortcut" program, tap "Spotify to MP3", and tap "Allow…" to let it parse and download your Spotify songs.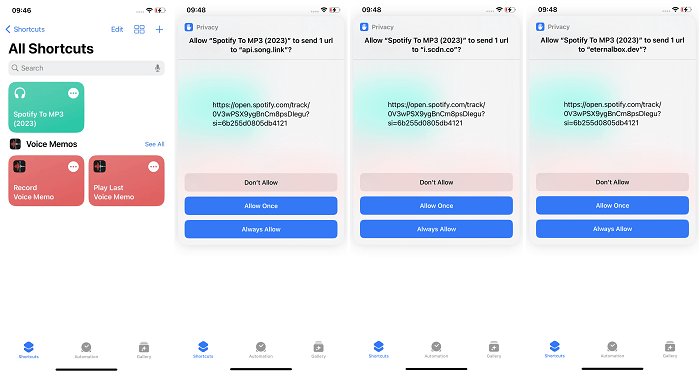 Pros & Cons of Shortcuts:
Pros:
● The downloaded songs are of high quality.
● The downloading speed is fast.
Cons:
● The setup is complicated.
● Fail to rip sometimes.
FAQs About Spotify DRM Removal
Q1: What is Spotify DRM? What is the DRM on Spotify Used for?
Digital Rights Management (DRM) is an encryption tech added by copyright owners to encrypt digital content, including audio, video, and audiobooks. Generally, digital content will be well-controlled and managed under DRM restrictions during the process of production, dissemination, sale, and usage. Many streaming platforms, including Spotify, have added DRM to the digital content they own to protect their works. So even if you subscribe to Premium, it would still be hard to remove DRM from your downloaded files.
Q2: When and Why Do We Need to Remove DRM?
If you want to continue to enjoy your downloaded Spotify songs after your membership expires, then you can consider using the above method of Spotify DRM removal to keep the downloaded songs forever. Besides, there are several devices that are not compatible with the protected Spotify files. Therefore, under the restrictions mentioned above, you cannot share or play your downloaded Spotify content on any non-approved devices or platforms even with an available subscription to Spotify Premium. These are the most common moments and reasons we want to remove DRM from Spotify.
Q3: Is it Legal to Remove DRM from Spotify?
In fact, DRM is not universally accepted around the world. Some countries or regions do not consider DRM circumvention to be illegal behavior, while in some other countries or regions, many laws have been enacted to criminalize DRM circumvention. So, you need to pay attention to the local laws to measure whether ripping music from Spotify is an illegal action.
However, the removal of DRM from downloaded Spotify songs may have violated Spotify's privacy policy. So please make sure that you are only removing DRM from Spotify for having a better personal music streaming experience instead of commercial purposes.
Conclusion
Removing DRM from Spotify songs ensures you a more flexible and convenient Spotify music playback experience. The solutions shown above are all helpful for processing Spotify DRM removal. But among these methods, we would still recommend MuConvert Spotify Music Converter the most, because it is powerful, stable, and can bring you a better user experience.
Before starting your work, something should be noted that please do not use these methods for anything other than personal entertainment. Share the blog with your friends if you consider it helpful!
Convert Spotify Music to MP3 in 320kbps
Drag and drop to convert Spotify songs, albums, playlists, and podcasts to MP3 easily.