How to Rip Music from Spotify Easily in 320 Kbps
Spotify is a palace for music mads because you are able to discover almost all latest music of all categories here for streaming freely. Unfortunately, even Spotify enables users to enjoy music streaming freely, downloading the songs for offline listening requires to subscribe to Spotify Premium. Worse yet, even for Spotify Premium, users are still unable to get Spotify songs played outside the platform, for the protection of DRM (Digital Right Management).
Hence, this blog is made here with the best tool to help rip music from Spotify. Except for the best Spotify Music Converter for desktop, you will also get the recommended ways to rip music from Spotify on iOS and Android. Keep on reading.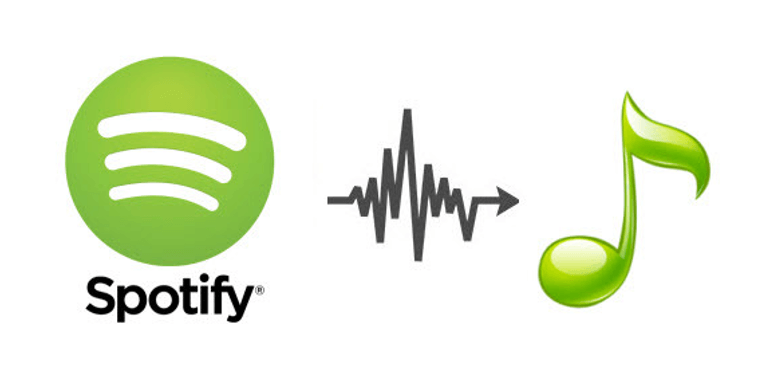 Why do we need a Spotify Ripper? What can it do for us?
A Spotify ripper is able to rip music from Spotify by decrypting the DRM protection added on the songs. With a professional Spotify ripper, users are able to:
Download Spotify songs without subscribing for the Premium plan;
Keep OGG Spotify songs in MP3 and other mainstream formats for playing on any device and media players;
Keep the downloaded Spotify songs forever without limitations;
Get rid of the ads during music playback process;
Enjoy Spotify songs freely without the 14-days limitations when oversea.


The main reason stops people from doing such things currently is the DRM restriction added on the songs. Therefore, Spotify ripper is here to help remove it and realize the above actions.
How to Rip Music from Spotify with Best Spotify Ripper MuConvert
When we know how Spotify ripper is able to help enjoy our digital life in more flexible way, why not get the best one to enjoy free Spotify songs right away? Here, MuConvert Spotify Music Converter is strongly recommended as the best tool to rip music from Spotify.
MuConvert Spotify Music Converter provides out-performing features to boost an efficient and high-quality Spotify music ripping service to all its dear users. With an embedded Spotify Web Player, MuConvert Spotify Music Converter is developed to auto-analyze Spotify albums and playlists without the requirement to copy and paste the URL, bringing high convenience. Hence, users are not required to install Spotify app separately like many other software do.
Features of MuConvert Spotify Music Converter
Easily rip OGG Spotify music to MP3, M4A, WAV, and FLAC formats;
Batch convert Spotify songs within one click;
Convert Spotify to MP3 with the best audio quality at 320Kbps;
Secure and ads-free in-app environment;
5X accelerated speed to boost the conversion efficiency;
Adjustable parameter settings provided for customize output audio files in preferences.
With an intuitive interface, MuConvert Spotify Music Converter also brings easy process for users to simply rip music from Spotify. This brief guide will show you how to do it via MuConvert. Let's see.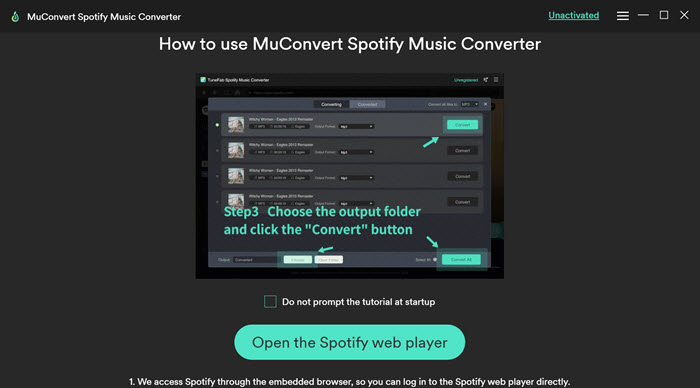 STEP 1. Install MuConvert Spotify Music Converter
Currently, MuConvert Spotify Music Converter is available on Windows and Mac. So, you should download and install the correct version on your desktop here. When the installation completes, launch the software and enter the Spotify Web Player embedded inside it.
STEP 2. Login Spotify Account
Users are required to login Spotify account in the Web Player. Or you would fail to analyze Spotify playlist and album successfully.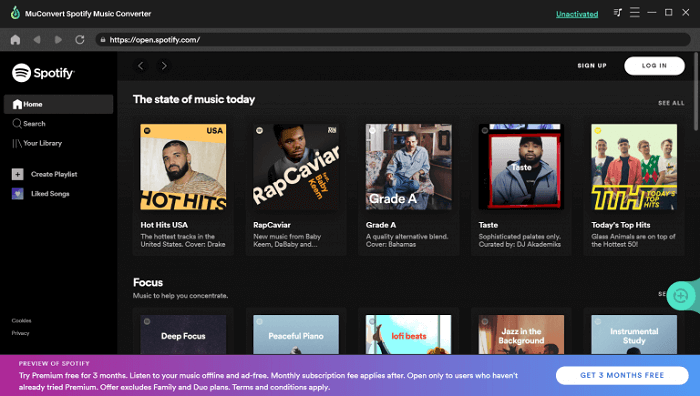 STEP 3. Analyze Spotify Playlist and Select Songs
After the login, direct open a playlist or album in the Web Player, then MuConvert Spotify Music Converter would directly convert the whole list for you. For playlist with over hundreds of songs, it can perform in the stable and speedy way to detect all songs for you to select. Since the pop-up window shows all the Spotify songs contained in the playlist for you, choose those you need to rip from Spotify to MP3 or other formats.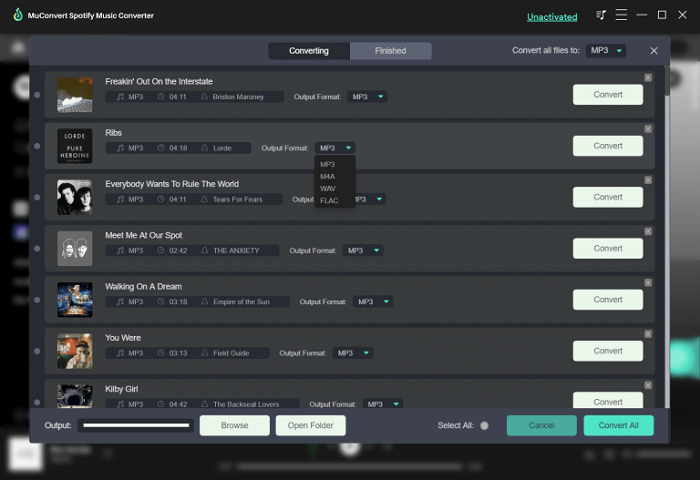 STEP 4. Advanced Settings
MuConvert Spotify Music Converter enables users to customize the parameter settings before the conversion. Just go to "Menu" > "Preferences". In the "Advanced" tab, you are available to adjust the output format, SampleRate, and Bitrate for encoding the output Spotify audio files.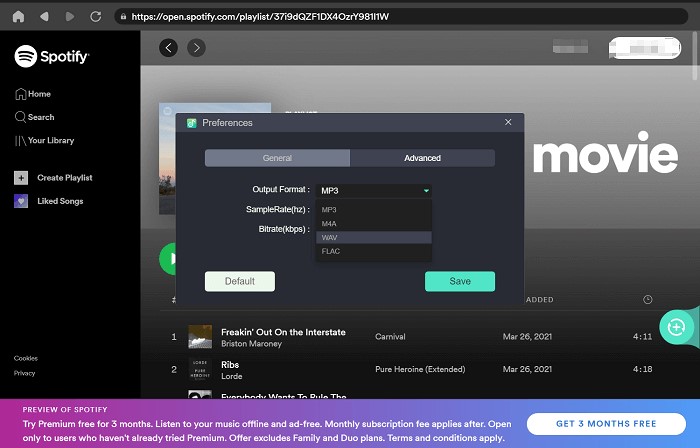 STEP 5. Rip Music from Spotify
Finally, when settings are completed and songs are selected, directly hit the "Convert All" icon, then the music can be batch ripped from Spotify immediately.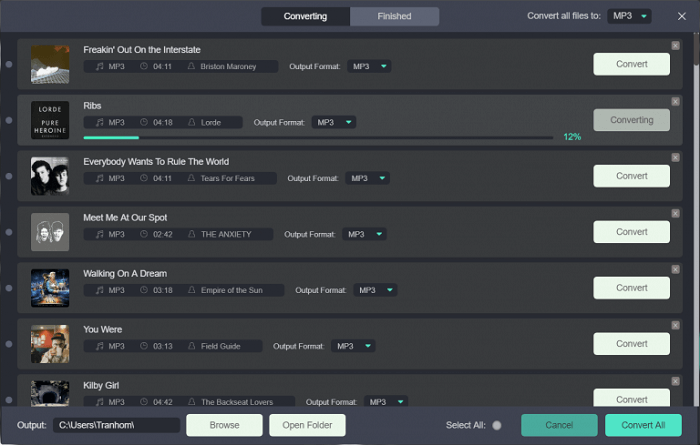 NOTE: If you encounter with any error during the ripping process, you are able to reach the responsive MuConvert support team to help solve your problems. They will always be happy to help.
Rip Spotify Music on iOS Device with Shortcut
Even you could hardly find any Spotify Music ripper for iOS, there has an even much simpler way for users to rip Spotify Music. As Apple would install an app called Shortcuts by default for people to use, this brings a free way to rip music from Spotify. The simple guide is provided here:
STEP 1. Firstly, all people have to do is to install the SpotifyDL shortcut in the app.
STEP 2. When the shortcut is added in the app, you are able copy the link of the Spotify song, playlist, or album.
STEP 3. By pasting the link to the shortcut, you are able to rip music from Spotify to iOS devices for enjoying the offline listening without hassle.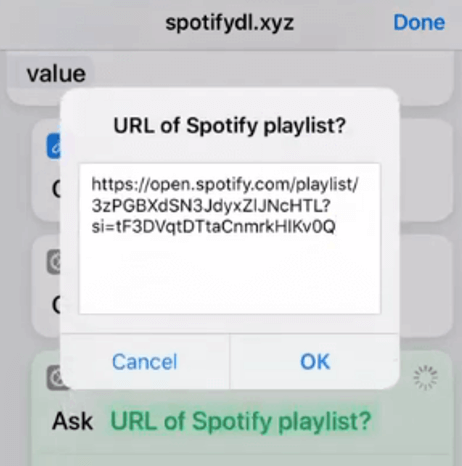 Using SpotiFlyer to Rip Spotify on Android
For Android users, an Android APK called SpotiFlyer is able to help rip music from Spotify without hassle. Simply by installing the application to the Android device and you are able to complete the Spotify Music ripping process inside directly. SpotiFlyer is equipped with a built-in search engine, using which users can easily access the Spotify playlist they desire to download. Here shows you how to use it:
STEP 1. After installing SpotiFlyer to your Android device, launch the app.
STEP 2. Use the built-in search engine to get accessed to the Spotify playlist you desire to download.
STEP 3. As you open the Spotify playlist, there will provides download icon for each song. Just select those you need to rip from Spotify to enjoy offline and tap the icons to download them directly.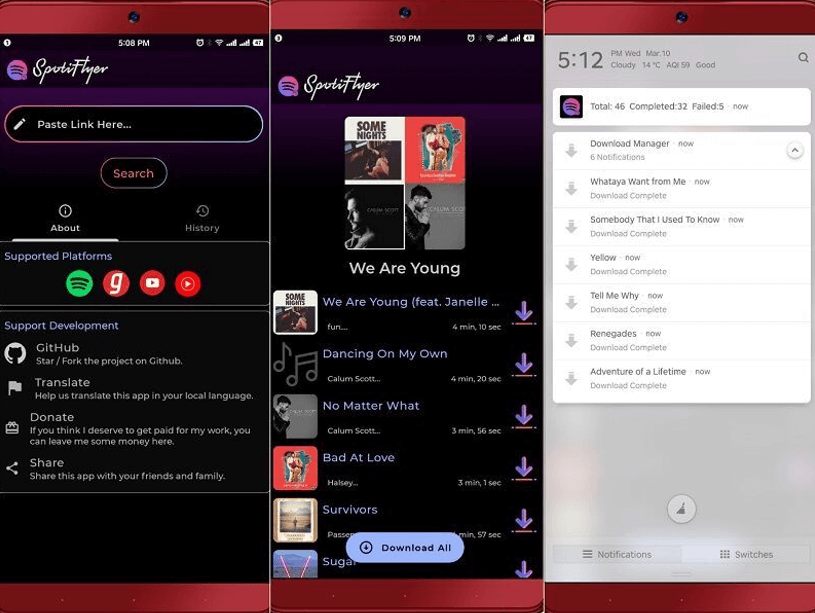 How to Rip MP3 from Spotify Online
Instead of using an app or desktop software, some people would wish to complete the Spotify Music ripping task online. Then this method is right for you. Music Saver is a powerful add-on for Chrome browser to help users easily rip music from Spotify with quality guaranteed. When you have added the add-on to browser, you won't be required to install extra software to help. Then, simply follow the steps below to get Spotify Music ripped with ease.
STEP 1. Firstly, install the Music Saver add-on to your browser and let it runs in the background.
STEP 2. When you go to the Spotify Web Player and load any song, playlist or album, Music Saver will automatically detect the songs on screen and notifies you to download through popping up an icon.
STEP 3. Simply by hitting the download icon and you are able to rip music from Spotify for saving it to an audio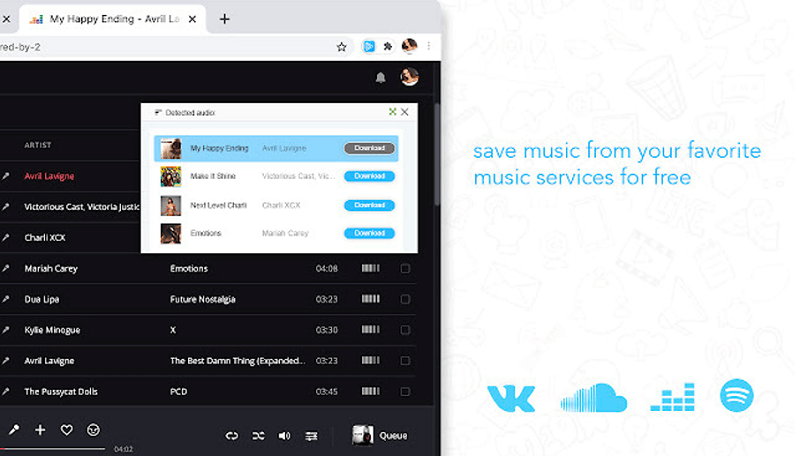 Ripping music from Spotify to audio formats boosting the convenience in enjoying the digital life today. With such helpful tools to help, this will not be a difficult task anymore. Why not get the tool you like and start ripping the first song from Spotify now?