How to Download Spotify Songs to MP3 [2 Useful Methods]
Spotify has been one of the most widely used music streaming services. But it seems quite difficult to download songs from Spotify to MP3 considering music DRM protection and Spotify premium plans required. Thus, is there any solution used to address this problem? In fact, there are 2 user-friendly methods you can apply to download Spotify songs as MP3 files. And in this post, more details on the two ways to download Spotify songs to MP3 will be revealed. You can walk through them right now and enjoy Spotify songs one step faster.
Download Songs from Spotify to MP3 with Spotify Downloader
Downloading Songs from Spotify to MP3 files will become pretty easy as long as you seek the right technical support, exemplified by a powerful Spotify Music downloader.
It is generally accepted that all Spotify songs are encoded by DRM, a sort of digital content protection technology. With this encryption, even as a subscriber, you can only download Spotify songs for in-app listening other than moving to other devices or media players in MP3 format for offline playback. Thus, the core technology you need to employ is to remove DRM from Spotify songs with Spotify downloaders, which can help you download songs from Spotify for free and convert the songs you like to some common formats, such as MP3.
MuConvert - Top Ranking Spotify to MP3 Converter
The Spotify downloader badly recommended here is MuConvert Spotify Music Converter. In the recent update, MuConvert Spotify Music Converter has embedded the Spotify web player inside the software. By abandoning the traditional copy-and-paste Spotify songs importing method, the brand-new MuConvert Spotify Music Converter can directly load the Spotify playlists once you log in to your Spotify account in the built-in web player. Also, compared to the selectable 1X to 4X conversion speed before, MuConvert improved the conversion speed to at least 10X faster for boosting efficiency.
More than that, many other marvelous features have been added to the industry-leading Spotify downloader, such as,
Equipped with a simple design that can make you get started with ease;
Boasts a number of output formats, including MP3, M4A, WAV, and FLAC;
Supports downloading songs from Spotify in batched with ultra-clear quality;
Preserves ID3 tag and metadata information for more convenient music library management;
Allows you to do some customized settings like sample rate and bitrate;
Smoothly works on both Windows and macOS computers.
Steps on How to Download Songs from Spotify to MP3
Then, below is a step-by-step guide on how to download Spotify songs to MP3 with MuConvert Spotify Music Converter:
STEP 1. Before starting the download process, you need to install MuConvert Spotify Music Converter on your computer by clicking the download button below. After that, launch the software and open the Spotify web player on its main interface.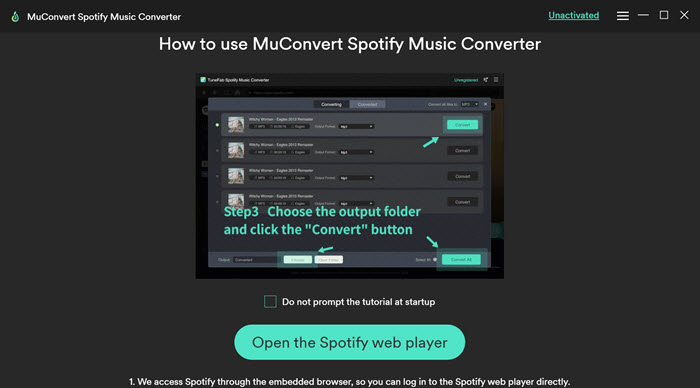 STEP 2. Log in to your Spotify account when you reach the built-in Spotify web player.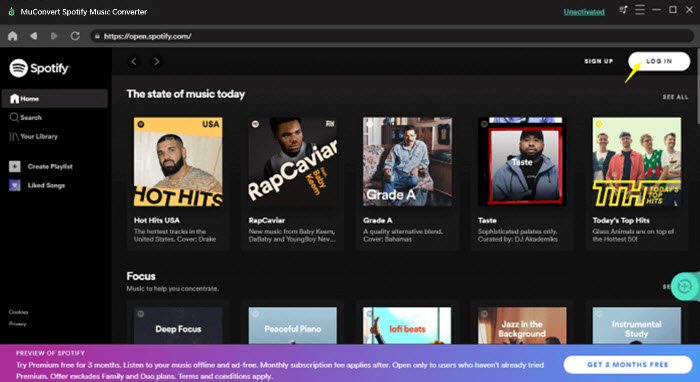 STEP 3. Now, you only need to open a Spotify playlist or album in the web player, and MuConvert Spotify Music Converter will automatically analyze and load the tracklist for you to select for downloading Spotify songs.
STEP 4. After selecting the songs you desire to download, also choose MP3 as the output format from the "Convert all files to" option on the upper right.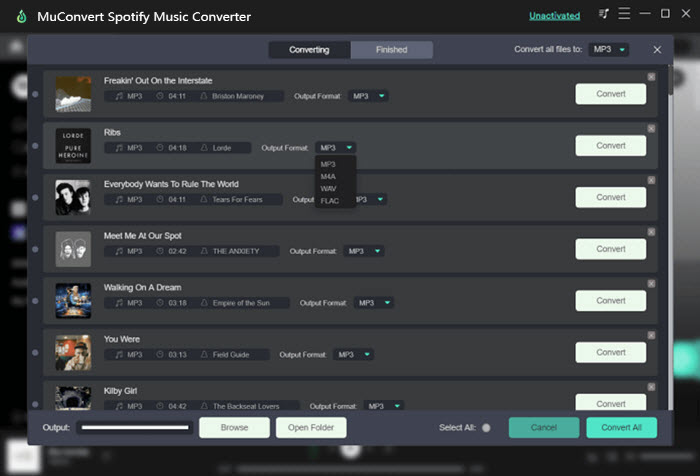 NOTE: By going to "Preferences" from the "Three-line" menu in the top right corner, you are also available to customize the "Advanced" settings such as the SampleRate and Bitrate.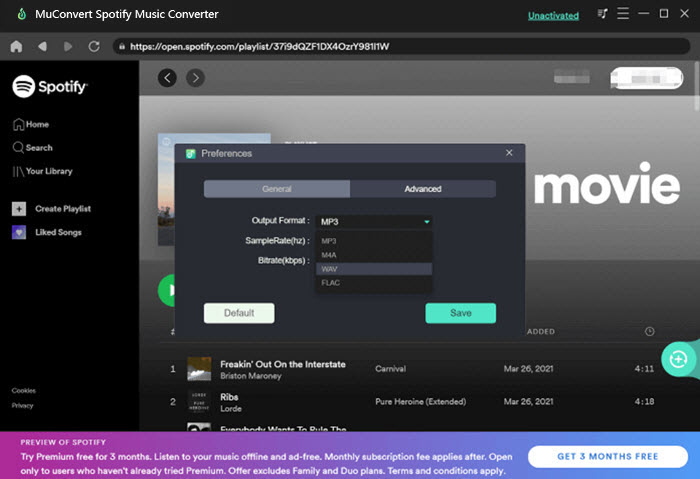 STEP 5. Finally, hit the "Convert All" icon and all the selected Spotify songs can be downloaded to MP3, then you can keep them offline listening forever.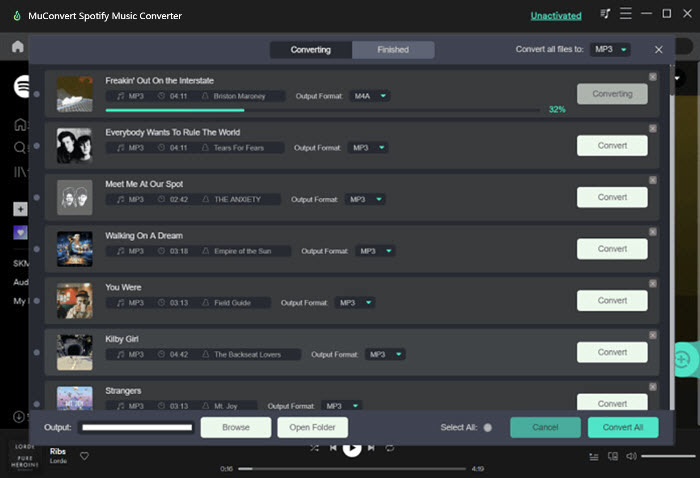 Download Songs from Spotify to MP3 with Open-Source Tool
On top of the full-featured Spotify downloader, the other solution you can employ is an open-source tool, which is contributed by many tech-savvy people. Named spotDL, this powerful open-source tool is conducive to downloading songs from Spotify to MP3 format. But this method is a little complicated. If you like or are good at computer knowledge, you might find it interesting and useful because it can be considered a long-term solution. In the following, a specific download process is prepared.
Step 1. Install Visual C++ Redistributible and then proceed with installing Python & FFmpeg.
Step 2. Install the latest version of Python on your computer, during which you select "Add to PATH".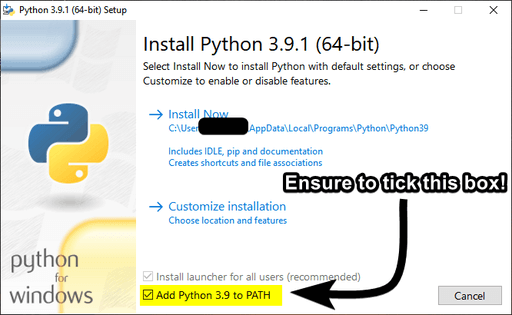 Step 3. Then, you are required to install spotDL by typing the command below pip install spotdl
Note: If your computer is equipped with OSX/UNIX, you had better replace pip with pip3 and python with python3.
Step 4. Now you need to install FFmpeg to your local directory. And spotdl --download-ffmpeg will download FFmpeg to your spotDL installation directory.
Step 5. When you successfully have spotDL downloaded on Python, enter py -m spotdl web, which will bring you a spotDL web.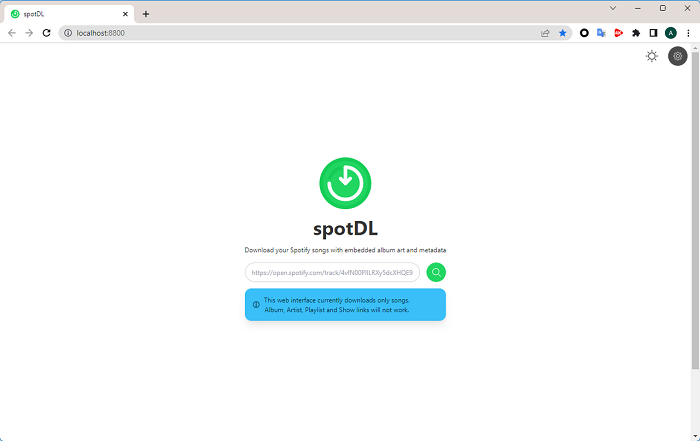 Step 6. Copy the link to the song you want to download from Spotify, go back to spotDL web to paste it, and click the search button. Once the analysis is done, you can download the song for free.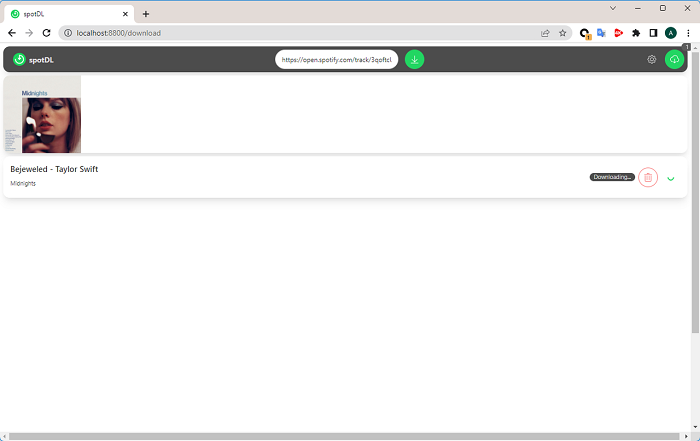 Note: spotDL can be run on different systems, but is specially compatible with Windows. If your computer's system is not Windows, or you have trouble understanding the process, you may as well prepare MuConvert Spotify Music Converter as a fail-safe.
FAQs About Downloading Songs from Spotify
Q1. Can you download songs from Spotify for Free?
Yes, it is feasible. And there are two solutions you can take into action. The first is to get a Spotify trial for free. Spotify and its official partners always roll out some promotional activities, during which you can gain a Spotify subscription for free as long as you are a newcomer to Spotify and its cooperative partners. Then you are allowed to download music from Spotify for free.
In the meanwhile, you can use MuConvert Spotify Music Converter to download Spotify songs without charge. This user-friendly program offers you a 30-day free trial as a new user, which allows you to download any music content on Spotify for free with high sound quality. Better yet, all Spotify music downloaded from MuConvert can be exported to MP3 and other mainstream formats for multi-device playback and preservation.
Q2. What's the difference between Spotify app downloads and MP3 downloaded from TuneFab converter?
Songs downloaded on Spotify are only audio caches, protected by DRM. They can only be listened to on Spotify and Spotify-licensed applications and devices and can not be played anywhere else, even if found locally. By contrast, Spotify music downloaded by TuneFab Spotify Music Converter is always outputted in formats that are widely compatible with most media players and devices, which can achieve seamless Spotify music enjoyment as you wish.
Q3. Can you download songs from Spotify to MP3 on phone?
The answer is positive. Similar to the process of downloading songs from Spotify to MP3 on the computer, MuConvert Spotify Music Converter can be used to download MP3 Spotify songs on your phone, be it Android or iPhone.
For Android phones, you can run MuConvert Spotify Music Converter on a Windows computer. When all Spotify songs are downloaded to MP3, a USB drive can help you sync these songs to your Android phone. Meanwhile, for the iPhone, iTunes is a great music synchronization tool. Once MuConvert Spotify Music Converter downloads songs from Spotify to MP3 files successfully on your Macbook, iTunes can be utilized to sync Spotify music in no time.
Q4. What qualifications should a reliable Spotify downloader have?
When we choose a reliable Spotify to MP3 converter, we should focus on the security of the tool first. For example, it should not have the potential danger of disclosing user data. Additionally, some other qualifications for a good Spotify converter should be its stability in converting Spotify songs, and the output quality.
For free Spotify users, the introduced approaches are all practical to download Spotify songs in MP3 for keeping offline and enjoy in a more flexible way. By comparing the pros and cons of different methods, you are available to pick out the most ideal Spotify downloader for yourself.
To wrap up, there are two impeccable solutions that can be adapted to download songs from Spotify to MP3. Spotify downloader is fully functional, and spotDL, the open-source tool, is worthy of tapping into. If you want to seek a more handy method, however, MuConvert Spotify Music Converter may be the best choice. Not only can it convert different Spotify Music to common formats, but it can also ensure the music quality and access up to 5X speed to quickly convert music tracks. So, download it to have a try and have a good time enjoying the music.