How to Download Spotify Songs and Keep Them Forever (2022)
Spotify has been one of the most widely-used music streaming services, housing almost all the newly-released tracks, live music, podcasts, and so forth. However, Spotify only offers the download feature for Premium users. In other words, you have to subscribe to Spotify Premium if you want to download Spotify songs for offline listening. Otherwise, you will fail.
Thus, many users would ask, if there has a way can let them download Spotify songs for keeping offline forever? In such a case, the guide brings you several feasible solutions to figure this problem out. Now, follow the tutorial and get started to download Spotify songs for offline playback!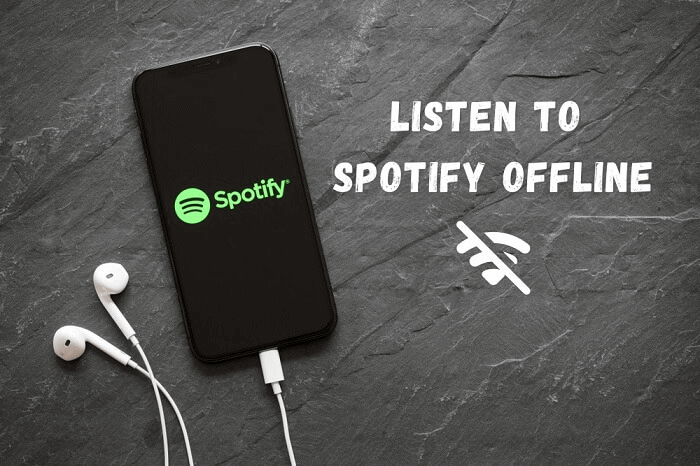 Method 1. Remove DRM and Convert Spotify to MP3 on Windows/Mac
To download Spotify songs, you should first know the reason why we would fail to do it without external help. Actually, all Spotify songs are encoded by DRM, a sort of digital content protection technology. Hence, with the encryption, users can not download Spotify songs and convert their format. Even Spotify Premium users can download Spotify songs for in-app listening other than moving to other devices or media players for offline playback.
Thus, the core technology we need to employ in this method is to remove DRM from Spotify songs. Accordingly, we collected the 3 best DRM removal tools to help you convert and download Spotify songs to MP3 on Windows/Mac for keeping forever.
MuConvert - Top Ranking Spotify to MP3 Converter
The first Spotify DRM removal helper should be MuConvert Spotify Music Converter. In the recent update, MuConvert Spotify Music Converter has embedded the Spotify web player inside the software. By abandoning the traditional copy-and-paste Spotify songs importing method, the brand-new MuConvert Spotify Music Converter can directly load the Spotify playlists once you log in to your Spotify account in the built-in web player. Also, compared to the selectable 1X to 4X conversion speed before, MuConvert improved the conversion speed to at least 5X faster for boosting efficiency.
It will be easy than ever before to remove DRM and download Spotify songs via MuConvert Spotify Music Converter:
STEP 1. After installing the MuConvert Spotify Music Converter on your Windows/Mac, launch the software and open the Spotify web player on its main interface.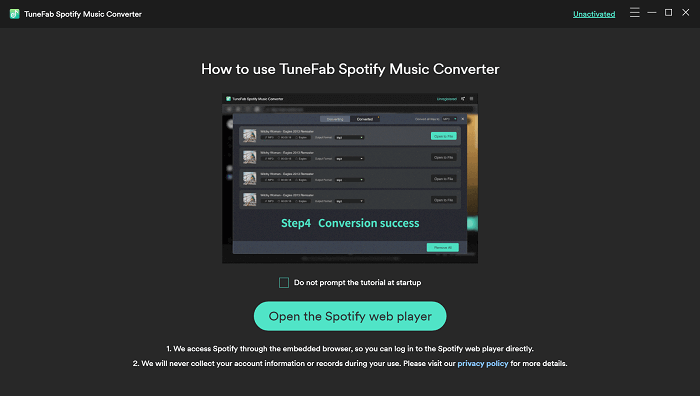 STEP 2. Log in to your Spotify account when you reach the built-in Spotify web player.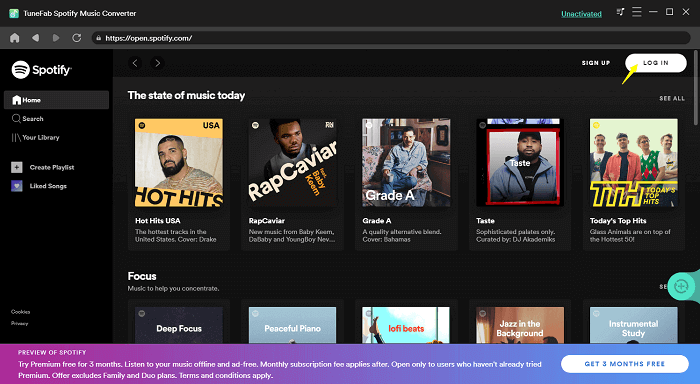 STEP 3. Now, you only need to open a Spotify playlist or album in the web player, and MuConvert Spotify Music Converter will automatically analyze and load the tracklist for you to select for downloading Spotify songs.
STEP 4. After selecting the songs you desire to download, also choose MP3 as the output format to convert them.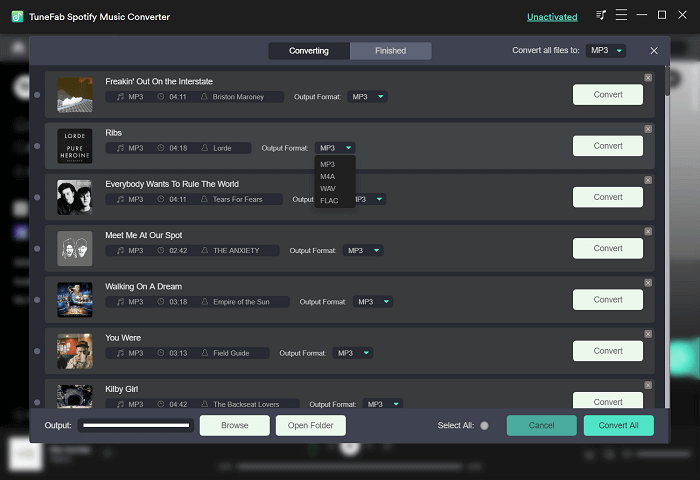 NOTE: By going to "Preferences", you are also available to customize the "Advanced" settings such as the SampleRate and Bitrate.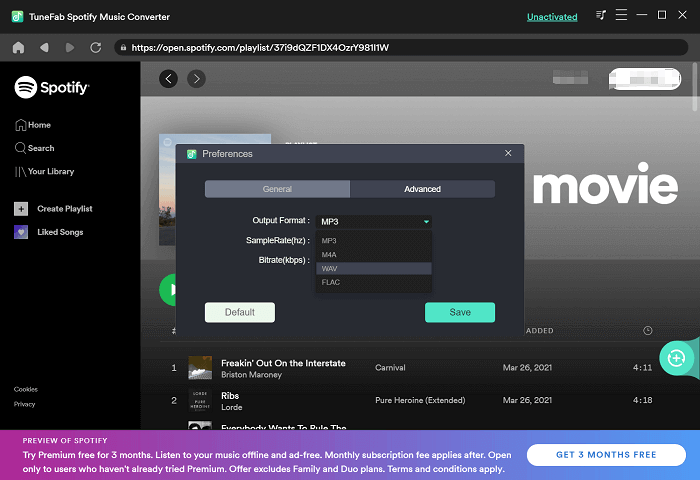 STEP 5. Finally, hit the "Convert All" icon and all the selected Spotify songs can be converted to MP3, then you can keep them for offline listening forever.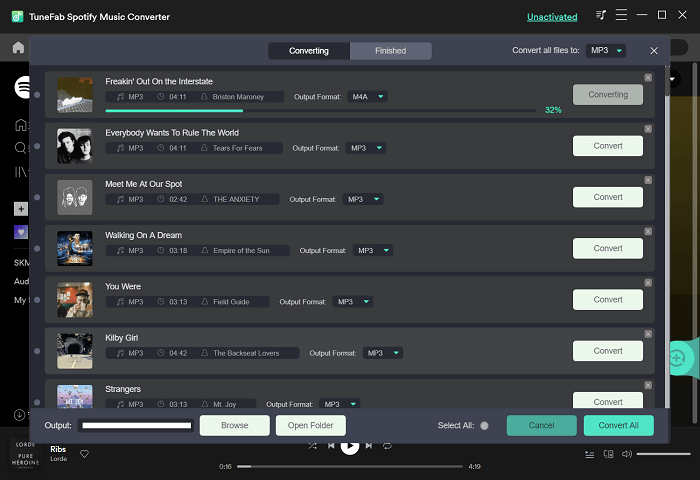 Sidify - All-in-one Spotify Music Converter
Sidify Music Converter provides an easy way to convert Spotify to MP3. Users are able to save any content from Spotify, including the music, podcast, or radio as they desire. Additionally, Sidify Music Converter also enables users to burn CDs directly from the converted Spotify songs. If you want to burn Spotify songs to a CD as collections, Sidify Music Converter is absolutely what you need.
Let's simply go through the steps on downloading Spotify songs via Sidify Music Converter.
STEP 1. Launch Sidify Music Converter after a proper installation. On the main interface, you are available to paste the URL of the Spotify song/playlist or drag-and-drop them here to add.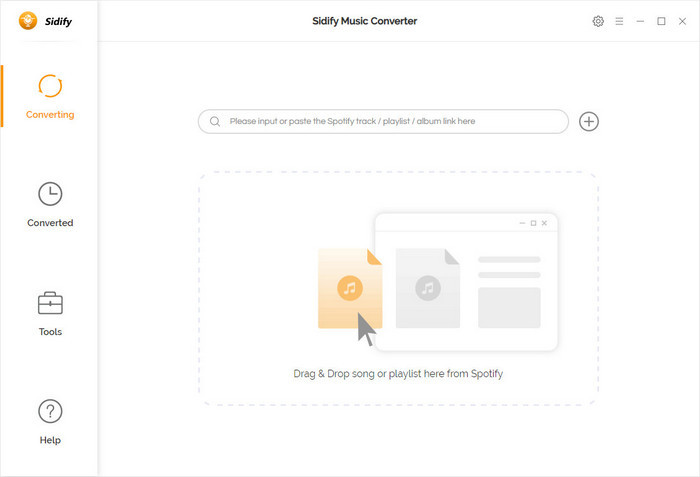 STEP 2. When the analysis completes, you can select the Spotify songs you desire to download on the list. Then hit the "OK" icon.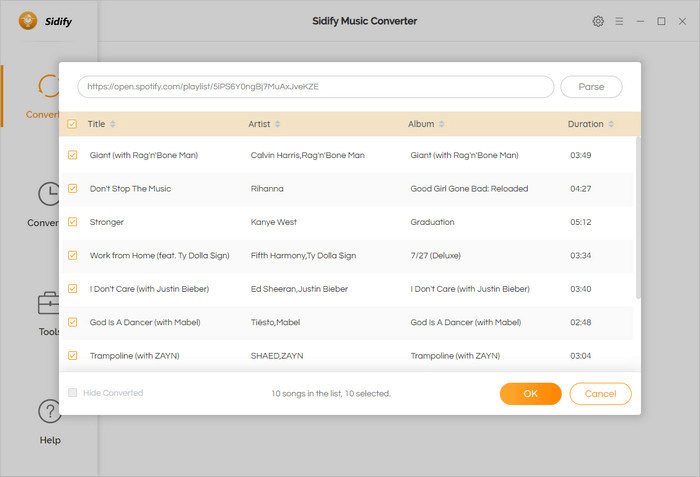 STEP 3. Now, you should select an output format to download Spotify songs. Here, you are allowed to customize the parameter settings as you need.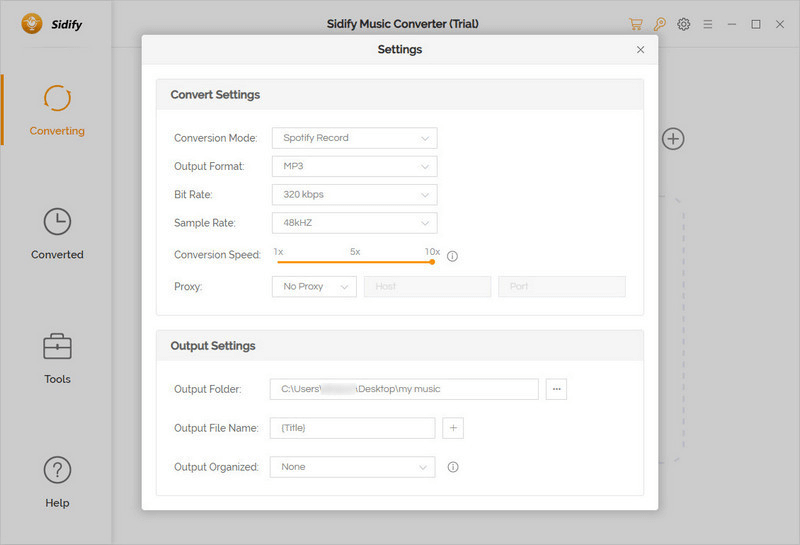 STEP 4. Finally, download and convert Spotify songs to your selected format immediately.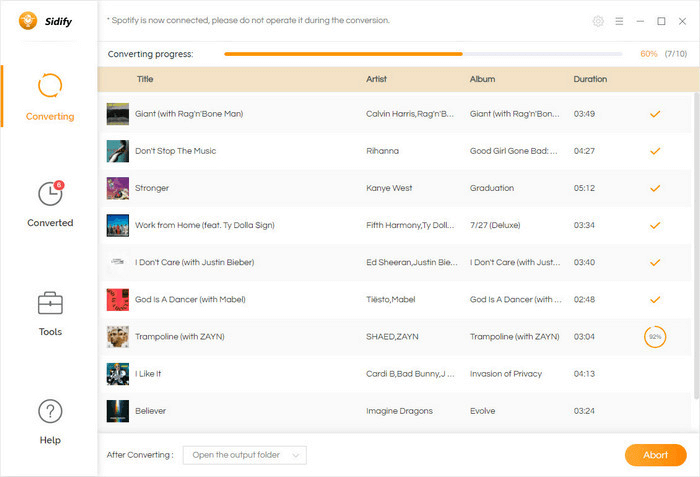 AudFree - An Attractive Spotify to MP3 Converter
AudFree is another reliable Spotify to MP3 converter with an attractive user interface. Like MuConvert and Sidify, AudFree can also manage the Spotify conversion with incredibly fast and smooth performance with original quality. Likewise, AudFree also brings customizable settings that allow users to edit ID3 tags, Bitrate, SampleRate, which allows the Spotify songs downloaded as users' needs.
Take these three easy steps and you can convert Spotify to MP3 with DRM removed via the help of AudFree.
STEP 1. Run AudFree when the software installation completes. Then on the main interface, drag the Spotify songs you need to download to the software or paste the link to the search bar on top.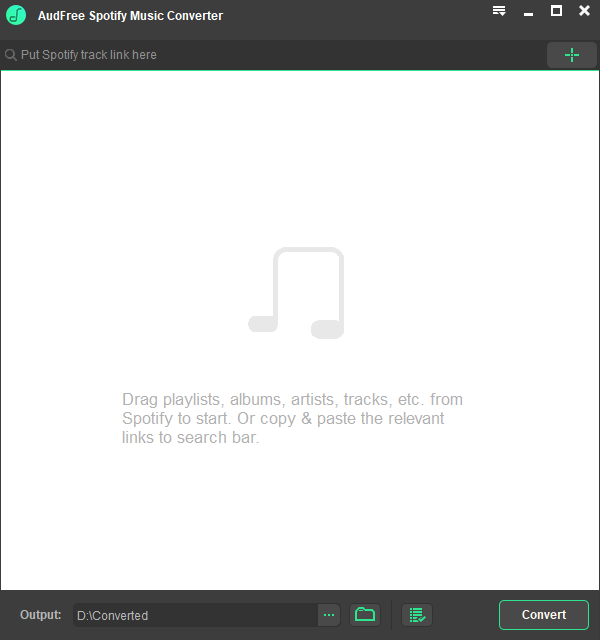 STEP 2. When Spotify songs are added, select the output format and adjust other parameter settings based on your needs.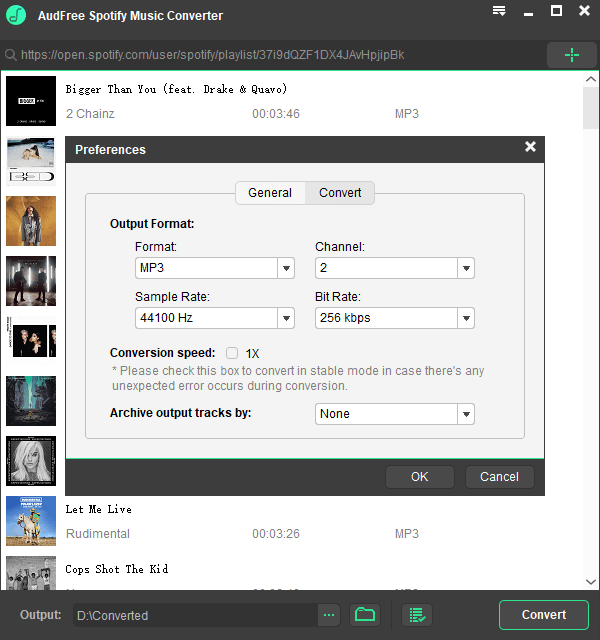 STEP 3. Simply start the conversion by hitting the "Convert" icon. Then the Spotify songs will be downloaded in no time.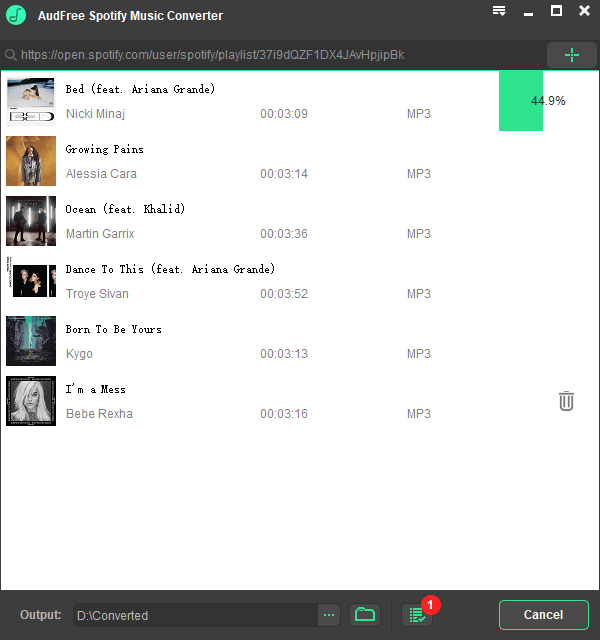 Method 2. Record Spotify to MP3 Audio Files
Despite the DRM removal tool, another solution to download Spotify to MP3 bypassing the encryption is to record Spotify songs and save them as MP3 audio files. Accordingly, we need the help of the Spotify to MP3 recorder. Here are two recommendations for you.
Audacity - Popular Spotify to MP3 Recorder
Audacity is a well-known audio recorder that provides a professional audio recording service for users to catch the audio tracks from all music streaming platforms. It doesn't require users to log in to their music streaming platform such as Spotify. Simply by playing Spotify songs and starting the recording feature of Audacity, the songs can be recorded and output as MP3 audio files with original quality.
Using Audacity is not a difficult task, only by following these few simple steps, and you can record Spotify to MP3 for keeping forever offline.
STEP 1. When you complete installing Audacity on your desktop, open the software and go to "Transport" > "Transport Options" > "Software Playthrough" for turning this function off.
STEP 2. Start playing a Spotify song. Meanwhile, navigate back to Audacity and hitting the "Record" icon to start recording the Spotify song.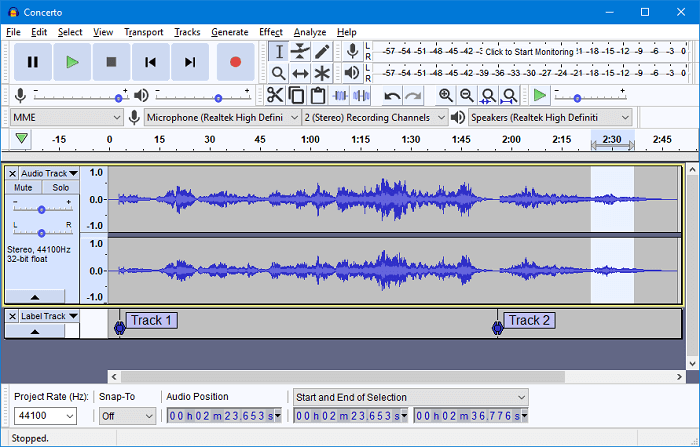 STEP 3. When the track ends, save the recorded Spotify song by hitting "File" > "Save Project". Then you get the downloaded Spotify song on your computer in MP3 format.
Method 3. Subscribe to Spotify Premium Plan (Official)
If you are not willing to use third-party software for downloading Spotify songs, then officially subscribing to the Spotify Premium plan would be the best option. After paying for the subscription, you are able to download Spotify songs on both desktop and mobile apps.
Download Spotify Songs in Desktop App
Pay attention that you can only download Spotify songs using its desktop app. The web player hasn't supported a download feature yet.
STEP 1. On your desktop with the Spotify desktop app installed, launch it.
STEP 2. Navigate to the Spotify playlist you desire to download offline. Enter its tracklist.
STEP 3. Simply toggle on the "Download" option and wait for the download process to be completed.
NOTE: By switching off the "Download" option, the downloaded Spotify songs will all be removed.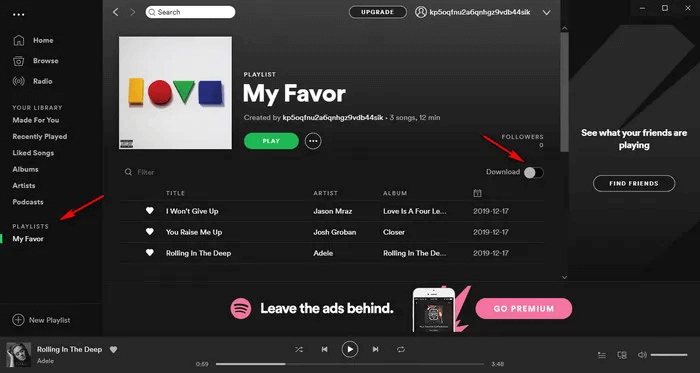 Download Spotify Songs in Mobile App
Downloading Spotify songs using the mobile app is extremely the same as using the desktop app.
STEP 1. Run the Spotify app on your mobile phone and open the Spotify playlist you'd like to download.
STEP 2. Simply toggle on the "Download" bar, and the songs will start to be downloaded continuously.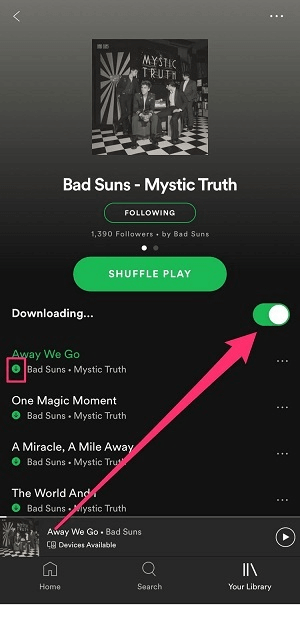 FAQs About Downloading Spotify Songs
Finally, let's go through some frequently asked questions you may desire to know about downloading Spotify songs.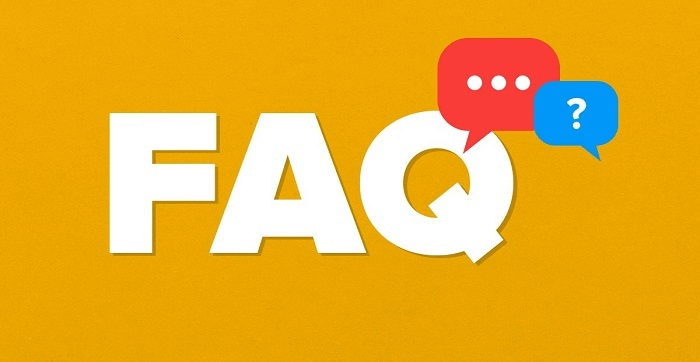 Q1. Is there any official way to download Spotify songs in MP3 for free?
A. Unfortunately, the answer is no. As mentioned, Spotify songs are protected by DRM, so users can only download Spotify songs by subscribing to Spotify Premium. Even you have subscribed to the Premium feature, the Spotify songs will be downloaded in OGG inside the Spotify platform for playback. Thus, users are unable to download Spotify to MP3 without extra help.
Q2. Is it legal to download Spotify songs?
A. As we know, if we download Spotify songs without permission from the original artists or studios would be against the copyright law. Especially downloading the songs that are uploaded by the creator for commercial usage. Thus, you'd better ask for permission before downloading, subscribe to Spotify Premium, or only use the downloaded songs for personal purposes. These would be legal actions.
Q3. What qualifications should a reliable Spotify to MP3 converter have?
A. When we choose a reliable Spotify to MP3 converter, we should focus on the security of the tool at first. For example, it should not have the potential danger of disclosing user data. Additionally, some other qualifications for a good Spotify converter should be its stability in converting Spotify songs, and the output quality.
For free Spotify users, the introduced approaches are all practical to download Spotify songs in MP3 for keeping offline and enjoy in a more flexible way. By comparing the pros and cons of different methods, you are available to pick out the most ideal Spotify downloader for yourself.