How to Start a Podcast on Spotify for Free
Listening to podcasts has been a favorite routine for everyone. So, it's time for podcasters to make fancy content for the podcast. You can express your opinion on your podcast. Moreover, there are millions of podcast fans who can't wait to watch their favorite programs. Therefore, this article is going to tell you how to start a podcast on Spotify for free and how to upload video podcasts on Spotify. Let's check it out.
Before starting a Podcast on Spotify: Care About Preparation
In this part, we will go through what we need to do and pay attention to before starting a podcast on Spotify. Let's start with the prerequisites for uploading your Podcast to Spotify below.
Find suitable recording equipment and audio editing programs to get podcasts recorded and audio files edited.
All audios on Spotify must follow ISO/IEC 11172-3 MPEG-1 Part 3 (MP3) specifications and with a bitrate between 96bps and 320 kbps. In other words, audios on Spotify have to be a high-quality MP3 file.
Only 200MB or less of audio media files can be posted on podcasts, and each episode cannot be longer than 12 hours.
A title, a picture, and at least one episode are required for all podcast feeds to be eligible.
In fact, you can not start a podcast on Spotify directly. Podcast hosting platforms are necessary for uploading podcasts on Spotify.
Choose a podcast hosting platform. Spotify for Podcast is a convenient hosting platform for Spotify you can choose. You may also try other platforms.
How to Start and Upload a Podcast on Spotify for Free
Generally speaking, there are a few steps you need to follow when planning to start a podcast on Spotify,
Get a Spotify account.
Select a platform for hosting podcasts.
Copy the URL for your RSS feed.
Launch Spotify for Podcasters.
Include the details of your podcast.
Look over and send in your podcast.
From the second step, we can see a hosting podcasts platform is needed because you can not upload podcasts on Spotify directly. Spotify for Podcast is a free podcast hosting platform that has combined with Anchor and it is completely free. Therefore, we will start with Spotify for Podcast for free.
Note: There are also other hosting podcasts platforms that only have a free plan with some limitations, such as limiting the storage space for users to store podcasts and the length of the audio. You have to subscribe to them so that there is no limitation.
Undoubtedly, in order to publish your podcast on Spotify, you must have an account with the service. Click here to register if you are brand-new to Spotify.
2. Select a platform for hosting podcasts
Despite being an established platform for podcasts, Spotify does not allow you to upload your podcast directly. Instead, Spotify only offers access to podcasts that are available elsewhere.
Fortunately, you can record, edit, and share a podcast to Spotify all in one place using Spotify for Podcast, which is a platform that Spotify has developed for hosting. To help you better understand your audience, it also provides a wealth of analytics.
3. Copy the URL for your RSS feed
RSS is an abbreviation of Really Simple Syndication, also known as Rich Site Summary. An RSS feed used for podcasts is distinct from one used for websites. Without an RSS feed, your podcast will not display on your website or any podcasting directories, making it difficult for others to listen to it. It is used to continuously update content on websites and podcast listening systems, reducing manual submission.
You should copy the RSS feed address once your podcast has been uploaded to a hosting service. There is only one RSS feed per podcast, just like there is only one address. So let me show you where to find your RSS feed on Spotify if you use Spotify for Podcast.
There are two ways for you to find your RSS feed.
On the web:
Step 1. On the Spotify for Podcasters dashboard, choose Settings in the upper right corner.
Step 2. Specify the availability of podcasts.
Step 3. To view your RSS feed, scroll down to RSS Distribution.

On a mobile device:
Step 1. Click on Your Podcast.
Step 2. In the top right corner, click the three dots.
Step 3. Specify the availability of podcasts.
Step 4. To view your RSS feed, tap RSS Distribution.
Ask your hosting service for your RSS feed if Spotify is not where you host your podcast.
Tips: If you haven't yet activated your feed, you may do so in the last step.
4. Launch Spotify for Podcasters
After coping your RSS feed of Podcast, you need to open your hosting podcast service platform, Spotify for podcast.
Step 1. Open Spotify for Podcasters and sign in with your Spotify account.
Step 2. Click "Get Started."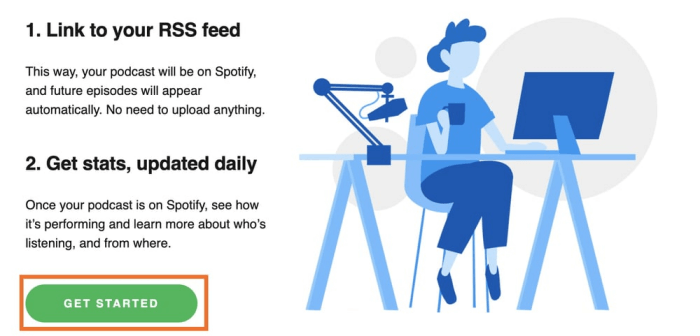 Step 3. Paste the text box with the link to your RSS feed. Press "Next."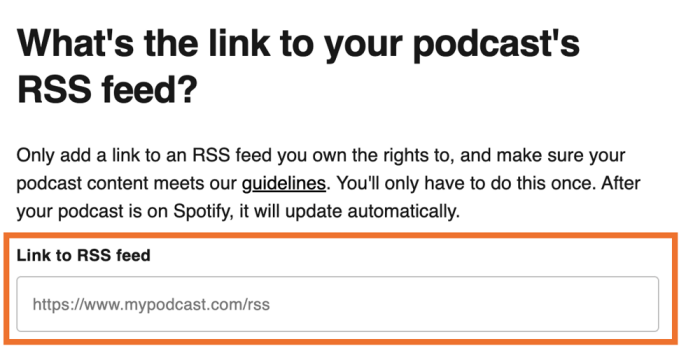 Spotify will confirm that you are the podcast's owner when you provide the RSS feed. Normally, Spotify will email you a verification code. Most likely, you log into your hosting account using the same email address.
5. Include the details of your podcast
Following verification, you must add important details about your podcast, such as where it's hosted, primary language, hosting provider, and primary category.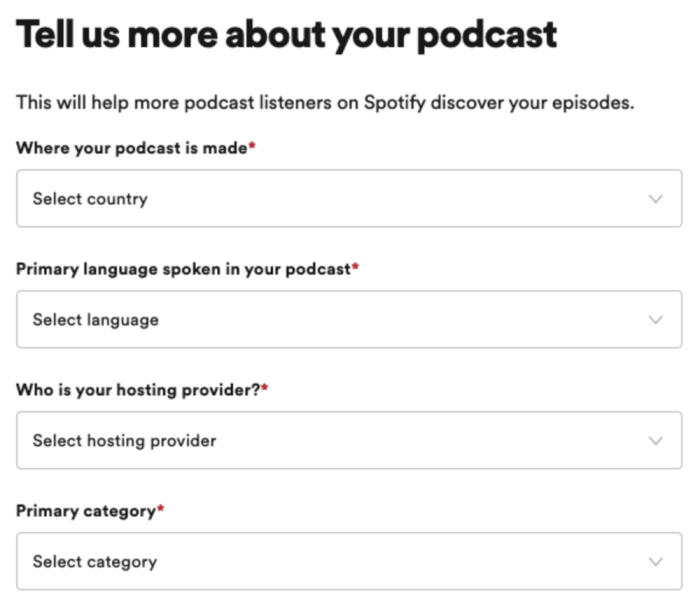 You can choose three matching subcategories after choosing the primary category. This is especially useful if your podcast covers a wide range of subjects or genres. Then click "Next." when you've completed the form
6. Look over and send in your podcast
Lastly, review the data you entered in the previous step. When you're satisfied with your podcast, click "Submit."
The Spotify staff will evaluate your information once you submit your podcast before making it available. This procedure should take a few hours. It's also important to note that Spotify does not notify you when a new episode is available, so keep an eye out for it.
How to Upload Video Podcasts on Spotify
Video podcasts are now supported by Spotify since it will be more immersive for the audience. And now formats in MOV and MP4 are supported on Spotify, and 16:9 video aspect ratio 16:9 is recommended.
To record a high-quality video podcast, you can use fancy equipment and then post your podcast through Spotify for Podcast. It's similar to the steps introduced above.
Or, you can simply use the one-station program named "New Spotify x Riverside Integration" to finish your podcasts from recording to uploading through Anchor (New Spotify for Podcasts). By pressing a single button, you can use Anchor to distribute your podcasts (no matter if they are audio or video) and instantly post them to Spotify. And we highly recommend you do it this way.
Now, steps for how to upload video podcast on Spotify through Spotify for Podcasters are shown below,
Step 1. Simply click the Spotify icon on the Riverside platform when you're ready to share your content to import your video into Anchor. You may establish an Anchor account in the pop-up page if you don't already have one.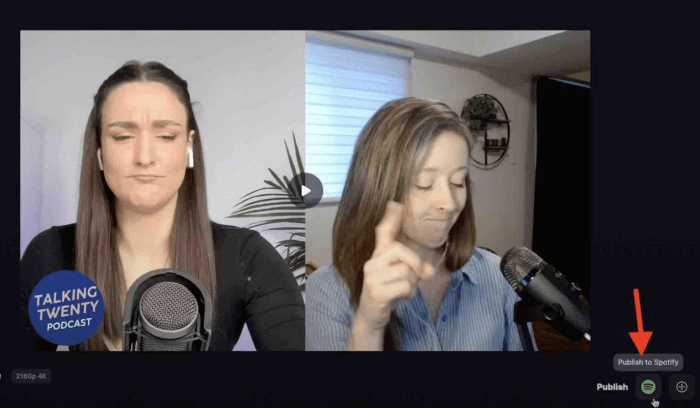 Step 2. To make your show and episode noticeable on Spotify, complete a few fields (you only need to do this once).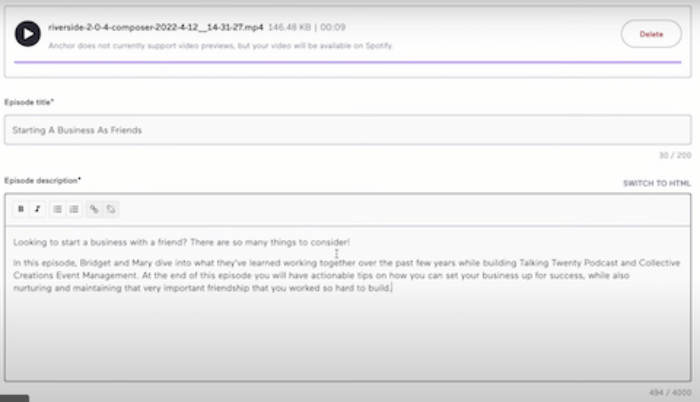 Step 3. Finally, click "Publish now" to instantly make your material available to Spotify's whole world audience. Your video podcast will now be accessible on Spotify.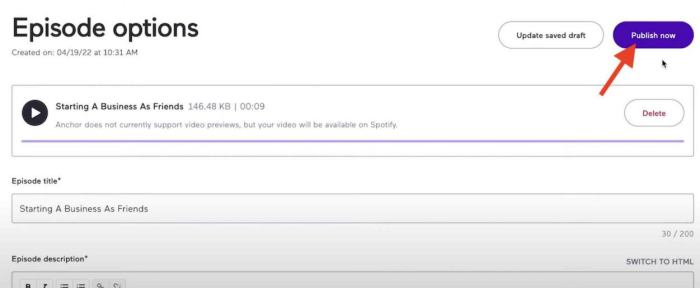 In general, you cannot publish your podcast directly on Spotify. You need a third-party podcast hosting platform for your podcast. Spotify for Podcast is a podcast hosting platform that we recommended because it is completely free and is now integrated with Anchor. Let's give it a try to make your first podcast on Spotify and let the world hear you!