How Much Is Spotify Premium and How to Get It?
To ensure the best music streaming experience, Spotify released Spotify Premium service for subscribers to skip ads and shuffle the playlists flexibly or download Spotify songs for listening offline without network connection. For such convenience and better streaming experience, many users are attracted to Spotify Premium and desire to subscribe.
But before paying for the billing, it would be better for you to know how much Spotify Premium costs and the way to get it subscribed. Hence, this blog will provide a complete guide for you.
Spotify Premium VS Spotify Free: The Differences
With a Spotify Free account, it is possible to access all music resources provided on Spotify freely. However, the music streaming would come with certain limitations, for example:
Ads will be inserted while streaming the songs to interrupt you;
It is not possible for you to select specific songs for playback, but only allows to choose an album or playlist for shuffling the songs included in the list;
Music offline feature is not provided, which means that you are only available to listen to Spotify songs online;
The best music streaming quality for Spotify Free only provides 128kbps at max.
By comparison, Spotify Premium will remove all these limitations leading to the inconvenient music streaming experience on Spotify. All ads will be removed and you can take full control of selecting the tracks to stream as you desire. Meanwhile, for Spotify Premium, the official offers great music quality at 320kbps no matter for streaming online or downloading to playback without network.
All Spotify Premium Plans and The Costs
It is obvious that the flexibility and great quality brought by Spotify Premium are attracting a large amount of users to pay for the subscription. Hence, Spotify has delivered multiple options to subscribe on a monthly basis. Now, let's go through the available subscription plans you can select.
Spotify Premium: Individual - $9.99 per month
For personal usage without sharing the Spotify account with others, the Individual plan would be the best pick for you. It is the most basic plan provided by Spotify to enable to access all premium features, including the music download, add-free streaming, and the highest music quality. The Spotify Individual plan would cost US$9.99 and the subscription will be renewed by month automatically.
Spotify Premium: Duo - $12.99 per month
If you desire to share Spotify Premium with your partner, best friend, roommate, or another person, Spotify's Duo plan is better for you. It enables you to add two accounts at the same time, and both of them are available to access the full premium features to enjoy Spotify streaming with the best services. It only takes US$12.99/month, which costs less than US$7 for each account.
Spotify Premium: Student - $4.99 per month
For eligible students, Spotify offers a discount on the Individual plan. It means that you are able to get the same Spotify Premium features at only US$4.99/month if your identification has been proven to be an in-school student by the official during the maximum of 4 years of study. Once the 4-year-student-subcription ends, your Spotify Premium plan will automatically switch back to the standard Individual plan, which costs US$9.99/month.
Spotify Premium: Family - $15.99 per month
To share Spotify Premium with family members, Spotify Premium offers the family plan at US$15.99/month, enabling to link 6 family members to share Premium features. For young adults or children, there is also the Spotify Kids app provided, with songs that are suitable for them to enjoy.
For Spotify new users, the official provides a 3-month free trial to access the Premium features for enjoying first. Hence, it is possible to get Spotify free trial if you are the first-time accessing this music streaming service before submitting to subscribe to it.
How to Subscribe to Spotify Premium?
Decide to subscribe to Spotify Premium? Get started right now! The brief guide below will lead you through how to complete the Spotify subscription on mobile and PC.
Spotify Premium Subscription on Mobile
STEP 1. Launch Spotify mobile app and scroll down to the bottom to select "Premium".
STEP 2. On the plan selection page, choose the Spotify Premium plan based on your requirement.
STEP 3. On the next pop-up window, hit the "GET STARTED" button and complete the billing.
Spotify Premium Subscription on PC
STEP 1. On PC, you are available to go to Spotify official platform and log in your Spotify account.
STEP 2. Switch to "Premium" on the menu bar.
STEP 3. Scroll down and select your desired plan to get started.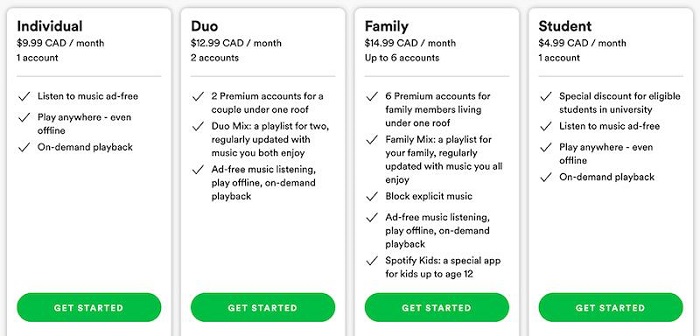 STEP 4. When you complete the payment, Spotify Premium will automatically be activated.
How to Cancel Spotify Premium Subscription?
As Spotify Premium subscription will be renewed by month, you are possible to cancel the subscription at anytime when you don't need it. Simply follow the steps below to quit Spotify Premium plan:
STEP 1. Navigate to Spotify official platform and complete the account login first.
STEP 2. Select "Subscription" from the left navigation, and choose "CHANGE OR CANCEL".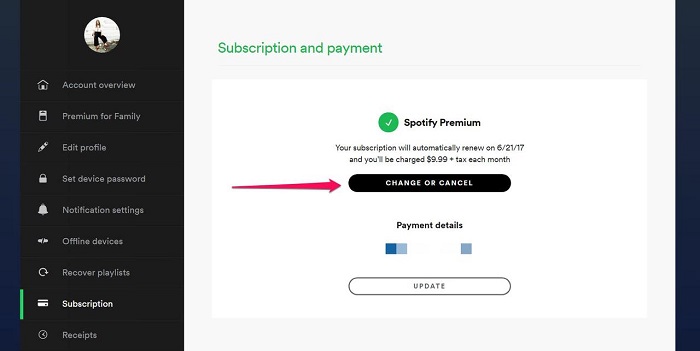 STEP 3. Scroll down to find the "Cancel Spotify" option. Simply by submitting "CANCEL PREMIUM", then the subscription will stop when this period ends.
Can I Switch to Spotify Premium Student Plan?
Spotify enables users to flexibly manage subscription plans. Hence, it is absolutely possible for you to cancel or change the plan as you desire. If you have subscribed to the Individual plan but now want to change to the Student plan, after your Spotify ID has been verified as a student account, you are able to follow the steps here to complete the change:
STEP 1. Also open Spotify official website then log in the Spotify account.
STEP 2. In the account center, navigate to "Subscription" > "CHANGE OR CANCEL PLAN".
STEP 3. Scroll down to check your subscription status and then find the "CHANGE PLAN" button. Hit it to process next step.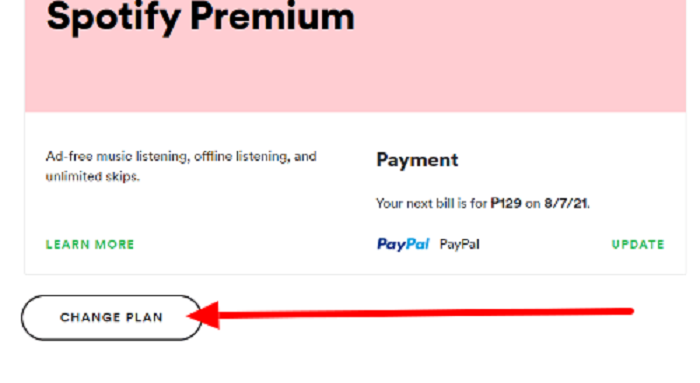 STEP 4. Finally, select the Student plan and submit the change.
Will My Downloads Disappear When Spotify Premium Subscription Expires?
Because the Spotify offline feature is only available during the Premium subscription period, you are only available to access the downloads when you are a Spotify Premium subscriber. In other words, all downloads will be removed once you are no longer continuing the subscription.
To grasp all Spotify downloads permanently without expiration or even Spotify Premium required, MuConvert Spotify Music Converter is the best software you shall not miss. It has integrated with Spotify web player, but is equipped with the download feature to help convert Spotify to MP3 or other formats to preserve offline. The songs will be encoded with the best 320kbps quality, so you are able to enjoy the premium streaming experience after downloading them offline.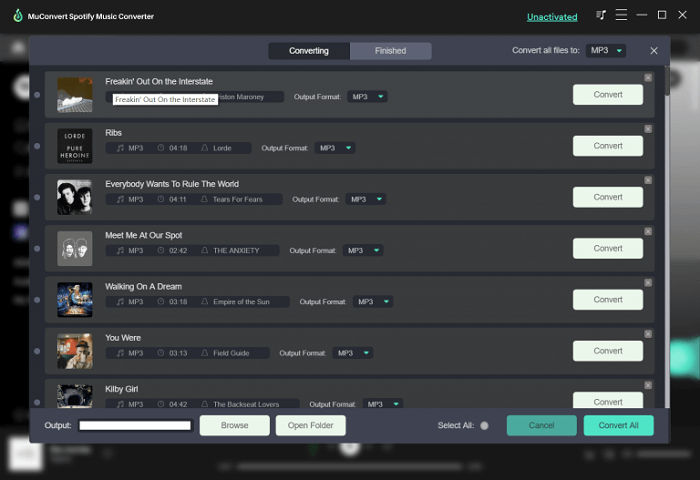 This blog has introduced the cost of Spotify Premium and the tips to get, cancel or change the plan for easy operation. Now, if you also think Spotify Premium is impressive, get started with it and have a more enjoyable music streaming experience on Spotify!