Spotify Premium allows you to enjoy benefits like ad-free listening, unlimited skips, better audio quality, and offline playback. Meanwhile, some people may wonder how to share Spotify Premium to have the best value. Actually, you can share Spotify accounts with Spotify Premium Family or Duo. This guide will introduce how to add someone to Spotify Family and Duo step by step. Now, follow the instructions and explore music with your bestie.
Must-Read:
Want to share a Spotify account with Premium Individual? Better yet, MuConvert Spotify Music Converter makes it possible to download and share all Spotify music without Premium. Better try than never!
Can Spotify Premium Be Shared?
When it comes to sharing Spotify Premium, you should make sure that your subscription is shareable with others. There are 4 plans of Spotify Premium, which include Individual, Duo, Family, and Student. As a rule, you can only sign in to one account on one device with Spotify Premium Individual or Student.
To enjoy the Spotify account-sharing benefit, you'll have to subscribe to Spotify Premium Family or Duo. If you want to get the best value, you may consider upgrading to Spotify Premium Family/Duo. Please refer here to see how much Spotify Premium plans are and split the bill with your friends or family under one roof.
How to Share Spotify Premium with Spotify Family
To deliver convenient music streaming services for families, Spotify officially launched the Spotify Premium Plan for Family, enabling up to 6 accounts bundled with one premium subscription to access the advanced music streaming features. Therefore, once you subscribe to Spotify Premium Family, you can directly add the family members acting as the subscription owner. Here will guide you on how to add someone to Spotify Family.
Attention:
1. Only the accounts located at the same address as the owner can be bundled to the subscribed Spotify Premium Family and access the premium features.
2. When you leave the family plan, you are not allowed to participate in other Spotify Premium Family Plans within 12 months from the date you leave.
Step 1. Start a Premium For Family Plan
First, you ought to access Spotify Official and complete the billing to subscribe to Spotify Premium for Family. Both from the official website or within the Spotify app can you confirm subscribing to the premium plan within clicks.
Step 2. Add a Family Member
Once your Spotify Premium Family subscription is activated, you can prepare to add a family member now. Please follow the procedures below to get it completed (only the primary user of the family plan can invite others to join the Spotify Premium Family plan):
1. Open Spotify. Then tap Settings >> Account.
2. Select Premium Family >> Add to Spotify Family subscription.
3. When selecting the Invite to Spotify Premium subscription option, a link will be generated.
4. Copy the link and share it with the family members you want to add to the subscription plan. Once he/she clicks the link and confirms the invitation, the Spotify account sharing process is completed.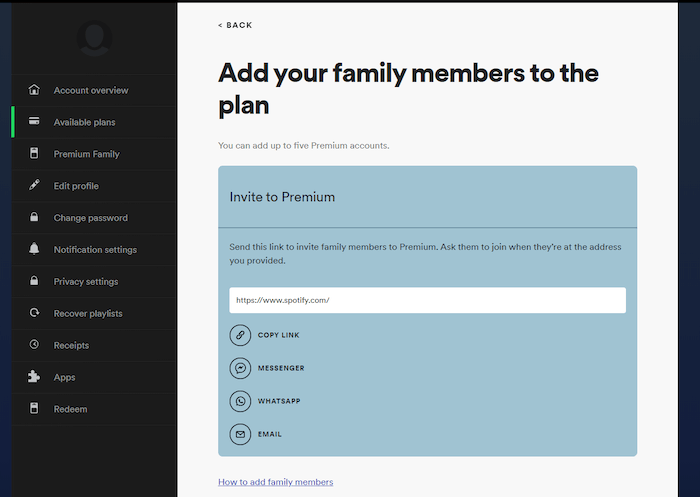 Step 3. Remove a Member(Optional)
The primary user of the Spotify Premium Family subscription also enjoys the right to cancel anyone's access to the premium plan as he/she wishes. When you need to remove a member from your Spotify Family plan, simply follow the manipulation below to complete it:
1. Please turn to your account page on the Spotify platform.
2. Tap to Manage the family accounts of the Premium Family subscription.
3. Access the member you wish to remove, and select it to complete the account removal.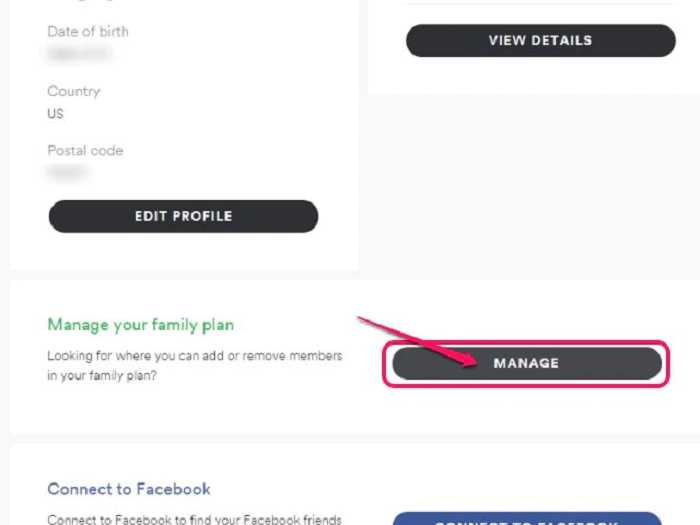 Step 4. Accept Invitation
For those who are not the primary user of the Spotify Premium Family plan but just waiting for the invitation, when you receive the invitation link, please click on it to accept. You will be required to log in to your Spotify account to receive the invitation. If you don't have an account yet, please sign up first.
Once confirming your address, you are added to the Spotify Premium Family plan and are now available to stream Spotify Music with the premium features!
Note:
If you open the link but it turns out to be expired, please try reopening it with the incognito mode of the web browser. If the link still fails to work, you ought to contact the subscription owner to send you a new invitation to join the family premium subscription plan.
How to Share Spotify Premium with Spotify Duo
If you would like to share Spotify Premium with any one of your friends replacing bundling up to 6 accounts utilizing Spotify Premium for Family, the Premium Duo subscription is more convenient for you. Spotify Premium Duo is a discount plan released by Spotify officials to enable 2 Spotify users to share the Premium subscription.
You may check out how to invite someone to Spotify Duo in the following.
1. For the Spotify free accounts, please handle the payment and confirm the bill for the Spotify Premium Duo plan first.
2. Set up the address to activate the sharing feature.
3. Create a link and send it to invite your friend who you would like to share Spotify Premium with.
For those who receive the invitation link, simply log in to the Spotify account and open the link to accept the invitation. However, what if you don't subscribe to Spotify Premium Family or Duo, you may give a thought to the following bonus tip and hack Spotify Premium for free.
Bonus: How to Enjoy Spotify Music Without Premium
MuConvert Spotify Music Converter is a marvelous desktop program that enables you to download all music from Spotify for free and then you can directly share your favorite songs, albums, playlists, and podcasts with your friends. What's better, the music quality can also reach up to 320kbps and 48kHz which ensures excellent offline playback anywhere.
Don't Miss Brilliant Features Here
Batch Conversion - Allow multiple tasks to convert songs to MP3, M4A, ALAC, and FLAC.
35X Ultra-Fast Rate - Rocket the speed and take a few seconds to download an album.
Easy Management - Categorize your downloads right before starting to download songs.
Playback Right Away - Filter and play the downloads by name/artists/albums/length.
Ease of Use - Come with a built-in web player and take one button to download all music.
No need to subscribe to Spotify Premium, this remarkable downloader enables you to crack Spotify Premium, then download and share your favorites in just 4 steps.
Step 1. Log in to Spotify Web Player
First, complete installing MuConvert Spotify Music Converter on your computer. Subsequently, please run the program and enter the main feed of the Spotify Web Player to log in utilizing your Spotify account.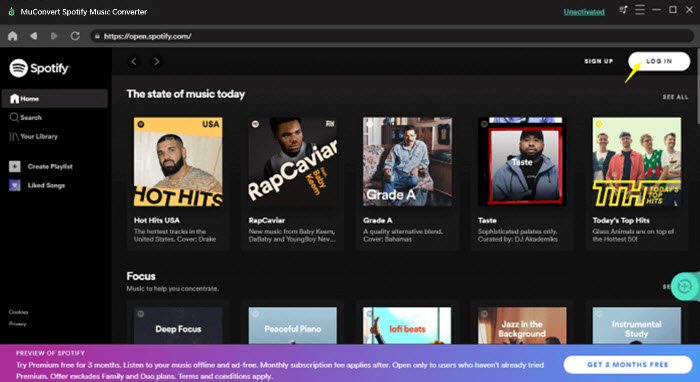 Step 2. Add Spotify Songs to Convert
Once log in, please browse the music database and search for the Spotify songs you wish to download. Simply drag them to the Add button and MuConvert Spotify Music Converter will resolve the music conversion for you.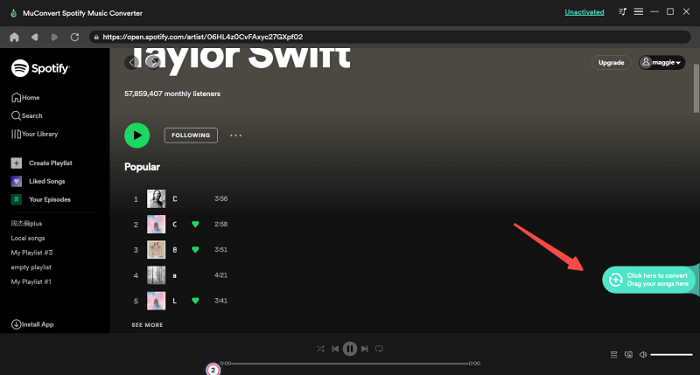 Step 3. Determine Output Parameters
Please turn to Menu >> Preferences to adjust the output parameters now. You can personalize the Format, SampleRate, and Bitrate in preferences to determine the quality of exporting Spotify songs.
Step 4. Proceed Downloading Spotify Songs Without Premium
Eventually, click the Convert All button to initiate the Spotify songs download process in no time. Please wait for a moment till MuConvert Spotify Music Converter completes the conversion. Subsequently, you can access the downloaded Spotify songs offline under the Finished tab by clicking on the View Output File button.
FAQs About Sharing Spotify Subscription
Q1: Do the members of Spotify Family and Spotify Duo have their own accounts?
Yes. After receiving the invitation link, you'll have to set up your own account. Everyone under the Spotify Premium Family or Duo plan has their own account and will not need or share others' login information. Moreover, your personal playlists will not be shareable as well.
Q2: Is it safe to share Spotify Premium?
Yes. Spotify Premium Family and Duo are the official plans that Spotify offers to bring the best value at a cheaper price and attract more subscribers. Yet, you should open the invitation link sent from Spotify to set up your own account rather than from other sources.
Conclusion
Can you share Spotify Premium? Yes. If you are the primary user of Spotify Premium Family or Duo, you can generate a link to share Spotify Premium with family or friends freely as you want. But for those who are not premium users, MuConvert Spotify Music Converter will be the best option to access all premium features. You can download high-res Spotify music for offline playback without Premium and share it with anyone. No more hesitation. Just give it a shot.
Convert Spotify Music to MP3 in 320kbps
Drag and drop to convert Spotify songs, albums, playlists, and podcasts to MP3 easily.