4 Apple Music DRM Removal Methods You Should Try
A frustrating fact for Apple Music membership should be the limitation of downloading Apple Music. In that the Apple Music songs are protected by DRM technology when Apple Music membership expires, all the downloaded songs will be removed and you can no longer access them in Apple Music for offline playback.
To resolve this unexpected issue, all we need is to remove DRM so that the Apple Music songs will return to the protection-free status. Therefore, the 4 workable Apple Music DRM removal methods will be listed in this post. You can select one to try.
The Limitations Brought By DRM
If you first hear about DRM, you may wonder how it affects the free Apple Music songs playback. With DRM, music streaming experiences will be limited. For instance,
The Apple Music songs can only be played within the Apple Music app.
If you don't subscribe to Apple Music membership, you fail to download the songs for streaming offline.
Even you have downloaded Apple Music songs to your iOS device during the subscription period, they are not accessible offline when the membership expires.
That's the power of Apple's Fairplay DRM. By placing the restrictions, the songs are under control, in that we have to depend on the Apple Music app for playing the songs only.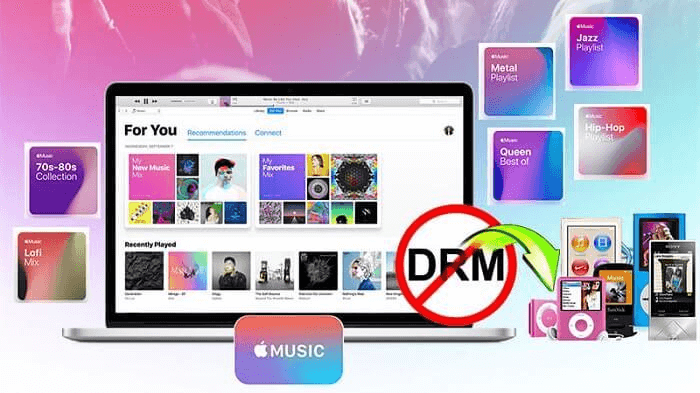 Is it legal to Remove DRM from Apple Music?
When talking about Apple Music DRM removal, you may ask whether it is a legal action to do this. The reality is that unlocking DRM from Apple Music is a completely legal behavior in some countries. However, you should only use it for personal entertainment instead of commercial purpose. By canceling the DRM protection, Apple Music songs can be transferred to MP3 player, iPod classic/shuffle/nano, Android devices, and so forth for playing back.
Is there any official way to Remove DRM Protection?
Apple also provides an official way, iTunes Match, to remove DRM protection. But this feature can only be used for unlocking the DRM protection added on some old iTunes music store in your iTunes library. If you have subscribed to iTunes Match, it will assist you to upgrade the DRM-protected iTunes music to the latest iTunes Plus format without DRM protection. A depressing fact is obvious, iTunes Match can not be used to handle Apple Music DRM removal.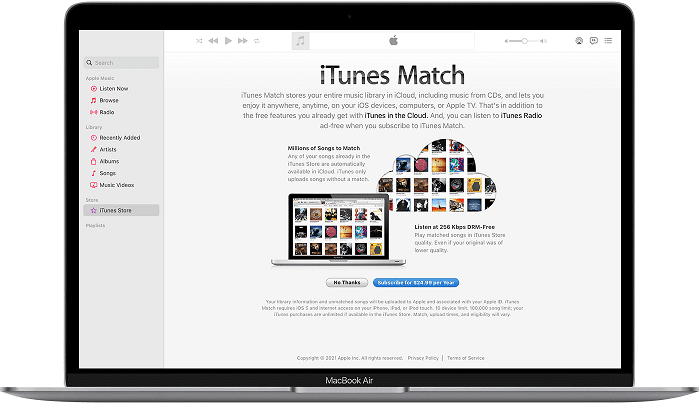 3 Other DRM Removal Tools You Can Try
When it comes to Apple Music DRM removal, we need to utilize third-party tools to help. But don't worry, we still have many options to select from! The following 3 tools are all reliable and can manage DRM removal professionally for assisting people in getting DRM-free Apple Music songs.
MuConvert Apple Music Converter has served thousands of users to remove DRM from Apple Music, iTunes music, audiobooks, and podcasts to DRM-free audio files for offline streaming. When the Apple Music songs are resolved by MuConvert Apple Music Converter and converted to common formats like MP3, M4A, AAC, AC3, AIFF, and AU, they are protection-free and can be played offline any time and anywhere.
Top Features:
Support converting different Apple music content to common formats
Access up to 10X speed to quickly convert music tracks
Music quality will be maintained originally
The original ID3 tags and metadata info will be kept and editable
Let's see how to remove DRM from Apple Music in MuConvert Apple Music Converter.
Step 1. First, launch MuConvert Apple Music Converter when you have installed it. iTunes will also be activated as you run the program. Please make sure to log into your iTunes library using your Apple ID.
Step 2. If you have added the Apple Music songs to the iTunes library, MuConvert Apple Music Converter will detect them and provided the list for you to select the songs you wish to remove DRM from. On the Mac version, its user interface is flexible to drag to zoom in and out to fit your screen. Simply drag your mouse to select multiple songs to the conversion queue or you can make use of the search function to find the songs that you want to convert.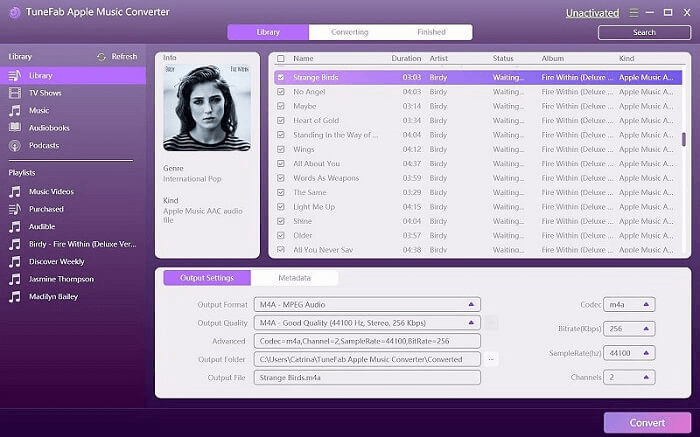 Step 3. In the Output Settings box, you can select an output format and configure other quality settings for converting the Apple Music songs. The default output setting is 256 kbps and 44,100 Hz which is virtually identical to the original Apple Music song.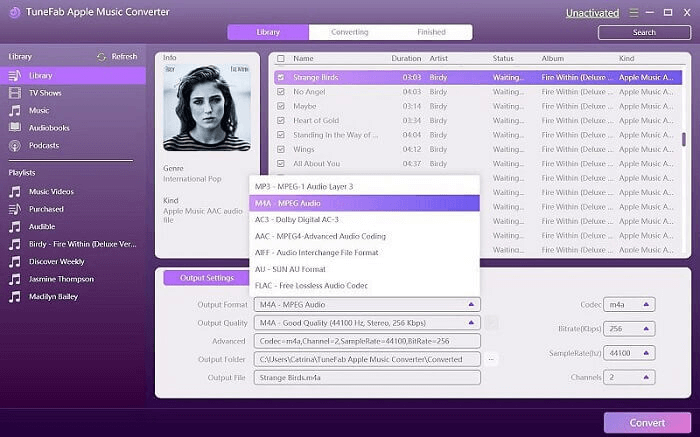 Step 4. In the Metadata section next to Output Settings, MuConvert Apple Music Converter allows you to customize the ID3 metadata tag. Feel free to edit the Title, Artist, Album, and Genre of the song before the conversion starts.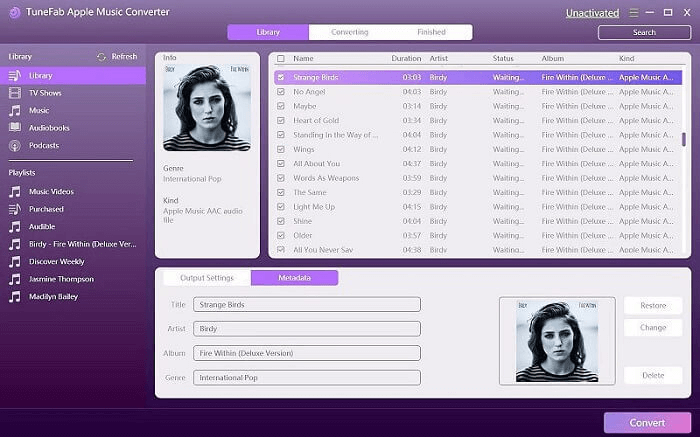 Step 5. Subsequently, by clicking on the Convert button, the DRM removal process will begin. And the program will automatically switch to the Converting tab. If the song that you added has already converted before, you will recieve a notification to prevent getting duplicate audio files.  Wait for a moment and you will get the DRM-free Apple Music songs offline.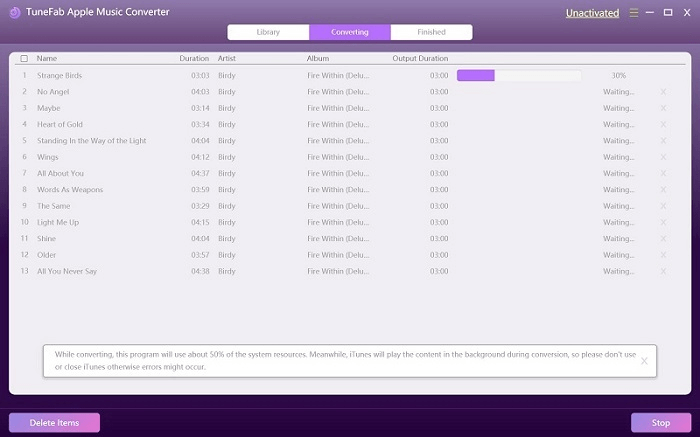 Congratulations! When the conversion is done, you can access the downloaded songs in the Finished section. By clicking on the View Output File button, you will be directly navigated to the output folder.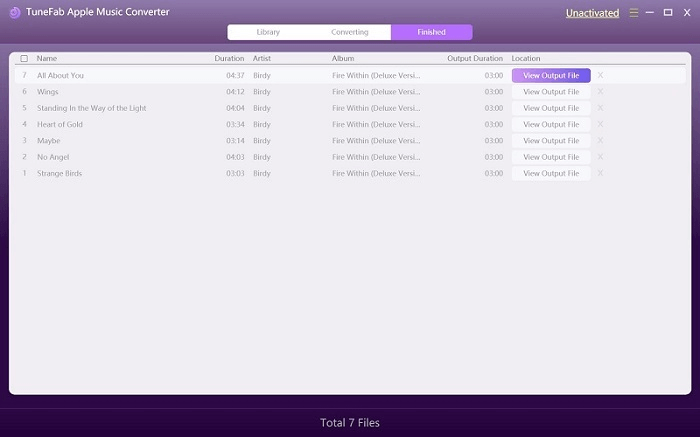 The second recommendation DRM removal method is to use UkeySoft Apple Music Converter. With a simple design, UkeySoft Apple Music Converter is not even complicated to comprehend. The converter works smoothly to transcode  Apple Music songs to MP3, M4A, AAC, or other popular audio formats and unlocks its embedded DRM protection. After going through the accelerated process, which can be up to 16X faster speed, people can get DRM-free songs with their original ID3 tags kept, leading to flexible playback on any device.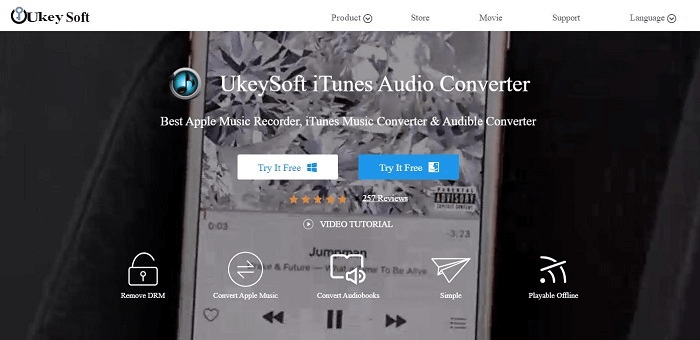 Here are the easy steps you should follow to remove DRM from Apple Music with this tool.
Step 1. Please run UkeySoft Apple Music Converter on your computer. Meanwhile, iTunes will show up in a flash.
Step 2. In UkeySoft Apple Music Converter, the Apple Music playlist can be previewed, and you can select the songs you need to convert.
Step 3. Please move down to Output and select the output format. Like MuConvert Apple Music Converter, the quality settings are also opened in UkeySoft Apple Music Converter.
Step 4. Also, turn to Metadata if you need to edit the information of the song.
Step 5. On the top menu bar, you can find the Convert button. Clicking on it and UkeySoft Apple Music Converter will begin to remove DRM from Apple Music songs.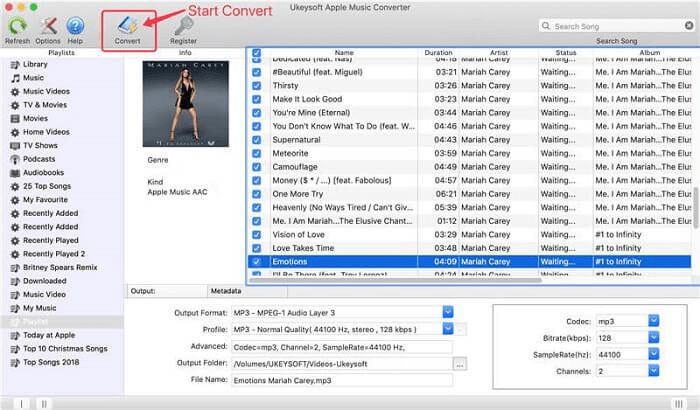 The last recommended way to remove DRM from Apple Music is using Sidify Apple Music Converter. You can completely trust it cause it will manage the DRM removal and conversion professionally with lossless quality. Another highlight of Sidify Apple Music Converter should be its multi-language support, which helps to bring such convenient service to more users in need around the globe. Better still, the music converter is designed with a handy toolbox that helps you to burn Apple Music to CD and organize your converted music.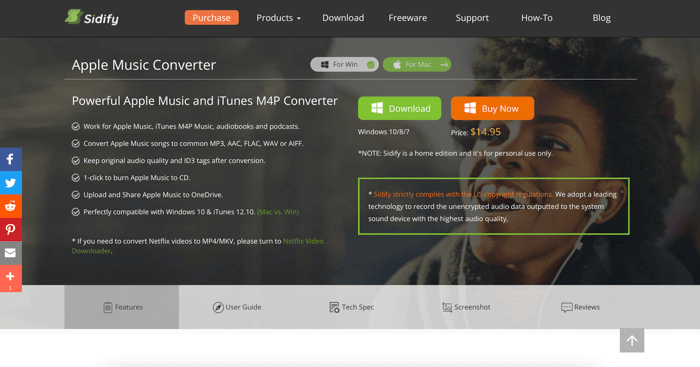 Just like MuConvert and Ukeysoft, Sidify Apple Music Converter is easy to operate for removing DRM from Apple Music. Let's go to its user guide.
Step 1. When you launch the program, click on the Free Trial for skipping the registration window for the first time.
Step 2. Meanwhile, when iTunes is also activated, you can add Apple Music songs by clicking on the Add button. After selecting the songs you wish to remove DRM, please submit OK.
Step 3. By going to Sidify Apple Music Converter > Preferences, you will find the Settings option, in which you can choose the output format from 5 options, including MP3, AAC, FLAC, WAV, and AIFF.
Step 4. Complete the format setting, and you can begin the conversion now. Please wait patiently till Sidify ends its work.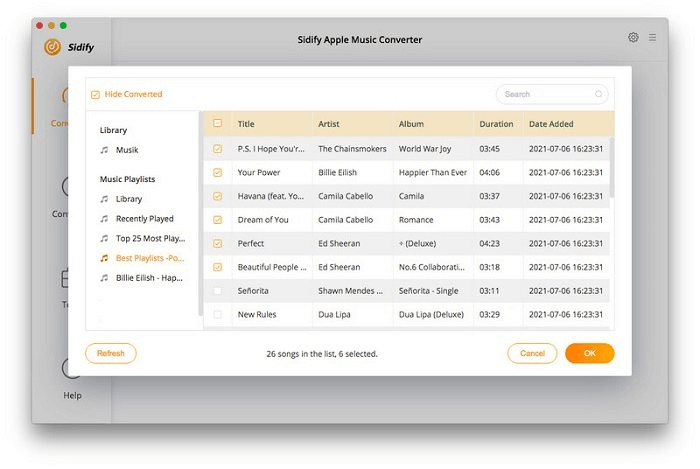 When you get the backup list of the Apple Music DRM removal tools, you have the way to make Apple Music songs free from the app for more convenient playback. These are all reliable options to convert Apple Music to DRM-free audio files. Enjoy the music!