How to Remove Apple Music DRM in 2023 [4 Available Ways]
A frustrating fact for Apple Music membership should be the limitation of listening to Apple Music songs offline. Even though Apple Music does allow its users who have subscribed to it to download songs on the app, those songs are protected by DRM. Due to this technology, you can only enjoy music offline within the Apple Music app, meaning you can't play them successfully on other players or copy them for other use.
To resolve this unexpected issue, all you need is to remove the DRM restriction so that the Apple Music songs can be played on any player or device flexibly. In this post, 4 available methods for Apple Music DRM removal are provided and I believe you can find the one that suits you most.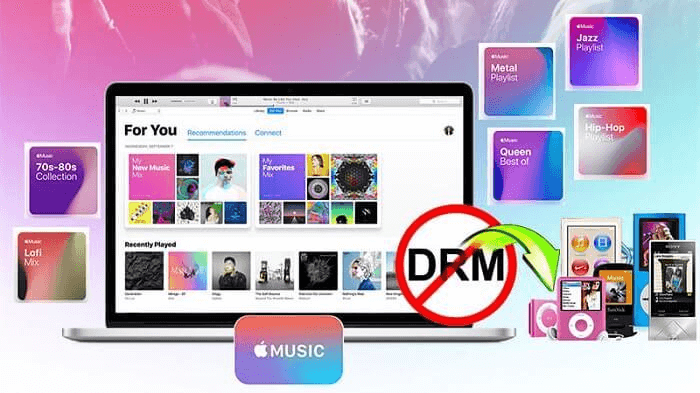 Method 1. Remove DRM from Apple Music Songs by Ripping Them to MP3s
When it comes to Apple Music DRM removal and converting songs to MP3, we need to utilize third-party tools to help. But don't worry, we still have many options to select from! MuConvert Apple Music Converter is reliable and can manage DRM removal professionally for assisting you in getting DRM-free Apple Music songs.
This software has served thousands of users to remove DRM from Apple Music  to DRM-free audio files for offline streaming. When the Apple Music songs are resolved by MuConvert Apple Music Converter and converted to common formats like MP3, M4A, WAV and FLAC, they are protection-free and can be played offline anytime and anywhere.
Top Features:
Remove DRM from Apple Music songs, albums, playlists
Convert Apple Music songs to MP3, M4A, FLAC, WAV
Access up to 10X speed to quickly convert music tracks
Music quality will be maintained originally
Inbuilt with Apple Music web player for easier DRM removal
The original ID3 tags and metadata info will be kept and editable
Let's see how to remove DRM from Apple Music in MuConvert Apple Music Converter.
Step 1. Get MuConvert Apple Music Converter Ready
Launch the converter after you have installed it and then log in to Apple Music with your Apple ID.
Note: MuConvert has been updated. iTunes is not required on your PC anymore. With the new version, you can directly listen to Apple Music in the embedded Apple Web Player. If you want to update the old version to the new one, you need to upload the old one and reinstall the new one.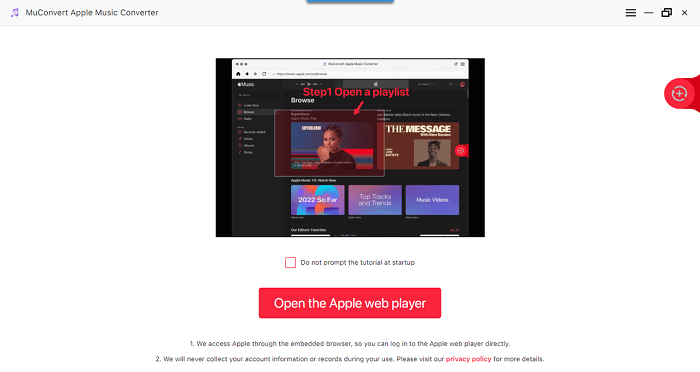 Step 2. Add Songs for DRM Removal
Navigate to the Music category or the playlist you wish to remove DRM from. Hit the red plugin on the right-hand side and you will see the songs listed waiting for converting. You can also drag the song you wish to make DRM removal to it.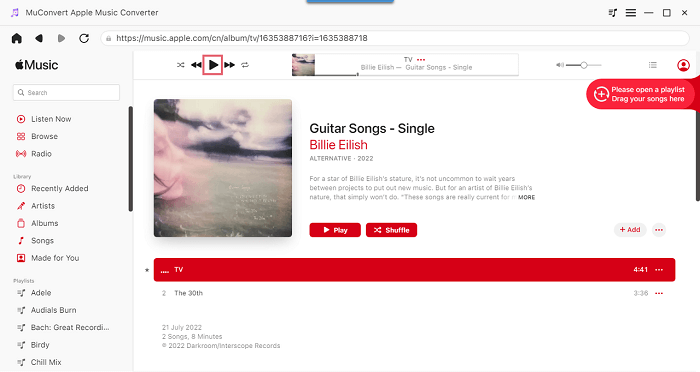 Step 3. Select Output Format/Sample Rate/Bitrate
In the upper right corner, you can select the output format for all songs. If you wish to make exceptions, select the option from the dropdown list of that line. You can convert Apple Music songs to MP3, M4A, WAV, or FLAC.
Click the hamburger icon on the top right of MuConvert Apple Music Converter, then hit "Preferences". Here you can personalize the sample rate up to 48000hz and bitrate up to 320kbps.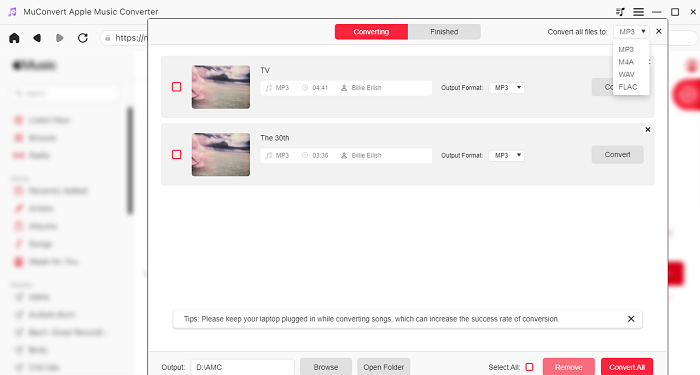 Step 4. Remove DRM from Apple Music
Subsequently, by clicking on the Convert button, the DRM removal process will begin. And the program will automatically switch to the Converting tab. If the song that you added has already been converted before, you will receive a notification to prevent getting duplicate audio files.  Wait for a moment and you will get the DRM-free Apple Music songs offline.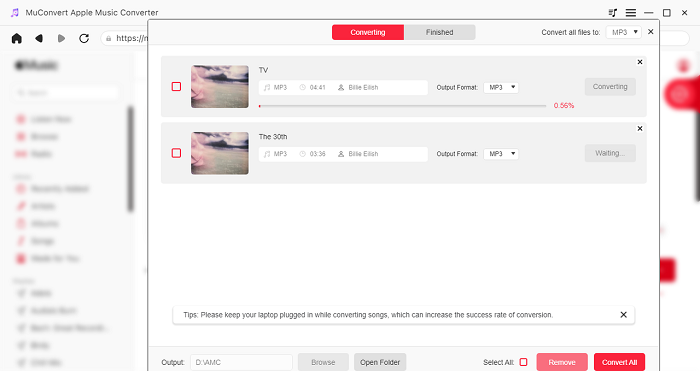 Congratulations! When the conversion is done, you can access the downloaded songs in the Finished section. By clicking on the View Output File button, you will be directly navigated to the output folder.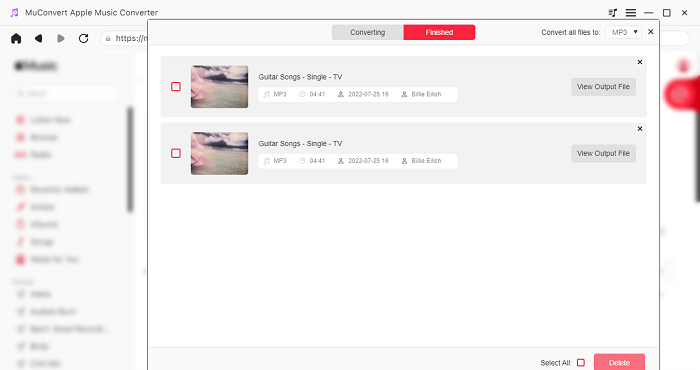 Are There Any Alternatives You Can Try?
Yes. There are still some other Apple Music DRM removal tools on the market. Here I will introduce two to you: UkeySoft and Sidify.
Overall, UkeySoft is the best if you wish to remove DRM from Apple Music and convert them to various formats like M4R, AU or AC3; Sidify is a decent option if you need to remove DRM from audiobooks or shows purchased on iTunes before 2009. But if you just wish to finish removing DRM from Apple Music, MuConvert is the easiest to operate and works the stablest and fastest.
UkeySoft Apple Music Converter is the first MuConver Apple Music Converter alternative for those who prefer more output formats after removing DRM from Apple Music.
With a simple design, UkeySoft Apple Music Converter is not even complicated to comprehend. The converter works smoothly to transcode  Apple Music songs to MP3, AC3, M4A, WAV, M4R, FLAC, MKA, AU, and AC3 and unlocks its embedded DRM protection. After going through the accelerated process, which can be up to 16X faster speed, you can get Apple Music songs with DRM removal and use them flexibly such as making them your ringtone or playing them on your MP3 player.
Note: But during the process of converting, UkeySoft Apple Music Converter aren't allowed to play other files with iTunes because the iTunes playing the Apple Music tracks in the background will be muted.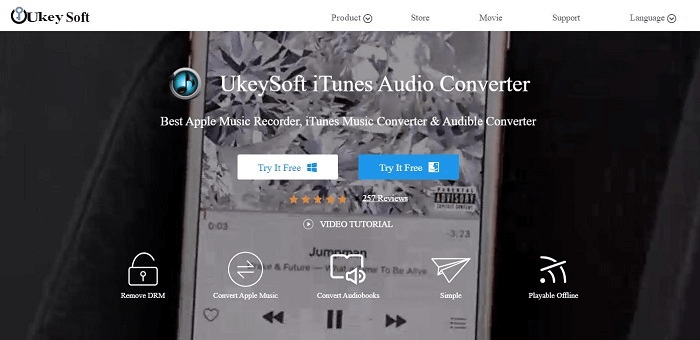 The second alternative, Sidify Apple Music Converter, is the best for those who like uploading and sharing Apple Music to OneDrive after Apple Music DRM removal.
You can completely use it cause it will manage the DRM removal and conversion professionally with lossless quality. Another highlight of Sidify Apple Music Converter should be its multi-language support, which helps to bring such convenient service to more users in need around the globe. Better still, the music converter is designed with a handy toolbox that helps you to burn Apple Music to CD and organize your converted music after removing DRM from it.
Note: Remember that Sidify Apple Music Converter works with the Music App, so before running it, you need to install the Music App. What's more, Sidify Apple Music Converter is developed for Apple Music only, it can't convert most streaming services.
Method 2. How to Remove iTunes Music DRM by Using iTunes Match
If you are trying to remove DRM from iTunes music you purchased before 2009, you can directly use iTunes match, which can assist you to upgrade the DRM-protected iTunes music to the latest version from the iTunes store where you can download DRM-free purchases. When the matching finishes, you can directly download the songs back to your device.
Note: You need to subscribe to Apple Music plans for this method. And this method is for iTunes purchases only. You can't remove DRM from streaming Apple Music with iTunes match.
Here's how to use iTunes Match to remove DRM from iTunes music.
Step 1. Go to iTunes Store and click iTunes Match to subscribe to it.
Step 2. Navigate to Library now, and delete the songs to which you wish to remove DRM.
Step 3. Hit the iCloud icon to download the songs back. These songs will be DRM-free.

Method 3. Remove DRM Protections from Apple Music by Recording It
In addition to the ways to remove Apple Music DRM mentioned above, you can also use VideoSolo Screen Recorder. It is a versatile screen recorder that helps you record music, video, live streaming, and many other screen activities. All music recorded with this recorder will be without DRM and you can get DRM-free Apple Music files in common formats like MP3, M4A, FLAC, WAV,  and AAC, which are compatible with most devices and media players. You can see the following steps to have a try.
The recorder only lets you customize the quality as lossless without parameter settings. As per tests, songs with a bitrate of 320kbps will be compressed a little bit and output in 256kbps or lower if you output songs in MP3. So, if you wish to get lossless music, FLAC and WAV will be better ones.
Step 1. Open VideoSolo Screen Recorder and then choose Audio Recorder to begin the process.

Step 2. Turn on the System Sound to adjust the volume and turn off the Microphone to avoid unnecessary noise.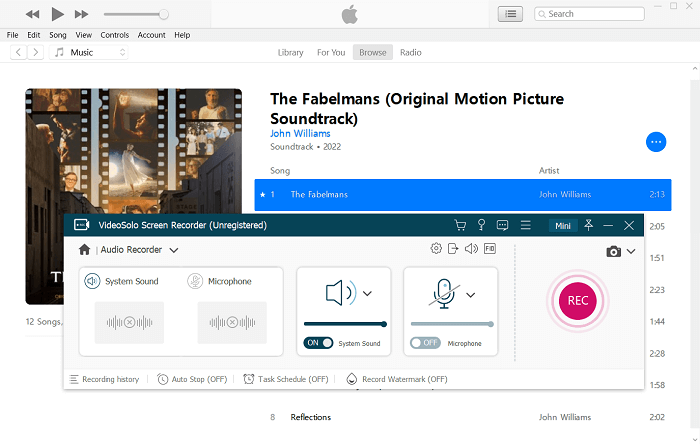 Step 3. Play the Apple Music and click the REC button to start recording.
Step 4. Stop the recording if it is the end of the song. Then click Save to output the audio file.
Method 4. Remove Apple Music DRM by Burning Apple Songs to CDs
You can also remove the Apple Music DRM by
burning them to CDs
. iTunes offers the feature of burning Apple Music to CDs and recoding songs from a CD inserted into your computer. Therefore, you can get DRM-protected songs by burning them to a CD, then ripping these songs to get DRM-free songs. The steps are as follows:
You need to be aware that the if your iTunes playlist includes songs with DRM protection, the playlist cannot be burned to CD more than 7 times. To check if your music is DRM-protected, right-click on the song you wish to clarify, hit "song info" on iTunes and go to the "File" tab. If the song is DRM-protected, you will see "Protected AAC audio file" from the "Kind" section.

Step1. Open iTunes on your Mac and insert a CD. Then click File > New Playlist to create a new playlist.
Step2. Add the Apple Songs that you want to remove DRM from and drag them to the newly created playlist.
Step3. Open the File menu and choose Burn Playlist to Disc. Remember to click the Burn button to let iTunes burn the music to CD.
Step4. Click Edit > Preferences > General on iTunes and click the Import Settings button to import your music from the CD.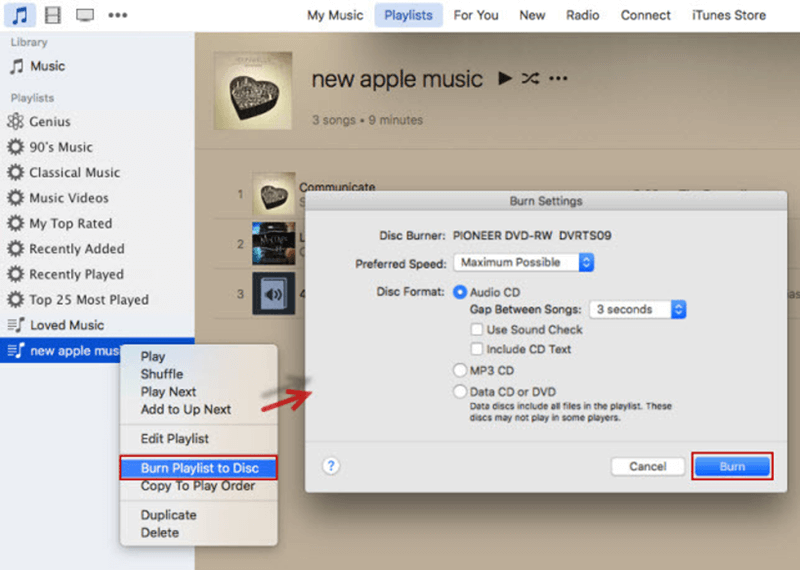 FAQs About Apple Music DRM Removal
Is It Legal to Remove DRM from Apple Music?
When talking about Apple Music DRM removal, you may ask whether it is a legal action to do this. The reality is that unlocking DRM from Apple Music can be legal under some circumstances, such as changing the playing device for personal use. Apple Music only allows you to listen to songs offline on its app. It's impossible to change the playing device if the device is not compatible with Apple Music.
By striping the DRM protection, Apple Music songs can be
transferred to your iPod
or MP3 players, and so forth for flexible offline playback. So, if you are looking for a way to do that, it's totally legal to
remove DRM Apple Music
.
What Is Apple Music FairPlay DRM?
Apple Music FairPlay is the digital rights management (DRM) technology used by Apple multimedia files. All songs purchased from the iTunes store are protected with this DRM before April 2009. But now Apple has removed it from them. However, songs streamed on the Apple Music service are still protected with DRM. And you can only get it removed with professional tools like MuConvert Apple Music Converter.
When you get the backup list of the Apple Music DRM removal tools, you have a way to make Apple Music songs free from the app for more convenient playback. These are all reliable options to convert Apple Music to DRM-free audio files. And if you want to learn more about other tools for DRM removal, you can also read this article: DRM Removal Software: Best 10 Tools in 2022 [Cover All Area].
Among all the tools, if you want to have fewer limitations, MuConvert Apply Music Converter may be the relatively best choice. Not only can it convert different Apple Music to common formats, but it can also ensure the music quality and access up to 10X speed to quickly convert music tracks. So, download it to have a try and have a good time enjoying the music.