How to Add Apple Music to iPod Shuffle/Classic/Nano/Touch?
You may have the misconception that Apple Music is able to be streamed on all Apple devices by default, including all iPod models. Actually, this is a big No-No! Currently, Apple Music is only compatible with the iPod Touch that can connect to a network. On this device, you can access Apple's streaming music platform to enjoy the music playback of Apple with lossless quality.
But what about other iPod models like the iPod Shuffle, iPod Classic, and iPod Nano that can't have any internet connection? In this post, you will be recommended an effortless way to overcome internet obstacles on the iPod of all models and play songs from Apple Music on them without any restriction. Now, please scroll down and continue reading how it works.
Can You Put Apple Music on an iPod?
You can download and install the Apple Music app on an iPod touch and put songs from Apple Music on all your iPods.
Currently, only iPod Touch lets you use the built-in Music app to enjoy the high-quality music streaming function provided by Apple officials. For iPod Shuffle, iPod Nano, and iPod Classic that has no internet connection, you are not allowed to access the official Music app and enjoy Apple's music streaming service directly. Instead, you can rely on some third-party programs to download Apple Music songs, then import them to iPod Shuffle/Classic/Nano for offline listening.
How to Transfer Apple Music Songs to iPod Shuffle/Classic/Nano/Touch?
To download songs from Apple Music without utilizing the official Music app, you need to care about DRM, access full name is Digital Rights Management. DRM is a technology technique applied by Apple to protect the streaming content and restricts people from downloading or transferring songs without an Apple Music subscription. 
Therefore, if you wish to transfer Apple Music songs to iPod Shuffle/Classic/Nano/Touch by downloading them from the official app, you ought to bypass and remove the DRM lock first. For this purpose, MuConvert Apple Music Converter is strongly recommended to you.
Download Apple Music to MP3/M4A
MuConvert Apple Music Converter is an excellent program specializing in processing DRM removal and downloading Apple Music to MP3, M4A, or other popular encoders with 100% original quality, allowing people to stream the music in flexible ways without any obstacle. 
When people get the DRM-free Apple Music songs offline, they are free to store them on all devices, including iPod Shuffle/Classic/Nano/Touch, or even some other systems which are not compatible with Apple Music originally, subsequently, enjoy the lossless music streaming experience utilizing the media players they have installed. To sum up, MuConvert Apple Music Converter is a helper enabling free Apple Music playback without restrictions at all.
Wonder why you should choose MuConvert Apple Music Converter? How it perform better than other third-party Apple Music downloaders? After reading these advantages that MuConvert can bring, you can easily get the answers:
Effortless Apple Music download service –unlike other programs that would need to install the iTunes app, the program is enhanced with the built-in Apple Music web player, allowing people to directly access the streaming music provided by Apple and proceed with the Apple Music download without iTunes installed at all.
The built-in Apple Music web player is landed on the latest MuConvert Apple Music Converter version. Please activate the latest function by reinstalling the program on your computer once again!
Customized audio parameters –more than the popular encoders, the program also enables people to customize other parameters, including the SampleRate and Bitrate to download songs from Apple Music in personalized quality flexibly.
Speedy Apple Music download in batch –despite the decent sound quality, MuConvert Apple Music Converter is equipped with speedy performance, functioning to assist faster music download to 10X faster. Plus the batch download feature, people can process multiple Apple Music albums downloaded at once and facilitate higher productivity.
Retain ID3 tags and metadata information –during the conversion manipulation, all the ID3 and metadata information will be retained accompanying the Apple Music songs, in that way users can manage their music collections offline more conveniently.
Feel impressive about MuConvert Apple Music Converter now? Master the manipulation to download songs and add Apple Music to iPod Shuffle/Classic/Nano/Touch now! The following guide will walk you through how to proceed the music download utilizing the program and then synchronize Apple Music to iPod properly. Please keep reading on.
Step 1. Log into Apple Music Web Player
First, run MuConvert Apple Music Converter after completing its installation. When you click on the Open the Apple web player on the main feed of program, you will enter the built-in Apple Music web player. You ought to log in utilizing your Apple ID by tapping the Sign in button provided on the top-right place.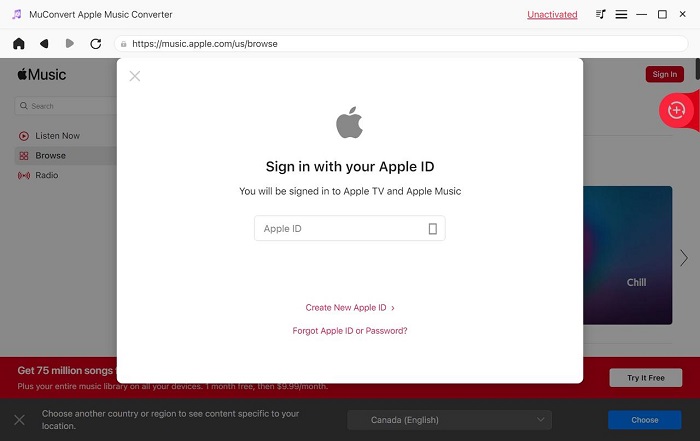 Step 2. Select Music to Download
After login, you can search for Apple Music songs or albums within the music database, and subsequently, drag the items to the Add button to proceed with the music analysis.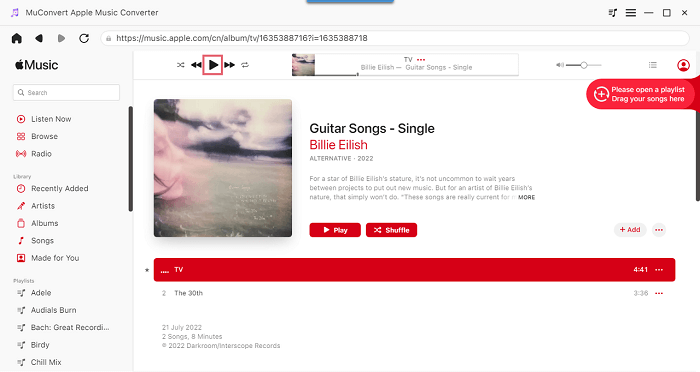 Step 3. Configure Output Settings
Once the Apple Music songs are added now, you can select the encoder to export the Apple Music songs locally. Please turn to Menu >> Preferences to adjust the Output Format, SampleRate, and Bitrate accordingly to your preferences.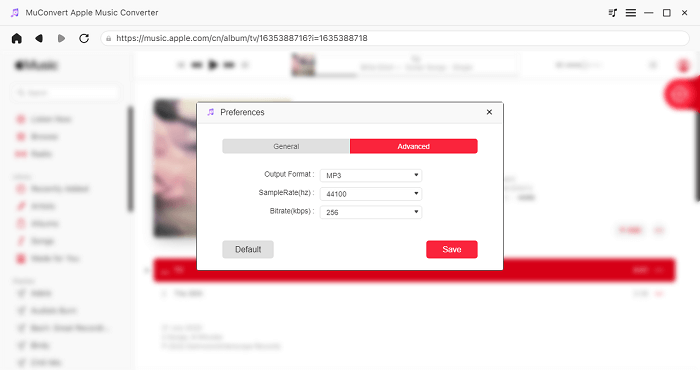 Step 4. Download Apple Music Songs
Eventually, as the output settings are determined, you can process the Apple Music download by tapping the Convert All button. Please wait a moment and MuConvert Apple Music Converter will complete the conversion for you with its speedy performance in no time.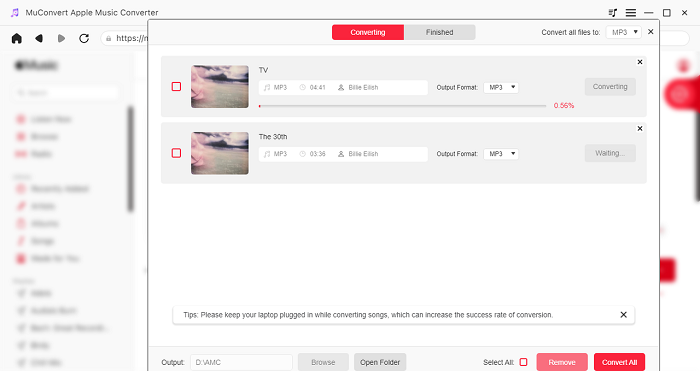 Since the conversion is completed, you can access the exported music files under the Finished button and click on the View Output File button. When you reach the folder, next, continue the procedures below to synchronize Apple Music to iPod Shuffle/Classic/Nano/Touch for streaming freely on any iPod model.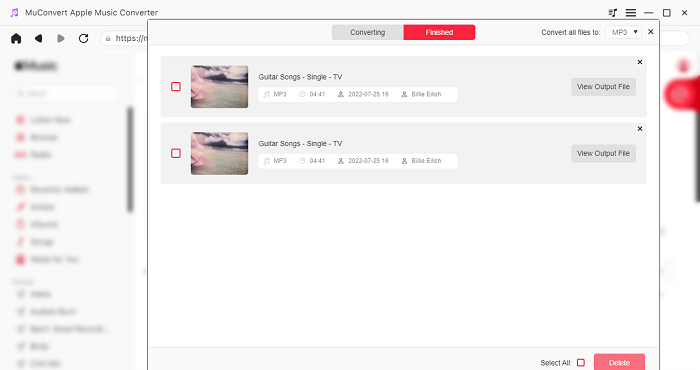 Prepare the downloaded Apple Music, then directly import them to your iTunes Library.
Subsequently, connect your iPod device to the computer and open iTunes to connect with the device.
Click on the Devicebutton to synchronize the iPod with iTunes.
Now, please turn to Summaryand check the Sync Music >> Entire music library to import all the downloaded Apple Music to iPod in no time.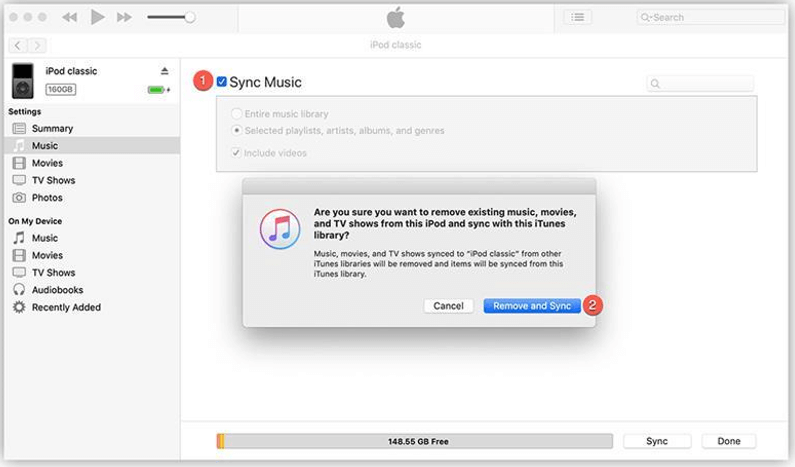 How to Use Apple Music on iPod Touch? [The Official Way]
Unlike other iPod models, iPod Touch is compatible with the Apple Music app, so users can directly utilize it to add, download, and play Apple Music without installing third-party programs anymore. The manipulation guide below will help you master the procedures to control the Apple Music playback on iPod Touch. Please check.
To save your favorite Apple Music songs to the Library, please open the Music app and log in utilizing your personal Apple ID. Subsequently, when you discover any song wishing to save for streaming, simply tap the Add to Library button and the song will then appear in your music library for easily accessing.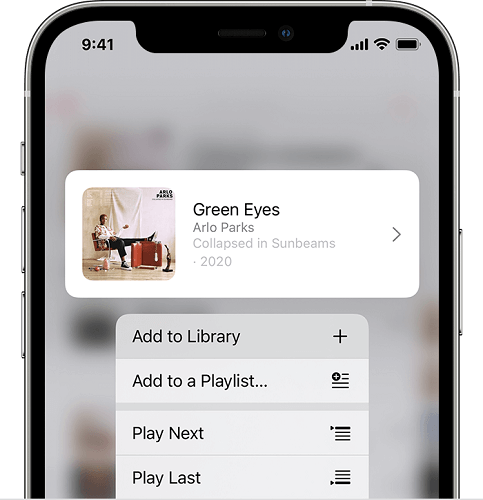 If you wish to enjoy Apple Music offline, please subscribe to Apple Music Membership first. Subsequently, directly access the song or album you want to download offline, then by clicking on the Download button, the content will be saved for streaming without the Internet connection offline.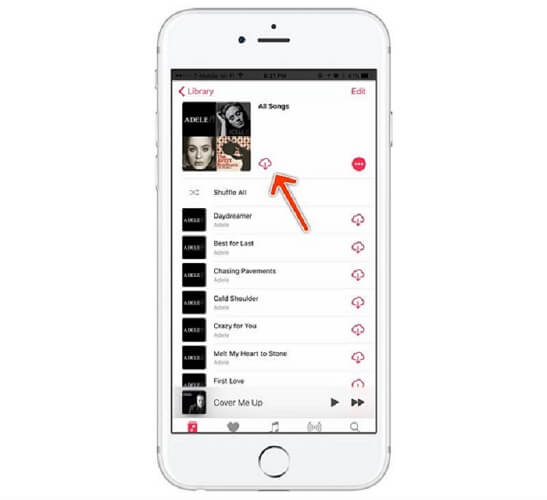 Extra Tip: How to Put Music on iPod Without iTunes?
Replacing utilizing iTunes, there is a trick you can try to put music to iPod without relying on any program. Here's the manipulation you ought to walk through:
First, please connect your iPod to the computer with a USB cable.
Subsequently, turn to This PC/Computer >> find your iPod >> double click on it >> Tools >> File Explorer Options.
In theFile Explorer Options window, please select the View tab and confirm Show hidden files, folders, and drives.
When you see the iPod_controlfolder, please open it and drag the downloaded Apple Music songs here. Atfer this, the songs will all be stored on your iPod device and are available to be streamed offline.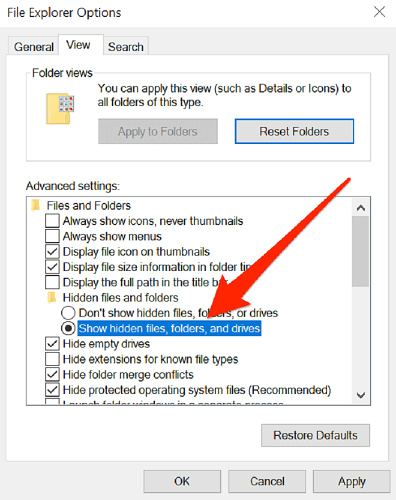 With MuConvert Apple Music Converter, people can easily bypass the restrictions brought by DRM, and freely download Apple Music to iPod of any model to enjoy high-quality music streaming offline. This effortless program can help everyone to have a better Apple Music playback on iPod, and even more devices that are not compatible with Apple Music originally. Now, freely install the program and proceed with the music download in no time! Enjoy!