How to Listen to Apple Music Offline With High Quality [A Detailed Guide]
Apple Music offers high-quality music resources for users to enjoy during their spare time for relaxing. However, when you are not able to connect with a stable network, Apple Music streaming issues will easily occur, thus preventing you from having an enjoyable music listening experience. Referring to such situations, some Apple Music users are wondering whether they are able to save all the Apple Music tracks they like offline, so that the music streaming experience will not be affected by the network condition.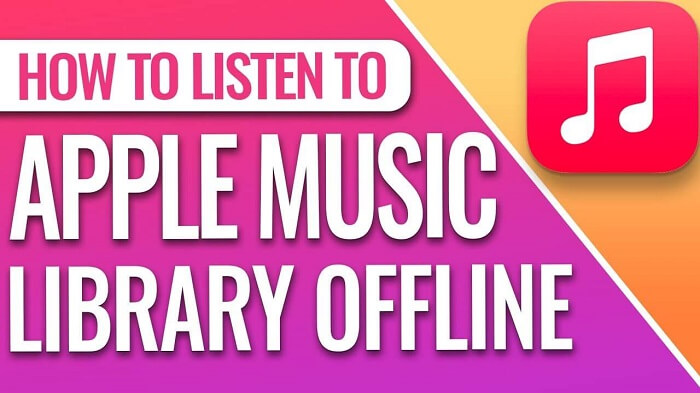 In today's blog, you will grasp the answer to this question, which should be a "YES". In addition, several ways would be introduced to help you easily download and listen to Apple Music offline without quality loss. Now, let's get started.
Part 1. Can You Listen to Apple Music Offline?
Surely, as a way to improve users' satisfaction in music streaming, Apple Music offers the download feature, enabling users to save the Apple Music tracks to their offline library for listening to by downloading offline in advance. However, this functionality is not open to everyone – only Apple Music subscribers are available to access the download feature, which would cost you at least US$9.99/month.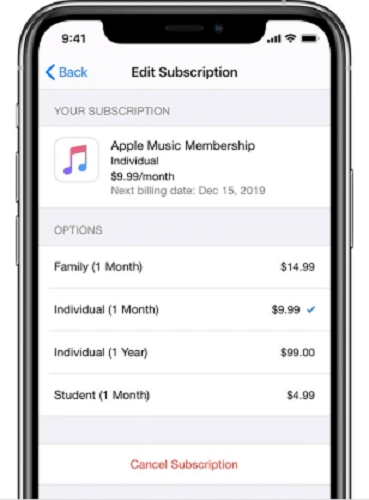 In addition, the downloaded Apple Music songs will not be available to transfer or stream with other media players, but only in the Apple Music app itself. That means, even though Apple Music equips the download feature for members to enjoy the songs in offline mode, limitations will exist to highly restrict the playback of the downloaded Apple Music songs.
Part 2. How to Listen to Apple Songs Offline on Different Devices [An Easy Trick]
As Apple Music employs such limitations to prevent us from having the free music playback experience offline, is there another fix to work it out? Actually, Apple Music has applied DRM encryption on its streaming music, which makes it impossible for users to freely download or play songs by getting out of the control of Apple. Hence, decrypting DRM should be the first and also the most essential task we should do if we want to listen to Apple songs offline on different devices outside the Apple Music app.
MuConvert Apple Music Converter is strongly recommended as the best DRM removal software for Apple Music. In its latest update, the software has integrated the Apple Music web player directly inside, enabling users to access the music library and select any Apple songs to download without hassle. MuConvert Apple Music Converter will process the DRM removal once starting the conversion, then converts the songs to music files of mainstream formats, including MP3, M4A, WAV, or FLAC. After grasping these DRM-free audio files, users are able to preserve them to any device for listening at any time, using all media players as they desire.
Highlighted Features of MuConvert Apple Music Converter
Available to download all Apple Music songs no matter you are an Apple Music subscriber or not;
Keep the offline Apple Music library forever even after Apple Music subscription expires;
Customized audio parameters to output Apple Music songs at selectable quality;
Preservation of full ID3 info for easy music info checkback after the conversion;
Up to 5X or even faster speed to download Apple Music in batch to boost higher efficiency.
Through directly embedding the Apple Music web player into the software, MuConvert Apple Music Converter empowers the pretty easy operation to download Apple Music for listening offline without hassle. Now, let's begin with this brief to learn about how the software processes to download Apple Music without a subscription required.
The updated web player version requires you to re-install again if you are using the old versions, as no auto-update is available currently.
STEP 1. Launch MuConvert Apple Music Converter. On the welcome page, you are able to hit the "Open Apple web player" icon to enter the main interface of the Apple Music web player. By clicking the "Sign in" option on the upper-right corner, you are able to log in using your Apple ID (free account is available).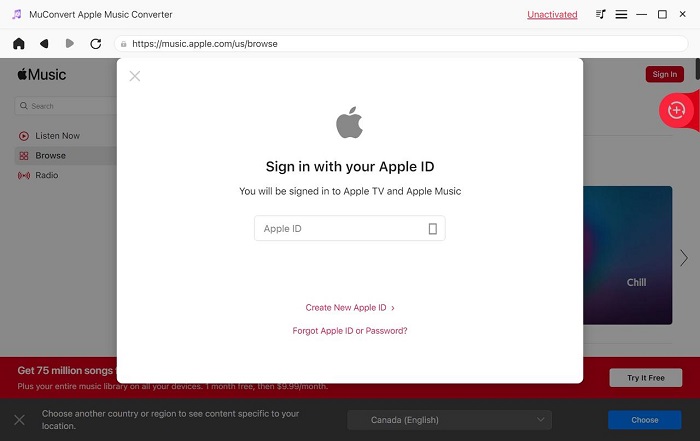 STEP 2. Once login, you are able to use the search function to access any Apple Music tracks you desire to download. When you discover the songs or albums, directly drag them to the floating "+" icon for adding to the conversion queue.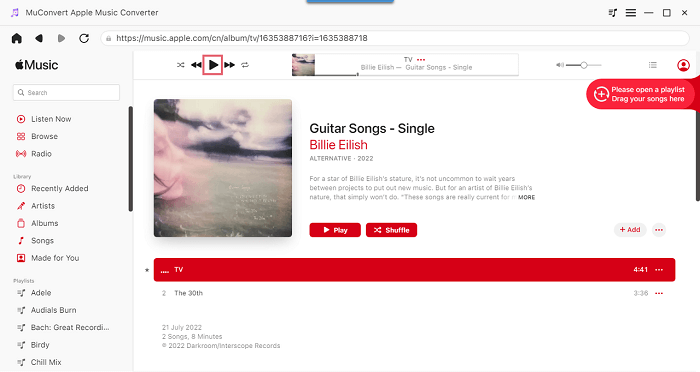 STEP 3. Now, you are available to select an output format to download them offline from the drop-down "Convert all files to" menu. You are able to navigate to "Menu" > "Preferences" > "Advanced" to customize the sample rate and bitrate to download Apple Music songs offline as well.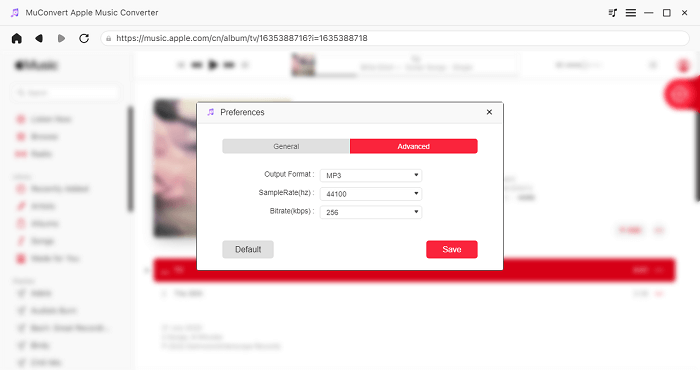 STEP 4. Finally, give a go on to the "Convert All" button, then all the Apple Music tracks will be added to the converting queue, and MuConvert Apple Music Converter will quickly download them offline for you. Just wait for a moment and you are able to access the downloaded songs in the "Finished" section and enjoy the playback offline!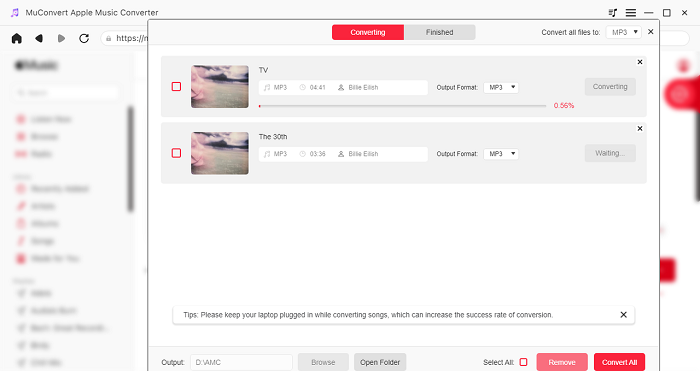 Part 3. How to Play Back Apple Music Offline [The Official Method]
For those who have subscribed to Apple Music, directly processing the music download within Apple Music app to listen to Apple Music offline will be a simple task. Here's the introduction of how to play back Apple Music offline with the official download method, without extra software installation required.
Listen to Apple Music Offline On Destop
STEP 1. Launch the Music (on Mac) or iTunes (on Windows) app. You are required to log in using your Apple ID with Apple Music subscription.
STEP 2. Browse and access the Apple Music track you desire to save for streaming offline.
STEP 3. Directly tap the download icon, then the Apple Music track will be saved to your library and is available to be listened to offline without network connection.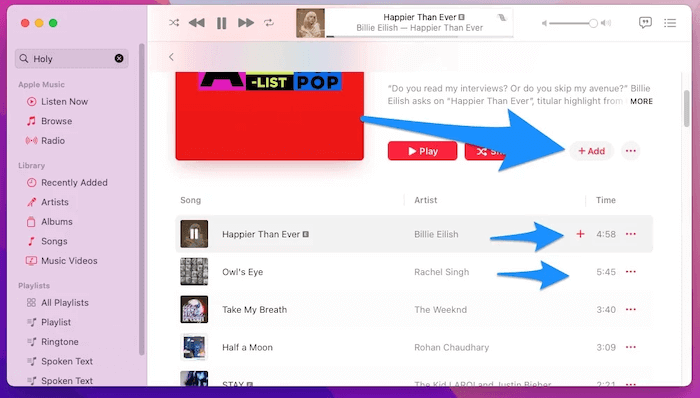 Listen to Apple Music Offline on iOS/Android
STEP 1. Open Music app on your iOS or Android device. Likewise, process the login to activate the download function first.
STEP 2. When you access the song, album, or playlist you desire to listen to offline, long press on it and a menu will pop up.
STEP 3. Select the "Download" option, and the Apple Music song, album, or playlist will immediately be downloaded offline.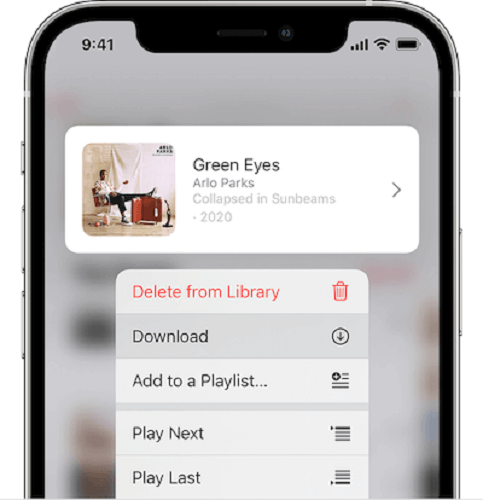 Part 4. What About Listening to iTunes Purchased Songs?
If you are not using the streaming service provided by Apple Music, but have purchased the iTunes songs from iTunes Store solely, you can absolutely free download them for listening offline without relying on extra help. The downloaded songs will also be saved in DRM-free files, which means that you are able to play them freely as you want. Here's how to download and listen to iTunes purchased songs:
STEP 1. Open iTunes app (on Windows), Music app (on Mac), iTunes Store app (on iPhone, iPad, or iPod), then, log in to Apple ID.
STEP 2. Go to your account > "Purchased" to check your own purchase list.
STEP 3. Find the iTunes songs you have purchased here, then directly hit the download icon to save them offline on your devices for streaming without network connection.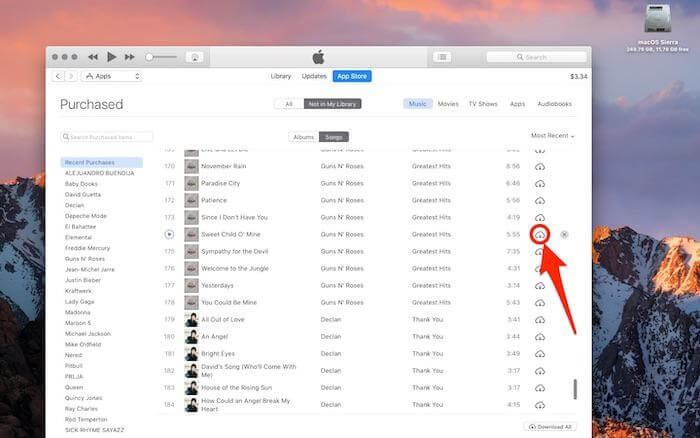 To listen to Apple songs offline, you are able to turn to a professional DRM removal software such as MuConvert Apple Music Converter to help, which even requires no Apple Music subscription to process the download at all. Even for the subscribers, MuConvert Apple Music Converter is able to help extract the downloaded songs outside Apple Music platform for you to enjoy freely on all devices without limitations. This software deserves your try. Just get started with it today!