How to Listen to Apple Music on PC [3 Useful Ways]
For Apple Music users, you may usually enjoy the Apple Music tracks playback on Apple devices such as Mac, iPhone, or iPad, as they have pre-installed the Music app for you to directly access the service. However, for Windows PC users, how exactly it is to access Apple Music to enjoy advanced and high-quality music streaming?
For those who are using Windows and now desire to get started with Apple Music streaming service, this blog provides 3 helpful ways to guide you correctly listening to Apple Music on PC. Now, get started to see how they work.
Method 1. Use Desktop Software (Download Function Equipped)
Because the Apple Music app is not supported on Windows systems, you need an alternative to stream the tracks. Hence, MuConvert Apple Music Converter is recommended here as a reliable software for streaming Apple Music on Windows PC, with an out-performing download function equipped to save the tracks for offline listening as well. The software embeds the official Apple Music web player, enabling users to directly access the full Apple Music library, and browse and search for the songs, albums, artists, etc. for streaming online.
Moreover, MuConvert Apple Music Converter is equipped with download functionality, providing the music download feature for every user (even the free account without subscribing to Apple Music membership) to download Apple Music tracks for offline streaming. The download icon is provided on the interface, so you just need to drag the items to process the conversion conveniently.
More Highlighted Features of MuConvert Apple Music Converter
Fully access the official Apple Music web player for streaming tracks online;
Download functionality equipped to save Apple Music tracks in DRM-free MP3, M4A, WAV, or FLAC media files;
Customized audio parameters to output Apple Music songs with quality and file sizes balanced;
Preservation of full ID3 tags to ensure convenient music management offline;
Speed up the download performance to 10X faster with the batch convert feature equipped.
Now, follow the brief guide and go through how to play Apple Music via MuConvert Apple Music Converter or download them for offline listening at the same time.
STEP 1. Install MuConvert Apple Music Converter and then launch it on your computer.
STEP 2. Hit the "Open the Apple web player" icon provided on the welcome page to enter the main interface of the built-in Apple Music web player.
STEP 3. After logging in via your Apple ID, you are able to search for any track you like to listen to or you can directly open the Apple Music library to listen to music you like.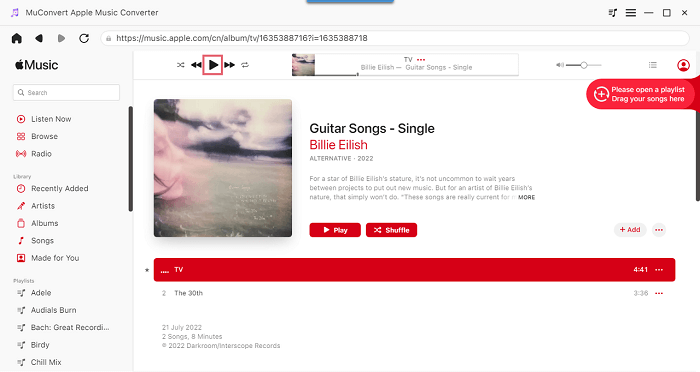 Method 2. Listen to Apple Music on Web Browser
Instead of using the desktop software, you are also able to select playing Apple Music on Windows PC using the online web player in any mainstream browser you have installed. In this way, you don't even need to install extra software to process the Apple Music playback conveniently. Let's see how it works:
STEP 1. Open a web browser on a PC, then directly navigate to the Apple Music web player to log in using your Apple ID.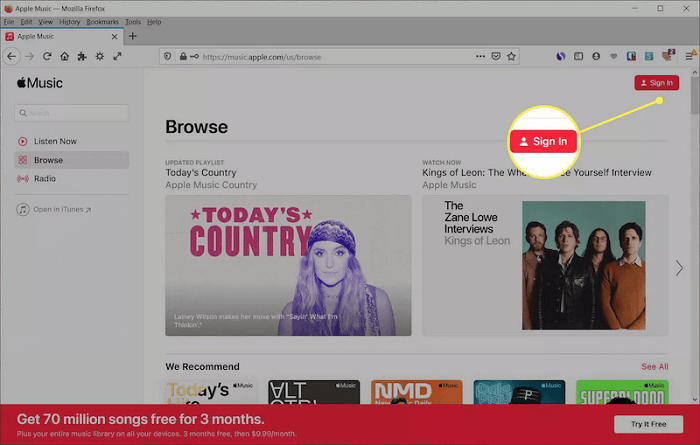 STEP 2. You are required to enter the Two-Factor Authentication to complete the login in Apple Music web player.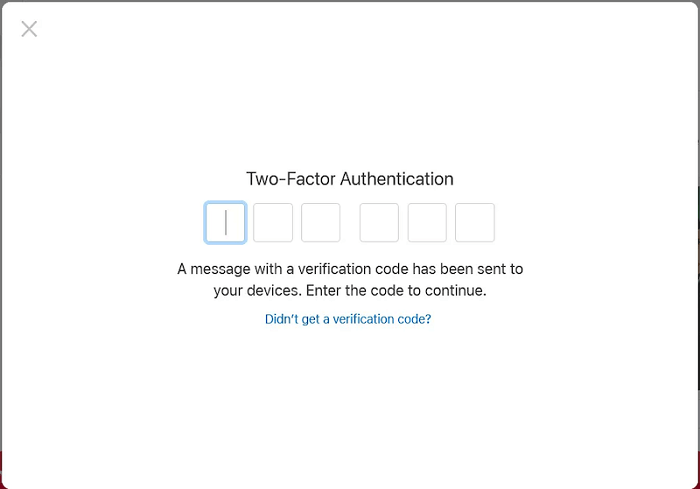 STEP 3. When a notification pops up asking you whether to trust the browser, submit "Trust" to continue.
STEP 4. After the login is successful, start streaming Apple Music online directly!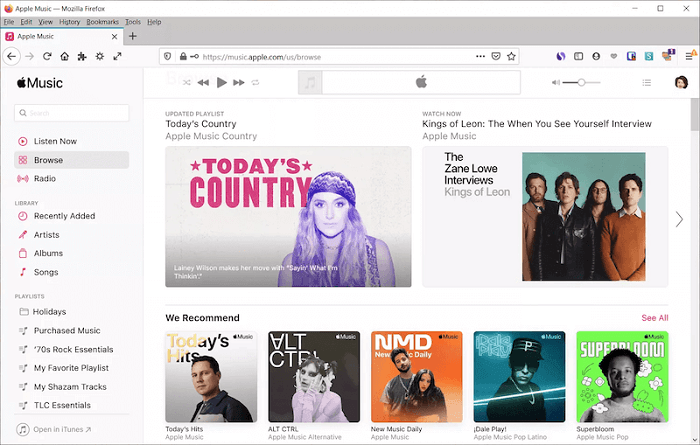 Method 3. Play Apple Music via iTunes
If you have installed iTunes on Windows, it is also possible for you to stream Apple Music tracks with iTunes on PC directly. Simply by authorizing it via your Apple ID, then you are also allowed to browse the music to play directly. Here's a brief guide showing you how to do it:
STEP 1. After opening iTunes on Windows PC, navigate to "Account" > "Sign in" to log in via your Apple ID.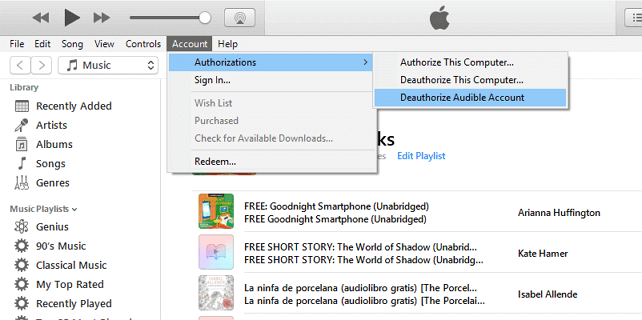 STEP 2. Once login, select "Music" section on the upper-left drop-down menu.
STEP 3. Then turn to "Browse" section.
NOTE: You may need to log in again to authorize the usage of your Apple Music subscription and merge Apple Music with the iCloud Music Library.
STEP 4. Now, you are able to discover Apple Music songs for streaming on iTunes freely with high quality!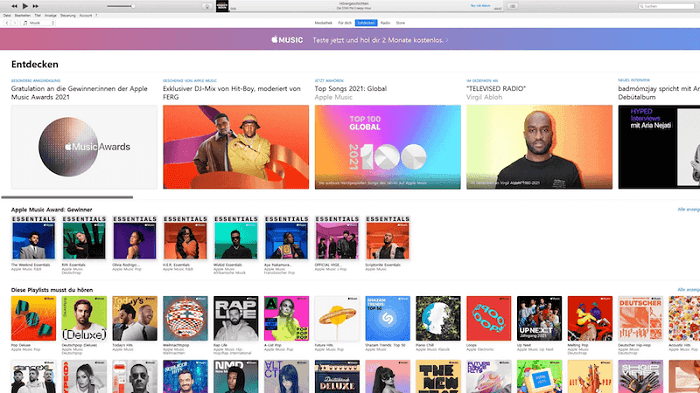 FAQs About Apple Music Playback on Windows PC
Encounter with problems while playing Apple Music on Windows PC? Grasp these FAQs to see if they can help!
Q1: Is iTunes the same as the Apple Music app?
A. Not at all. Currently, the iTunes media library is equipped with other Apple media apps such as Apple Music, Apple TV, Apple Books, and Apple Podcasts. In the Apple Music app, all provided media is streaming content. However, iTunes offers the media solely for purchase. They are not the same at all.
Q2: Why Apple Music fails to play on my computer?
A. To get started with Apple Music streaming, you are required to make sure that you have authorized to access the Apple Music tracks via your Apple ID. When you discover the Apple Music tracks are not playing, simply try to delete them and re-download them for streaming again. If it still fails to work, try uninstalling iTunes and getting them installed again to see if it works.
Although Apple Music does not provide a Windows app for Windows PC users to stream directly with the in-app features, there are still multiple ways to do it. Among the 3 methods introduced in the blog, MuConvert Apple Music Converter gives a surprise as it offers the download functionality for users to directly process Apple Music downloads without Apple Music membership required. That means, you are able to enjoy Apple Music playback on Windows PC both online and offline via the software. Now, the software is free for trying. Why not install and experience it right away!