What Happens If I Cancel Apple Music Subscription? Does It Still Playable?
For having better music playback experience, Apple Music sets membership for people who subscribe to it for playing Apple Music songs with more features. For example, after subscribing to Apple Music membership, users can download the songs for playback offline without Internet, and no ads would be added to disturb while you are playing the music. All these features are only provided to those accounts that are in membership period. As Apple Music membership is paid by months, people may wonder if they forget to continue on subscribing to the membership for the next month, what will happen? Will Apple Music still keep such features as they have already paid for the service before? All these problems will be answered in this article today. Now, just read and find out the answers!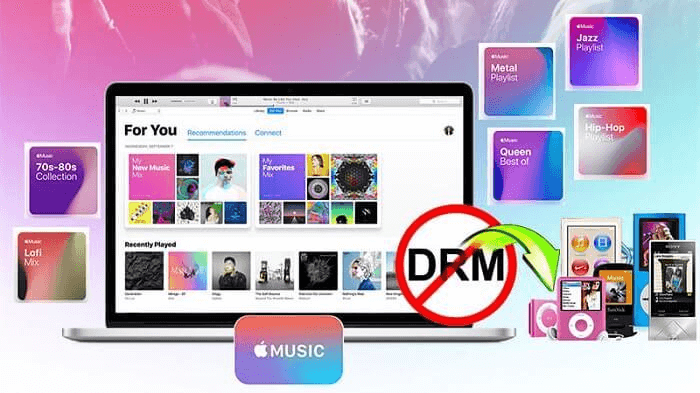 How do I Cancel My Apple Music Subscription?
Although Apple Music would set your billing period as monthly payment, and it will be completed automatically for extending the expiration date of the Apple Music membership once your membership expires after one-month's long since the first day when you subscribed, you can still choose to cancel the subscription manually for stopping Apple Music from continuously subscribing to the membership for you. In order to cancel the Apple Music subscription, you need to go to Apple Music's official website for doing it. Here provides the tutorial you can follow.


Step 1. After going to music.apple.com in your web browser, you need to sign in your Apple ID, which has been subscribed to the Apple Music membership.
Step 2. Then click your profile and select the "Settings" option.
Step 3. Find the "Subscription" option in the list and choose to "Manage" it.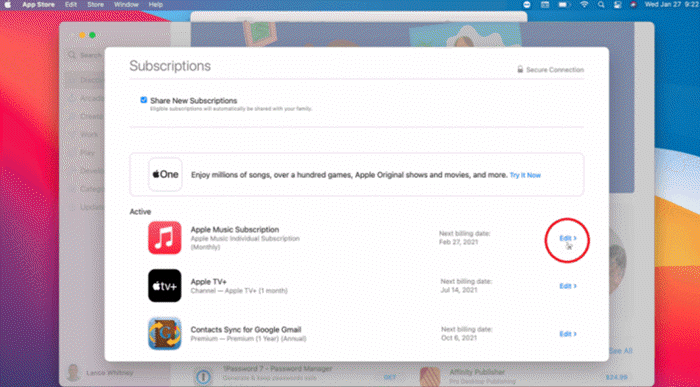 Step 4. Just press the "Cancel Subscription" button and the Apple Music membership will be cancelled. After canceling the subscription, Apple Music will not make deduction from you anymore when the membership expires.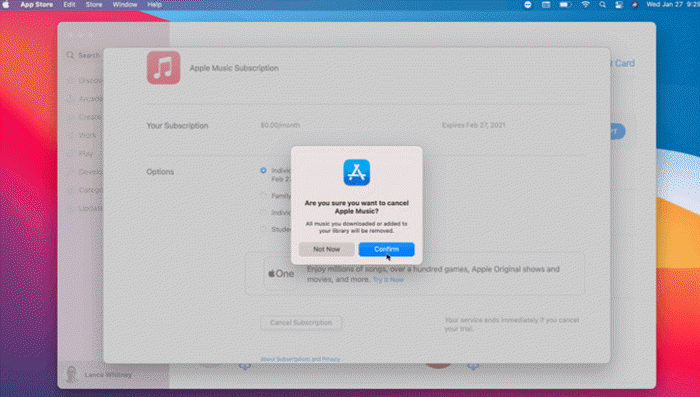 Tips: Methods You Can Try When Subscription Cancellation Fails
Sometimes the subscription cancellation may be failed when you operate it at music.apple.com. When you find you can't cancel Apple Music membership on the website, try the following methods.
Try to cancel the membership in "Settings" on your iOS device. Just go to "Settings", then tap on your name for going to "Subscription". Then you can find Apple Music and select to cancel its subscription.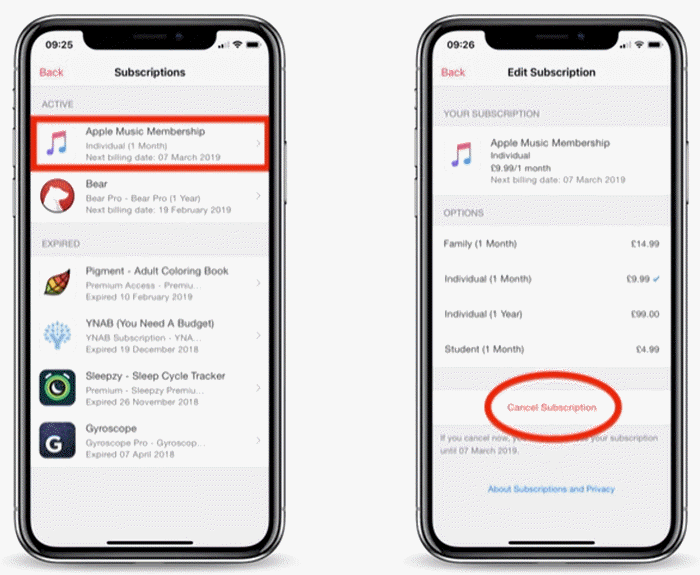 For Android users who subscribe to Apple Music inside Google Play, you need to go to play.google.com to cancel the subscription.
After trying the above methods and it is still failing, directly contact Apple Support to help you cancel the membership subscription directly.
What Happens If I Unsubscribe Apple Music Membership?
If you keep subscribing to Apple Music membership without unsubscribing it, you will always get the full access to all the features Apple Music has provided to the members. For example, keeping the downloaded Apple Music songs as long as you are in the membership, play the songs with higher quality, and so on. Meanwhile, as you continue subscribing to the membership every month, you are facing a monthly outcome paying for the subscription fee.
However, once you cancel Apple Music membership subscription, and finally when it expires, you will lose the right to enjoy all the features provided for Apple Music membership subscribers. You can only enjoy the functions provided for free users instead. Also, for the songs downloaded during the membership period will all be removed. You can't listen to them offline anymore even you have downloaded them before.
How to Keep Downloaded Apple Music After Canceling Subscription?
It is easy to know that if you want to keep the downloaded Apple Music songs for offline playback forever, you need to keep paying for subscribing to Apple Music membership. So, people begin to wonder if there has a way that can help them keep the downloaded Apple Music even after canceling Apple Music membership subscription?
Stop staying confused now. MuConvert Apple Music Converter is such a tool that can help people download Apple Music offline at once, and then the files just can be kept forever! It mainly helps people to remove the DRM protection from the songs, and then convert the music to common digital formats such as MP3, M4A, WAV and FLAC. In this way, people can save the music offline to any devices as they like so that they can play back the songs at anytime and anywhere as they want.
Key Features:
Supports to download Apple Music with the embedded Apple Music Web Player
Offers 10X faster conversion speed to complete the music download quickly
Converts the protected songs to common formats for being played on more devices flexibly
Saves the ID3 tag for helping to manage the downloaded music offline conveniently
Supports to batch download songs without converting them manually one by one
Works fluently on both Windows and Mac systems
Steps to Keep Apple Music Offline Forever Without Apple Music Membership
Step 1. Open MuConvert Apple Music Converter and Sign in
Firstly, you need to install and open MuConvert Apple Music Converter on your Windows or Mac computer. After launching, you can click "Open the Apple web player" and then sign in your Apple ID to enter the main interface of Apple Music.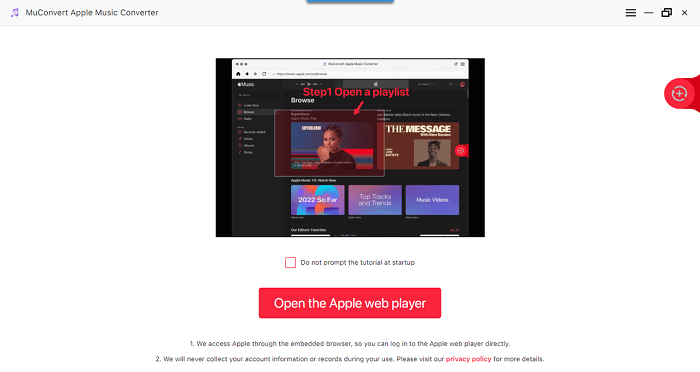 The latest version of MuConvert Apple Music Converter has been updated to the built-in Apple Music web player to deliver a more convenient music download service. You don't need to have iTunes installed on your computer when downloading Apple Music anymore. If you are still using the old one, you can either keep using it or update the tool to the new version.
Step 2. Select Apple Music Songs to Download
After entering the main interface of MuConvert Apple Music Converter, you can find that it supports you with a quiet user-friendly feed that you can find the music you want to download easily for keeping offline forever.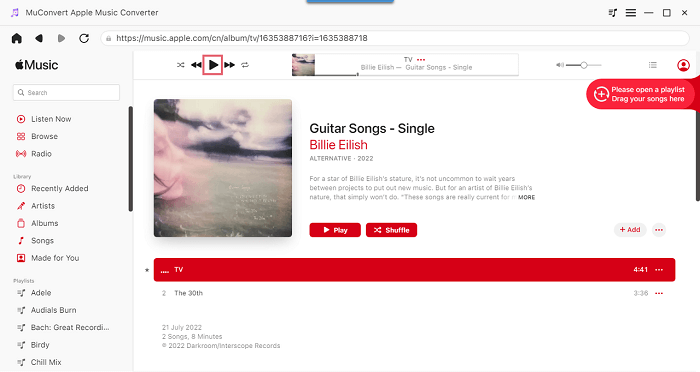 Step 3. Choose Output Format to Download Apple Music Songs
After selecting the songs, go to "Menu" > "Preferences" > "Advanced" to choose the output format you like to download the songs. Also, other settings such as sample rate and bitrate can also be changed if you need.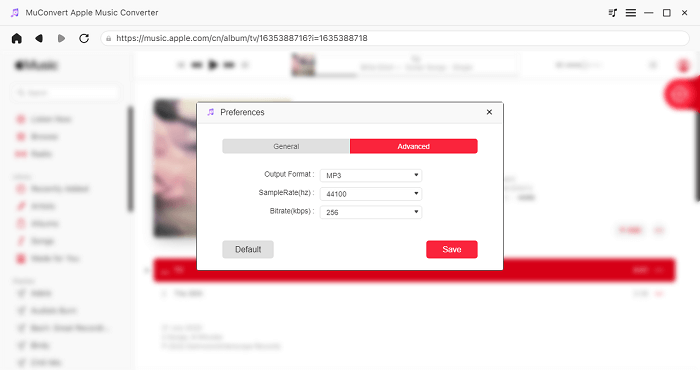 Step 4. Download Apple Music Songs Offline
When all the settings are done, now start downloading the selected Apple Music songs offline by pressing the "Convert" button. When the songs are downloaded, they are in DRM-free common audio formats, which is no longer protected by Apple Music, and you can keep them offline forever even after canceling the Apple Music membership.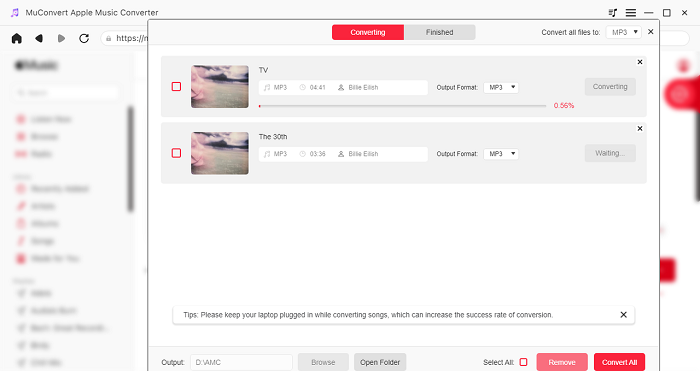 Canceling Apple Music membership will remove all your downloaded songs kept in the library, but you can switch to another method, which is to use MuConvert Apple Music Converter to download them for saving offline forever without the need to subscribe to Apple Music membership. The software provides free version so you can try its function for free now. In this way, Apple Music membership is not a must for you to download the songs for playback offline.