How to Cancel Apple Music Membership? Will It Stay Playable After Cancelation?
When streaming music services thrive today, people begin to pursue better experience while listening to music online. Apple Music, as one of the most popular music providers, permits users to access its online music library for streaming the songs with advanced sound quality. For people who wish to access higher freedom such as downloading Apple Music for offline streaming, Apple Music membership is available. By subscribing to it, people are welcomed to download any Apple Music content in the offline library for playback without Internet connection.
However, the downloaded songs are not permanently available. When your Apple Music membership subscription expires and the account turns into a free account, these downloaded songs will be deleted completely, unless extending the subscription period. Therefore, people wonder whether there has a solution to keep Apple Music downloaded offline even after canceling the subscription? Today's post will discuss the topic surrounding this and provides corresponding tutorials to you. Please read to discover the answer now.
How do I Cancel My Apple Music Membership?
Apple Music membership is a monthly subscription, which ought to be renewed each month when the billing date comes. This allows users to flexibly control the subscription status as they wish, which means that they could flexibly cancel the subscription or billing for subscribing the membership whenever they need. If you have subscribed to Apple Music membership and now wishing to cancel it, you can follow the following guidance based on the device you are utilizing.
Cancel Apple Music Membership on iPhone/iPad
Open Settings app and tap your account profile.
Enter Subscriptions and find Apple Music from the list.
Confirm Cancel Subscription.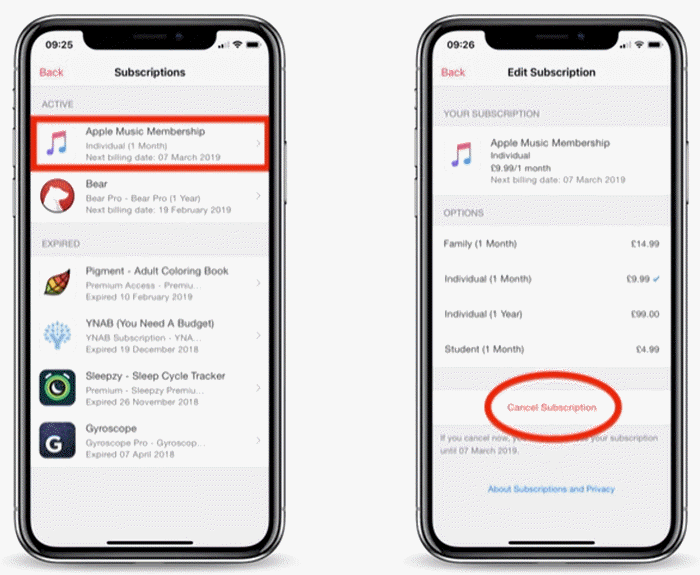 When you fail to find the option in Subscriptions, please turn to iTunes & App Store instead and click on your Apple ID >> View Apple ID >> Subscriptions >> Apple Music to confirm Cancel Subscription.
Cancel Apple Music Membership on Android
Launch Apple Music app.
Click on the three-dots icon >> Account >> Subscriptions.
Select Manage Membership and confirm to cancel the subscription.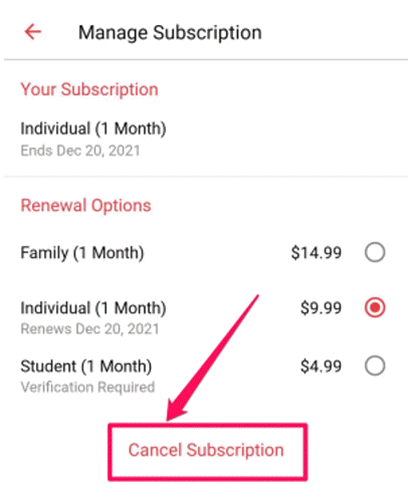 Cancel Apple Music Membership on Windows
Install iTunes and launch the program.
Turn to Account >> View My Account.
Scroll down to find Settings.
Go to Subscriptions >> Manage. When you find Apple Music from the list, click on the Edit button next to it and directly tap Cancel Subscription to stop subscribing to Apple Music membership.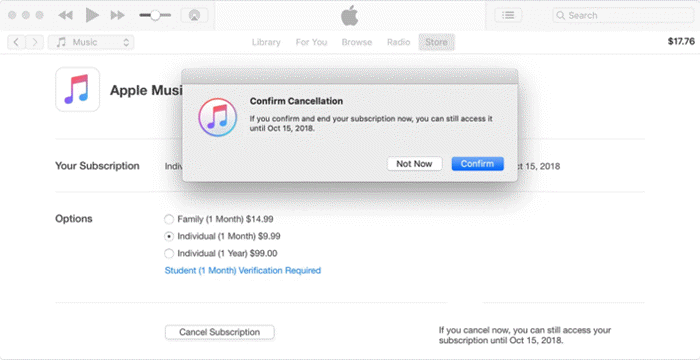 Cancel Apple Music Membership on Mac
Open App Store app and tap your profile icon in the bottom left corner.
Go to View Information >> Manage >> Subscriptions, then tap Manage.
Find Apple Music from the list, when you click on the Edit button, there will be the Cancel Subscription provided for you to cancel Apple Music membership.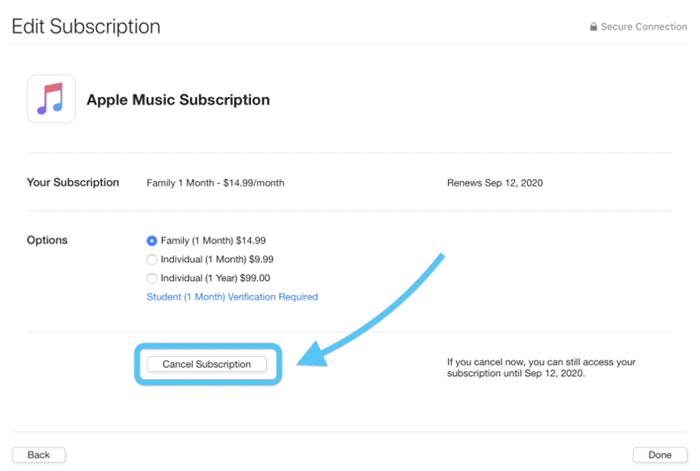 What will Happen If I Cancel Apple Music Membership?
The most obvious change after cancelling Apple Music membership should be your offline music library. Apple Music will directly remove all your downloaded songs and albums unless you keep paying for the membership.
Such restriction placed with an encryption method utilized by Apple, which is called Digital Rights Management (DRM). Unless you are under the certain conditions, such as you are an Apple Music membership subscriber, playing Apple Music within the app, and more, you can successfully enjoy the high-quality music playback freely. When these conditions are broken like you have cancelled the membership, these features provided for Apple Music members are unavailable to you.
How to Keep Apple Music Playable After Canceling Membership?
As Apple Music won't permit people to continuously access the downloaded music content after the cancellation of the membership, how to make it possible to bypass such restriction? Actually, only one program is required to resolve this issue, which is MuConvert Apple Music Converter.
MuConvert Apple Music Converter is an excellent Apple Music conversion program, providing the most outstanding services to remove DRM encryption and download Apple Music offline in popular encoders. When you get the converted Apple Music stored in general audio formats, they can be saved and transferred for streaming wherever you wish. Please notice that this is a one-time conversion, and it doesn't need the Apple Music membership to process. In other words, after downloading Apple Music to offline audio files, they can be kept forever!
The great reputation of MuConvert Apple Music Converter contributes from its sparkling features. While processing the Apple Music download, you can enjoy the following awesome benefits served by the program:
Powerful compatibility with protected content: the DRM encryption can be easily unlocked from the protected Apple Music within easy manipulation.
Popular encoders support to export downloaded music: the audio encoders of great popularity and high compatibility such as MP3, M4A, and more are supported to export the downloaded songs locally.
Original sound quality to save downloaded songs: the program will ensure 1:1 original quality to export the music for ensuring an equal playback experience offline.
Retain ID3 tags for convenient use: the full ID3 information will be fully kept accompanied with the converted songs for convenient music management after the conversion.
10X faster speed to download music at once: the conversion speed is accelerated to 10X faster for facilitating high productivity to batch convert songs at once.
In the latest version of MuConvert Apple Music Converter, you can listen to Apple Music and download them directly in the built-in Apple web player without installing iTunes anymore. Therefore, if you want to try this feature, you can re-download the new version without uninstalling the old one.
You can follow this manipulation guide to proceed to download Apple Music for keeping permanently offline even after Apple Music membership cancellation.
Step 1. Enter Apple Web Player to Select Apple Music
Open MuConvert Apple Music Converter and then sign in your Apple ID to enter the Apple Web Player. After successfully entering, please select the music playlist and tick the Apple Music you wish to download for keeping offline forever on the right workplace.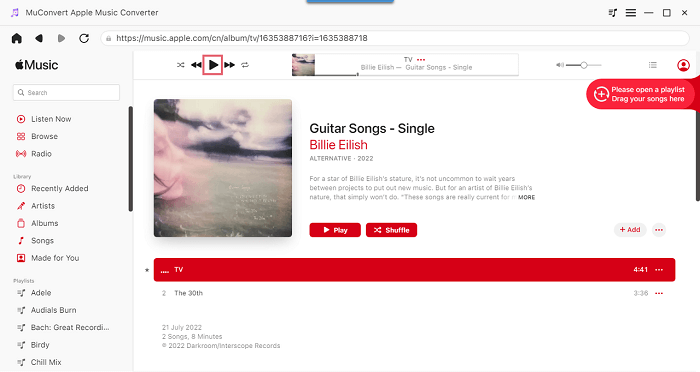 Step 2. Adjust Output Parameters to Export Apple Music
Please go to Preferences > Advanced to determine the parameters for exporting the Apple Music songs. You can adjust the Output Format, and other advanced parameters such as Bitrate and Sample Rate for exporting the songs in preferences.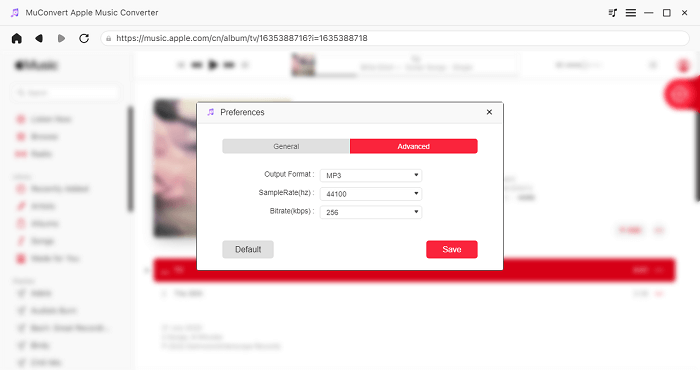 Step 3. Download Apple Music for Keeping Offline Without Apple Music Membership
Subsequently, tapping the Convert button and the Apple Music songs will be converted to the selected encoder without DRM encryption anymore. As the songs are downloaded, they are not limited by Apple Music's streaming regulations, and are completely free to play.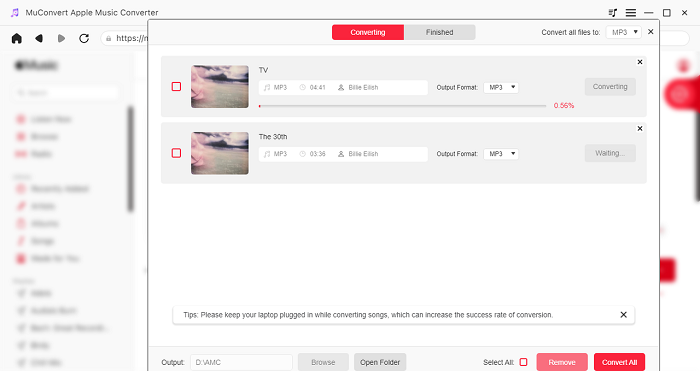 That's all for it! With MuConvert Apple Music Converter, you get the one-for-all method to download Apple Music offline for keeping permanently even after the Apple Music membership cancellation. This would be a more economical solution to keep Apple Music offline for streaming with the original quality. With it, you will definitely have a more enjoyable music streaming journey. Enjoy!