How Much Is Apple Music Family Plan? How Can I Get It?
Like other streaming music providers, Apple Music launches subscription plans availing audiences to access countless music resources with the advanced streaming experience. For instance, subscribers can enjoy the download function to keep Apple Music albums offline for streaming even in cases when no Internet can't be accessed.
Else for the individual subscription option, Apple Music also provides the Apple Music Family Plan for up to 6 accounts sharing at the same time. It is a perfect option if you get more than 1 or 2 Apple IDs, or wish to share with friends or family members. Therefore, today's topic will center on Apple Music Family Plan, including its activation process and some tips on utilizing it. Please scroll down and dive in reading.
Apple Music Family Plan: How Does It Work?
In the beginning, let's walk through the general introduction of Apple Music Family Plan, including the benefits you can get from it, whether your region supports Apple Music Family Plan, and its cost.
What You Can Get from Apple Music Family Plan?
Unlike the individual subscription plan, Apple Music Family Plan allows adding up to 6 users with their own Apple IDs. When your account is added to an Apple Music Family Plan, you can also access the music database with over 90 million songs and download them offline for streaming without the Internet.
Of course, the members of the same Apple Music Family Plan can decide the contents to share with other accounts casually. To sum up, even if you are in an Apple Music Family Plan, you still have your own privacy, determining whether to share your account information, such as the saved Apple Music albums or not.
Does Your Country Support Apple Music Family Plan?
Apple Music Family Plan is available across the globe, including the regions of the United States and Canada, Latin America and the Caribbean, Europe, Russia, Central Asia, Africa, Asia-Pacific, and the Middle East. For the detailed regions, you can check the full list provided by Apple here.
How Much Is Apple Music Subscription?
The individual Apple Music subscription would cost $9.99/month. While for the Apple Music Family Plan, it sells only for $14.95. On average, if your Apple Music Family Plan contains 6 members, each of you only has to pay $2.49/month, which is 1/3 times the individual subscription in total! Over one year, you are able to save up to $90!
How to Get an Apple Music Family Plan Free Trial?
Surprisingly, Apple Music Family Plan delivers the free trial for eligible devices to experience Apple Music advanced features without any charge. Currently, the eligible devices to get the free trial of Apple Music Family Plan include:
AirPods Pro, AirPods (2nd and 3rd generations), AirPods Max, Beats (Bests Studio Buds, Powerbeats, Powerbeats Pro, Beats Solo Pro, and Beats Fit Pro), HomePod (HomePod and HomePod Mini)
If you get any of these devices and need to redeem the free trial offer, please follow the procedures below:
Please pre-check whether your iPhone or iPad is running the latest iOS or iPadOS version.
Pair the audio device with your iPhone or iPad.
Subsequently, please launch Apple Music app and log in with your Apple ID.
Normally, the offer will appear since you launch the app. If not, you ought to turn to Listen Now tab and the offer will appear. Please click on it.
Proceed the redeem following the instructions. Then you can successfully join the Apple Music Family Plan without charge at all.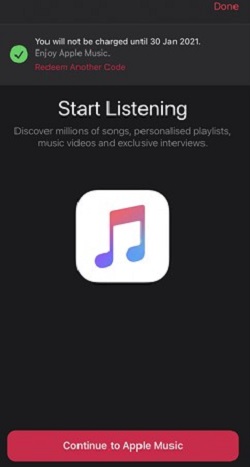 How to Sign Up and Add Family Member to Apple Music?
Determine to purchase the Apple Music Family Plan after being attracted by its impressive benefits? Now, just pick up your device and walk through the manipulation guide below to sign up and activate the Apple Music Family Plan. Subsequently, you can add your family members to enjoy the great quality Apple Music together!
Sign up for Apple Music Family Plan
Launch Music app on your iPhone. You ought to tap Listen Now at the bottom of the screen and click on your profile.
Click on Join Apple Music >> Family Plan >> Join Apple Music.
Complete the billing by confirming the Subscribe option.
Once complete, you have signed up for the Apple Music Family Plan now. Subsequently, it's your turn to add the family members you wish you included in this family plan and share the music streaming with them.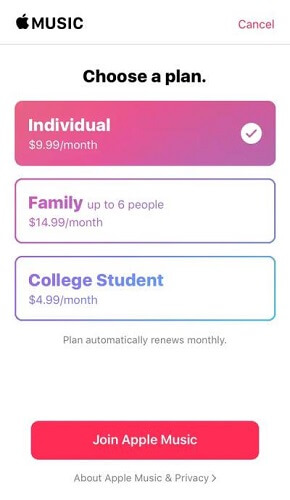 Add Member to Apple Music Family Plan
Open Settings and tap your name on top.
Please select Family Sharing >> Set up Your Family >> Invite People.
Now choose the invite method. You can select to send the invitation through SMS to your contacts.
Tap Done to complete the invitation. Then he/she will be added to Apple Music Family Plan.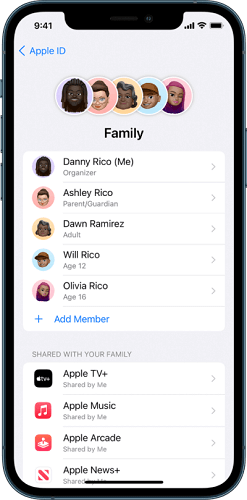 How to Switch Apple Music to Family Plan?
If you get started with the individual plan and now wish to switch to Apple Music Family Plan and continue enjoying the music streaming service, don't worry about losing your offline music library or saved data at all, as Apple Music will retain them fully while switching accounts.
Haven't created your own family plan? You will need to set up the Family Sharing (in Settings >> iCloud >> Set Up Family Sharing) to start the process. The following procedures will guide you on the correct way to switch to Apple Music Family Plan after setting up the Family Sharing group.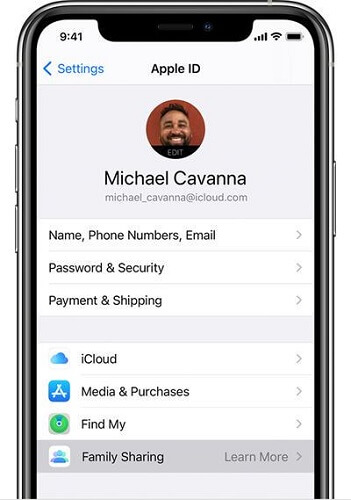 Open Music app.
Tap Listen Now >> Profile icon >> Manage Subscription.
Select Apple Music, subsequently, you will see the Family Plan option. Tap it to complete the account switching.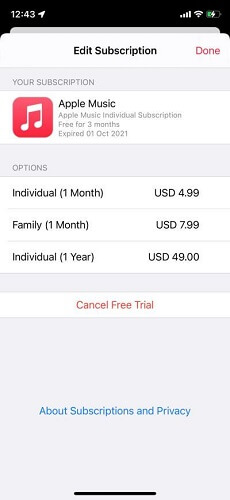 How to Share Apple Music Without Family Sharing?
You may wonder now whether Apple Music Family Plan is the unique option to share Apple Music with others. As the streaming music platforms are not designed in the way like a social media platform, which is mainly utilized for sharing and communicating, it would be tough to flexibly share the songs with your mates, and even across device systems (Apple Music is compatible with limited device models).
To share Apple Music without the Family Sharing feature, the best solution is to download the songs offline in the normal media file format like MP3. You would need assistance from third-party programs such as MuConvert Apple Music Converter, as Apple Music won't permit you to directly process the music download. But with MuConvert Apple Music Converter, you can bypass the DRM protection and access the Apple Music library for downloading all songs you need – even without subscribing to an individual or family plan!
But why we choose MuConvert Apple Music Converter? These features give you the answers:
Directly download from Apple Music Web Player – the program will connect with Apple Music Web Player, so users can directly sign in the platform to download original music without iTunes.
Popular encoders to export music –by exporting the Apple Music albums to popular encoders, people can share the songs across systems and platforms to stream with friends without barriers.
Great sound quality and ID3 information retained –while proceeding the music download, the program can retain the original Apple quality and also the ID3 information for each song to ensure the same streaming experience and music organization offline.
Effortless and speedy performance – to download Apple Music albums, people only need to drag the resources and give one tap on the convert button. Then the conversion will be completed at 10X faster speed in batch.
Impressive, right? MuConvert Apple Music Converter can bypass the obstacle and enables everyone to share the songs from the streaming platform offline, even without the Family Sharing feature toggled on. The following manipulation guide will walk you through in detail. Please read.
Step 1. Log in Apple Music Web Player
First, please install MuConvert Apple Music Converter and open it on your computer. After tapping Open the Apple web player on the main feed, you will turn to the Apple Music Web Player. Please log in utilizing your Apple ID.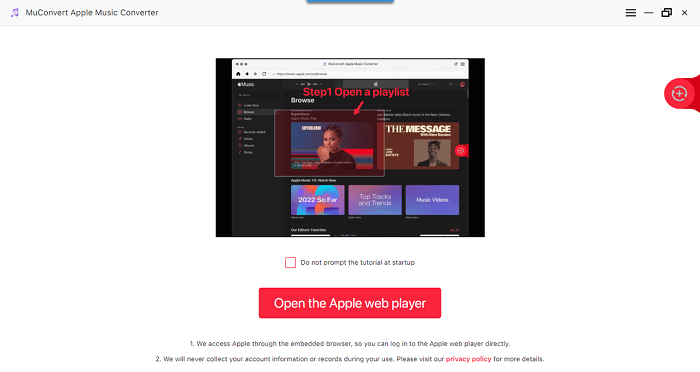 After the login, you can access all music resources in Apple's online database and drag them to the Add button for adding to analyze. MuConvert Apple Music Converter can read them quickly and proceed the conversion for you.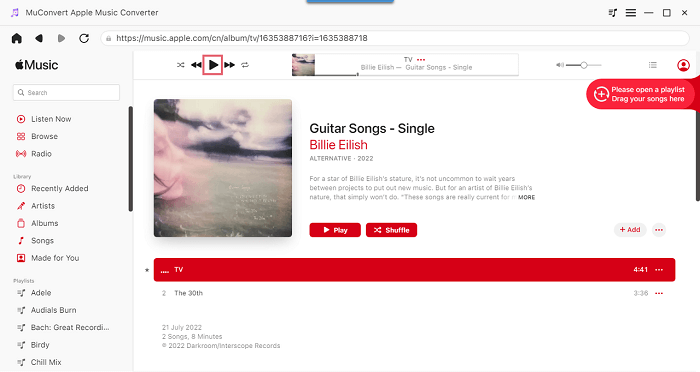 Step 3. Configure Audio Parameters
Please turn to Menu >> Preferences. Under the Advanced module, you can configure the parameters such as Format, SampleRate, and Bitrate to export the songs offline. Please remember to tap Save once the changes are made.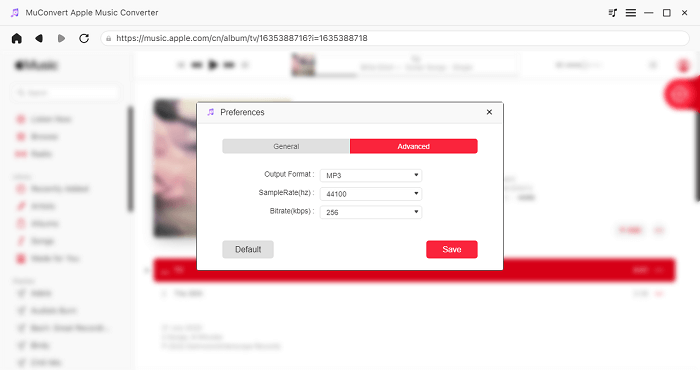 Step 4. Proceed Downloading Apple Music Songs
When the parameters are determined, please click on the Convert All button to proceed the Apple Music download in no time. After the batch conversion process, you can access the downloaded items under Finished module by clicking on the View Output File button.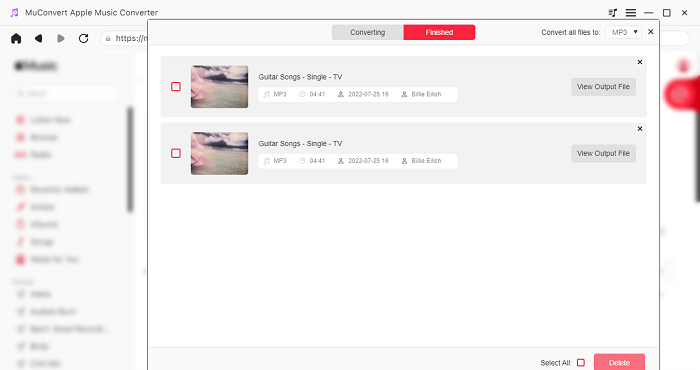 Now, when Apple Music songs are stored in the media encoders, you are free to share them with your pals to enjoy together. No Family Sharing or Apple Music subscription is required anymore!
FAQs on Apple Music Family Plan
Finally, before ending the post, please check these FAQs before determining whether to join an Apple Music Family Plan.
How to Leave Apple Music Family Plan?
Apple allows people to easily manage their account status as they wish. Therefore, after joining an Apple Music Family Plan, you can still leave it whenever you want. Here's how to proceed it.
On Mobile Devices
Open Settings.
Tap your profile >> Family Sharing.
Select yourself from the member list, then confirm Stop Using Family.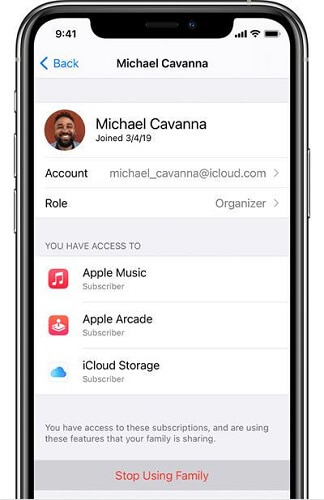 On Mac
Click on the Apple icon >> System Preferences.
Next to your profile, please tap Family Sharing.
Confirm to Stop Using Family Sharing.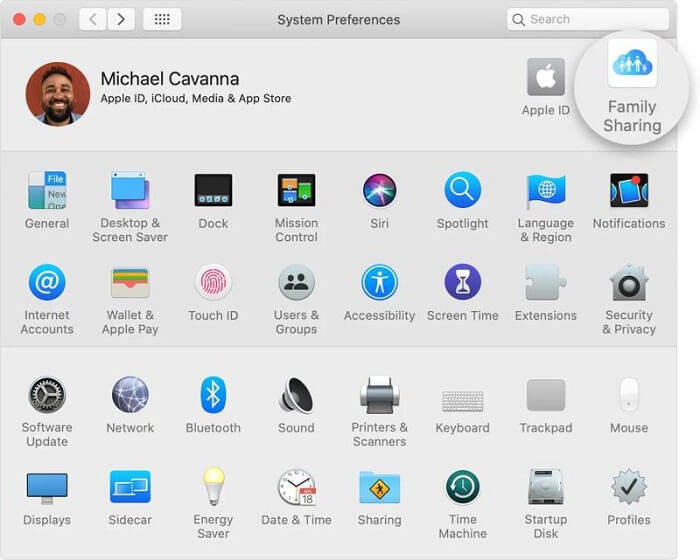 Will I Lose My Music If I Join Family Sharing?
Absolutely not. Your created playlists will be bundled with your Apple ID. You can select whether to share them with other members who have joined Family Sharing, but will not lose them.
Apple Music Family Plan allows people to share their music playlists and enjoy the advanced music streaming features provided by Apple Music in a more affordable way. Here are the full tips about it. You can get started with your friends or family members together from today!