5 Solutions to Fix Apple Music Family Sharing Not Working
Family Sharing is an excellent feature that unites your family of up to 5 members together and shares access to a variety of Apple services including Apple Music, Apple Books, Apple New, and so on. However, you may come across a few Apple Family Sharing problems. For example, Apple Music doesn't work with Family Sharing.
To help you get rid of such a nuisance, you might as well try out the following 5 workarounds to solve the Family Sharing Apple Music not working issue and learn how to share Apple Music without Family Sharing in this post.
Solution 1. Check the Apple ID on Your Device
This might have been a mistake when the organizer was adding the Apple IDs of family members to the Family Sharing feature. What's more, you could be using another Apple ID that is not invited to Family Sharing. That's why you fail to share Apple Music with Family Sharing. To avoid scenarios like these, the easy fix is to check out whether your Apple ID is correct. Here's how.
STEP 1. Open the Settings app on your iPhone/iPad.
STEP 2. Tap [Your Name] on the top to see more information.
STEP 3. Check out whether the Apple ID is correct as the one in Family Sharing.
Optional Step. You can scroll down to the bottom and then Sign Out. Later, sign back into your Apple ID to see whether the glitch is now resolved.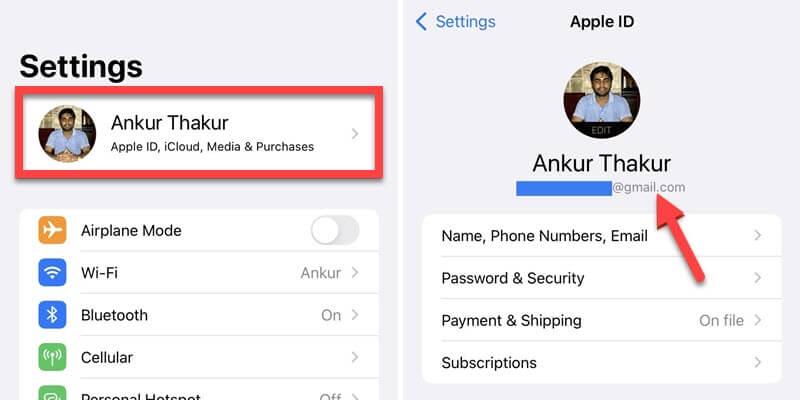 Solution 2. Check Apple Music in Share Feature
Another possible cause is that Apple Music is turned off for some reason in Family Sharing, and you therefore cannot share your favorite tunes with your beloved families. In this case, you simply need to check out whether it is off at present by following the steps on your device and on the device with which you want to share Apple Music.
STEP 1. Go to Settings on your iOS device.
STEP 2. Tap [Your Name] to see your Apple ID account.
STEP 3. Scroll down to the Family Sharing feature.
STEP 4. See whether the Apple Music option is off in SHARED FEATURES. If so, toggle it on.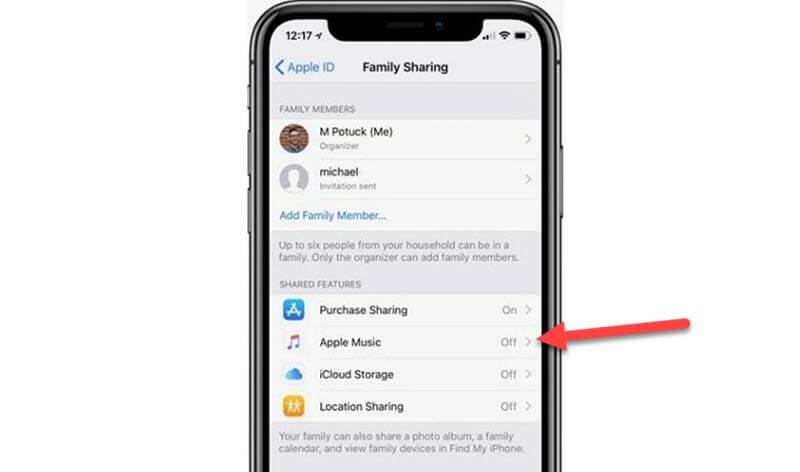 Solution 3. Check Your Family Sharing Settings
Also, you should ensure that the Apple ID for both Family Sharing and Media & Purchases is the same so that this feature can work normally. If Apple Music cannot work in Family Sharing, you and your family members should check the settings as follows.
STEP 1. Launch the Settings app on your device and tap on [Your Name].
STEP 2. Select Family Sharing, and tap on [Your Name]. You should note down the Apple ID if needed.
STEP 3. Go back to your Apple ID, and navigate to Media & Purchase. Then, select View Account to check whether the Apple ID is the same in your Family Sharing. If not, log in to the same account.
STEP 4. Now, navigate back to Settings – [Your Name] – and choose Family Sharing.
STEP 5. Tap Purchase Sharing, and see whether the Share Purchases with Family option is toggled on. If not, you should enable this option, since you need to share the Apple Music Family plan with your families.

Solution 4. Leave and Join Family Group Again
As mentioned above, the Apple ID should match the one in the Family Sharing group so as to share and stream Apple Music songs among family members. If you already confirm that the Apple ID is correct and the Apple Music option is already enabled. Then, this Apple Family Sharing not working issue may be caused by some cache or synchronization problems. You may thus try to remove the Apple ID and then add it back to the Family group.
STEP 1. Open Settings > [Your Name] on your iPhone/iPad.
STEP 2. Select Family Sharing from the menu.
STEP 3. Tap [Your Name] and choose the Stop Using Family Sharing option.
STEP 4. Now, ask the organizer to add your back to the Family group.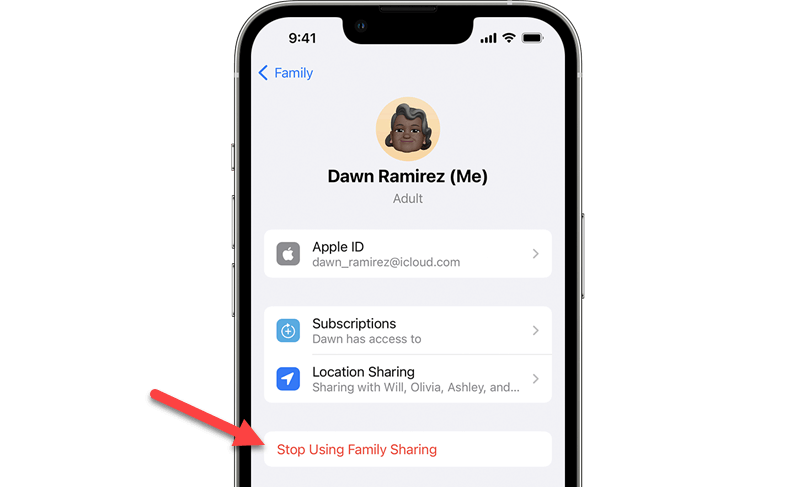 Solution 5. Turn to Apple Music Support
You should note that if one of the family members is using the free trial or an individual plan of Apple Music, it's impossible for an organizer to share Apple Music with him/her in Family Sharing. Also, this feature currently works on an iPhone/iPad running iOS 8 or later, or a Mac using OS X Yosemite or later. If your device has not been updated for a long time, you may need a software update on your device.
If Apple Music still doesn't work with Family Sharing on your device after going over all these methods, you may need to seek help from a real person on Apple Music Support and demonstrate your problem. If possible, you can also go to the local Apple Retail Stores for help.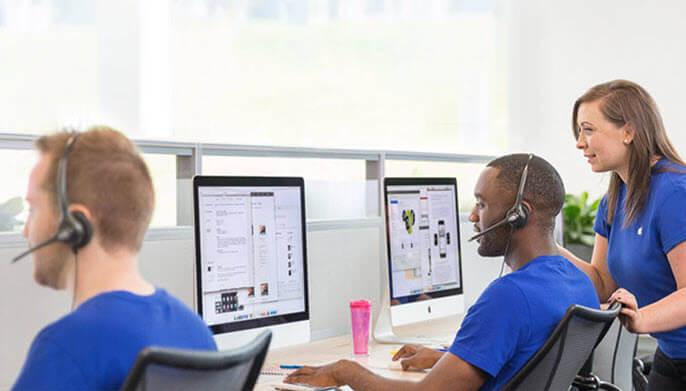 Bonus Tip: How to Share Apple Music Without Family Sharing?
If none of the solutions above helps, you can use a third-party program to download them to common MP3 files first. There is an amazing program that will enable you to download DRM-protected song tracks from Apple Music to digital audio. Then, you can freely share Apple Music with anyone or any device without Family Sharing.
That's
MuConvert Apple Music Converter
,
which is a leading online music decryption expert that can easily strip off DRM protection of songs on Apple Music and let you download DRM-free Apple Music tracks to store locally. The downloads are playable on any device and shareable to anyone without restrictions. To learn more about this brilliant software, you may want to check out the following.
Convert Apple Music to MP3 – This software can convert the whole music library in Apple Music to DRM-free MP3

, such as Playlists, Albums, and Podcasts. The downloads will be saved on your desktop for good.

Keep Lossless Sound Quality – To ensure the best listening experience, Sharing. MuConvert Apple Music Converter enables lossless audio quality of a bitrate in up to 320kbps and a sample rate in up to 48kHz.

Convert at 10X Ultra Fast Rate – MuConvert Apple Music Converter can take advantage of CPU and GPU to accelerate the whole conversion process up to 10X faster than ever.

Download Unlimited Songs – There is no limit to downloading music from Apple Music to your Windows and Mac. Moreover, you can download multiple songs at once to save your precious time.

Save ID3 Tags and Metadata – MuConvert Apple Music Converter can keep ID3 tags and metadata info such as title, artist, album, genre, album art, and so on during the whole process for easy management afterward.

Easy-to-Go User Interface – This intuitive software comes with an in-built web browser that enables you to directly download one song or the whole playlist/album/podcast with your finger.
The whole procedure is as easy as ABC and you'll get it done in 3 steps. Let's see how MuConvert Apple Music Converter works here.
STEP 1. Log in to Apple Music
First off, you need to download and install MuConvert Apple Music Converter on your computer. Then, launch it from your desktop. You'll need to log in to your Apple Music account so that the program can access the music library.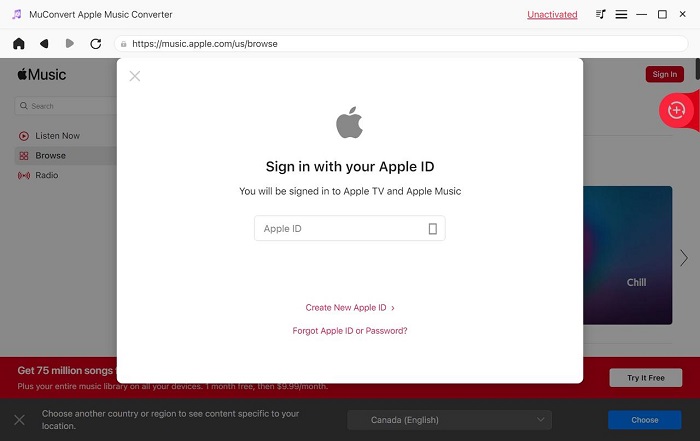 STEP 2. Search for Favorite Songs
Now, click Open the Apple Music web player to start. You're able to search for the songs you want to download, or directly download your personal playlist. If you want to keep the best sound quality, go to Preferences – Advanced and modify the parameters.
To download a single song, drag the song to the Red Plus icon.

To download multiple songs in the same playlist/album, click on the Red Plus button in the playlist/album.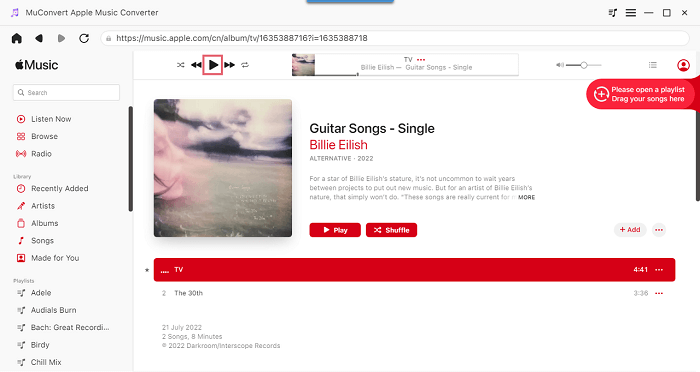 STEP 3. Download Apple Music Songs
After the program finishes fetching data from Apple Music, you'll see the feeds listed on the screen. You should select the desired songs and click Convert All to start downloading Apple Music to your Windows or Mac. Then, the downloads will be saved in the Finished tab when completed. You can click View Output File to quickly locate the music files.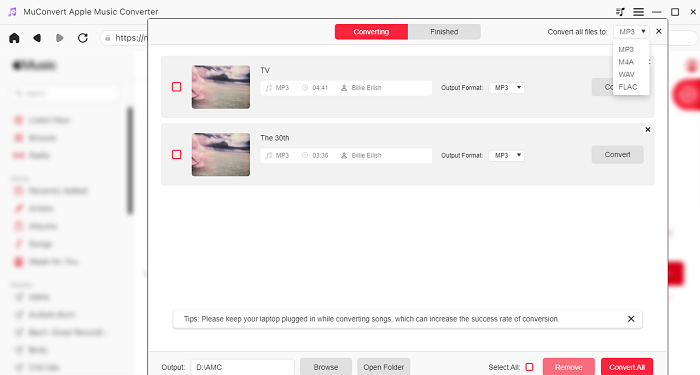 Now that the downloads are stored on your computer, you can share them with your family members via emails, Dropbox, or social applications in case your Apple Music doesn't work with Family Sharing. What's better, the downloads will be available when both your Family Sharing plan and Apple Music Family plan expire or are canceled. Don't you think
MuConvert Apple Music Converter
is a more flexible way to save and share your favorite Apple Music songs? You might as well try it out now.