How to Convert M4P to WAV Lossless - Apple Music/iTunes M4P to WAV
Unlocking DRM encryption from M4P songs and converting M4P to MP3 audio files are both easy jobs. What about WAV?
Compared with MP3, WAV encoder carries uncompressed audio content in lossless condition, enabling people to enjoy music playback with better sound quality. It is a well-known fact that the purchased iTunes M4P songs may be encrypted by DRM, so is there a way to unlock such encrypted M4P songs and export them to uncompressed WAV format? Well, this post brings 3 solutions to you. Please continue reading.
Reasons We Need to Convert M4P to WAV
Before proceeding the manipulation to convert M4P to WAV, do you clear about why we should do it?

When Apple Inc. has utilized the DRM encryption to lock the M4P songs sold from iTunes Store, even for the purchased music content, people can only enjoy the streaming within iTunes player. It limits people from downloading the songs or play on the unauthorized non-Apple devices, bringing great inconvenience to audiences.
However, in the previous post when we introduced the solution to convert M4P to MP3, some would feel unsatisfied, cause MP3 would be less appropriate to encode the high-quality music content. By comparison, WAV, also known as waveform audio file format, performs better. WAV delivers people with lossless CD quality, and its highest bitrate figure could reach 1411kbps. For people who own the HiFi speakers and consider the best suitable encoder for encoding the music for being compatible, WAV is one of the most rational options.
Convert DRM-Protected M4P Songs to WAV via Best M4P to WAV Converter
iTunes provides the hidden encoder converting function to assist people to convert the unprotected iTunes songs to WAV, MP3, FLAC, and AAC versions. Nevertheless, the protected M4P songs are not supported to convert directly. Therefore, you ought to seek a third-party tool to help.
MuConvert Apple Music Converter is specialized in removing DRM encryption from iTunes M4P music and Apple Music. Meanwhile, the program can function to export the DRM-free music to lossless files encoded with the popular formats, including WAV, MP3, M4A, FLAC. In a word, only with MuConvert Apple Music Converter, people can easily realize their target to remove DRM from M4P songs and convert M4P to WAV songs at once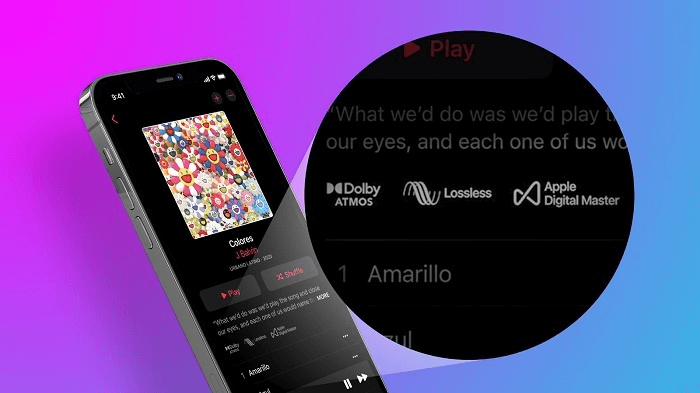 Before turning down to the manipulation of MuConvert Apple Music Converter, we also walk through a quick review towards the sparkling features of the program:
Power the 10X faster performance plus the batch conversion feature to convert a batch of songs at once.
It can retain the original sound quality at lossless condition to ensure 100% original music streaming experience.
The ID3 tags will be stored with the files attribution for checking back conveniently.
The audio parameters like Bitrate and Sample Rate can be adjusted for exporting audio files in personal settings.
Songs can be directly listened to in the built-in Apple Web Player.
In the latest update of MuConvert Apple Music Converter, the Apple Web Player has been designed inside, enabling users to access the music library and select any Apple songs to download without installing iTunes. If you have already installed the old version, you can keep using it or reinstall the new one to try its new function.
After having an overview on MuConvert Apple Music Converter, let's also see the following the steps for learning the process to manipulate the program and convert M4P to WAV. Get started now!
Step 1. Install MuConvert Apple Music Converter and Launch
First, you ought to install MuConvert Apple Music Converter and run it. After launching, you can click "Open the Apple Web Player" to sign in your Apple Account.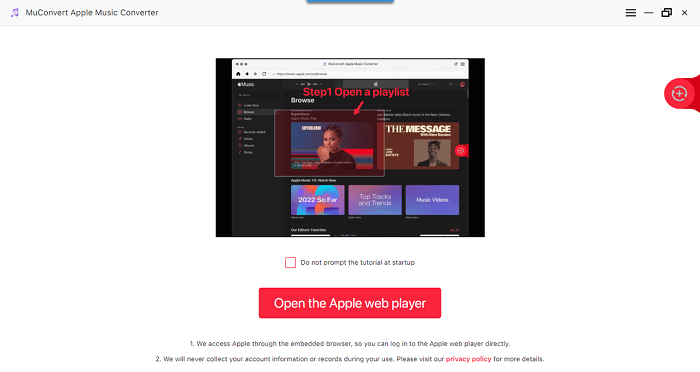 Step 2. Select M4P Songs in MuConvert Apple Music Converter
After entering the Apple Web Player, you can choose the songs you want to convert from the library or playlist. Then, directly drag and drop them to the red "+" button without making extra clicks.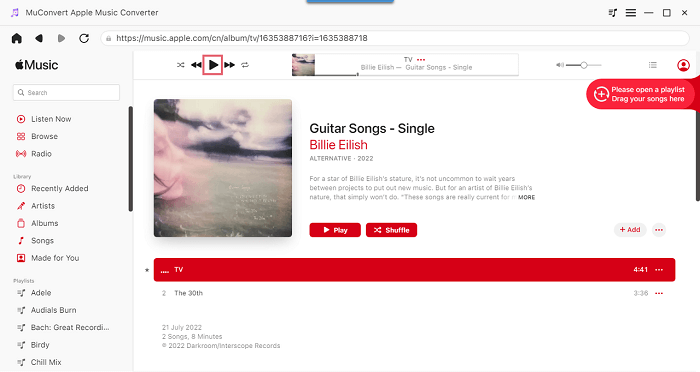 Step 3. Customize Audio Parameters Before Conversion
When the M4P songs are selected, move to "Preferences" to choose "Advanced" for customizing theOutput Format, Bitrate and SampleRate. The Output Folder can also be altered in "General".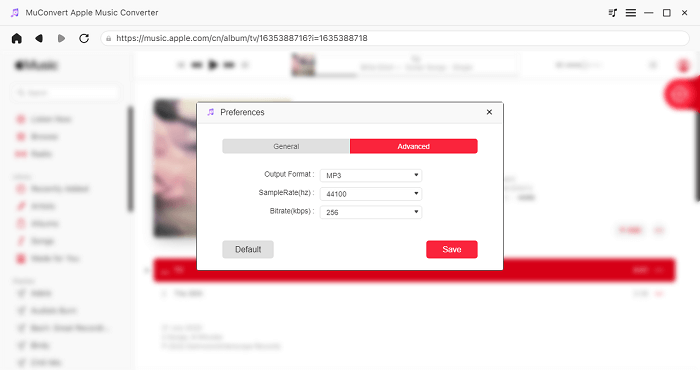 Step 4. Convert Protected M4P Songs to WAV Format
Eventually, when the parameters are customized, directly tap the Convert button to initiate converting the protected M4P songs to DRM-free WAV music files for streaming offline. The conversion history can be checked in Finished module when it is completed.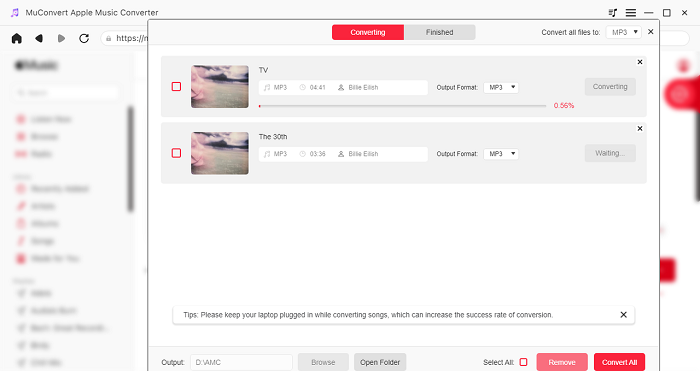 How to Convert Unprotected M4P to WAV with iTunes
As stated, iTunes also provides the free hidden function enabling people to convert the unprotected M4P music to WAV format. The only procedures you need to walk through are described in the following guide. Please check and follow to manipulate.
Run iTunes program on your computer.
Go to Edit >> Preferences >> General.
Tap theImport Settings option.
In the pop-up dialogue, select WAV Encoder as the Import Usingformat.
Return back to iTunes Library and select the M4P songs you wish to convert.
Turn to File >> Convertand select the Create WAV Version.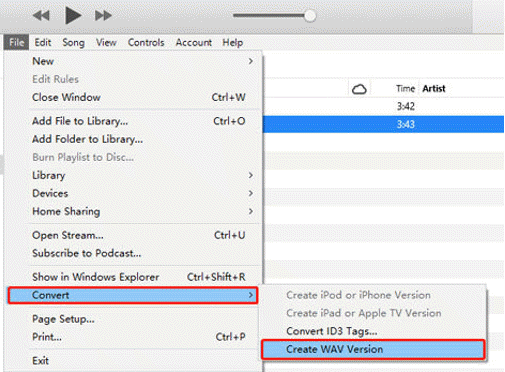 After going through all these procedures, the unprotected M4P songs will all be converted to WAV format and stored in iTunes Library for streaming in great sound quality.
What About Converting M4P Files to WAV Free Online
For the unprotected M4P files, another effortless solution to convert them to WAV encoder is to utilize the online free platform. Here we will recommend MP3Cutter as an example. With such online platform, people are not required to install third-party software for proceeding the M4P to WAV conversion, and it can even be manipulated utilizing mobile devices! In the following, you will be guided to see how the online tool functions to convert M4P to WAV directly.
Open the web browser and turn to MP3Cutter's M4P to WAV converter.
Click on the Choose Filebutton in the middle for importing the unprotected M4P files to the converter.
When the files are uploaded, select WAVas the encoder to export the converted files. You can also adjust theQuality here in your preference.
Proceed to convert M4P to WAV now. When it completes, directly tap theDownload button for getting the converted WAV files offline.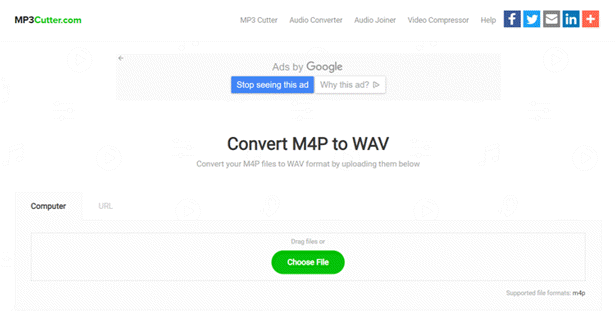 Converting M4P to WAV is not a tough job as there are both solutions work to manage the conversion of both protected and unprotected M4P files. To sum up, the mentioned solutions above contain their own advantages and downsides. See the comparison chart below to select the best method for yourself:
Methods

Pros

Cons

Batch convert protected and unprotected M4P songs.
Can directly choose the songs in the embedded Apple Web Player conveniently.
Allow customizing multiple parameters at once.
Up to 10X faster speed helps to highly speed up the conversion.

This is a pay-for-service. Under the free trial, restrictions will exist.

iTunes

No third-party program or extensions installation is required.
The function is entirely free for usage.

It only supports converting unprotected M4P songs to WAV format.
The conversion speed is much slower.

Online Tool

The tool can be accessed on all devices, including both desktops and portable devices.
Most online tools are free for use.
The conversion speed is stable and fast.

Sometimes you would be required to sign up an account for utilizing the services.
It may be unable to upload large files for proceeding the conversion for free.
It is unavailable to convert protected M4P files as well.
As you have compared the above methods and sort out the best option, start the M4P to WAV conversion for getting high-quality WAV music for streaming locally on any device now!