How to Set Apple Music Songs as Ringtone on iPhone
Question: If I have subscribed to Apple Music, can I have the access to download Apple Music songs and set them as ringtones on iPhone as I need?
Some people would come up with the above confusion. When Apple Music has launched the official membership, people can subscribe to it for enjoying better music streaming services provided by Apple Music. For instance, subscribers are allowed to download Apple Music songs offline, while free Apple Music users are prohibited. Nevertheless, no that the subscription opens a path to download the songs, whether we could use them as personalized ringtones on iPhones directly?
Unfortunately, Apple Music hasn't permitted the ringtone setting yet. That means you have to set customized ringtones replacing the default options on iPhone through other paths. In the following, we are willing to introduce the two most universally used solutions to achieve the target. Please continue reading now.
All Tools Required to Set Apple Music as Ringtone and Why We Need Them
First, as iPhones do not be allowed to set Apple Music as ringtones directly, you need some extra helpers. Here are two essential tools required for creating ringtones from Apple Music, which is MuConvert Apple Music Converter and iPhone Ringtone Maker.
MuConvert Apple Music Converter: it is used for downloading Apple Music songs as offline files for creating ringtones.
iPhone Ringtone Maker: help edit and transfer the Apple Music files to iPhone.
When you have installed them on your computers properly, it is time for you to walk through the following tutorial to download Apple Music songs and set them as ringtones on iPhones.
How to Make Apple Music Songs as Ringtone on iPhone
The root reason preventing people from using the downloaded Apple Music directly as ringtones refers to DRM (Digital Rights Management). All Apple Music songs stored in the library have been protected by this technology. Therefore, to make Apple Music as ringtone as you wish, the first and the most essential procedure is to remove the DRM encryption from the songs.
Remove DRM of Apple Music Tracks
MuConvert Apple Music Converter is regarded as a powerful DRM removal program, bringing brilliant functions for people to easily get rid of the DRM encryption and convert Apple Music songs to popular audio encoders as offline files. Through this manipulation, the DRM-free Apple Music songs can be transferred to all devices and used as ringtones on iPhones. It takes effortless procedures to proceed the DRM removal. Furthermore, MuConvert Apple Music Converter also brings the following sparking features to all of us:
Popular formats supported: It supports the audio encoders that are universally supported, including MP3, M4A, WAV and FLAC for people to convert the protected Apple Music songs to.
Unlock DRM encryption with speedy performance: The program can speed up the conversion to 10X faster for ensuring high productivity even that are a batch of songs waited to convert.
Retain 100% original quality: By retaining the output sound quality at 100% original, the converted songs will still bring the best streaming experience offline.
ID3 Tags information saved: During the conversion, the program will detect and keep all the ID3 tags of the songs for checking back locally.
Apart from the above outstanding features, recently, MuConvert Apple Music Converter has launched an update that allows you to listen to and download Apple Music in the built-in Apple Music Web Player without having iTunes installed. 
Even MuConvert Apple Music Converter is developed with advanced technologies, the manipulation of the program is extremely simple. In the following, let me explain the detailed guidance of utilizing MuConvert Apple Music Converter to download Apple Music songs explicit to you.
Step 1. Select Apple Music Songs After Signing in
First, open MuConvert Apple Music Converter on your computer and then click "Sign in" to input your Apple ID. Then, you can choose the songs you want to convert directly from the library or playlist and drag them to the red Add button.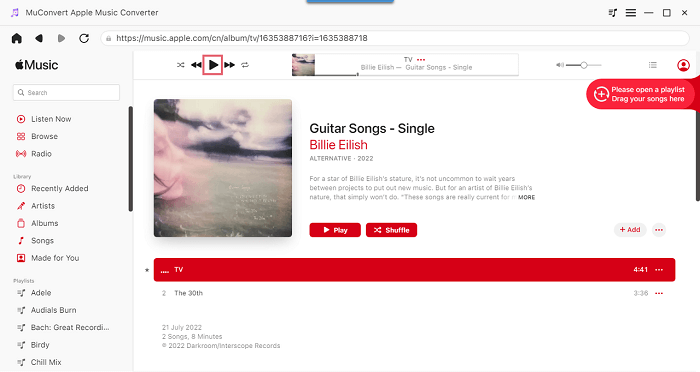 Step 2. Specify Output Settings to Download the Songs
MuConvert Apple Music Converter provides parameter customization for all users. In Menu > Preferences > Advanced, you can specify the output format, sample rate and bitrate to output the songs. What's more, you can change your output folder under General.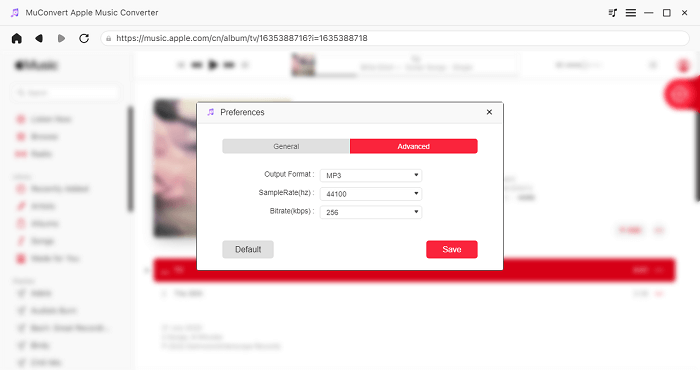 Step 3. Proceed to Download Apple Music Songs
Eventually, as the output settings are completed, simply tap the Convert button to proceed to download Apple Music songs for storing as local files.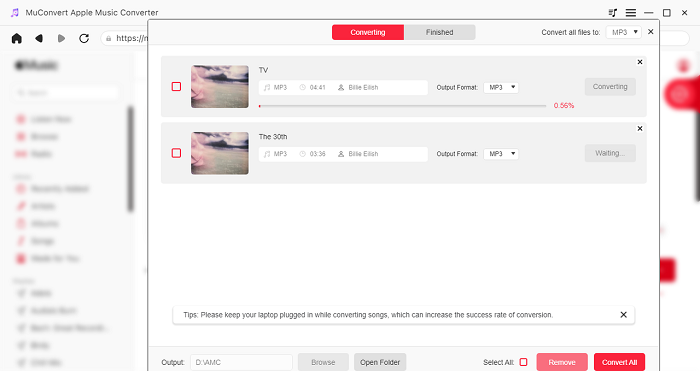 Add Unprotected Apple Music Songs to Ringtone Maker App
When the Apple Music songs are downloaded on your computer with the assistance of MuConvert Apple Music Converter, people can proceed to create ringtones for setting on iPhones. In the procedure, iPhone Ringtone Maker can be our great helper. The most essential function of this program is to transfer files between computers and iPhones. Surprisingly, it also creates a path for people to create and edit iPhone ringtones with simple manipulation. The following guidance will show you the details of utilizing the program. Please first walk through the steps to add Apple Music songs to the ringtone maker.
First, install iPhone Ringtone Maker and connect your iPhone to the computer.
Turn to Musictab and also access the downloaded Apple Music songs in MuConvert Apple Music Converter's Finished >> View Output File.
Please drag the downloaded Apple Music song to iPhone Ringtone Maker, then the music can be properly improved to the program and well prepared for the next step.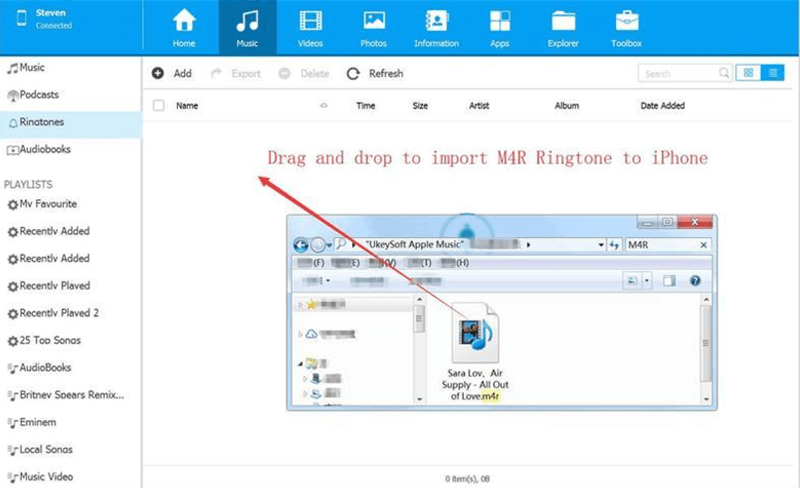 Create Ringtone from Apple Music Songs
When the Apple Music song is imported to iPhone Ringtone Maker, it's time for you to process the ringtone creating process! You can simply adjust its duration by setting the specific starting and ending time. There also provides a small option allowing people to add the fade in and fade out effect to perfect the ringtone.
When the ringtone is customized, simply tap the Save to Device button it will directly be imported to your iPhone. Subsequently, you can turn down to the procedure below to set the Apple Music clip as ringtone on the iPhone.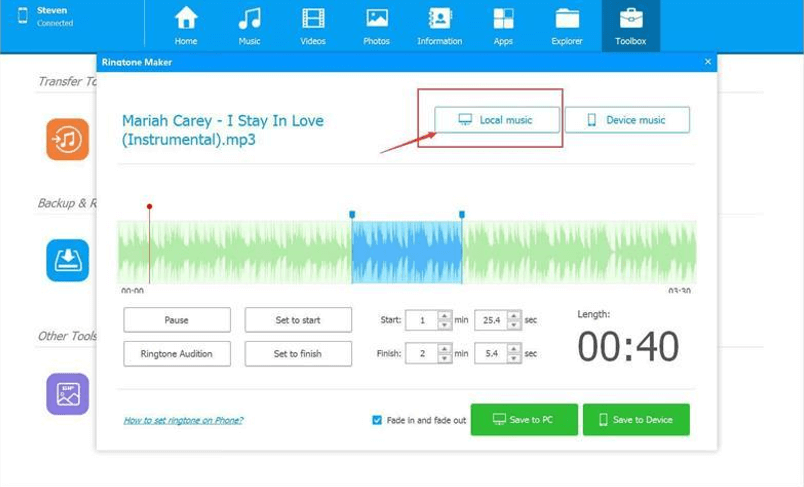 Set Apple Music as Ringtone on iPhone
Completing importing the created Apple Music ringtone to iPhone, simple wake up your iPhone Home Screen and turn to Settings >> Sounds & Haptics >> Ringtone to access the imported Apple Music ringtone. Select it for setting as your personalized ringtone in no time!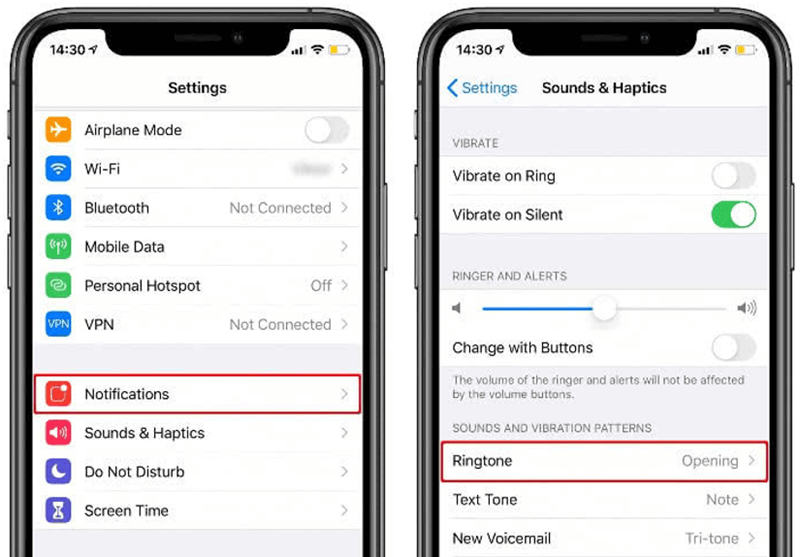 Alternative Ringtone Maker for Apple Music - FonePaw DoTrans
Other than iPhone Ringtone Maker, there are also many other outstanding ringtone makers launched for people to easily create customized ringtones for setting the unique music while the calls ring up. FonePaw DoTrans is a brilliant alternative which assists convenient ringtone creation and transfer. Samely, the following procedures will guide you the correct process to complete the manipulation after connecting your iPhone to the program.
Please open FonePaw DoTrans, then turn to theToolbox and select the toolkit Ringtone Maker.
Add the downloaded Apple Music song to the program by clicking on theAdd file from PC.
When the Apple Music song is imported, customize the starting and ending time to trim the ringtone.
Tap Generate after trimming.
Confirm to add the created ringtone to your iPhone by confirming the Add to device option.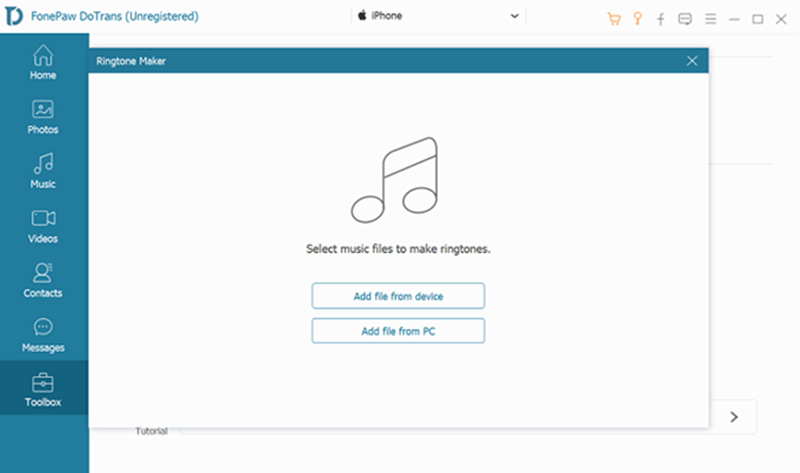 Everyone would wish to personalize the iPhone settings such as utilizing a unique ringtone for distinguishing the phone calls from others easily. Although Apple Music doesn't provide the official path to make the songs as ringtones on iPhone, even you have subscribed to the premium plans, there are still ways to work it out. Just try the above effortless methods to manipulate the Apple Music songs download and make them as your beautiful ringtones in no time. Enjoy!