How to Convert M4P to MP3 in 4 Ways [Really Works!]
As DRM (Digital Rights Management) has been a popular encryption method for many streaming media providers to encrypt the online digital streaming resources released on their platforms, you will find your purchased items like iTunes M4P songs failed to be played flexibly offline because of the following reasons:
M4P, reproduced with iTunes by Apple, is only available for the iOS device system.
Protected M4P files aren't compatible with most media players while MP3 files can.
M4P to MP3 conversion is required if you need to burn a CD.
Hence, to help you bypass such obstacles and enjoy restriction-free M4P songs playback locally, the post has prepared 4 workable ways to help convert M4P to MP3 by clicks. Please scroll down and read if you also need assistance.
M4P is an audio format developed by Apple for encoding media resources in iTunes Store, which is also known as iTunes M4P. It would apply MPEG-4 and AAC-protected encoders to preserve the M4P songs locally. Hence, M4P songs are protected, and are unable to be downloaded for offline listening outside iTunes.
How to Open iTunes M4P File
As iTunes M4P songs are all protected, to open them to stream, you ought to install iTunes and authorize your Apple ID to access the media pre-saved in your iTunes Library.
iTunes M4P VS Apple Music M4P
Please pay attention to the fact that iTunes M4P is not the same thing as Apple Music M4P. They get distinguishing differences, mainly from the following points:
iTunes M4P is not available after March 2009.
iTunes M4P is not compatible with Android phones today, but Apple Music M4P songs are still available to be streamed if you have installed the Apple Music app on your Android devices.
It won't be possible for you to get Apple Music M4P songs played on iPod Classis/Nano/Shuffle. But by synchronizing iTunes M4P songs to them, you can still get the files played.
You can direct burn iTunes M4P songs to CD, but Apple Music M4P songs are not allowed to be processed like this.
Still, iTunes and Apple Music M4P songs possess similarities – they are both protected by DRM technique, in that you are not allowed to transfer them to play locally wherever you want. That's also why so many people begin to wonder if they can remove DRM from M4P and convert protected M4P to MP3 for more convenient local streaming. Now, keep reading and seek ways to do it in no time.
How to Convert Protected M4P to DRM-free MP3 via MuConvert
To convert protected M4P to MP3, the first method you should consider is using a professional M4P to MP3 converter. Being selected as the best software, MuConvert Apple Music Converter provides an out-performing music conversion service for users to easily remove DRM encryption from Apple Music tracks, iTunes M4P-protected songs, and so on, so that you can play the converted MP3 files on any device and any media player.
MuConvert Apple Music Converter can also function to retain lossless quality to export the converted M4P songs, in that ensuring the same quality streaming experience to you locally.
Main Features of the Best M4P to MP3 Converter
MuConvert Apple Music Converter empowers the following sparkling features for its dear users:
Various Formats and Original Quality: To meet users' demand for playing back iTunes-protected M4P songs on more devices, this tool provides mainstream formats such as MP3, M4A, WAV, and FLAC to preserve the songs offline. Additionally, the conversion will be maintained with high quality without audio compression, which boosts an enjoyable offline music listening experience.
5X Faster Conversion and Batch Download: With an accelerated mode embedded inside the software, MuConvert Apple Music Converter can process the song's conversion speed at 5 times faster. Also, equipped with the batch conversion feature, it helps users to complete the conversion process with higher efficiency.
ID3 Info Preservation: By keeping the ID3 tags info converted together with the iTunes M4P songs, users are able to recognize the converted tracks offline and manage them more conveniently.
Customize Output Parameters: This software will enable users to freely customize the output parameters of iTunes M4P songs, like Bitrate and Sample Rate, assisting you to get the music converted to quality in preferences.
Intuitive and Clean UI: MuConvert Apple Music Converter offers very easy-to-grasp functionality for users to manage the music conversion on Windows and Mac through simple steps without hassle. Even if you are a green hand, you are available to master the software within a short period.
Detailed Guide to Convert Protected M4P to MP3
As the software is designed with an intuitive interface, it will be pretty simple for its dear users to convert M4P songs to MP3. In this section, a brief tutorial will guide you on how to convert protected M4P songs to MP3 via MuConvert Apple Music Converter without hassle.
STEP 1. Install MuConvert Apple Music Converter
Before converting, you need to install MuConvert Apple Music Converter first. The software offers a 30-day free trial for users to try its function before determining to subscribe and unlock its full features. Therefore, you are recommended to try it freely and evaluate whether it is the tool that you need.
STEP 2. Select Protected M4P Songs
After launching MuConvert, you need to sign in with your Apple ID. Then, you just need to select the protected M4P songs you've saved in the library for conversion in MuConvert Apple Music Converter.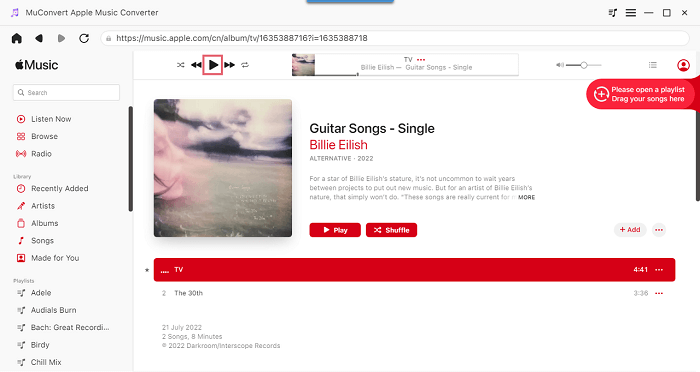 STEP 3. Select MP3 As the Output Format
When you have selected the M4P songs you wish to convert, please turn to Menu >> Preferences to further adjust the parameters before initiating the conversion. You are able to select MP3 as the output format and also adjust the Bitrate and Sample Rate for converting the protected M4P songs.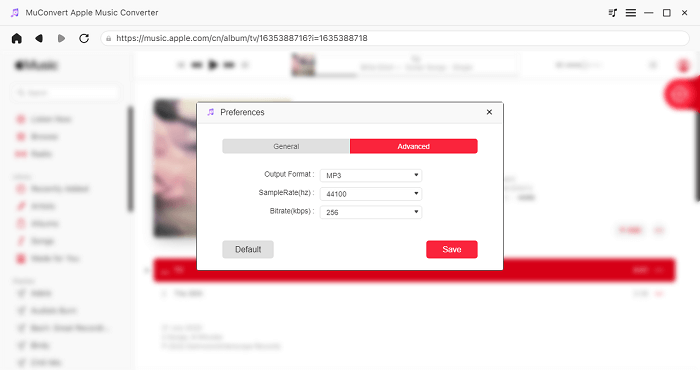 STEP 4. Convert M4P Songs to MP3
After the selection and adjustments complete, simply hit the "Convert All" icon, then all the selected M4P songs will be converted to MP3 files in batch. Wait for the conversion completed patiently and you are able to enjoy the protected-free MP3 songs offline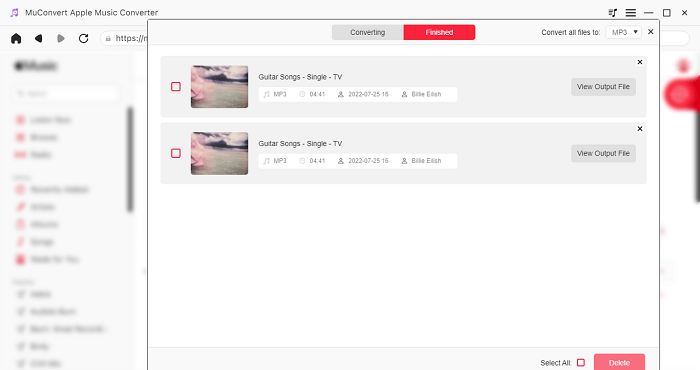 How to Convert M4P to MP3 Free with iTunes
Replacing installing a third-party program, converting M4P to MP3, iTunes is actually workable to help. Therefore, if you have installed iTunes, please follow the steps here to get protected M4P songs converted to MP3 without any charge.
Note:
This method only applies to format conversion. The DRM encryption added on the M4P songs can not be removed. To get the protected M4P songs converted to DRM-free MP3 audios, you need to use MuConvert Apple Music Converter instead.
STEP 1. Install iTunes on your Windows or Mac desktop in advance. Then, launch it and navigate to "Edit" > "Preferences" (on Mac, you should hit the iTunes icon and find "Preferences").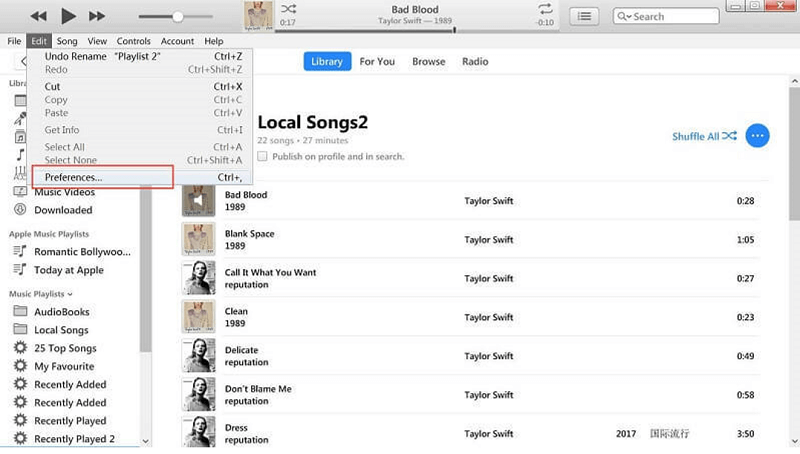 STEP 2. Turn to your Library inside iTunes. After that, select the M4P song you desire to convert to MP3 format.
STEP 3. Now, go to "File" > "Create New Version" > "Create MP3 Version" for converting the song. After that, you will find it's been converted and saved in your iTunes Library.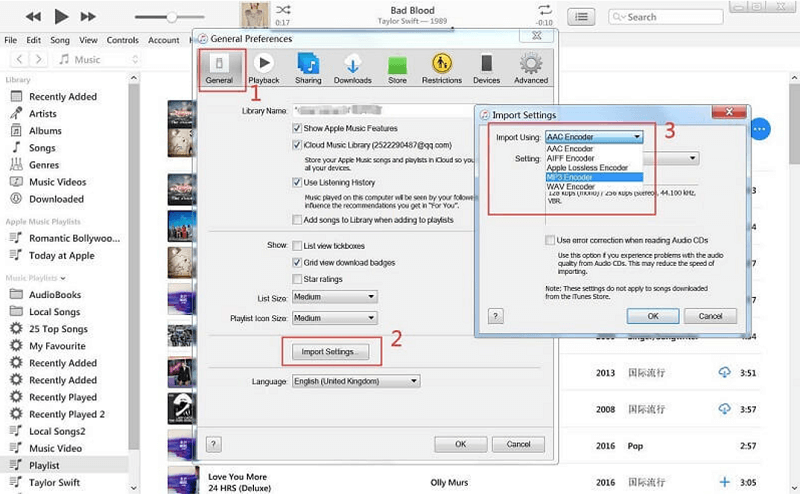 How to Convert M4P to MP3 via A Burned CD
Another way to convert M4P songs to MP3 is to burn those songs from iTunes to an Audio CD. As it is a built-in feature of iTunes, you can process the conversion without paying any charge. However, this method is somehow complicated, and there are some restrictions, including:
Only iTunes-purchased M4P songs can be burned to MP3 through CD in this way.
The converted MP3 files will be lossy.
You can only burn the same M4P songs in less than 80 minutes for up to 7 times each.
If you still wish to try converting M4P to MP3 by burning the songs to CD, then you can follow the guide to begin converting DRM-ed M4P to MP3 with a burned CD. Please follow up.
STEP 1. If your PC has an optical drive, you can put your CD into it. If not, you need to put the CD into a CD reader.
STEP 2. By clicking File >> New >> Playlist, you can create a new playlist, then you can drag and drop the M4P songs to this playlist.
STEP 3. In iTunes, go to Preference >> Import Settings to select MP3 Encoder, then you can right-click the playlist to choose Burn Playlist to Disc.
STEP 4. After the above operation, a Burn Settings window will appear, then you can configure your burner, like Speed and Disc Format. Once finished, click Burn to proceed.
STEP 5. After finishing, you can open your CD and choose the songs on the CD. Then go to File >> Convert to choose Create MP3 Version. Once done, you can eject the CD from iTunes and find the MP3 files in your iTunes library.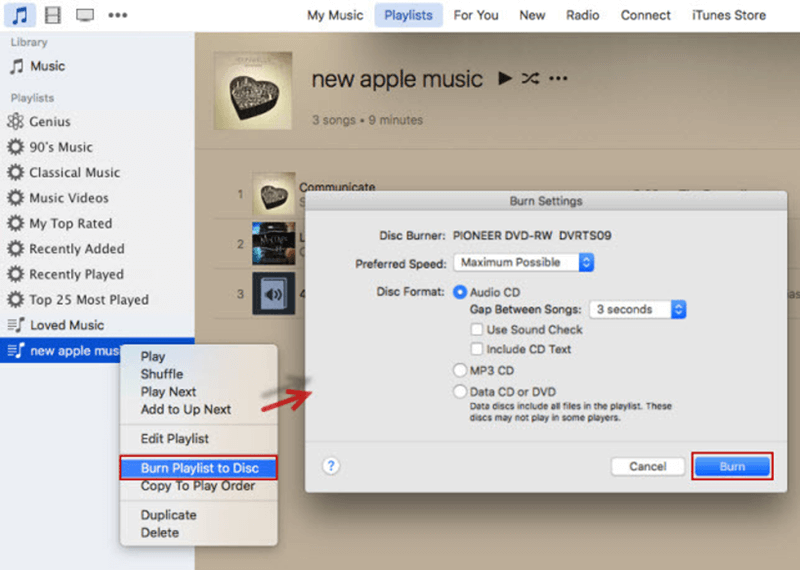 How to Convert M4P Songs to MP3 Online
Seeking a reliable online M4P to MP3 converter also helps you convert the music format effortlessly. FreeConvert M4P to MP3 converter only needs very simple manipulation to convert M4P to MP3 without any quality loss. Although its web pages contain ads that may affect your experience, its speedy and easy-using function still wins much trust. However, as FreeConvert only supports converting DRM-free M4P songs to MP3, if you get any protected music file, utilizing MuConvert Apple Music Converter better helps.
Now, please follow the manipulation guide and convert M4P to MP3 online without third-party programs installed.
STEP 1. Please turn to FreeConvert M4P to MP3 Converter in browser. Subsequently, drop the M4P files you wish to convert to MP3 to the interface of the converter's page.
STEP 2. When the M4P files are uploaded, select MP3 as the output format, then click on the "Convert" button to initiate the conversion.
STEP 3. Once the conversion completes, please tap "Download" to save the converted MP3 files offline on your device.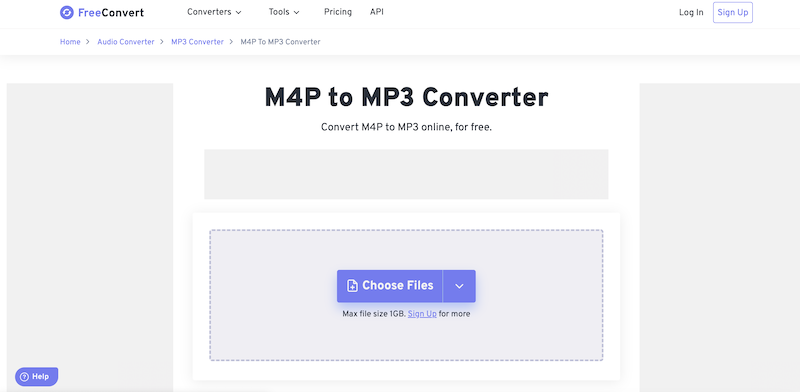 FAQs about Converting M4P to MP3
After checking all the available methods to convert M4P to MP3, let's also see these collected FAQs about converting M4P to MP3 as the extended reading. If you also have the same confusion, these answers may help you out.
a. Compared with M4P, what are the benefits of MP3?
Compared with M4P, MP3 is universally supported on all devices and media players, enabling more flexible playback. However, M4P songs are only playable on iOS devices or using iTunes as the media player. Popular media players like Windows Media Player still fail to be compatible with the playback of the M4P song.
b. Does converting M4P to MP3 lose quality?
The conversion process would cause little compression on the audio tracks because of the different compatibility of different formats. But there are still many converters that employ advanced tech for keeping the output MP3 quality as high as the original source. Like MuConvert Apple Music Converter. Actually, the quality loss during the M4P to MP3 conversion would be quite a little and very few users can hardly sense the difference.
c. What programs can you open .m4p files?
Based on the device systems you are utilizing, you have to install certain programs that are compatible with M4P reading to open .m4p files. For example, both iTunes and QuickTime are workable to detect and play M4P files on Windows, Mac. By installing them on your computers, you are able to stream .m4p files locally smoothly.
To sum up, all the introduced methods above have their advantages and downsides to convert M4P to MP3. For instance, if you wish to convert protected M4P files to DRM-free MP3, MuConvert Apple Music Converter is no doubt the best option. However, if you need a software-free way, the online FreeConvert tool will be better to select, but it won't be workable to convert protected M4P songs for you. Therefore, simply select the most appropriate method based on your own needs!