How to Convert M4P to MP3 [Online/Offline]
As there are more companies applied DRM protection for encrypting the online digital streaming resources for preventing illegal using, people find their purchased iTunes M4P songs failed to be played flexibly offline even they have paid for them. Actually, to get iTunes M4P protected songs playback offline outside iTunes library, you just need to remove the DRM encryption from them. Hence, people begin to seek ways to convert M4P to MP3 for enabling the songs able to be streamed back on more devices offline. Luckily, we made this blog here, with the reliable methods to convert protected M4P songs to MP3 audio files. Let's have a look.
Main Features of the Best M4P to MP3 Converter
The first method to convert iTunes protected songs should be using a professional M4P to MP3 converter. Being selected as the best software, MuConvert Apple Music Converter provides out-performing music conversion service for users to easily remove DRM encryption from Apple Music tracks, iTunes M4P protected songs, audiobooks, and so on.
MuConvert Apple Music Converter empowers the following highlighted features for its dear users:
Designed with a simple and intuitive UI, MuConvert Apple Music Converter offers very easy-to-grasp functionality for users to manage the Apple protected music conversion on Windows and Mac through simple steps without hassle. Even you are a green hand, you are available to master the software within a short period.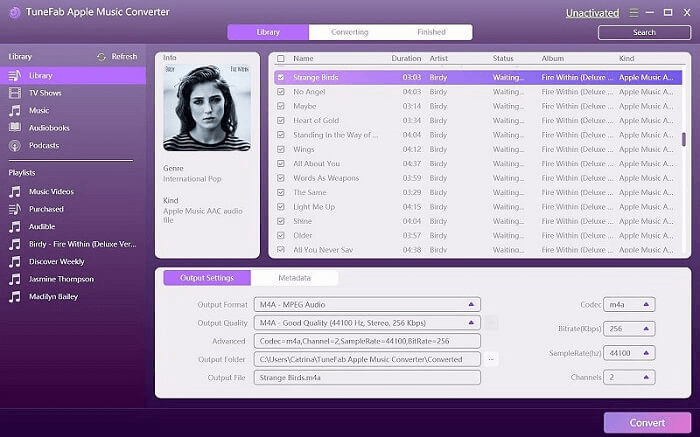 Various Formats and Original Quality
To meet users' demand in playing back Apple Music and iTunes protected M4P songs on more devices, MuConvert Apple Music Converter provides mainstream formats such as MP3, M4A, AAC, FLAC, AC3, AU, and AIFF for preserving the songs offline. Additionally, the conversion will be maintained with high quality without audio compression, which preserves the original quality and boosts enjoyable offline music listening experience.
By keeping the ID3 tags info converted together with the Apple Music and iTunes M4P songs, users are able to recognize the converted tracks offline and manage them more conveniently.
Customize Output Parameters
MuConvert Apple Music Converter will enable users to freely customize the output parameters of the Apple Music and iTunes M4P songs for enabling better outputs for more enjoyable offline music streaming. Parameters like Bitrate, Codec, Sample Rate and Channels are fully customizable before starting the songs conversion.
With an accelerated mode embedded inside the software, MuConvert Apple Music Converter is able to process the songs conversion speed to 10 times faster. Also, equipped with the batch conversion feature, it helps users to complete the Apple Music tracks conversion with faster speed and higher efficiency.
How to Convert Protected M4P to MP3 without iTunes
As the software is designed with an intuitive interface, it will be pretty simple for its dear users to convert M4P songs to MP3. In this section, a brief tutorial will guide you on how to convert protected M4P songs to MP3 via MuConvert Apple Music Converter without hassle.
STEP 1. Install MuConvert Apple Music Converter
To get started, you are required to install MuConvert Apple Music Converter based on the system you are using. The software is compatible with Windows and Mac currently. Thus, select the right version for installing the software.
NOTE: You also need to make sure you have installed the iTunes software in advanced. For the protected M4P songs, save them in iTunes Library as well.
STEP 2. Sync MuConvert Apple Music Converter via iTunes
As you launch MuConvert Apple Music Converter, the software will awake iTunes for syncing the iTunes Library automatically. Then, you just need to select the protected M4P songs you've saved in the library for conversion in MuConvert Apple Music Converter.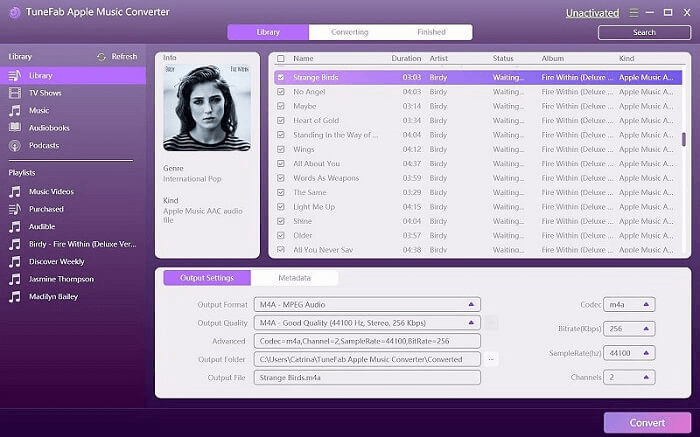 STEP 3. Select MP3 As the Output Format
Go down to the "Output Settings". You are able to select MP3 as the output format and also adjust the Bitrate, Codec, Sample Rate and Channels for converting the protected M4P songs.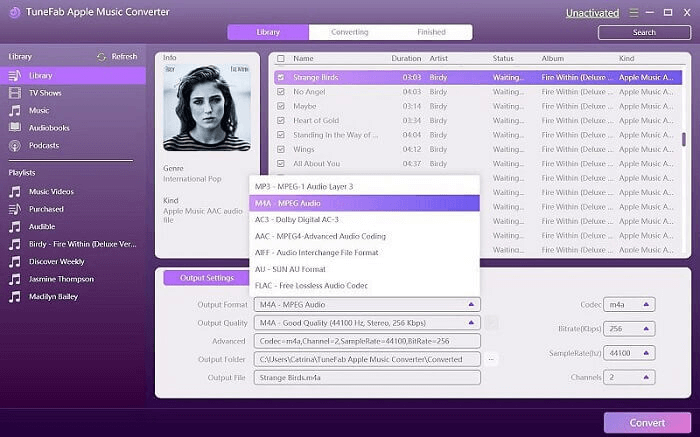 (Optional) STEP 4. Edit ID3 Metadata
Navigating to the "Metadata" section beside "Output Settings", you are able to edit the ID3 metadata info such as the artist, title, album, and genre of the M4P songs.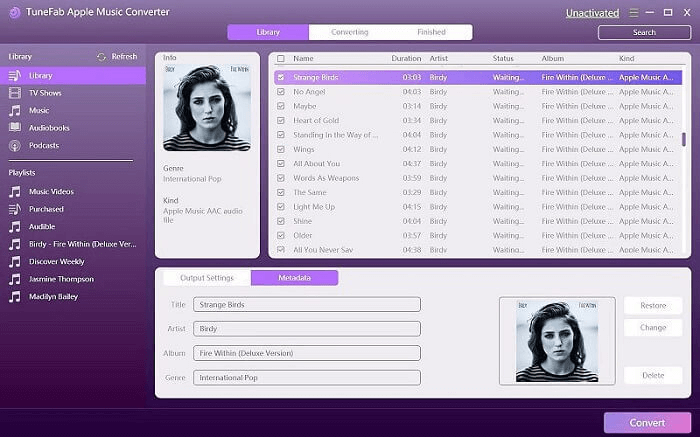 STEP 5. Convert M4P Songs to MP3
After the selection and adjustments complete, simply hit the "Convert" icon, then all the selected M4P songs will be converted to MP3 files in batch. Wait for the conversion completed patiently and you are able to enjoy the protected-free MP3 songs offline.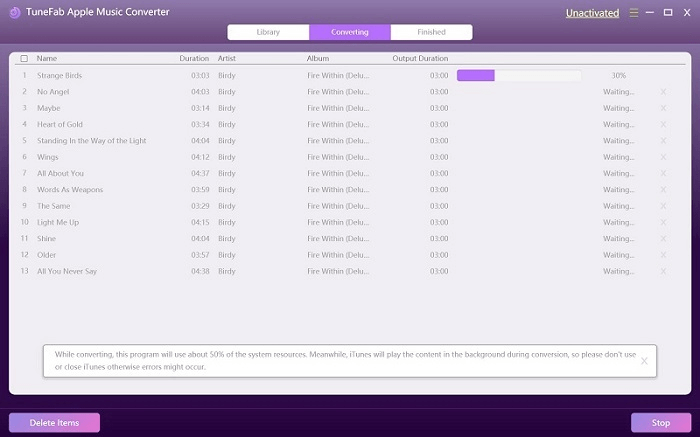 How to Convert M4P to MP3 with iTunes
If you have installed iTunes on your computer before, actually, you are able to convert M4P to MP3 with it, thus no extra third-party software is required. The following steps will guide you to get protected M4P songs converted to MP3 via iTunes.
STEP 1. Install iTunes on your Windows or Mac desktop in advanced. Then, launch it and navigate to "Edit" > "Preferences" (on Mac, you should hit the iTunes icon and find "Preferences").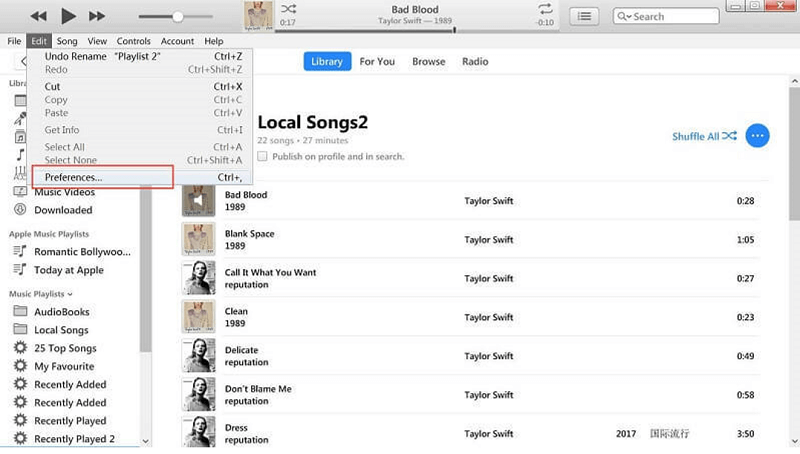 STEP 2. Turn to your Library inside iTunes. After that, select the M4P song you desire to convert to MP3 format.
STEP 3. Now, go to "File" > "Create New Version" > "Create MP3 Version" for converting the song. After that, you will find it's been converted and saved in your iTunes Library.
NOTE: This method only applies to format conversion. The DRM encryption added on the M4P songs can not be removed. To get the protected M4P songs converted to DRM-free MP3 audios, you need to use MuConvert Apple Music Converter instead.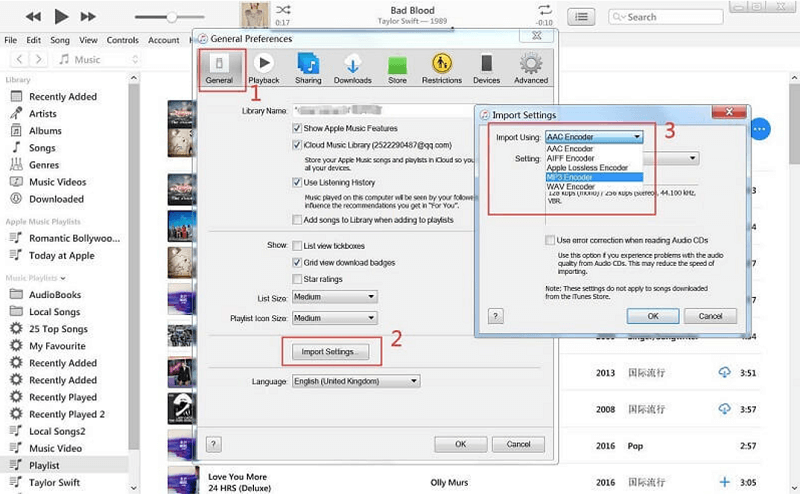 Convert M4P to MP3 Online
As you also consider to convert M4P to MP3 online so that no software installation is required, MP3Cutter is an ideal pick for you. This online service supports converting both online and offline M4P songs to MP3 format, and it is 100% free to use.
Features of MP3Cutter
Web-based service accessible on all devices and systems;
Easy-to-grasp functionality;
Editing toolkit such as cutting, fade in/fade out edition, etc. provided;
A variety of formats supported for importing.
Drawbacks
Annoying ads on its interface;
Protected M4P songs conversion unavailable.
STEP 1. After navigating to MP3Cutter in browser, directly import the M4P song from you desktop or using an URL.
STEP 2. Trim the audio before conversion based on your requirements. Also, you are available to select the fade in/fade out effect for applying to the song.
STEP 3. Convert M4P song to MP3 with one click.
STEP 4. As the conversion completes, download the converted MP3 audio to your desktop for preservation.

FAQs about Converting M4P to MP3
After checking all the available methods to convert M4P to MP3, let's also see these collected FAQs about converting M4P to MP3 as the extended reading. If you also have the same confusions, these answers may help you out.
M4P is an audio format developed by Apple for encoding the media resources in iTunes Store. It would apply MPEG-4 and AAC-protected encoders to preserve the M4P songs locally. Hence, M4P songs are protected, which are unable to be downloaded for offline listening outside iTunes.
Why people prefer MP3 format than M4P?
Comparing with M4P, MP3 is a universally supported on all devices and media players, enabling more flexible playback. However, M4P songs are only playable on iOS devices or using iTunes as the media player. Popular media players like Windows Media Player still fail to be compatible with the M4P songs playback.
Does converting M4P to MP3 lose quality?
The conversion process would cause little compression on the audio tracks because of the different compatibility of different formats. But there are still many converters employ advanced tech for keeping the output MP3 quality as high as the original source. Like MuConvert Apple Music Converter. Actually, the quality loss during the M4P to MP3 conversion would be quite a little and very few users can hardly sense the difference.
All in all, thanks to the high compatibility of MP3 format, converting protected M4P songs to MP3 enables more flexible playback. Through this blog, you are able to grasp the ideal way in your preference for easily converting M4P to MP3 on all devices. When get the protection-free MP3 songs, you are able to enjoy them freely offline at anytime and anywhere.