To access countless resources in the Apple Music library for streaming online and enjoying offline without paying a penny, there are actually some ways available. In this blog, we have collected 7 methods enabling you to get Apple Music free trial, which can be valid for up to 6 months! Now, let's get started and see how to get Apple Music for free!
Method 1. Free Use Apple One - 1 Month
If you heavily rely on Apple services, including iCloud+, Apple TV, Apple Music, Apple Arcade, Apple Fitness+, and Apple News+, Apple One has bundled them up within 1 subscription service, meaning that you only need to pay for 1 service but get the premium access to all these services at once, including Apple Music free trial for one month. Hence, if you are new to Apple One, simply grasp this free chance and get Apple Music for free within the bundle.
To start Apple One free trial, and consequently free use Apple Music, simply follow the steps below:
Step 1. Go to Apple One's official web page.
Step 2. Click the "Try Apple One free*" icon and log in via your Apple ID.
Step 3. Select a plan to get started.
Step 4. By filling out all billing info, you are able to start using the Apple One for free! Cancel the subscription before its next billing date or you will be charged for the monthly subscription fee.
💡 NOTE:
You are also available to directly select a subscription plan to get started within the Apple Music app. The Apple One option will be automatically recommended for you to select. Then you are also able to get started with its 1-month free trial.
You are able to cancel the Apple One subscription at any time on any device. For detailed guidance, turn to the official guidance and follow to process the cancellation.
Method 2. Try Shazam - 1 Month
Another method to get Apple Music free trial is by becoming a new user of Shazam service, which is a music recognition app that has been integrated with Apple Music. Currently, Shazam has provided a 1-month Apple Music free trial as a way to attract more users to try its service. By using Shazam, you are able to directly input the identified songs to Apple Music for streaming freely within the app.
Now, see how to redeem Shazam's Apple Music free trial benefit below:
Step 1. Navigate to the special Apple Music offer page on Shazam.
Step 2. Use a phone to scan the displayed QR code.
Step 3. Log in via your Apple ID and redeem the 3-month free trial offered by Shazam right away.
If you need to cancel Apple Music free trial obtained from Shazam later, navigate to this section of How to Cancel Apple Music Free Trial to help.
Method 3. Become Apple Music New Subscriber - 3 Months
For new subscribers, Apple Music also offers a 3-month free trial activity for you to get Apple Music for free before August 21, 2023. However, before applying for the free trial, you need to double-check if you are eligible first. If you have once subscribed to Apple Music, Apple One, or have been a member of the Apple Music Family plan, you are not able to get the 3-month free trial anymore.
For those who meet the standards to apply for Apple Music free trial, here are the steps you should follow:
Step 1. Run Apple Music app on your iPhone, iPad, or Mac.
Step 2. Log in to your Apple ID and access the offer under the "Listen Now" tab.
Step 3. Click "Try It Now" and select a plan to get Apple Music's 3-month free trial right away.
Method 4. Use Best Buy - 4 Months
The Best Buy website recently provides the Apple Music free trial for both new and returning users, with a trying period of 4 months for new subscribers and 3 months for returning users. As you are determined to get Apple Music free trial right now, action immediately as you have no idea when this promotion will end! Simply follow these procedures to get Apple Music a 4-month (or 3-month) free trial from Best Buy:
💡 NOTE:
When the promotion ends, the subscription renewal fee will cost US$10.99/month before you cancel it. It is noted that you are required to cancel the subscription at least 24 hours before it ends to make sure the renewal fee will not be charged.
Step 1. Turn to the Best Buy site and create a new account.
Step 1. Access the Free Apple Music for up to 4 months and add it to your cart.
Step 1. Complete the checkout in the cart, and you will receive an email with the digital code attached to your mailbox.
Step 1. Activate your Apple Music membership with the received digital code and enjoy Apple Music's advanced features in no time!
Method 5. Get Verizon Unlimited Plan - 6 Months
When Verizon has included Apple Music with its unlimited plan, as users subscribe to Verizon's 5G Play More and Do More plans (costing $80/month), they can get Apple Music's 6-month free trial as a bonus! Therefore, if you are going to subscribe to any of the Verizon Unlimited plans, you can also activate the Apple Music free trial as a "buy 1 get 1 free" discount! To get the 6-month free trial on Verizon, please follow the procedures indicated below:
Step 1. Utilize the web browser and visit the Apple Music free trial event page on Verizon, then log in with your Verizon account.
Step 2. Please select the lines you wish to enroll in Apple Music. Click the text message provided on each line to receive a link to download the Apple Music app.
Step 3. Once the Apple Music free trial is activated, enjoy the advanced streaming features of Apple Music now!
💡 NOTE:
You can turn off the subscription renewal through vzw.com/applemusic or simply turn to Addons >> Account in the My Verizon app.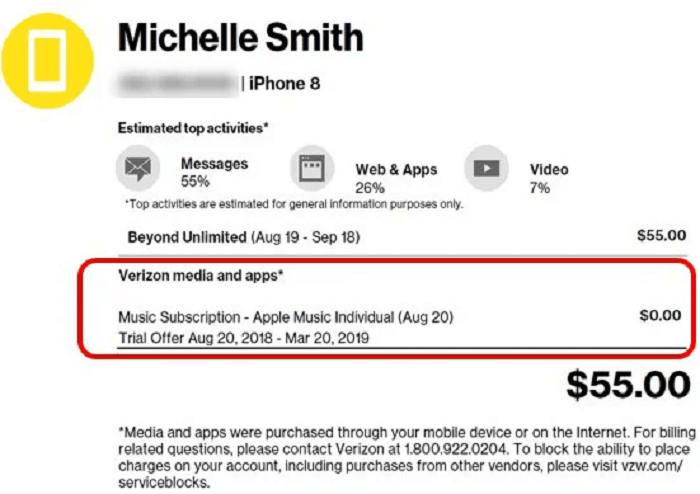 Method 6. Buy Apple Devices - 6 Months
If you just purchased some Apple devices, including AirPods Pro, AirPods (both 2nd and 3rd generations), AirPods Max, Beats, and HomePod, you are eligible to redeem Apple Music free trial for up to 6 months. You will have 90 days to activate the Apple Music 6-month free trial from the date you start pairing these devices and get started using them. Then, process the steps below and redeem your offer to get Apple Music free trial right away:
Step 1. Pair the audio device you newly purchased with your iPhone or iPad (you'd better make sure the systems of your devices are running the latest version).
Step 2. Open the Apple Music app and login via your Apple ID. The offer will then appear automatically. If not, you should navigate to the "Listen Now" tab and access it.
Step 3. Tap to get the 6-month Apple Music free trial and get started with the service immediately.
Method 7. Become EE New Customer - 6 Months
For users of the UK region, EE is offering the 6-month Apple Music free trial for both its new and existing customers without requiring any extra expense. The activity is currently still available and it doesn't announce the ending date. So if you decide to use the EE data plan, you are able to follow the steps here and get Apple Music free trial at the same time:
Step 1. Sign up to the EE network first, and then select an EE Smart Plan to get started.
Step 2. While you are guided to select "Smart Benefits", remember to select Apple Music.
Step 3. Once complete, you will receive a text from EE with a redemption code included.
Step 4. Now, use the redeem code to activate your Apple Music subscription and get started with the premium streaming service right away!
How to Keep Apple Music Songs Forever After Free Trial
Even though Apple Music has provided free access for people to get Apple Music free trial in more ways, it adds strict restrictions on accessing the downloaded Apple Music songs. Especially when you cancel the free trial and no longer extend the subscription period, your offline music library will all be removed. To keep Apple Music downloads permanently even after Apple Music free trial ends, MuConvert Apple Music Converter will be the software you need.
MuConvert Apple Music Converter embeds the Apple Music Web Player to help you access the full music database provided by Apple. Just simply by logging into your Apple ID with a free trial subscription, you can access and download Apple Music to as many as MP3 files you want to. Then, multi-device offline playback is easy to make whether the free trial is expired or not. After all, MP3 songs are quite compatible with numerous players.
Not only that, more sparkling features of MuConvert Apple Music Converter can explore:
Apple Music DRM removal helps you to access music in MP3, M4A, WAV, and FLAC formats
Audio quality at up to 320kbps ensures Apple lossless quality for streaming music offline;
Hardware acceleration speeds up to 10X faster downloading speed;
Available to process tracks, playlists, artists, and albums downloaded in batches;
Customize the sample rate and bitrate according to your music tastes;
ID3 preservation feature to keep music info for all Apple Music downloads.
When you explicitly know about MuConvert Apple Music Converter, let's also walk through its manipulation guide to learn how it works to keep Apple Music library offline in an effortless way.
Step 1. Log in MuConvert Apple Music Converter
First, open MuConvert Apple Music Converter and click on the Open the Apple web player button placed in the middle of the main feed to enter the official Apple Music Web Player. Subsequently, you will need to tap the Sign in button to log in utilizing your Apple ID with Apple Music free trial subscription.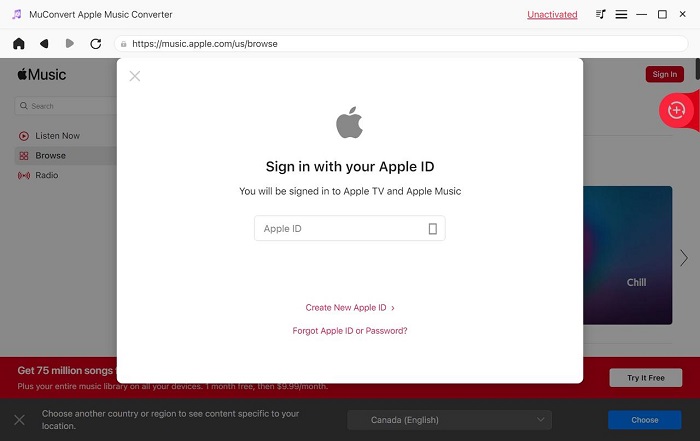 Step 2. Add Apple Music Songs to Download
After login, you can access the music database and browse the songs you wish to download offline. Simply drag and drop them to the Add button aside, MuConvert Apple Music Converter will detect and analyze the songs to prepare to download for you.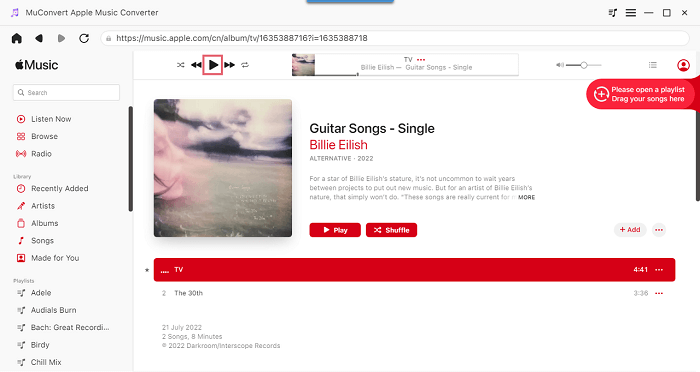 Step 3. Configure Parameter Settings
Subsequently, please turn to Menu >> Preferences to personalize the parameter settings to export the songs. You can determine the Format, SampleRate, and Bitrate here to download Apple Music songs with your required encoder and in any quality you wish. Please tap Save to complete the adjustment.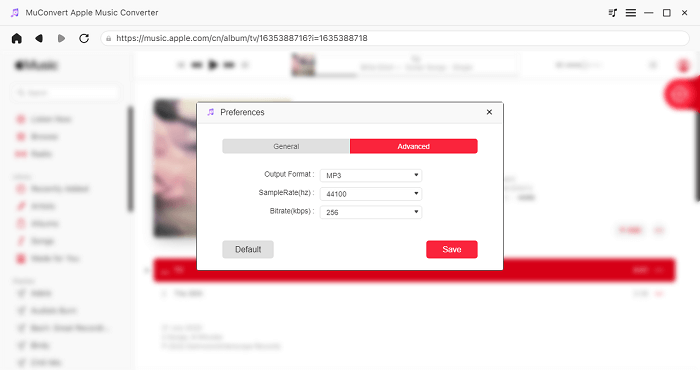 Step 4. Proceed Downloading Apple Music
Eventually, tap the Convert All button to proceed with the Apple Music download in no time! MuConvert Apple Music Converter will function at a 10X faster speed to batch download songs for you.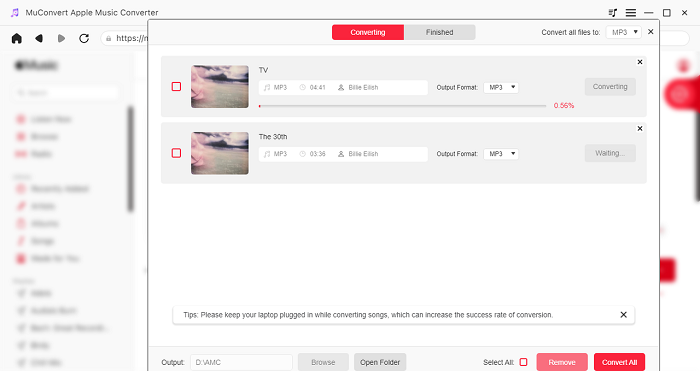 Once completed, you can access the downloaded items under the Finished module and tap the View Output File button to access them locally. They will not be deleted even if your Apple Music free trial expires now!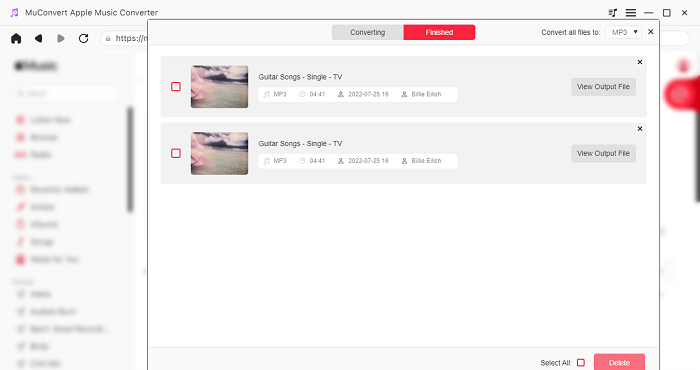 Bonus Tip: How to Cancel Apple Music Free Trial
As you may have activated the Apple Music membership once participating in the Apple Music free trial now. Please remember to cancel the auto-renewal to prevent billing once the free trial expires. Here shows you how to manipulate the Apple Music subscription cancellation step-by-step on different devices.
On iPhone/iPad
Open Settings app and tap your name.
Enter Subscriptions and select Apple Music.
Confirm Cancel Free Trial to end the subscription.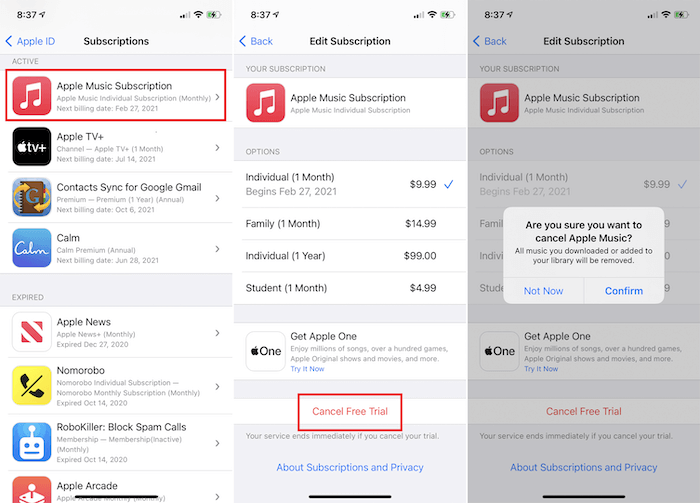 On Android
Run Music app and tap the three-dots icon >> Account.
Select Manage Subscription and click on the Cancel Free Trial button.
Confirm the cancellation and the subscription will end.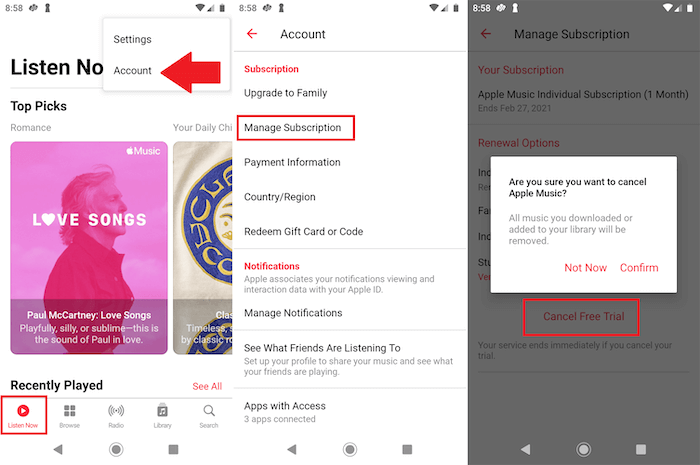 On Windows
Open iTunes and turn to Account >> View My Account. You will be required to enter your ID password to log in.
Scroll to Subscriptions and click on the Manage option.
Find Apple Music Subscription and click on Edit.
Confirm cancelling Apple Music subscription in no time.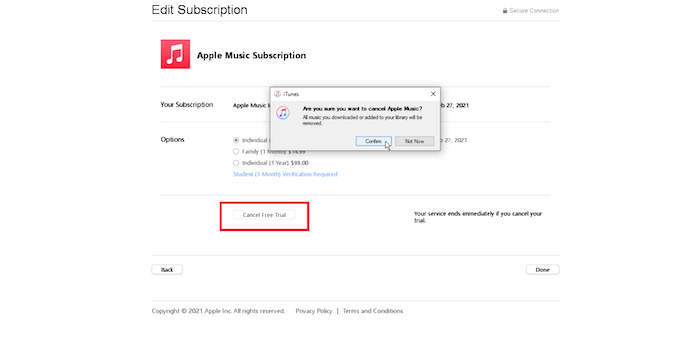 On Mac
Click on the Apple icon on the top screen bar and open System Preferences.
Tap Apple ID >> Media & Purchases >> Manage (next to Subscriptions).
Find Apple Music from the list and click on the Edit icon.
Scroll to Manage >> Edit >> Cancel Subscription.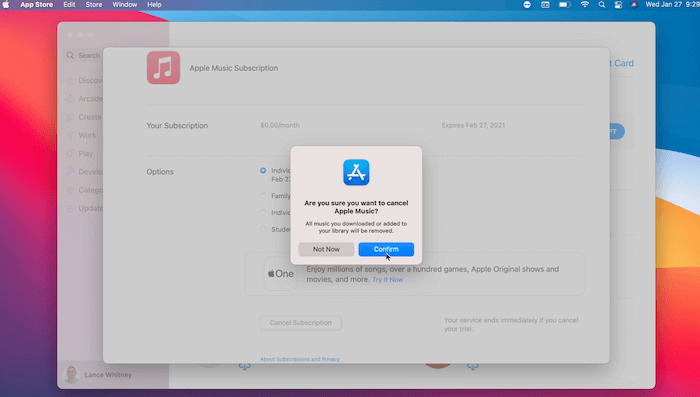 Please notice that your downloaded Apple Music songs will all be deleted once the Apple Music membership expires. To keep them offline forever, you can download them in advance utilizing MuConvert Apple Music Converter. The detailed procedures are introduced in Part 3. Please return to take a look!
Conclusion
To sum up, Apple Music does offer multiple paths for users to get started with the Apple Music free trial without wasting their expense at all. However, to keep the downloaded Apple Music songs forever offline, you have to keep subscribing to Apple Music membership, or they will all be removed. To resolve this, we also prepared an effortless helper, MuConvert Apple Music Converter in the post to give you a favor. Please try it in no time as it is also free to get started!
Convert Apple Music to MP3 Losslessly
Remove DRM from Apple Music songs and convert them to MP3 without quality loss.