How to Remove DRM from iTunes Music [Best 5 Ways]
"I have purchased music from iTunes, but I want to download them for offline listening like on my other devices or MP3 players. It seems iTunes won't let me do it. Is there any way to help?"
Many people would also suffer from such an embarrassing situation – when you have purchased iTunes music but find the songs unavailable for downloading offline playing using other media players, let alone transferring to other devices. The restriction comes into effect because of a technology used to protect steaming media, DRM. In this blog, there are 5 best ways introduced to help remove DRM from iTunes music, so you are able to save the songs offline. Now, continue on reading.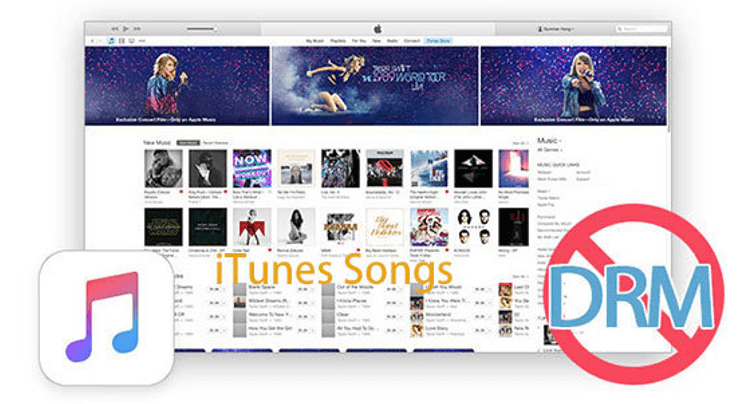 Remove DRM from iTunes Music via Best iTunes Music Converter (Stable and High-quality Way)
There is a type of software developed to process the DRM removal work from Apple Music, iTunes music, Audible books, etc. on the market, but today, we'd like to introduce the industrial-leading option, TuneFab iTunes Music Converter to you.
TuneFab iTunes Music Converter
empowers the most professional Apple Music and iTunes Music DRM removal functionality to help its dear users get the DRM-free songs in mainstream formats, such as MP3, M4A, WAV and FLAC, etc. After the conversion, the audio files are available to be transferred to any device, including MP3 players, tablets, iPod, Xbox, and other models for offline listening. More importantly, it enables 100% original quality to get lossless converted iTunes music, to ensure the same music listening experience offline.
Highlighted Features of TuneFab iTunes Music Converter
Various mainstream formats to output Apple Music, iTunes music and Audible books;
Original ID3 tags, metadata info, and lossless quality to download protected Apple songs;
Up to 10X faster accelerated speed to process both the conversion and downloading processes;
Available to batch convert multiple songs simultaneously for boosting efficiency
Being designed with an intuitive interface, TuneFab iTunes Music Converter brings users the most easy-to-grasp operations to remove DRM from iTunes music. Simply follow this brief guide and convert iTunes music to DRM-free media files via the powerful TuneFab iTunes Music Converter.
STEP 1. Open TuneFab iTunes Music Converter and Connect iTunes
Firstly, you need to install TuneFab iTunes Music Converter on Windows or Mac desktop. When the installation completes, launch the software and and it will automatically find and connect to iTunes.
STEP 2. Select iTunes Music to Convert
After launching TuneFab, you are able to select the protected iTunes music you'd like to remove DRM and convert to mainstream media format.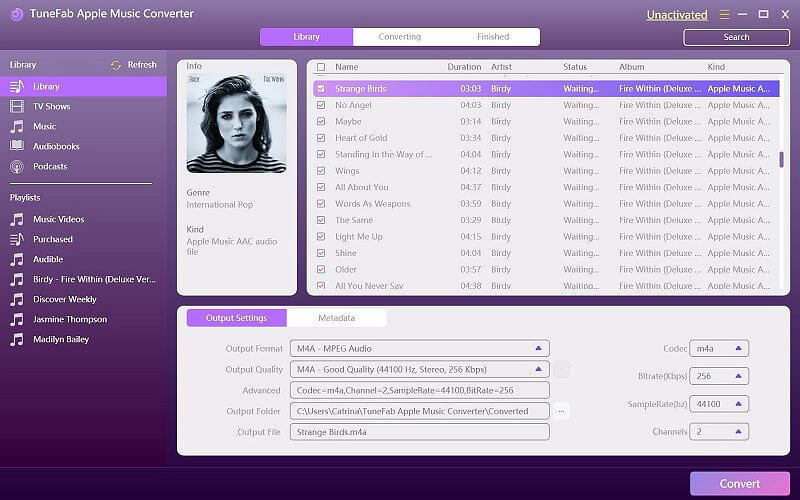 STEP 3. Output Parameters Customization
After selecting the songs, go to "Output Settings" and customize the output parameters for converting the iTunes music to. From output format to advanced settings like birate, sample rate, etc. are available to be adjusted here.
Under "Output Settings", TuneFab iTunes Music Converter also allows you to edit the ID3 tags freely under the "Metadata" section.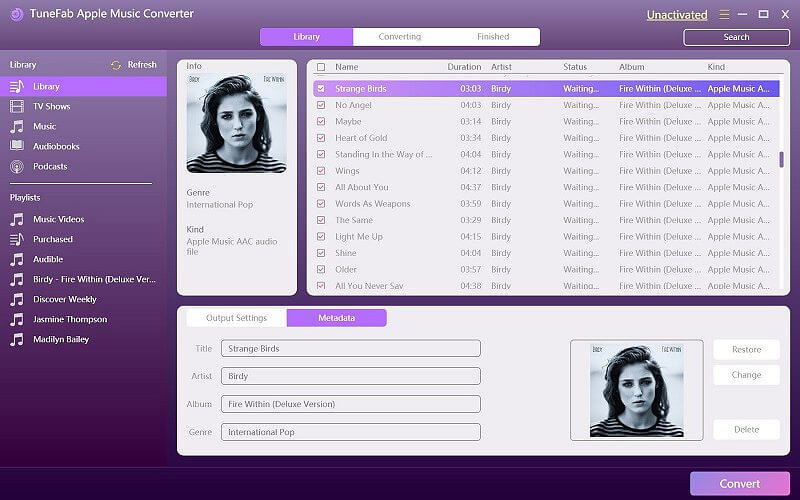 STEP 4. Remove DRM from iTunes Music
When you have completed the parameters customization, finally, simply tap the "Convert All" icon, and the selected iTunes music will start to be converted and removed DRM. When the conversion is done, you can access the downloaded DRM-free iTunes music for freely transferring them to any device or media player or offline listening.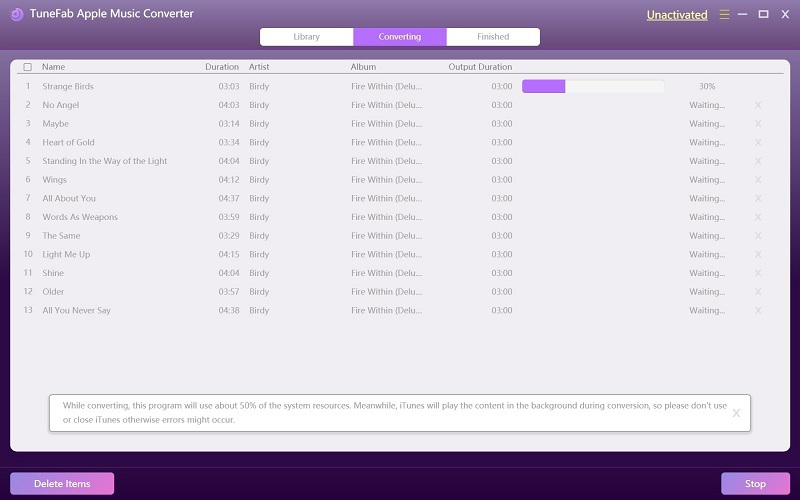 Make iTunes Music Free from DRM with iTunes Music Recorder
Despite MuConvert Apple Music Converter, it is also able to find an iTunes music recorder for removing DRM from the songs and preserve the recording in mainstream audio formats. For this purpose, VideoSolo Screen Recorder can absolutely help.
As a lightweight screen recorder for desktops, VideoSolo Screen Recorder empowers multiple recording modes for recording videos, music, live streaming, and other screen activities with easy operations. It enables users to preset the hotkeys based on personal habits for controlling the iTunes music recording in more flexible way. Despite this, it supports the universally supported MP3 format to output the audios for making them compatible with all devices and media player software for playback.
Now, grasp the way to record iTunes music for removing DRM via VideoSolo Screen Recorder.
STEP 1. Launch VideoSolo Screen Recorder and select the "Audio Recorder" mode.

STEP 2. You should turn on the system sound and adjust its volume. Microphone option is recommended to enable off for avoiding unnecessary noise.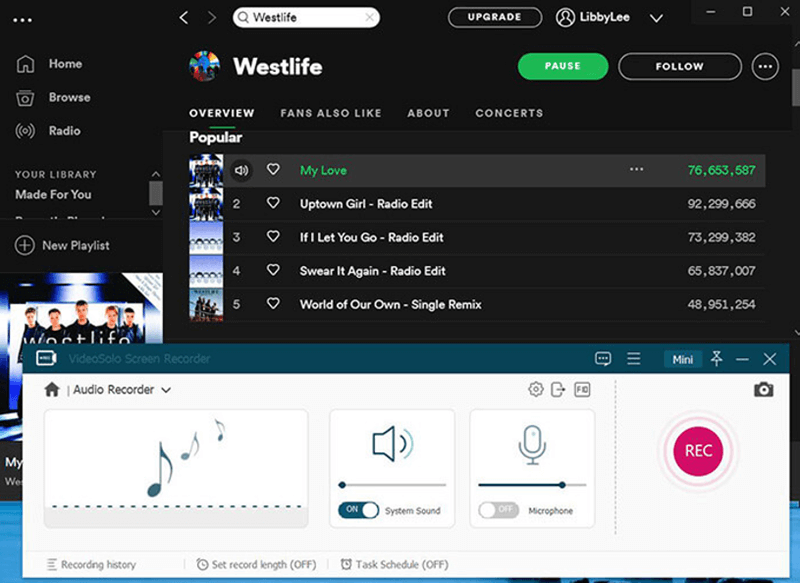 STEP 3. Now, play the iTunes music and start recording by pressing the hotkeys on keyboard or use your mouse to click the REC icon.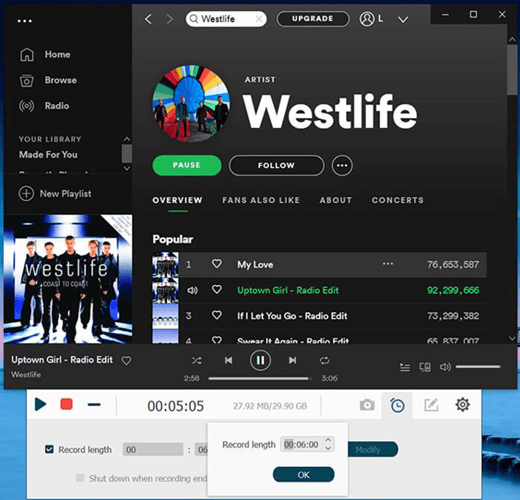 STEP 4. Till the music ends, stop the recording and submit "Save" to output the recording as an audio file locally.
Remove DRM from iTunes Songs Through iTunes Match
Apple also launched an official method to remove DRM and enjoy iTunes songs offline, which is subscribing to the iTunes Match service. With iTunes Match, users are able to strip the DRM encryption and download iTunes music for offline listening without hassle. Here will guide you to process the operation step-by-step.
STEP 1. In the first step, users are required to subscribe to iTunes Match service for getting the permission to strip DRM from iTunes music.
Windows: Launch iTunes and go to "Store". You are able to find "iTunes Match". Simply type in your billing info for completing the subscription process.
Mac: In Apple Music app, simply head to iTunes Store and also complete the subscription process by giving the billing info.

STEP 2. Now, you are able to access the protected iTunes music for decrypting the DRM protection. Go to "View" > "Show View Options" and also "File" > "Kind" to sort the songs you desire to download.
STEP 3. In iTunes library, select the DRM-protected iTunes songs you have preserved and delete them.
STEP 4. Finally, tap the "iCloud Download" icon for re-downloading them, and you are able to get the unprotected iTunes music downloaded offline.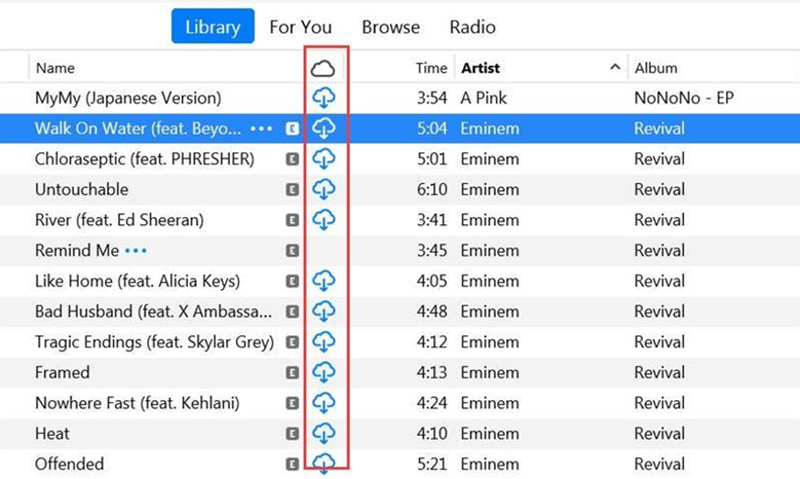 Burn DRM-protected iTunes Music to CDs
This method would be a bit complicated, but it is still a workable solution to remove iTunes DRM and help get the DRM-free iTunes music, that is to burn iTunes music to CDs via iTunes and then import them back to the computer, then the DRM encryption will be removed. Hence, you are required to prepare a blank CD disc, then follow the guide here to retrieve DRM-free iTunes music by burning and ripping the disc.
STEP 1. In iTunes, navigate to "File" > "New Playlist" for creating a new list and preserve the iTunes music to it.
STEP 2. Now, you should insert the blank CD to the computer, and right-click on the newly created playlist for selecting the "Burn Playlist to Disc" option.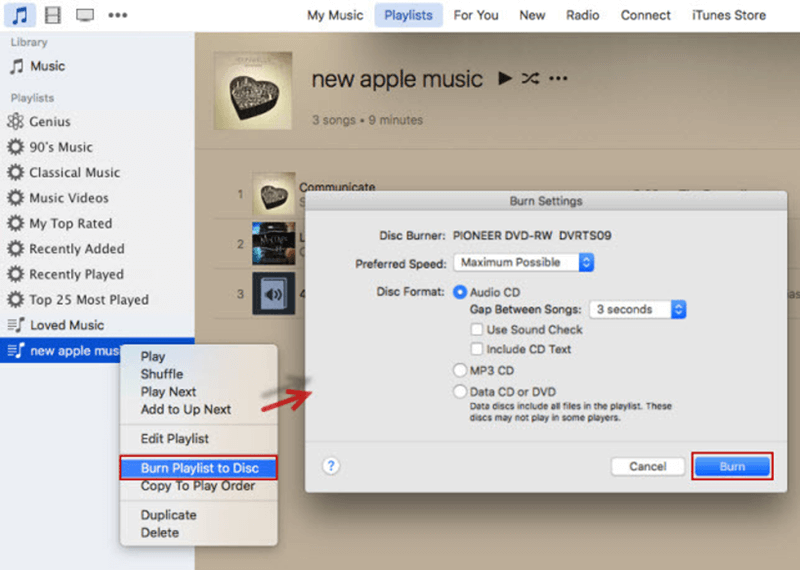 STEP 3. In the pop-up window, select "Audio CD" as the burning option. Then, start burning the iTunes music playlist to the blank CD immediately.
STEP 4. When the burning process completes, get ready to rip the iTunes music back to digital files again. In iTunes, go to "Edit" > "Preferences" > "General" to submit "Import Settings" for processing the CD ripping. When it completes, the media files you get now are all DRM-free!
What About Using iTunes Music to MP3 Converter Online
If would be even more efficient for using an online iTunes music to MP3 converter for converting iTunes songs to MP3 files online. In this way, users are not required to install extra software for completing the conversion process. UniConverter is such an online platform that supports to convert DRM-free iTunes music to MP3 without any software installation. Simply process the steps below and you are able to get the iTunes music converted to MP3 with ease.
STEP 1. Navigate to UniConverter in the browser. Then, directly drag and drop for loading the iTunes music in the converter.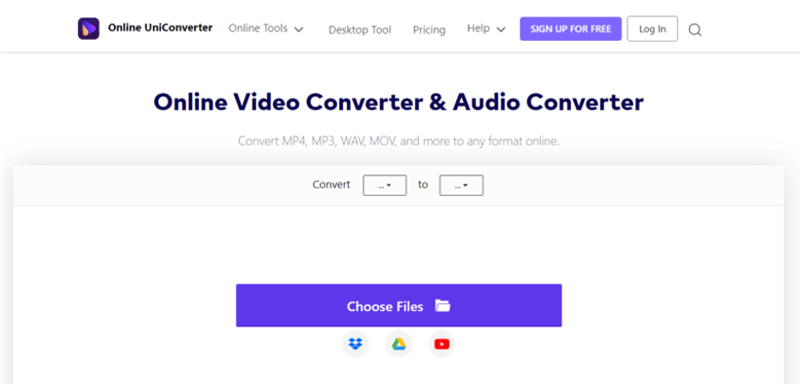 STEP 2. When the files are uploaded, select "Audio" > "MP3" in "Convert all files to menu".
STEP 3. Simply tap the "CONVERT" icon for stating the conversion to get the iTunes music converted to MP3 online.
How to Check If Songs are DRM-protected?
For distinguishing whether the iTunes songs are protected by DRM, here is a simple trick for you. By knowing whether the songs are protected in advance you are able to select the method for converting iTunes music to more compatible audio formats. Here are the steps:
STEP 1. Open iTunes on computer and login Apple ID for accessing your music library.
STEP 2. Then go to "View" > "Column Browser" > "Show Column Browser" > "Kinds" for enabling this section on.
STEP 3. Now, go to "Songs" on the left panel and choose the song you desire to check its protection status. In the pop-up window, navigate to "File" section, and you are able to see whether it is DRM-protected in the first "kind" column.

Is Stripping DRM from iTunes Music Legal?
Stripping DRM from iTunes music is a legal action for personal usage. Its core purpose is to enjoy the music in more flexibly way – and is also based on the fact that we have purchased the iTunes songs. However, if you use the DRM-free iTunes music for commercial usage and cause actual loss to the artists, you are against the copyright law, and this becomes an illegal behavior.
Finally, let's draw a simple conclusion to end this blog with a review chart on the above methods to remove iTunes music DRM. After checking the comparison, you are able to sort out the best pick to rip iTunes music DRM:
| | | | | | |
| --- | --- | --- | --- | --- | --- |
| Methods | Software installation | Free trial | Easy-to-grasp | Protected files supported | Fast conversion speed |
| | √ | √ | √ | √ | √ |
| VideoSolo Screen Recorder | √ | √ | √ | √ | × |
| iTunes Match | √ | × | √ | √ | × |
| Burn to CD | √ | √ | × | √ | × |
| Online converters | × | √ | √ | × | √ |
Get the best way to remove iTunes music DRM now? Share this blog to your friends if they also need help!