How to Burn Apple Music Songs to CD [Best Solutions]
Apple Music has been a high-profile music streaming service provider, with industry-leading music quality and the latest songs database, serving users the best experience on music listening throughout the years.
Even though online music streaming is a trend, and the attribution of convenience popularizes the usage of such platforms, you may still wish to burn your favorite Apple Music songs to CD for offline collecting without worrying about losing them one day. But this is not a direct process in that Apple's FairPlay DRM has brought great obstacles.
Don't panic! This post will bring you a workable and professional way to easily burn Apple Music to CD on computers. If you also need such help, continue reading.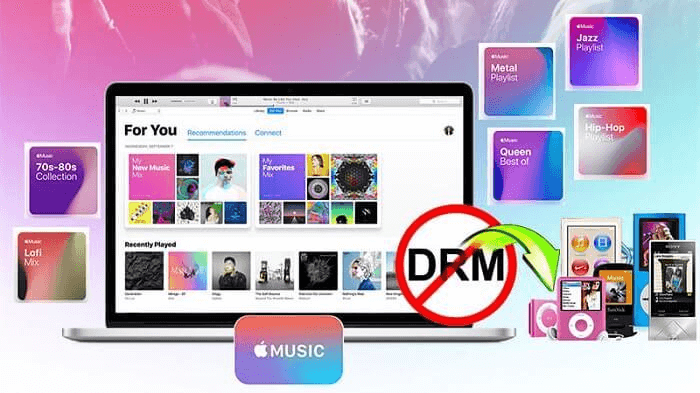 Tools Needed to Burn Apple Music to CD
Before burning songs to CD from Apple Music, you ought to do well preparation of the tools required to complete the process. Here are the must-have things you would need:
A blank CD: the disc you will need to keep the converted Apple Music as a collection.
A CD drive: This is where you insert the blank CD. If your computer isn't equipped with one, you need to prepare an external CD drive and plug it into your computer.
A CD burner: iTunes, Windows Media Player, or professional burning software to burn songs to the CD.
Convert Apple Music Songs to MP3 Before Burning 🔥
First, as introduced above, you ought to remove the DRM encryption of those protected Apple Music songs in advance. 
MuConvert Apple Music Converter is a superior DRM removal program selected as the priority option to get protected Apple Music songs converted to DRM-free offline files before burning to CD. It provides multiple exporting options such as MP3, M4A, WAV, and more to encode the converted music. Furthermore, MuConvert Apple Music Converter will retain the original ID3 tag information, and more importantly, the 100% lossless sound quality to save the converted Apple Music songs.
More surprisingly, the program functions at 10X faster speedy performance to resolve the conversion of multiple Apple Music songs at once, which helps to increase higher productivity in getting the DRM-free Apple Music files locally shortly.
Designed with the user-friendly main feed, MuConvert Apple Music Converter is also an easy-using program avail everyone to manipulate easily. So, in the following, you can walk through the manipulation of MuConvert Apple Music Converter and start removing DRM from the encrypted Apple Music songs you wish to burn to CD for collecting. Now, get started!
Step 1. Install MuConvert Apple Music Converter
First, install MuConvert Apple Music Converter on your computer. It is recommended to free try the trial version before determining a purchase. Launch the program and enter the main feed by clicking "Open the Apple web Player".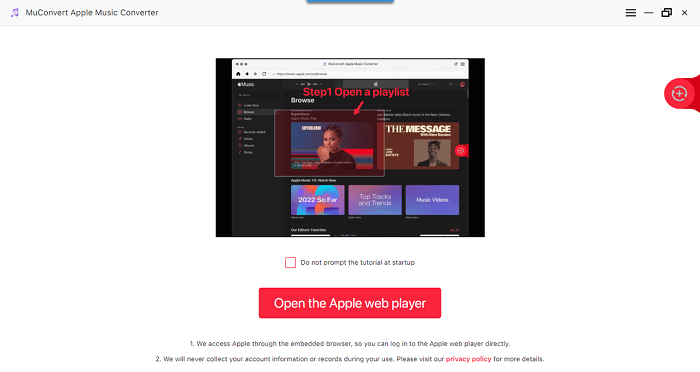 Step 2. Select DRM-protected Apple Songs
When you enter the Apple Web Player, you need to sign in your Apple ID. Then you can directly choose the songs yoou want to remove DRM from.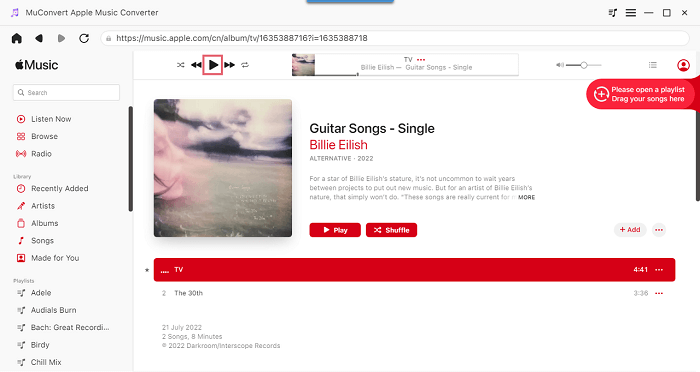 Step 3. Edit Output Information of Apple Music
Before conversion, you can go to "Menu" > "Preferences" to select "Advanced" to reset the output format, bitrate, etc. What's more, you can change the output folder under "General".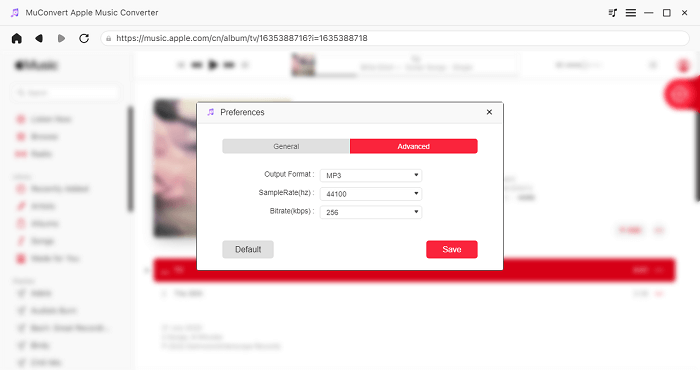 Step 4. Convert Apple Music to DRM-free Files
In the last step, you only have to proceed the Apple Music conversion by tapping the Convert button. Within a minute, the imported Apple Music songs will be added to the Converting list for processing. Subsequently, they can be accessed under Finished module, and you can open the folder by directly clicking on the View Output File button.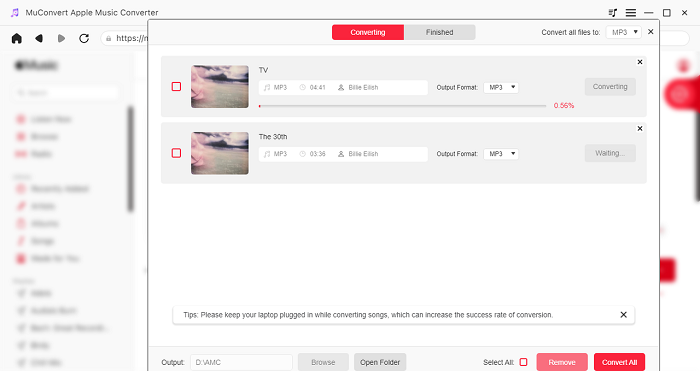 Now, as they are ready for burning to CD, please continue reading the post to follow the correct way to get it done.
Start Burning the Converted Apple Music to CD
Now that you've got Apple Music free of DRM, you can follow the methods below to burn them to a CD.
Burn Apple Music to CD with iTunes (Windows & Mac)
In this part, iTunes would work as the CD burner and help you burn songs converted from MuConvert Apple Music Converter. It works on both Windows and Mac and if you haven't installed it, navigate to the
iTunes download center
and get it ready first.
Step 1. Run iTunes and turn to File >> Add File to Library… to import the converted DRM-free Apple Music songs to iTunes Library. You ought to create a new playlist to save them.
Step 2. When the songs are imported, insert the blank CD disc into your computer to let iTunes detect it.
Step 3. Subsequently, as the disc is detected, return back to the created new playlist and right-click on it. Select the Burn Playlist to Disc option.
Step 4. In the pop-up dialogue, customize the burning speed, and disc format. Subsequently, tap Burn and the Apple Music songs can be burned to CD immediately.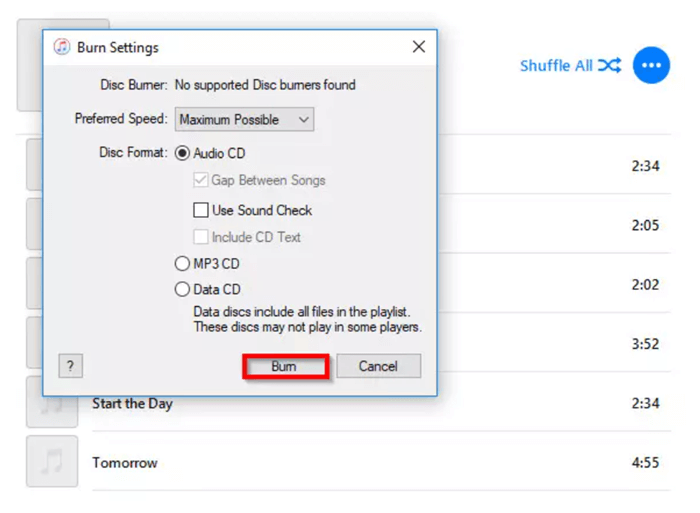 Burn Apple Music to CD with Windows Media Player (Windows)
Windows Media Player is the built-in media player for Windows systems. However, a few people know that it actually provides a hidden CD-burning function. When you get the converted Apple Music songs in the local folder, it is a rational option to utilize Windows Media Player for burning the songs to the blank CD. Here is how to proceed with the manipulation.
Step 1. Please insert the CD-RW disc to your Windows computer and run Windows Media Player to detect it.
Step 2. Turn to the Burn tab in the right workplace, then import the converted Apple Music songs to the burning list.
Step 3. Tap the Start Burn button to initiate the burning process to burn Apple Music to CD.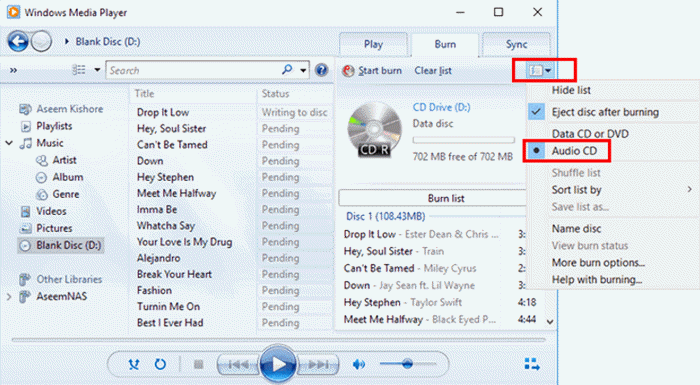 Burn Apple Music to CD with the Burn App (Mac)
If you are not willing to use iTunes, you can still use a professional burning tool called
Burn
(compatible with macOS 10.9 or higher). This burner is totally free and lets you keep the original ID3 tags and edit them for personalization.
Step 1. Insert the CD disc into an external cd drive, as Mac is not equipped with an internal CD reader.
Step 1. Run the Burn app, and it will automatically detect the disc. You ought to select Audio and tap the + button for importing the converted Apple Music songs to the application.
Step 3. Please name the disc now. Also, on the right side of the editing space, you can select the MP3 disc or Audio CD as the CD option to burn the songs.
Step 4. Subsequently, tap Burn and a new dialogue will pop up to select the burning speed and quality for retaining the songs. Please customize the options and confirm Burn to proceed to burn the Apple Music songs to the CD disc.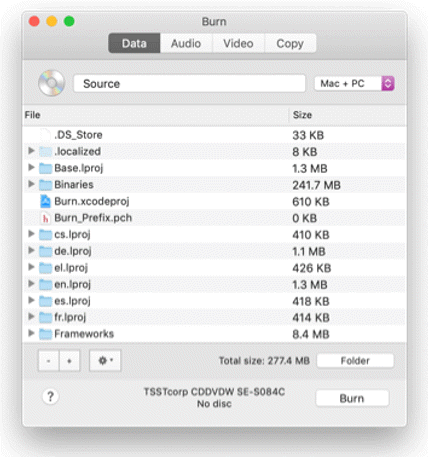 Extra Tip: Burn Your Purchased Apple Music to CD
When you directly purchase Apple music from the iTunes Store, it is recommended to burn it to CD within iTunes directly. Songs bought from iTunes after 2009 are DRM-free and they can be easily burned for unlimited times. But if you got songs purchased before 2009, you need to be aware that they can only be burned 7 times. If you add them to the same playlist with other DRM-free songs, the playlist will fail to be burned after being burned 7 times.
Normally, songs you bought will be in your iTunes library. And you can
follow the steps here
to add them to a playlist and burn them to CD. If you can't find them, go to the iTunes Store and find your purchase. Then you can redownload and burn them.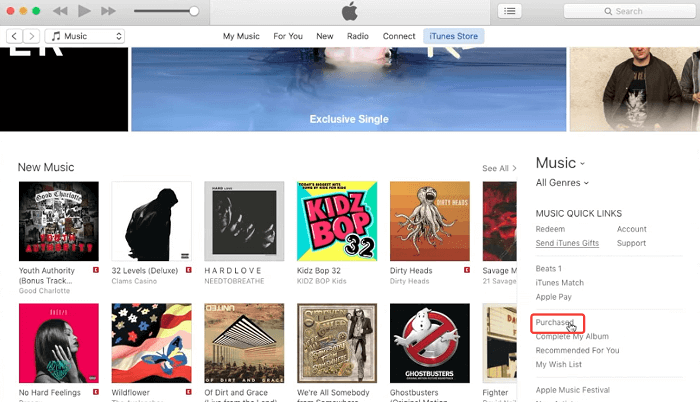 Burning Apple Music to CD is not a tough job anymore, with such tools avail to assist the process. From this post, you get the effortless method to get DRM-free Apple Music songs, and several CD burners to burn the converted files to CD. Feel glad that this post can be your great support on this theme. Enjoy!