When you clean your phone's memory or switch to another phone for work, you may need to download your Apple Music songs again to listen to them offline at any time. Unfortunately, instead of providing a more efficient method, Apple Music officially only allows you to click the cloud icon on each song individually. This process consumes too much time and energy, so you might be wondering: How can I download all Apple Music at once?
Don't worry; in this post, you will find some practical ways to download all songs on Apple Music to your computer or mobile phones. Read on, choose one, and get started!
How to Download Entire Apple Music Library to MP3 at Once
As mentioned above, Apple Music officially limits how you can download music, so in addition to downloading in its App, you can also consider using third-party tools to help.
MuConvert Apple Music Converter is the one you need. It is an intuitive software that comes with an in-built Apple Music web player. It takes only one button to download Apple Music and convert it to MP3 or other regular formats with ease. Its mass download feature enables you to download the entire Apple Music album/playlist at the same time. The Apple Music songs downloaded by this program will be removed from DRM protections and let you transfer them to any device to enjoy high-res playback offline.

More Features of MuConvert Apple Music Converter:
Ultra-Fast Speed – Boosts the process up to 10X faster and takes minutes to download the whole album.
Various Output Quality – One-click convert and download all Apple Music to MP3, WAV, M4A, FLAC, etc.
Lossless Quality – Support up to lossless quality with the highest bitrate at 320kbps & sample rate at 48kHz.
Easy Management – Keep the ID3 info for all Apple Music such as title, artist, album, genre, etc.
Forever Library – Build up your exclusive music library and always be available even without subscriptions.
Based on its sparking functions, MuConvert Apple Music Converter is considered to be one of the best Apple Music downloaders on the market. It only takes a few steps to get all Apple Music downloads, and here's a detailed guide on how to download Apple Music library using this software.

Step 1. Log in to the Apple Music Web Player in MuConvert
First, complete the installation of MuConvert Apple Music Converter. Then enter the built-in Apple Music web player and log in utilizing your Apple ID.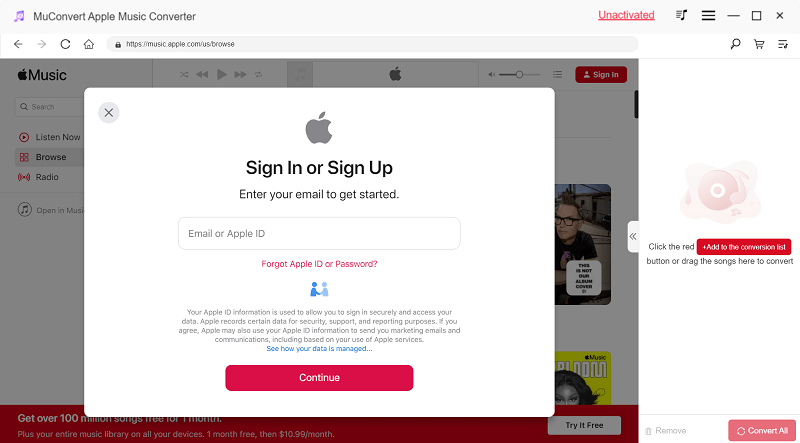 Step 2. Select All Apple Music Songs You Like to Download
Once you log in, you can directly browse the music database and download Apple Music songs, playlists, and albums at once. Please drag them to the conversion list aside to proceed with the analysis in no time.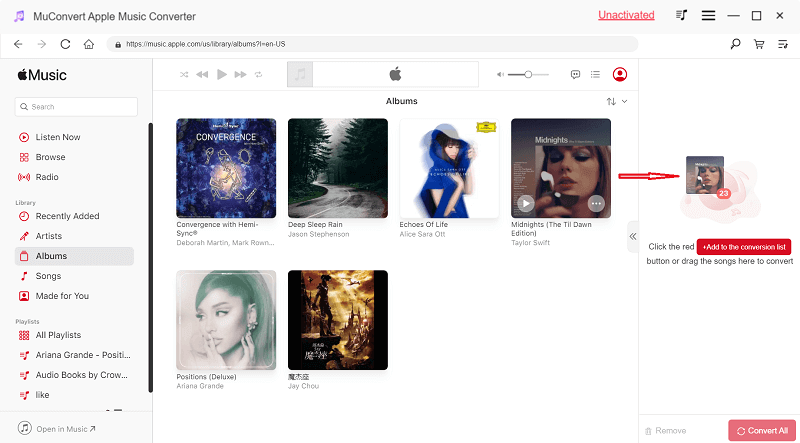 Step 3. Choose MP3 as Output Format
Subsequently, when Apple Music songs are added, you can turn to Menu > Preferences to personalize the output settings like Sample Rate/Bitrate for better music quality. You can also tweak the output formats on the converting page as MP3 or other ones before conversion.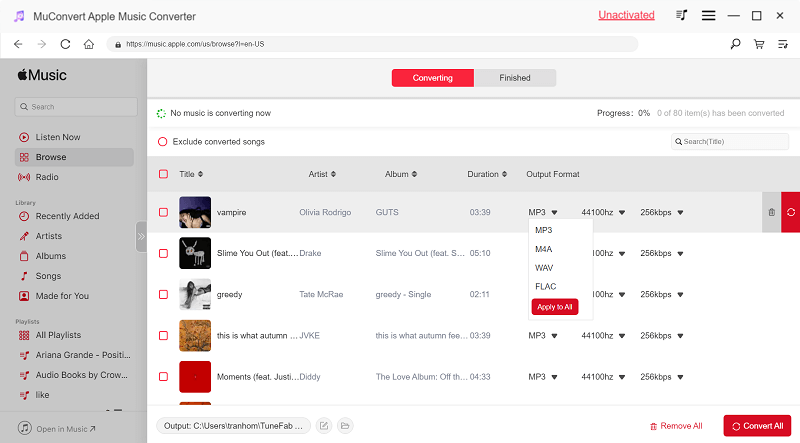 Step 4. Download All Apple Music at Once
After that, you are ready for the final step! Please tap the Convert All button to initiate the music download in no time! Instantly, this best Apple Music downloader will download all Apple Music songs offline for you at once.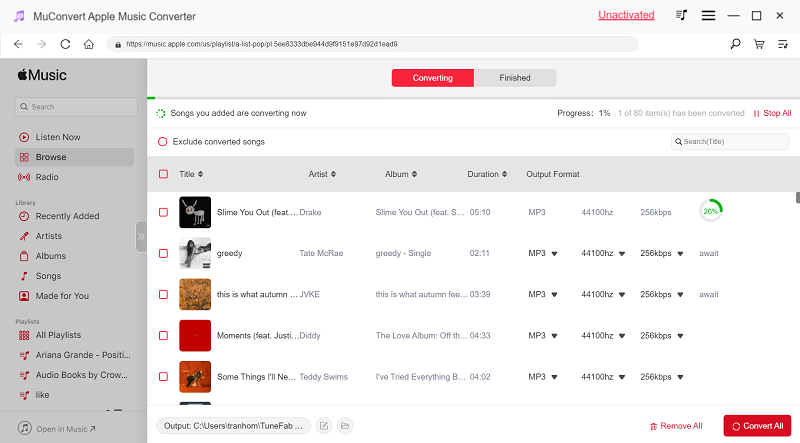 Once finished, you can turn to the Finished module and check the downloaded tracklist. Simply tap the View Output File button, and it will open the output folder to lead you to all downloaded songs locally.

How to Download All Apple Music at Once on Windows/Mac
If you already have iTunes or Apple Music app on your computer, you can simply use them to download Apple Music to your Mac or Windows devices for smooth offline playback, instead of getting an extra program. But it should be noted that unlike MuConvert Apple Music Converter, the Apple Music downloaded using this way cannot be played outside its app. Now, let's check them out below.

Note:
For Windows or Mac running before macOS 10.15, use iTunes.
For Mac running macOS 10.15 and later, use the Apple Music app.
Manually Download Apple Music
On iTunes, you can actually select the entire album/playlist to download all songs from Apple Music at once for offline playback on a computer. Here's how to get things done.
Step 1. Open iTunes for Windows and Apple Music for Mac.
Step 2. Choose Album on the left panel, and press Ctrl + A or Command + A to select all the songs.
Step 3. Right-click on any cover and click Download to download all Apple Music on your computer.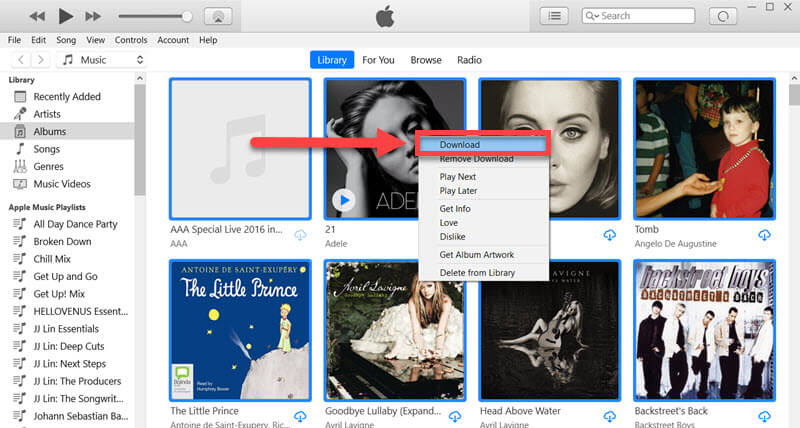 Activate Automatic Downloads
Also, Automatic Downloads is a default feature that will automatically download songs that you added to the iTunes library for offline listening. Here's how to make the Apple Music library automatically download.
Step 1. On iTunes for Windows, click Edit Preferences while clicking Music Preferences in Apple Music.
Step 2. In the General tab, tick up Automatic Downloads and click OK to save the change.
Step 3. After that, the next song added to your iTunes library will be downloaded by default.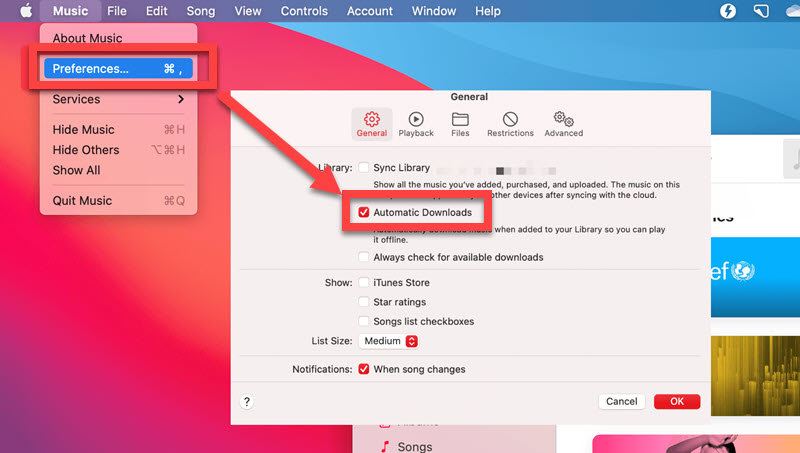 How to Download All Apple Music at Once to iPhone/Android
I believe more people like enjoying tunes on the go. To save you a fortune in mobile data, it's always a good idea to download all Apple Music to your iPhone or Android at once. Actually, there are 3 ways to choose from, and you may want to pick a preferred way to get started.

Tips:
Music downloaded using the following method is actually just cached and cannot be transferred to other devices or players for playback. To bypass the limits, you can try MuConvert Apple Music Converter to download all Apple Music at once as DRM-free MP3 files, so that you can manage them however you want.
Use Automatic Downloads
The Apple Music app can automatically download every song that you added to the library if you ever enable its Automatic Downloads feature. However, please note that it'll also automatically remove offline downloads if you reach the limit of optimized storage.
Step 1. Open Settings and scroll down to locate Music.
Step 2. Toggle on Automatic Downloads and decide whether to use cellular data.
Step 3. Now, back to Apple Music and add songs to your library for downloading them offline automatically.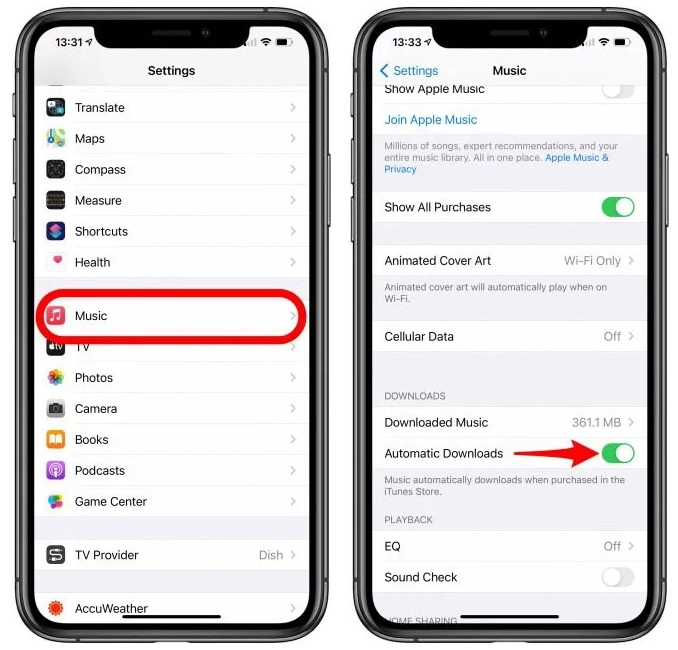 Use Smart Playlist
What's more, you can set up rules for a smart playlist to include all the matching songs in one place. Then, you can download Apple Music playlist at once. You'll need to create a smart playlist on the computer first and then download all Apple Music at once from the playlist on your phone.
Step 1. Open iTunes/Apple Music and log in utilizing your Apple ID. In the program, please turn to Music.
Step 2. Tap File > Smart Playlist to adjust some download settings for downloading all songs from Apple Music at once.
Step 3. Tick the "Match music for the following rules" subsequently, and set the rule for Time > is greater than 00:00. When complete, tap OK to create the smart playlist.


Step 4. Once finished, all the songs that match the rule will be added to the smart playlist. Now, back to your iPhone/Android and open Apple Music. You should long-press the smart playlist and tap Download to download all Apple Music at the same time.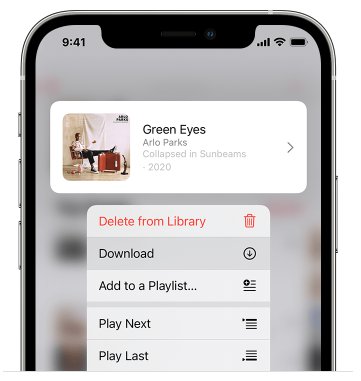 Use iPhone Shortcuts
Though you cannot create a smart playlist on iPhone, there is a Shortcut script called Top 25 that can download up to 25 songs from Apple Music at once. Let's grasp the idea here.
Step 1. Install the iPhone Shortcut on your iPhone.
Step 2. Tap Get Shortcut and Add Shortcut to your iPhone.
Step 3. Select the Top 25 shortcut to create a playlist, and set the rules to download all Apple Music on your iPhone.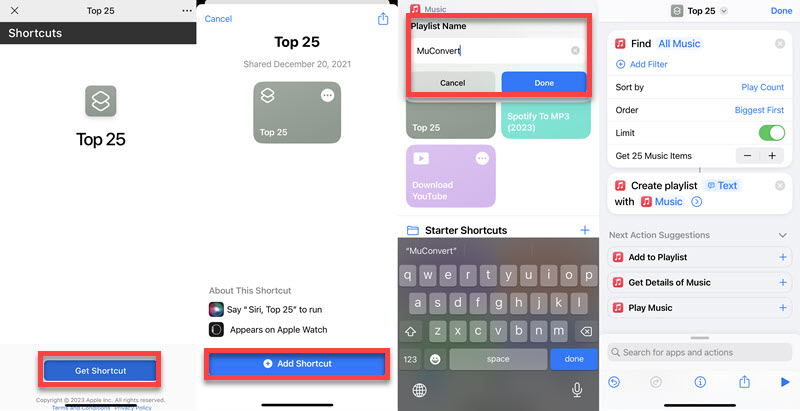 FAQs About Downloading All Music from Apple Music at Once
What's the Limit of Using Apple Music to Download All Songs?
The limit for downloading all songs on Apple Music varies based on your subscription type. With an active subscription, you can download an unlimited number of songs for offline listening, but the downloads are capped at 10 devices per account. The validity of downloaded songs is tied to your subscription status. If the subscription expires, access to the downloaded songs is lost.
Given the above limitations, we would recommend that you enlist the help of MuConvert Apple Music Converter, since it allows you to mass-download all Apple Music at the same time without hassle, and you can easily get all the downloads to play them offline on more than 10 devices, as well as keep them forever.

Can I Download Music on iPhone/Android Without iTunes?
Yes, you can download music on iPhone or Android without iTunes using third-party tools like online downloaders or those Mod APKs you found on Reddit or GitHub. However, it's important to note that these tools have security implications, their success rate is not guaranteed, and they may not give you the same experience as downloading with iTunes.
Therefore, it's worth trying professional third-party Apple Music downloaders such as MuConvert Apple Music Converter mentioned above, which enables you to safely and effectively download all songs from Apple Music to your device. Then, you can listen to Apple Music offline on any device without worries.
Conclusion
Many ways are offered here to solve the problem of how to download all Apple Music at once on the computer and phone. If you want to play Apple Music outside its app, MuConvert Apple Music Downloader is the optimal helper to take your favorite melody everywhere, which enables you to one-click download all Apple Music to DRM-free MP3 with lossless quality for the best offline listening. Try it out and you'll be sorry for the lateness of the encounter.
Convert Apple Music to MP3 Losslessly
Remove DRM from Apple Music songs and convert them to MP3 without quality loss.