DRM Protected Streams Are Not Supported [Best Solution]
"I keep encountering this error message when using VLC to play WMA files – Could not demux ASF stream: DRM protected streams are not supported. Is there any way to bypass the DRM protection and play those downloaded files in WMA format? "
Users are encountering difficulties playing downloaded WMA files due to DRM protection. Ripping CDs using Windows Media Player can generate DRM-protected WMA files, as the player has the ability to apply DRM protection during the burning process, making them only playable on authorized devices or with licensed software.
Here, we'd like to introduce Microsoft's Digital Rights Update tool, specifically designed to address this issue. Read on as we provide insights and guidance to help you remove DRM restrictions and enjoy your files freely without any annoying restrictions or playback problems.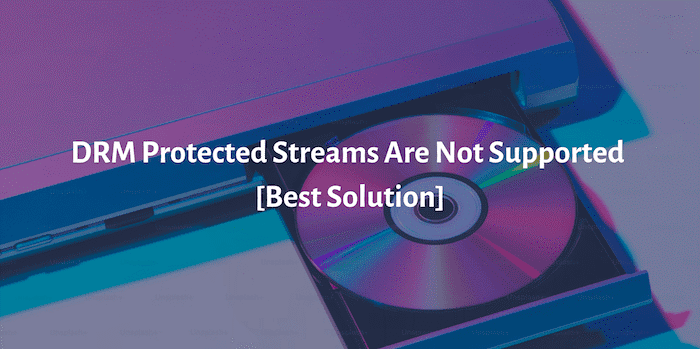 What Is DRM and Why DRM Protected Streams Are Not Supported
Digital Rights Management (DRM) is a technology used to protect the intellectual property rights of digital content. Employing encryption and licensing measures, DRM aims to safeguard the rights of copyright holders. When it comes to playing DRM-protected files, such as streaming media, users may encounter error messages indicating that the DRM protected streams are not supported or cannot be played.
This is because DRM imposes restrictions on the files, making them unreadable by unauthorized devices or software. These encoded files are only allowed to be accessed and played on authorized devices or with approved software that has the necessary DRM capabilities.
While DRM does a good job of protecting creators' copyrights, it's not really fair to paying subscribers who have paid for content and want to use it for personal use. To overcome this limitation, we will guide you through the easiest way to remove DRM.
The Easiest Way to Remove Protected DRM from WMA Files
WMA stands for Windows Media Audio, which is both an audio file container and a codec. Specifically designed for use with the Windows Media Player, which is the default multimedia player on Windows operating systems, WMA was created as an alternative to other popular codecs such as MP3 and RealAudio.
WMA files can be automatically protected by DRM when they are created using software such as Windows Media Player. This protection is to control the use and distribution of copyrighted content contained in WMA files.
When trying to play DRM-protected WMA files, users may encounter various scenarios where the files are not supported:
Player error messages: Some media players may display error messages indicating that they cannot handle DRM-protected streams.
Device limitations: Certain devices may not support playing DRM-protected content, resulting in playback issues.
Conversion restrictions: DRM protection can prevent users from converting or modifying WMA files to other formats.
To solve these problems, Digital Rights Update Tool is here to help. Made by Microsoft, this free and secure software removes the DRM copy protection added when ripping CDs using Windows Media Player. Here is how to use this tool to remove the DRM of your WMA files.
Step 1. Search for the Digital Rights Update Tool from the Microsoft Store.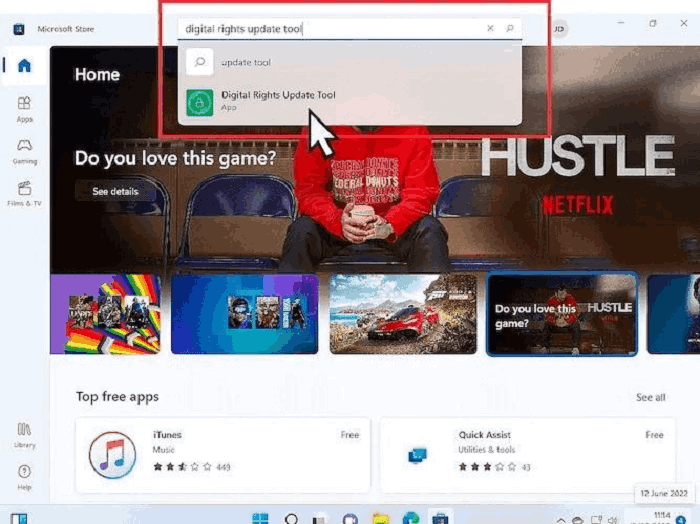 Step 2. Launch the tool and follow the on-screen instructions to set it up.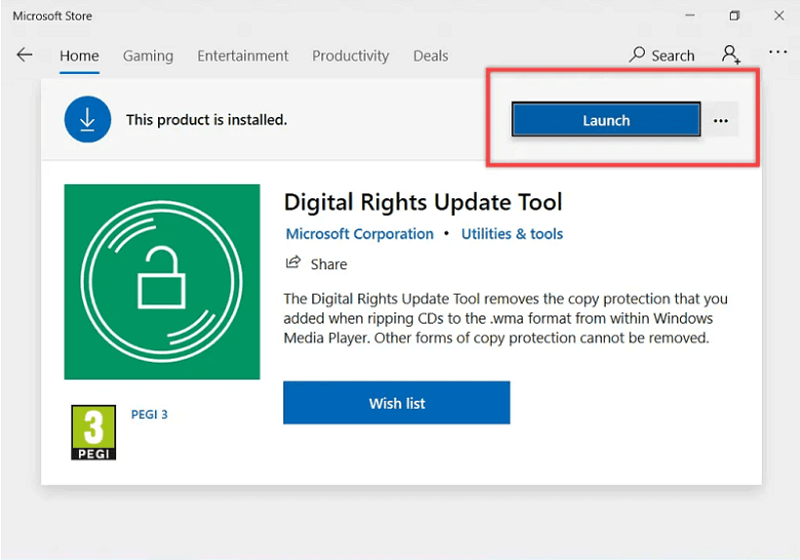 Step 3. Click the folder icon in the tool's navigation bar to browse and select the WMA/WAV files you want to remove DRM from.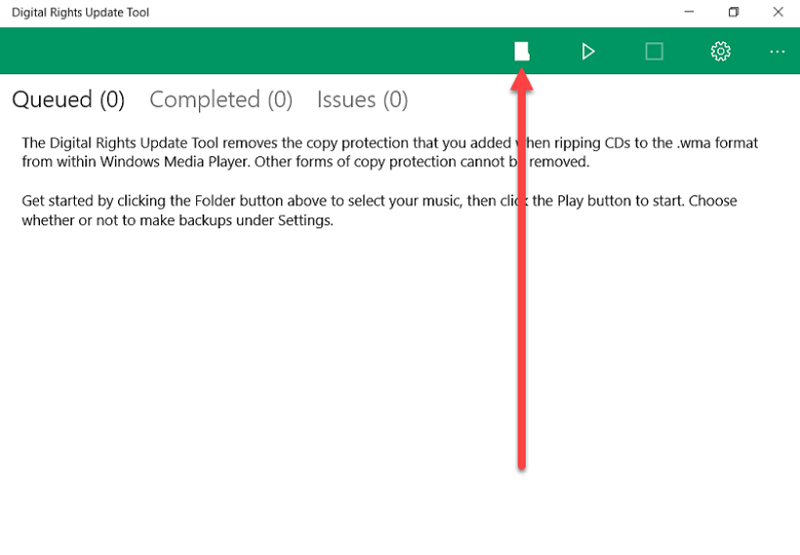 Step 4. Once all the files are uploaded, simply click the "Play" button to initiate the DRM removal process.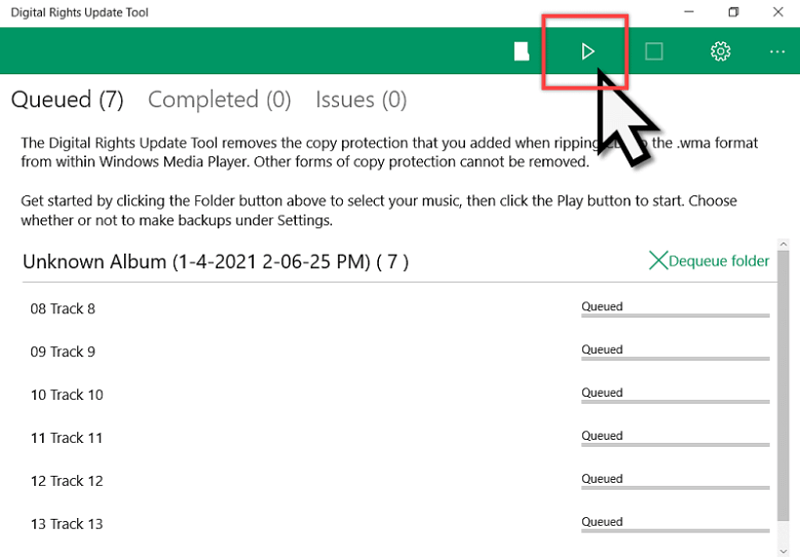 Step 5. When files turn to "Completed," the DRM removal process is finished, and you can access the DRM-free WMA files in the local folder.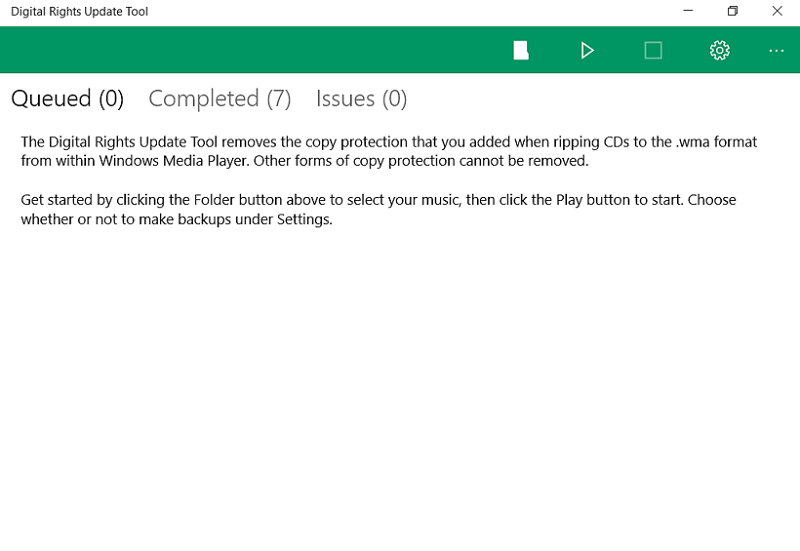 How to Check If a File Is DRM-Protected?
In today's digital landscape, DRM protection is commonly applied to most digit paid content, including audio & videos files and DVDs. If you are not sure whether the files you own are protected by DRM, you can use the following steps to check it manually.
If you have some audio (such as WMA, MP3) or video file (such as MP4, AVI) on your PC, you can easily check if it's protected or not.
Step 1. Right-click the media file and select Properties.
Step 2. Navigate to the Details tab.
Step 3. Look for the "Protected" field. If it displays "Yes," then the file is DRM-protected.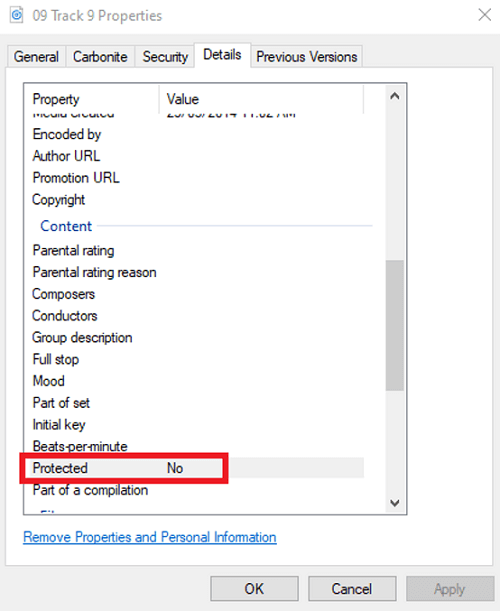 If you bought the original DVD from the official store, there is no doubt that its content must be protected by DRM. However, if you get DVDs from other sources and want to confirm if they are DRM protected, there are several indicators to check:
Inner Hub Inscription: Look for a copyright inscription on the inner hub of the disc.
Copyright Notice: Check if there's a copyright notice at the beginning of the film.
Additional Footage: See if there are extra contents like backstage footage or trailers.
Professional Menu Design: DRM-protected DVDs often have dynamic and well-designed menus.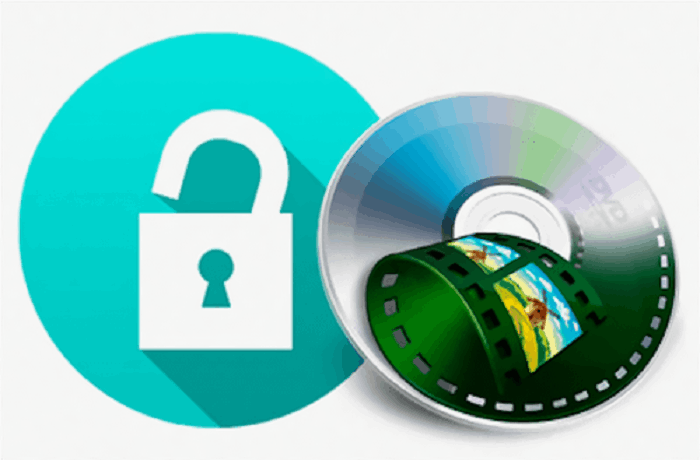 Extending Tips: More DRM-protected Formats
Besides WMA files, some other files downloaded from streaming services or third-party stores, such as M4P, M4V, AA/AAX, are also protected with DRM.
Now, let's dive into the practical ways to remove DRM protection from various file formats.
M4P: Apple Music download music format – All music downloaded from Apple Music is in the M4P format and can only be played on iOS devices. To play M4P files on other unauthorized platforms, you have to convert them to DRM-free formats like MP3.
One excellent solution for this is TuneFab Apple Music Converter, which allows you to convert M4P files to MP3 and enjoy the converted audio files without any playback restrictions.
M4V: Download video formats purchased from the iTunes store – For example, TV episodes, full-length movies, and music videos downloaded from the iTunes Store. Due to DRM protection, they are not compatible with normal players, such as Android devices and VLC media players.
To solve this problem, it is necessary to convert M4V files to common formats, such as MP4, and then you can watch the videos on various devices without DRM limitations.
AA/AAX: Audiobook format for Audible Downloads – Audiobooks in this format are protected by DRM and can only be played on authorized devices and official applications, such as the Audible app or licensed MP3 players.
Read more if you're interested in playing AA/AAX audiobooks with DRM removed on unlicensed devices.
Now you have a comprehensive understanding of DRM, including its concept, purpose, and limitations. You have also learned how to identify and remove DRM from various popular formats, such as WMA and other commonly encountered DRM-protected files.
Don't feel annoyed when you encounter the DRM Protected Streams Are Not Supported alert next time you rip CD. Just follow the steps we described in detail above, and then you can use Digital Rights Update Tool to easily remove DRM-restricted WMA files.