DRM Protected Streams Are Not Supported [Solved]
When the streaming music or videos are added the DRM protection, people are not allowed to download or share them as they want. Even you are trying to do it, you will get an error message, telling you "DRM protected streams are not supported". As a result, knowing what DRM is and how to remove DRM from different types of protected content will be a basic to get them free again. So, in this article, you will learn about these things.
Solutions to DRM Protected Streams Are Not Supported Problem
Nowadays, there have 4 kinds of media content that would be added the DRM protection, including iTunes M4V videos, Apple M4P songs, Audible audiobooks, and WMA/WMV audio files. According to different kinds of media files, the software to help remove DRM would be different. So here, they will be introduced one by one.
Remove DRM from iTunes M4V Videos
iTunes M4V videos are protected by DRM, which need people to buy from iTunes Store before watching. Even after buying the videos, people can't save the M4V videos to other devices for playback but can only enjoy with iTunes player.
To remove DRM from iTunes M4V videos, you just need the help of MuConvert M4V Converter, a reliable software provided for Windows and Mac users to cancel the DRM protection from purchased iTunes M4V videos. It can keep high quality for converting the iTunes videos, letting people to have the same video playback experience offline.
Features
Converts protected M4V videos to MP4 format within clicks
Keeps the original HD quality to convert M4V videos
Saves Dolby 5.1 Soundtracks, Subtitles, Closed Captions and AD at once
Plays iTunes M4V videos on any devices
Supports batch conversion at a time
Detects iTunes movies/TV shows automatically
How to Use MuConvert M4V Converter
Step 1. Download MuConvert M4V Converter to Install
Because MuConvert M4V Converter is supported on Windows and Mac, you should choose the right version for installing the software to your computer.
Step 2. Purchase iTunes M4V Videos
You need to purchase the iTunes M4V videos and download them for saving in iTunes library at first. Or MuConvert M4V Converter can't detect them in the software.
Step 3. Open MuConvert M4V Converter and Add Files
Now you can open MuConvert M4V Converter on your computer and click the "Add Files" button. Then the software will directly load the downloaded iTunes M4V videos you have saved in iTunes library to the software. You just need to choose those you want to remove DRM and press "Add" to import them.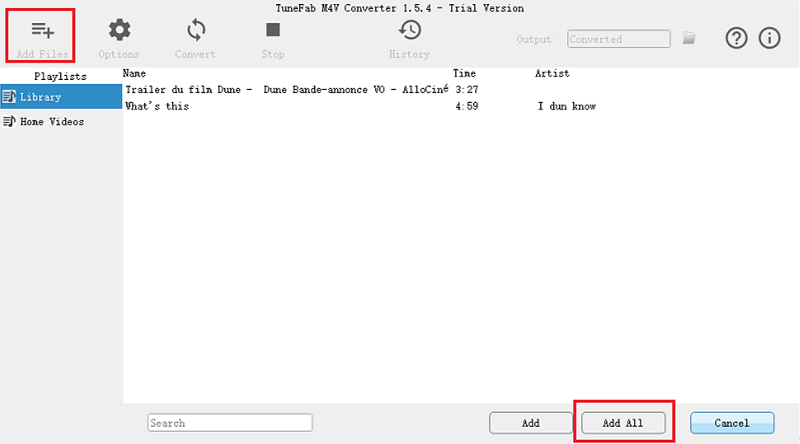 Step 4. Choose Audio and Subtitle
When the iTunes M4V videos are added, click the "Settings" button on each video and you can choose the "Audio" and also "Subtitle" you want to convert.
Step 5. Start Removing DRM from iTunes M4V Videos
Finally, you just need to press the "Convert" button, and MuConvert M4V Converter will start converting the iTunes M4V videos to MP4 format without DRM protected. After that, people can enjoy the videos in more flexible way.
Remove DRM from M4P Files
The second category that would be protected by DRM is the M4P songs developed by Apple to encode the iTunes audio files. For M4P songs, they can only be opened using iTunes or QuickTime, which is not convenient for playback.
To remove these limitations, the software people can use to cancel DRM of the M4P files can be using MuConvert Apple Music Converter, which works well for both Windows and Mac users to convert M4P files and Apple Music to the common MP3, M4A, FLAC and WAV audio files with high quality.
Features
Provides different audio formats to help people play Apple Music on more devices
Keeps M4P and Apple Music songs forever even without membership
Saves ID3 tags of the converted music
Customizes audio parameters including Bitrate and Sample Rate freely
Keeps original quality to convert music
Supports up to 10X faster conversion speed
How to Use MuConvert Apple Music Converter
Step 1. Install MuConvert Apple Music Converter and Launch It
On your Windows or Mac, you need to install MuConvert Apple Music Converter first. Then you can run it and simply click "Open the Apple web player" to the main interface of it.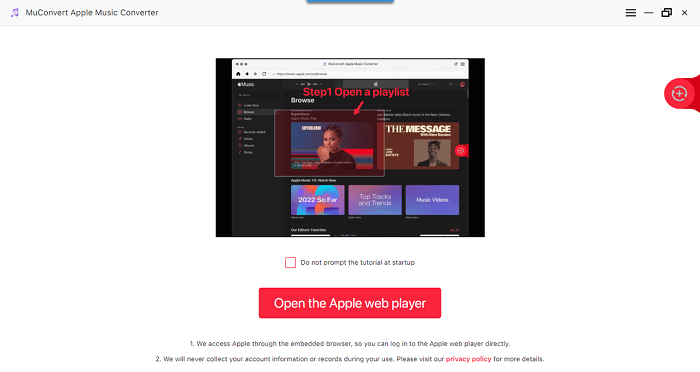 Step 2. Choose DRM Protected M4P Songs
After entering the Apple Web Player, you are supposed to sign in your Apple Account. Then you can directly select the M4P songs in the embedded Apple Web Player and drag them to the red "Add" button.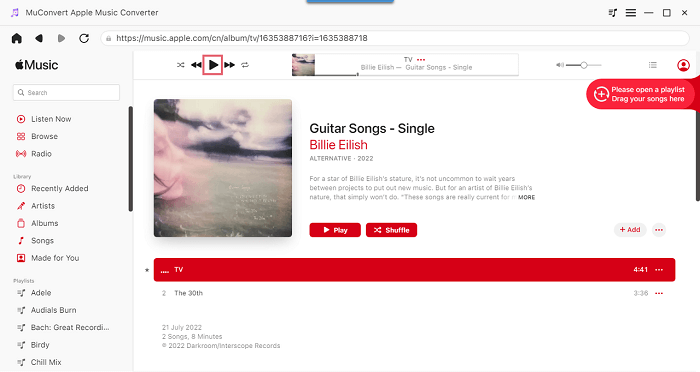 Step 3. Choose Output Preferences Before Conversion
When you select the M4P songs you need to remove DRM, you can go to "Menu" > "Preferences" > "Advanced" to change the "Output Format", "Bitrate" and "SampleRate" for saving the converted songs.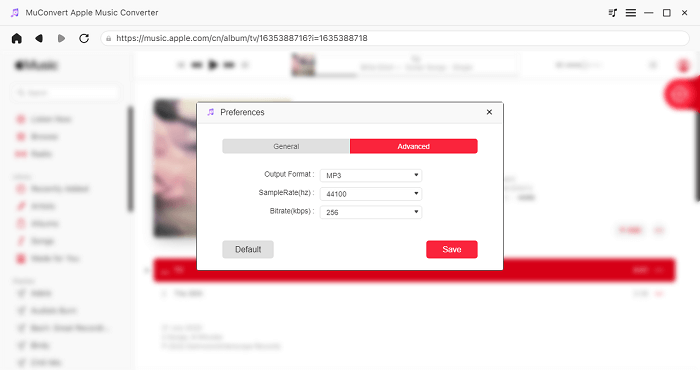 Step 4. Convert M4P Files to DRM-free Audios
Finally, just press the "Convert" button and MuConvert Apple Music Converter will directly convert all the M4P files to your selected output format without DRM protection anymore.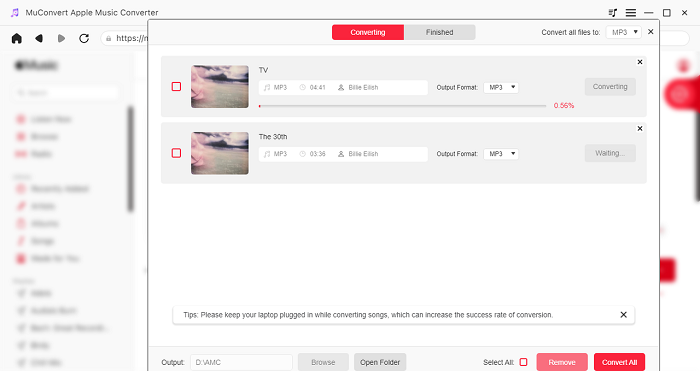 Remove DRM from Audible Audiobooks
The third type of media content that is popular used but will be protected by DRM is the streaming audiobooks provided on Audible. Even the purchased Audible audiobooks can be downloaded offline for playback, they are not supported by most popular media players. For those devices that are not compatible with Audible, people would fail to enjoy the audiobooks playback conveniently.
MuConvert Audible Converter is the software that can help remove DRM protection from the Audible books on different platforms (Windows and Mac). The converted Audible books will be saved with the chapter's information and original sound quality, so that the offline playback can be maintained as the same as the original source.
Features
Supports to convert Audible AA/AAX to MP3, M4A, FLAC, and WAV easily
Keeps all the chapters and ID3 metadata info at once
Allows to split audiobooks into smaller parts by time or chapters
Supports to process the conversion with up to 60X faster speed
Keeps converted Audible audiobooks in 100% original quality
How to Use MuConvert Audible Converter
Step 1. Install MuConvert Audible Converter and Download Audible Books
At first, you need to install MuConvert Audible Converter to your computer based on whether you are using Windows or Mac system. Then you should also download the Audible audiobooks from the platform to AA or AAX files offline before the conversion starts.
Step 2. Add Audible Books to MuConvert Audible Converter
Then open MuConvert Audible Converter and you can press the large audiobook icon in the middle to add the Audible books to the converter. Or you can directly drag the files here for uploading.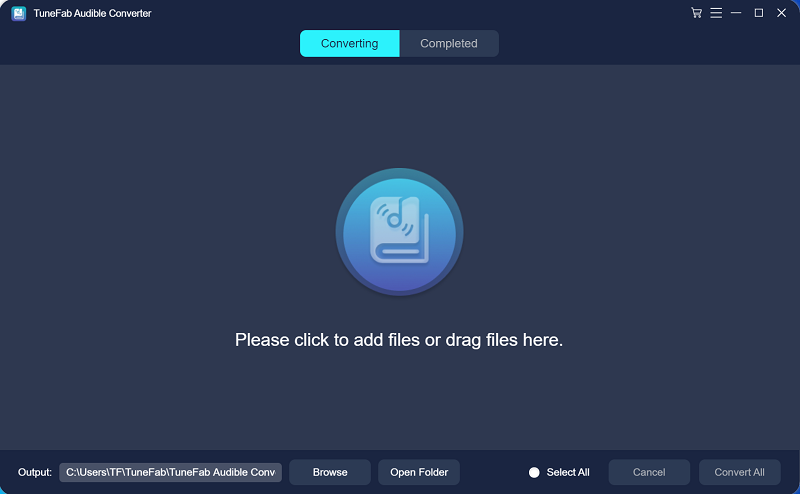 Step 3. Select Output Formats for Audible Books
When the Audible books are added to MuConvert Audible Converter, you can select output format for them to save the converted files. There have four format options provided, which are MP3, M4A, FLAC and WAV. So just choose the one you need.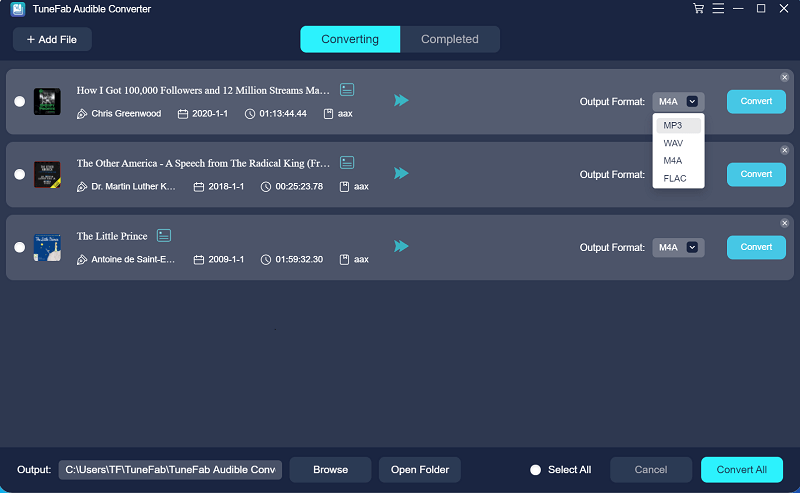 Step 4. Split Audible Books into Smaller Parts
If the Audible books are too large to keep, you can split them for keeping smaller parts instead. Just go to "Preferences" and in the "Split" part to choose the splitting you want. Click "Save" and MuConvert Audible Converter will apply the change.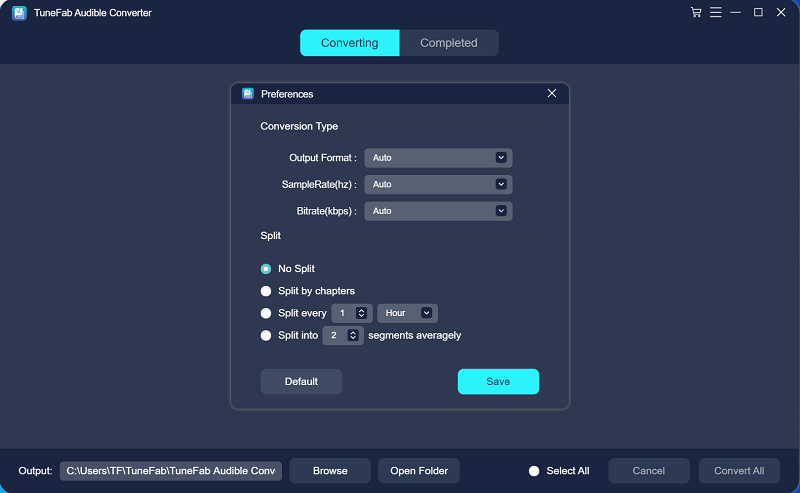 Step 5. Convert Audible Books to DRM-free Audio Formats
When the settings are finished, click the "Convert All" button and MuConvert Audible Converter will start converting the books to audio formats in DRM-free condition. Then people can enjoy the audiobooks offline in more convenient way.
The DRM-protected WMA/WMA files also has a way to get them out of the protection of DRM. Digital Rights Update Tool is the software used for getting WMA/WMA files saved to a DRM-free condition. Here is how to use the software to remove DRM from them.
Step 1. Search for the "Digital Rights Update Tool" in Microsoft Store to access the tool.
Step 2. Download and install it to your computer from the store. Then open it.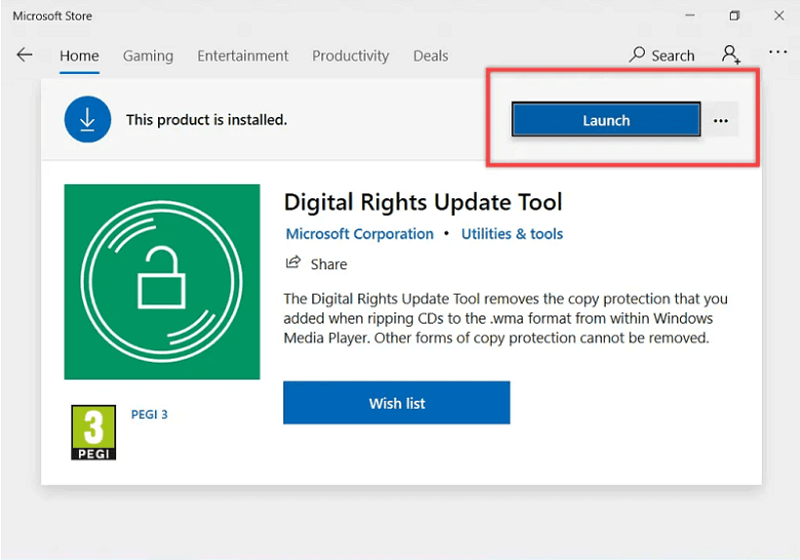 Step 3. Click the folder icon provided on the navigation bar of the tool and browse your computer for selecting the WMA/WAV files you need to remove their DRM.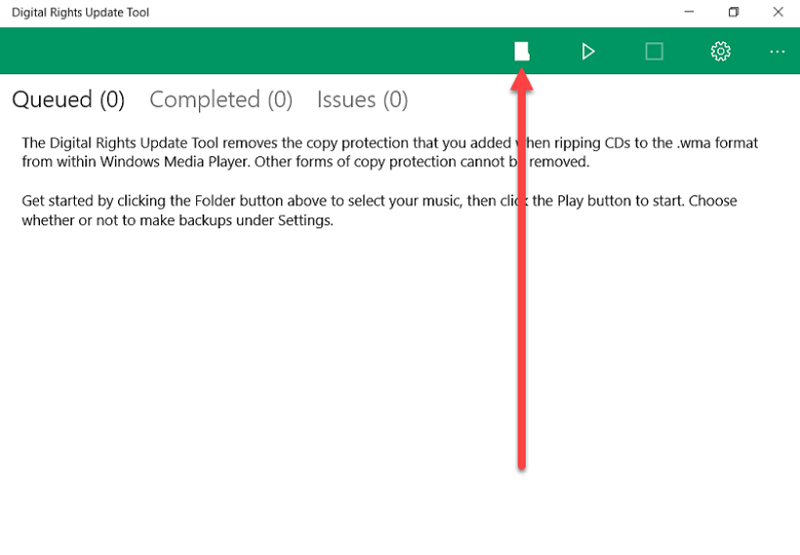 Step 4. When all the files are uploaded now, you should click the "Play" button to start the DRM removing process.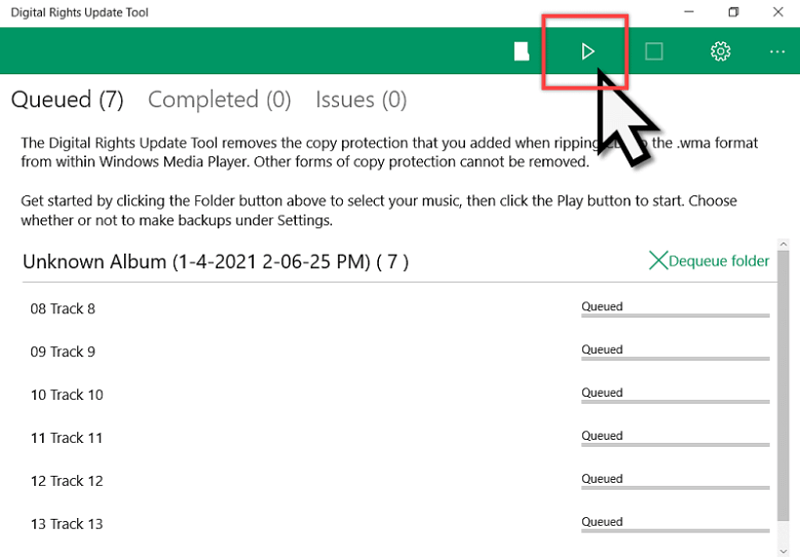 Step 5. When the files are switched to "Completed", that means the DRM removing process is finished. You can get the DRM-free files offline in the local folder.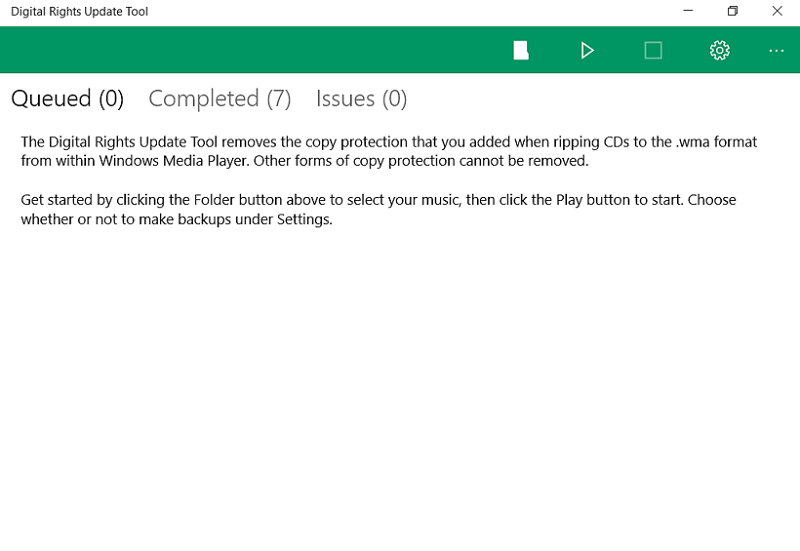 Additional Knowledge: What is DRM?
DRM's full name is Digital rights management, which is a technology used to control people's access to the copyrighted media materials online. Many companies have used DRM to protect their online streaming content, including Apple, Audible, Spotify, and so on. When the content is added the DRM protection, authors, musicians, moviemakers, and other content creators can fully control who can access and how they can manage it.
In most cases, the media content with DRM protection would:
Stop people from downloading or sharing offline
Be unavailable to take screenshots or record the content
Need to purchase for accessing
Have watermark on the content
…
How to Check if a File is DRM-Protected?
So how can we check whether a file is protected by DRM? Here are the methods provided for you to check the DRM condition of different types of media content easily.
If you have an audio or video file saved on computer, you can check whether it is protected by DRM in "Properties".
Step 1. Select the audio or video file you want to check its DRM condition.
Step 2. Right click on the file and choose "Properties".
Step 3. Go to "Details" and scroll down. If the "Protected" value is "No", then it is a DRM-free file.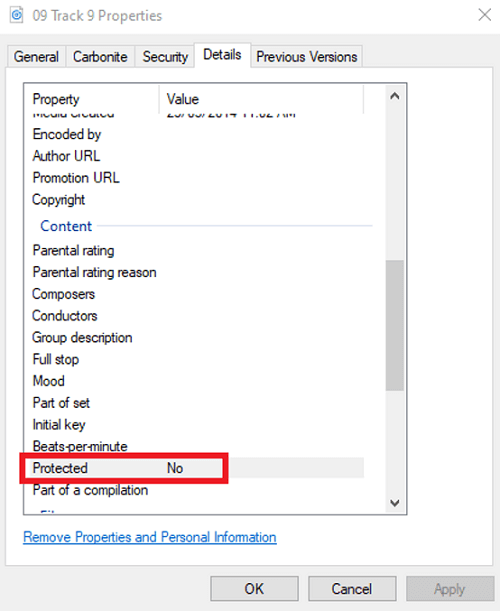 For the newly bought DVD disc, people may be curious whether it is protected by DRM. The following things can help you find out if it is a protected one:
l Play the DVD and see whether there has a copyright notice
Also look for the copyright notice inside the hub of the disc
See if the menu is designed in a professional way
Check if there have more footages for the content
Sometimes the file formats can also tell you whether the files are protected by DRM. As we know, some formats are developed with DRM protection directly. They include the following ones:
Apple Music songs – M4P format
iTunes songs – M4V format
iTunes audiobooks – M4B format
Audible books – AA/AAX format
Other DRM-protected files – WMA and WMV formats
Now we know that different kinds of DRM-protected files should use different software to remove the protection. The article has introduced the ways for you to check whether the files are protected by DRM and the ways to remove it. It will be helpful for you to get free media content for enjoying in more flexible way.