How to Upload Songs from Apple Music to Google Drive [2023]
To regulate the music streaming service, Apple Music has adopted the DRM encryption technique to prevent you from copying or transferring the songs. Even if the music download feature is only provided for subscribers, you still can't take them out of Apple Music. The corresponding consequence turns to the impossibility of backing up your favorite music collections off Apple Music to some popular cloud services, including Google Drive, without taking up your device storage.
Nevertheless, we still get a way to work it out! In the post, the ultimate solution will guide you to remove DRM and download Apple Music to upload to Google Drive. Please scroll down and learn about it!
Download Apple Music to Google Drive Compatible Formats
Google Drive functions to back up your local files instead of some online resources, so you need to download Apple Music to its compatible formats first. But the problem is the restriction regulated by Apple Music – the DRM protection. Therefore, if you wish to upload music to Google Drive, you ought to remove DRM and download Apple Music songs in advance. For such a purpose, now you need to find a third-party program with the ability to
download Apple Music to Google Drive-supported audio formats such as MP3
,
MPEG
,
WAV
, .ogg, and .
opus
As a top-ranking Apple Music Downloader plus DRM removal program,
MuConvert Apple Music Converter
can do both jobs for you with just one tap. Its convenience has been revealed in the way to realize Apple Music download – by embedding the whole web player and then adding the download function on it. So, you only need to log in this built-in Apple Music web player, and it is possible to choose any song, album, or playlist to download.
Don't worry about the output settings as this prominent
Apple Music downloader
has provided both MP3 and WAV, Google Drive's compatible audio formats to select. The other thing you can determine can be the audio quality. The program will offer up to 320Kbps bitrate and 48kHz SampleRate settings to help you determine your own Apple Music files before initiating the music download in MuConvert Apple Music Converter.
Overall, you will get these benefits if select MuConvert Apple Music Converter to download Apple Music for importing the songs you like to Google Drive:
Remove DRM and download Apple Music to MP3, WAV (Google Drive's supported formats) in one-shot.
Personalized quality settings are provided to determine the downloaded music files in preferences.
All ID3 and metadata information will be retained accompanying all Apple Music downloads.
Batch download feature is equipped, with 10X faster speed guaranteed to facilitate higher productivity.
No iTunes installation is needed to proceed with both DRM removal or Apple Music format conversion.
Next, please walk through the manipulation guide and learn how MuConvert Apple Music Converter functions to download Apple Music to Google Drive's compatible formats without DRM protection:
Step 1. Log in to Apple Music Web Player
Please complete the program installed on your computer first. Subsequently, you can open it and land on the built-in Apple Music web player for logging it. It is the official web player, so you can utilize it as the way before.
Step 2. Select Apple Music Songs and Albums
While browsing the music resources in the web player, you can add any of them to the Add button aside if you wish to download and upload to Google Drive.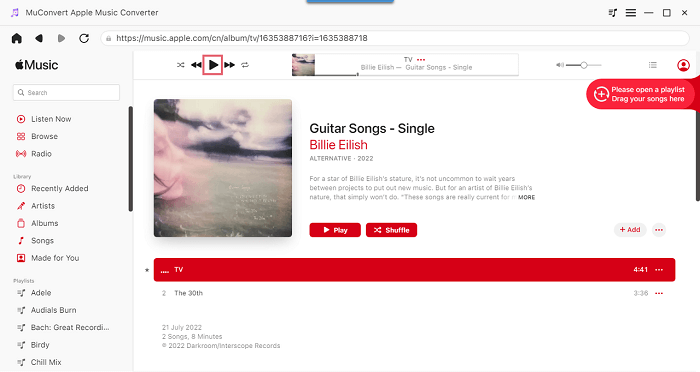 Step 3. Determine Quality Settings
Once complete the music adding, please turn to
Menu >> Preferences
to determine the format and quality settings now. Remember to select the option (MP3 and WAV) supported by Google Drive. As for
SampleRate
and
Bitrate
, simply choose the options in your preferences.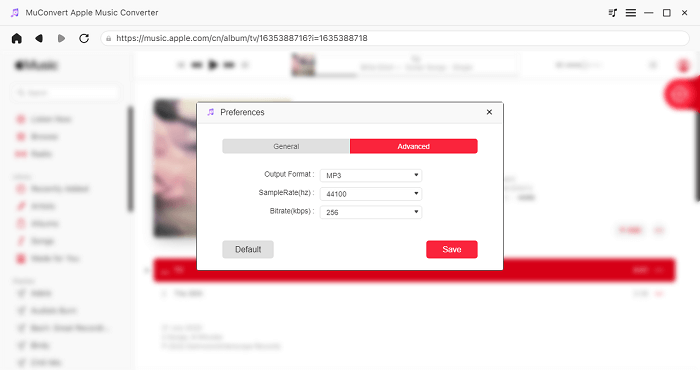 Step 4. Download and Get Local Apple Music Files
Eventually, simply tap the Convert All button, MuConvert Apple Music Converter will initiate the music download for you. Just a moment, you will get all the downloaded DRM-free MP3 or WAV Apple Music files on your desktop locally. Please access them under the Finished module and click on the View Output File button.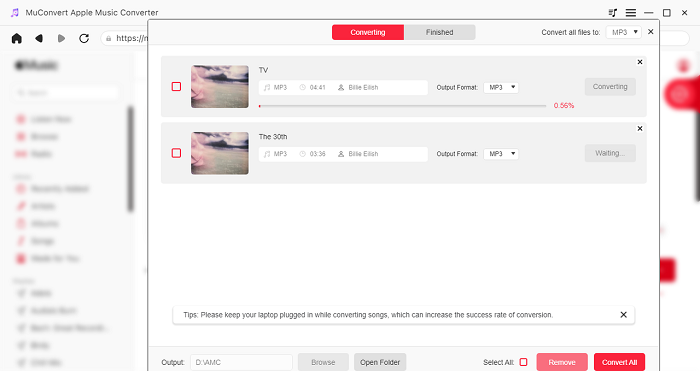 How to Upload Music to Google Drive
When Apple Music songs are downloaded offline, now let's move on to the next procedure – import them to Google Drive. Regardless of whether you are utilizing a Windows or a Mac device, the manipulation would be the same. Now, please read the detailed guide below and master how to upload audio to Google Drive:
1. Please open Google Drive could service in a browser.
2. After logging into your Google account, please click on New >> Folder to create a new folder to save Apple Music.
3. Enter the folder, then please select New >> File Upload and highlight all local Apple Music files you just download to import.
Tip: Dragging and dropping them to the interface of the web folder is also supported.
4. Wait for the upload completes. The total duration would depend on your Internet connectivity and also the number of Apple Music files you have selected to upload.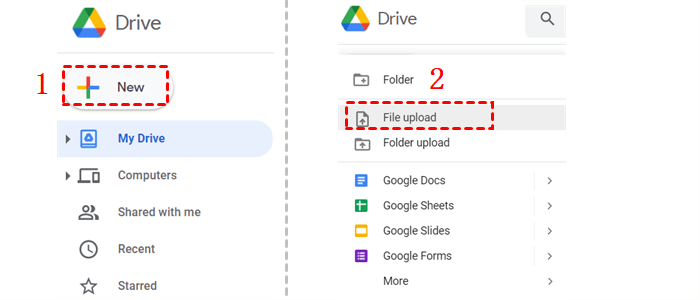 Bonus Tip: How to Add Music from Google Drive to Apple Music
Once you have added music to Google Drive, when you need to reverse the manipulation and save Apple Music from Google Drive to Music app, simply follow the procedures below to get it done:
1. Log in Google Drive with the same account utilized to back up Apple Music songs.
2. Select those you like and initiate downloading them.
3. Open Music app and turn to File >> Import… to upload the downloads to iTunes or Music app on your computer.
4. Start streaming them offline!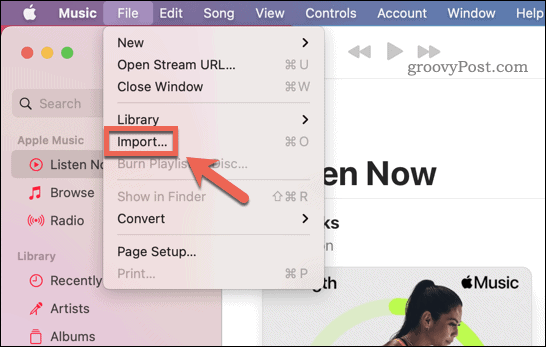 1. Also, you ought to log into Google Drive and select the uploaded Apple Music songs to download.
2. Open iTunes and go to File >> Add File to Library….
3. Select uploading Apple Music downloads to the library.
4. Play them on iTunes or synchronize with other iOS devices to enjoy the playback offline!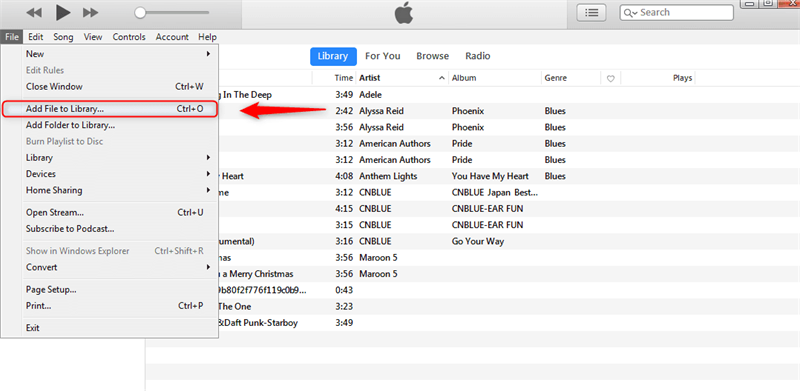 To upload Apple Music to Google Drive, surely DRM is the biggest problem we would face. When
MuConvert Apple Music Converter
can function to bypass this encryption and helps download Apple Music to Google Drive compatible formats with lossless quality, this is no longer a difficult job at all. Replacing Google Drive, you can also utilize other cloud services to back up them without losing your favorite Apple Music songs anymore!