How to Download Any Music to Your Apple Watch?
Apple Watch is of great popularity today, as many people would rely on it to record their daily sporting, monitor health condition, or receive instant messages to reply to in time. For some people, Apple Watch also helps to free their hands in that they don't need to carry heavy mobile phones from time to time, especially while doing sports. However, for such circumstances, people also consider whether they can download Apple Music to the watch for streaming without connecting to mobile devices (especially for the Apple Watch of Wi-Fi version, which fails to connect to the network by itself).
Fortunately, it won't be troublesome as there have been effortless ways to
enable offline music playback
on Apple Watch. In the following, you will walk through the details and master how to download music to Apple Watch exactly.
Can You Download Music to Apple Watch
Yes. Downloading music to Apple Watch would be a fairly simple thing for everyone to master. Generally, you get two paths to manipulate the music downloaded to Apple Watch:
Directly download music on Apple Watch – Some music streaming services such as Apple Music and Spotify provide an official app on Apple Watch. If you are using watchOS 5 or later, you can directly connect your watch to Wi-Fi and download music on it (You need to subscribe to Apple Music or Spotify Premium).
Download and transfer music to Apple Watch – If your Apple Watch doesn't support connecting to Wi-Fi or your cellular data, or you have other music that is not on those streaming services, you can just download songs on your computer and then transfer them to your Apple Watch.
How to Download Apple Music on Apple Watch Directly (with Official Apps)
For Apple Music subscribers, it would be possible to download music to Apple Watch without iPhone directly. You only need 3 steps to install the Music app and download music from Apple Music to Apple Watch for streaming offline.
1. Connect Your Apple Watch with the correct Wi-Fi. Here's the Wi-Fi requirement for different models:
Apple Watch Series 6: 2.4 GHz or 5 GHz Wi-Fi
Apple Watch Series 5 and earlier, and Apple Watch SE: 2.4 GHz Wi-Fi
2. Open Apple Watch and find the Music app.
3. Enter the Library.
4. Access the song, playlist, or album you wish to download offline, and tap the three-dots button to select Download.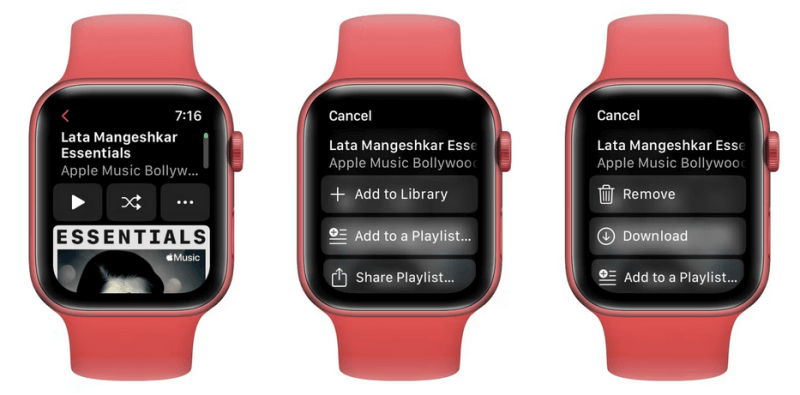 It is really easy to download music on your Apple Watch if you connect it to the internet and download the music apps. But you need to be aware that using these apps may occupy your storage. So if you just need to download certain songs to your Apple Music, the next method may be better for you.
How to Download Music to Apple Watch with iPhone (Any Song You Like)
If you are not a fan of installing a lot of music apps on your Apple Watch, downloading music you love on other devices and transferring them to your watch enables you to save the watch storage more. You can download any music you like from Apple Music, Spotify, or even Amazon Prime, depending on your habit, and then transfer them with iTunes and your iPhone to your Apple Watch.
Here I am going to introduce one of them,  MuConvert Apple Music Converter, which is an excellent program invented for all users (regardless of Apple Music membership subscribers or not) to download music from Apple Music to facilitate more convenient music playback offline.
The program provides all popular encoders, including MP3, M4A, and more to encode downloaded songs with high sound quality (closest to original M4P 256kbps if you set up the song output as M4A in 256kbps), greatly ensuring the same music playback experience even outside Apple Music app.
You may wonder what makes MuConvert Apple Music Converter a considerable option. These features could perfectly answer your question:
Popular encoders available – support to download Apple Music, iTunes Music and audiobooks to popular encoders such as MP3, M4A, AAC, and more.
Original quality retained – it can retain both original sound quality and ID3 information while proceeding with the music download.
Embedded Apple Music web player – the program is enhanced with a built-in web player to process the Apple Music download without iTunes installation required;
Speedy performance – with the ability to speed up the download process to 10X faster, the program helps to facilitate the Apple Music download with less time;
Batch download available – plus the batch download feature, people can get converted Apple Music songs in batch with great productivity.
Install the program now as you are attracted by its features. Keep reading and master the proper manipulation to download music to Apple Watch with the help of MuConvert Apple Music Converter.
Section 1: Download Songs from Apple Music
MuConvert Apple Music Converter is oriented for Windows and Mac systems. Therefore, you can't install the program on your iPhone to proceed with the Apple Music download directly.
Step 1. Log into MuConvert Apple Music Converter
First, freely install MuConvert Apple Music Converter on your Windows or macOS desktop. Once completed, open the program and tap the large Open the Apple web player button in the middle. When you turn to the main feed of the Apple Music web player, log in utilizing your Apple ID, or you are not permitted to manipulate the music download.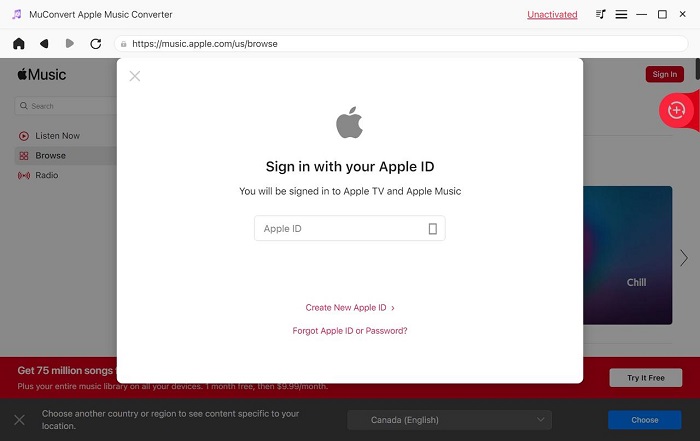 Step 2. Select Apple Music Albums to Download
After login, you can directly access the Apple Music database and select the albums you wish to download to Apple Watch. To process the download, you ought to drag the music albums to the Add (+) button to proceed the conversion.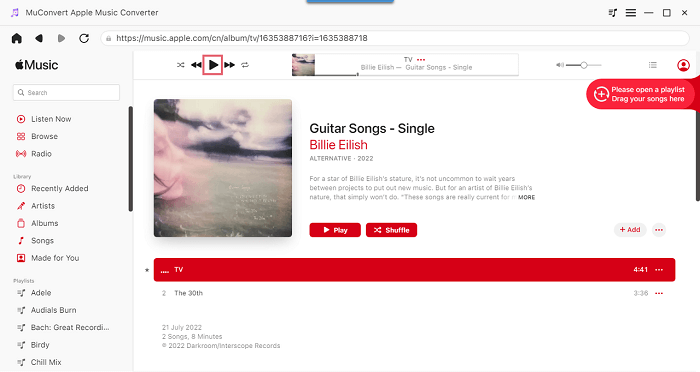 Step 3. Configure Output Settings
Please turn to Menu >> Preferences and switch to the Advanced module. Here, you can configure the Output Format, SampleRate, and Bitrate to export the downloaded Apple Music in your preferences. Remember to confirm Save or the changes won't be applied.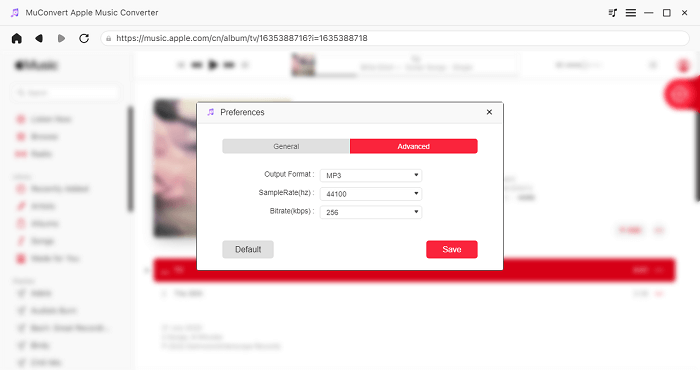 Step 4. Proceed Downloading Apple Music to Desktop
Eventually, tap on the Convert All button and MuConvert Apple Music Converter will process the music download for you in no time. Please wait for it to complete the process, then you are available to access the downloaded songs under the Finished module.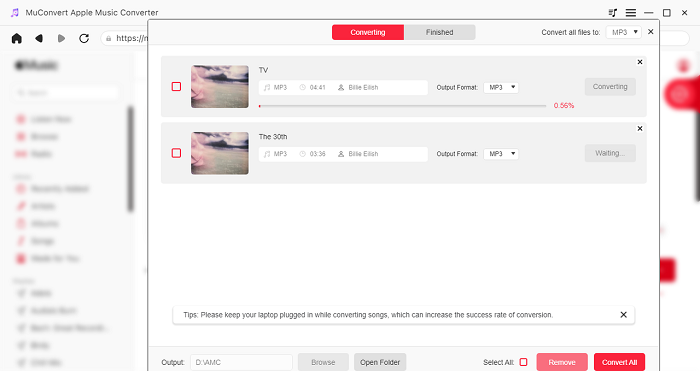 Now you've got all your Apple Music songs downloaded on your computer. The following section will show you how to transfer them to your iPhone so that you can move them to your Apple Watch.
Section 2: Transfer Music from PC to iPhone with iTunes
Currently, you can directly transfer music from your computer to your Apple Watch, so you need to transfer them to your iPhone first. In MuConvert Apple Music Converter's Finished module, you can preview the download history and access the output location by tapping the View Output File button. Once you reach the songs, continue to transfer them from PC to iPhone utilizing iTunes now.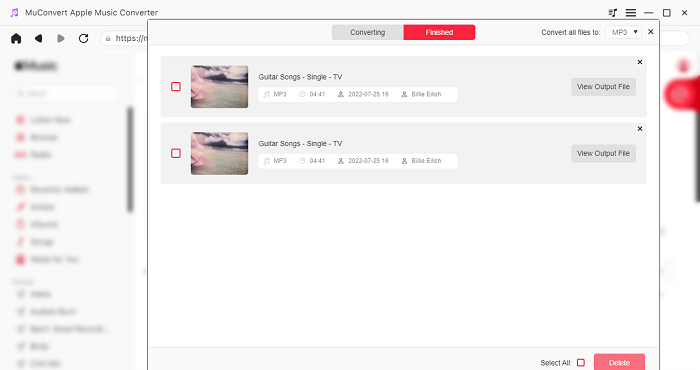 1. First, you ought to import the downloaded Apple Music songs from MuConvert's output folder to the iTunes music library.
2. When the music is saved, please connect your iPhone to the PC. Subsequently, return to iTunes and tap the device icon to synchronize with the device.
3. Select Music from the left panel and enable the Sync Music option on. If you wish to transfer the full music library to your iPhone, please also check the Entire music library.
4. Tap Apply, then the saved Apple Music songs will be transferred to your iPhone in no time.

When the downloaded Apple Music songs are now stored on your iPhone, you only require one more manipulation and they can be added to your Apple Watch.
Section 3: Add Music to Apple Watch with iPhone
When it finishes transferring, you need to take the last steps to finish adding music to your Apple Watch. Before you add the songs, you need to turn on Bluetooth on both devices. When it is done, you can start to sync your downloaded song from iPhone to your Apple Watch.
1. On your iPhone, please open the Watch app.
2. Scroll down to find Music. Click on the option to enter.
3. Tap Add Music and select the offline Apple Music songs downloaded with MuConvert Apple Music Converter.
4. Once the music is added, you can access them on the watch to enjoy it offline flexibly.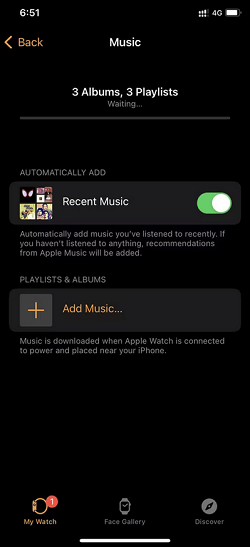 FAQs About Downloading Music to Apple Watch
Q1. How to Play Downloaded Music on Your Apple Watch
Once you have imported the Apple Music songs to the watch or have downloaded them offline within the Music app, simply connect with your AirPods and you can enjoy the playback offline without your iPhone!
Q2. Can I Download Spotify Songs to Apple Watch?
Not only Apple Music, if you are a Spotify user, you can also install the Spotify app on your Apple Watch and subscribe to Spotify Premium to enjoy the music playback offline. For non-Spotify Premium subscribers, you can try
MuConvert Spotify Music Converter
to download Spotify songs on PC, then process the same manipulation mentioned above to transfer them to iPhone, subsequently, add them to Apple Watch and stream offline.
To download music to Apple Watch for streaming offline without iPhone, you can subscribe to an Apple Music membership to process the music download within the Music app directly. Or you can try
MuConvert Apple Music Converter
to save the music offline on PC at first, then sync to iPhone and import it to the watch without an Apple Music membership subscription at all. The choice is up to you!