How to Remove DRM from Amazon Music [Really Works!]
"The DRM protected songs on Amazon has limited my music playback experience. I can't play them freely using my installed media players or even save them to my MP3 players for listening! Is there a way for me to remove DRM from Amazon Music?" – Amy
Many Amazon Music users like Amy are actually getting annoyed by the DRM protection of the songs provided on the platform, because it has greatly limited the playback experience offline. Even if you are an Amazon Prime or Unlimited member, you would still be limited by the DRM protection, making it impossible for you to listen to Amazon songs freely outside the platform or offline on other devices which can't install the Amazon app. So, how to remove DRM from Amazon Music to make the streaming more flexible? Or is it possible to do it? You will find the answer in this article.
What Is Amazon Music DRM?
The full name of DRM is Digital Right Management, which is a technology that would used by many music streaming providers, including some popular platforms like Amazon, Spotify, Apple Music, and so on to protect the music resources provided on them. With Amazon DRM, all the songs offered on Amazon will not be allowed to download offline unless you buy them or subscribe to subscription plans such as Amazon Prime and Amazon Unlimited.
Except for this, even if you have been an Amazon Music subscriber and have the ability to download Amazon songs for offline playback, you can move them outside the platform for playing or editing. Such limitations all existed because of DRM. As a result, for those who want to have more convenient Amazon Music playback offline, removing DRM becomes a need for you.
The Best Amazon M4A DRM Removal Tool
To remove Amazon DRM, you need help from a third-party professional DRM removal tool. Here I recommend the best one, MuConvert Amazon Music Converter, to you.
MuConvert Amazon Music Converter
is a desktop software developed for Windows and Mac users to access Amazon Music Web Player, and then directly
rip songs
as well as podcasts offline as common audio files without DRM protection. When it processes to
convert Amazon Music to MP3
, M4A, WAV, or FLAC, it will unlock DRM at the same time, so you will directly get the DRM-free files once the download is finished.
Of course, MuConvert Amazon Music Converter can keep high quality so that making sure you will have a good music playback experience offline. With the software, your Amazon Music listening process will not be limited by DRM anymore! Amazon app is no longer needed to play the downloaded songs and they can be edited freely as you need too!
How to Remove DRM from Amazon Music
Now in this part, the steps of using MuConvert Amazon Music Converter to remove Amazon DRM will be introduced to you with details. Have a look and follow to operate.
Step 1. Sign into Amazon Music Web Player in MuConvert
Firstly, when you have installed MuConvert Amazon Music Converter on your Windows or Mac computer, open it and then click to open the in-built Amazon Music Web Player. Then you should sign in using your Amazon Music account or you can't use the download function.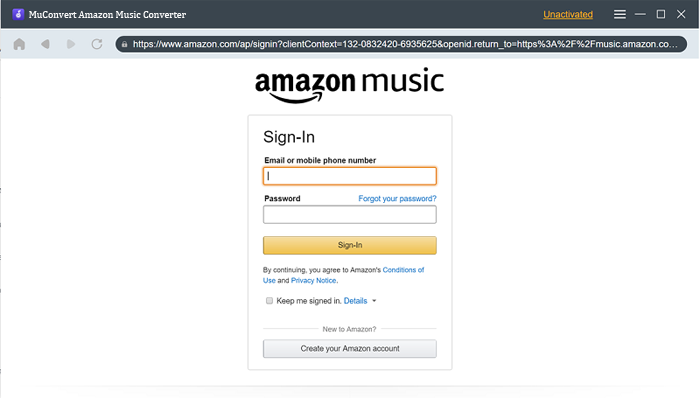 Step 2. Search for Amazon Music to Remove DRM and Download
After signing in to Amazon Music Web Player in MuConvert Amazon Music Converter, you can directly search for the songs, playlists, or podcasts you like to prepare for downloading. Simply drag them to the "+" button if you decide to save them offline.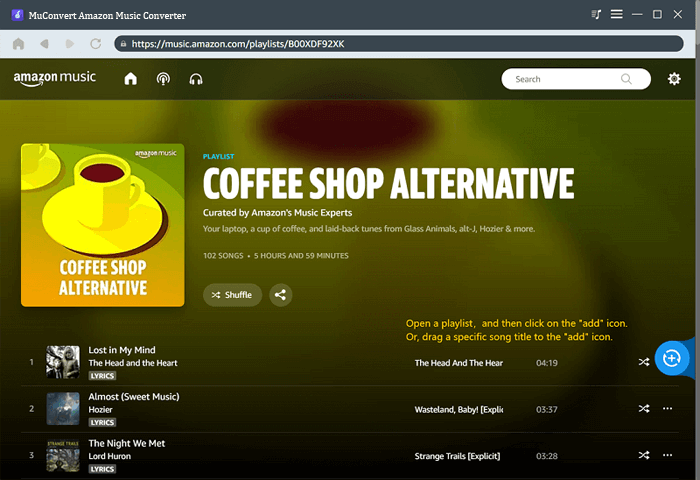 Step 3. Select Output Format and Quality to Download
To select a format to download Amazon Music offline, you just need to click the "Convert all files to" format menu in the top-right corner and select an option from MP3, M4A, WAV, and FLAC.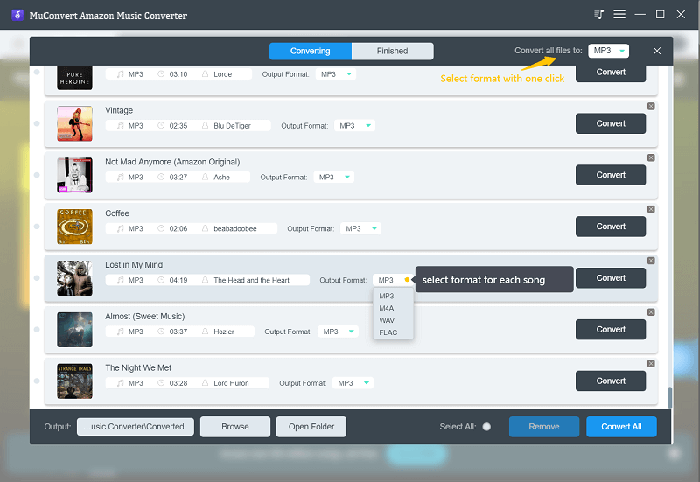 But if you also want to set the output quality for the Amazon Music downloads, you can open the "Preferences" setting window, then switch to the "Advanced" tab for changing both "SampleRate" and "Bitrate" as you need.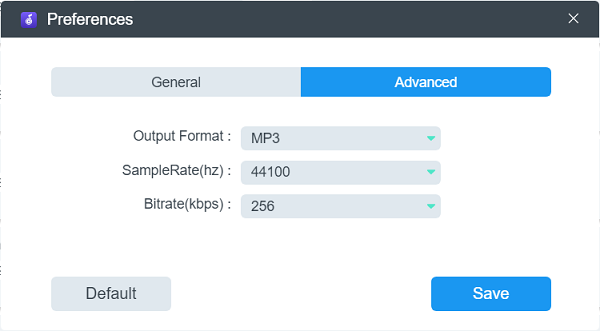 Step 4. Remove DRM from Amazon Music and Download
Finally, click the "Convert All" button, and MuConvert Amazon Music Converter will begin to unlock the DRM protection. Meanwhile, convert the songs to your selected format immediately.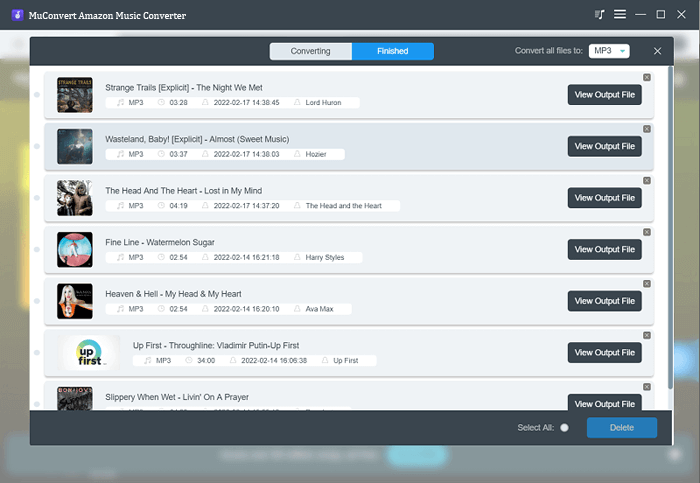 FAQs About Amazon Music DRM Removal
Is Amazon Music DRM-free?
No. To protect music resources, Amazon also uses DRM technology as a way to limit streaming or downloading them. Therefore, while using Amazon to play music, you will still meet some limitations. For example, you can't download them for offline listening unless subscribing to Amazon Prime, Unlimited, or Amazon HD. And it won't be possible for you to move the songs to enjoy yourself outside the platform.
What Are the Benefits to Remove DRM from Amazon Prime Music?
Because there are limitations in playing Amazon Prime Music because of DRM, by removing it, you can get over them and enjoy a free music playback experience offline. For example, you can:
Download Amazon Prime songs for listening without the Amazon app.

Transfer the downloaded Amazon Prime songs to other devices such as your

iPod Nano

or

MP3 players

for enjoyment without limitations.

You can keep all these downloaded songs forever without expiring.

…
Is It Legal to Remove DRM from Amazon Music?
If you only remove DRM from Amazon Music because you want to get a convenient music playback experience on your own, it is totally legal to do it. But for those who unlock DRM to get the music files for a second sale or earning profits, it is an illegal action and will be against the copyright protection law. So if you also want to remove Amazon DRM to get the DRM-free songs, make sure you only do it for personal use but not for any commercial purpose.
When Amazon DRM has brought limitations for you to enjoy Amazon Music playback, removing it becomes a need. To process this,
MuConvert Amazon Music Converter
can be a good choice you can trust. Now, freely install it and try unlocking Amazon with the easy operations offered by the software!