How to Download Music from Amazon to MP3 Player [Full Guide]
Amazon Music is famous for its access to 100 million songs, making it one of the most popular music streaming services. With time going by, an increasing number of users hope to download Amazon Music to MP3 players, expecting the process of listening to music to be more flexible and portable.
What upsets you is that music from Amazon Prime Music and Amazon Music Unlimited can only be listened to offline on certain devices supported by Amazon Music and cannot be transferred directly to MP3 players.
Subscribers of Amazon Prime can only enjoy songs on a certain device that is compatible with Amazon Music, such as Mighty, Mighty Vibe, Garmin Forerunner 245 Music, and five other equipment models of Garmin.
How to solve a problem like this? Don't worry. No matter whether you are a purchaser of digital music, a subscriber of Amazon Prime, or a free user, this article will give instructions to answer your questions.
How to Download Purchased Amazon Music to MP3 Player
A subset of users may be eager to download their purchased music. There's a direct way to save it locally on your computer in the format of MP3, and that way is the application of Amazon Web Player.
Step 1. Download Amazon Music and log into your Amazon account.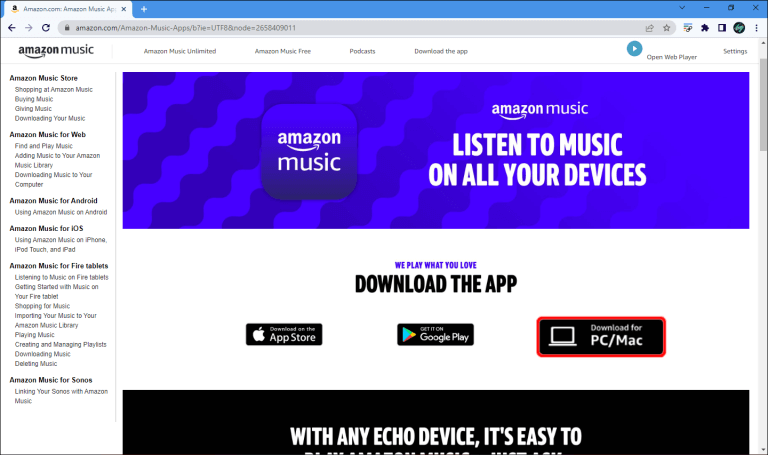 Step 2. Go to "Library" and select the albums or songs you want to download, and then click "Download".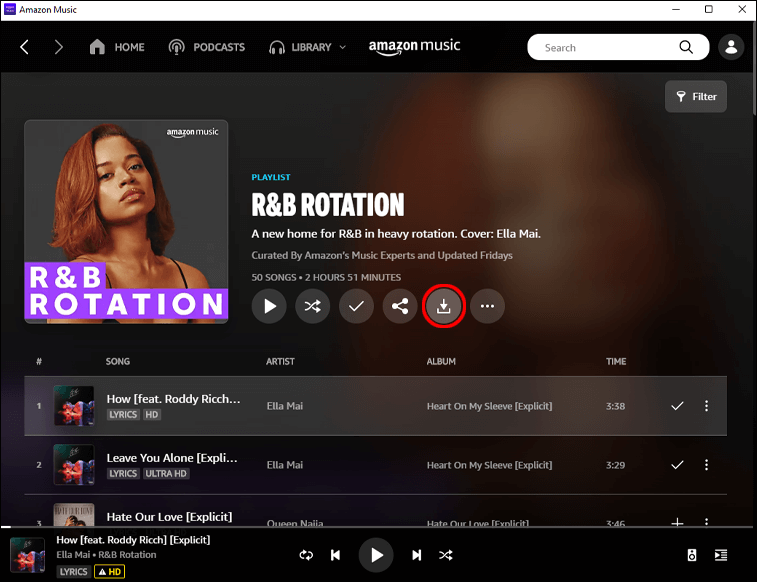 The Amazon Music desktop app will automatically store the downloaded music files in the "Amazon Music" folder. For Windows users, that's typically under the "My Music" section, and for Mac users, that's in the "Music" folder. Generally speaking, these files are saved in MP3 format, which is right what you need.
Transfer Amazon Music to MP3 Player Using Windows Media Player
Now we have already succeeded in downloading Amazon Music into MP3 files, the next question is how to transfer them to MP3 players.
Windows Media Player is a tool developed by Microsoft that comes pre-installed on Windows PC. Not only can you use it to play audio or video, but you can also transfer playlists between devices.
Step 1. Connect your MP3 player to your computer with a USB cable.
Step 2. Operate Windows Media Player and press the "Sync" button in the upper right corner.
Step 3. Drag and drop the downloaded Amazon Music file to the "Sync" section and click "Start Sync".
Now, the transferring process is on. When it is done, you then can listen to Amazon Music songs on an MP3 player, which is more flexible and easier to take along.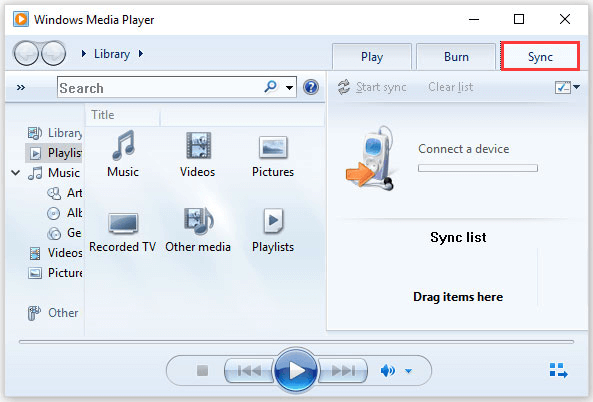 How to Download Music from Amazon to MP3 Without Subscription
On account of DRM protection employed by Amazon Music, users cannot download songs into MP3 directly. However, a tool called MuConvert Amazon Music Converter can be especially helpfu.
Key Features:
Remove DRM protection: no limitations on the playing device.
Various output formats: convert all kinds of Amazon streaming media to MP3, M4A, WAV, and FLAC files.
Support batch conversion: achieve adding the whole playlist or podcast to the list with one easy click.
Preserve ID3 metadata: retain the title, album, artist, and album cover for convenient classification management.
High-efficiency music conversion: 5x faster conversion speed of streaming media such as music and podcasts.
Customizable audio parameters: Keep the original music quality in the output audio files and choose parameters like sample rate and bitrate freely.
Tutorial: How to Convert Amazon Music to MP3 Player
Step 1. Log in to Your Amazon Account
When you have installed MuConvert Amazon Music Converter, just open this software. After that, you'll see the in-built Amazon Music Web Player, and then please sign in to your Amazon account first.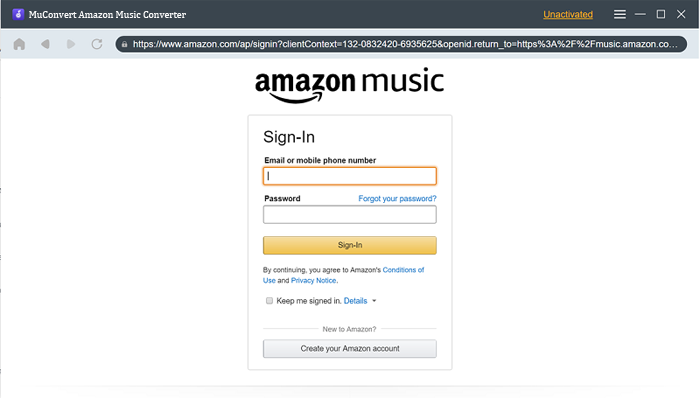 Step 2. Drag Amazon Songs/Playlists/Podcasts to Convert
The following step is to go to the library and pick up the songs/playlists/podcasts you'd like to rip to MP3. Drag them to the "+" icon and the conversion process will be started immediately.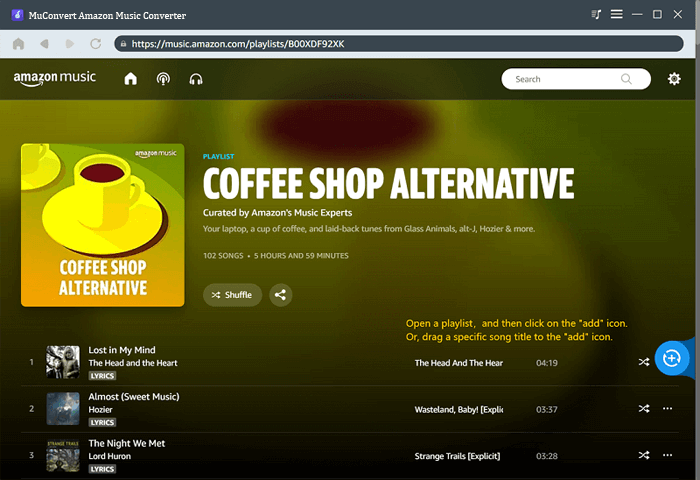 Step 3. Set the Music Output Format
When the analysis process is done, you can go to the " Convert all files to" button, which is in the top right corner of the popped window, to select a format like MP3 with one click.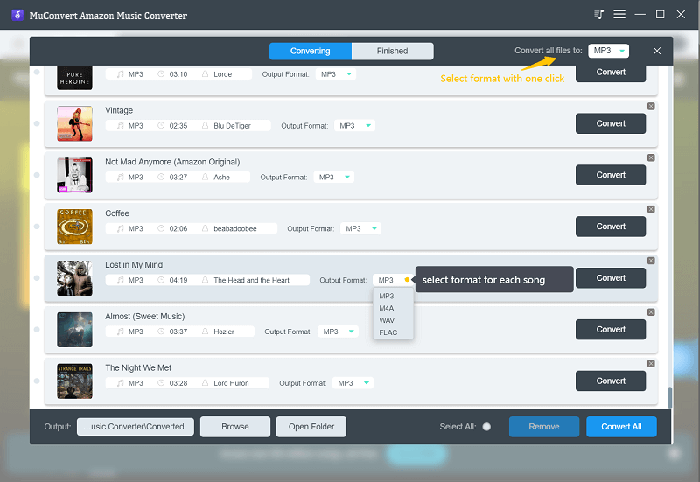 Step 4. Choose Advanced Parameters (Optional)
If you have personal preferences, you can go to the settings menu and select "Preferences". Some parameters such as "SampleRate" and "Bitrate" can be changed under the "Advanced" section.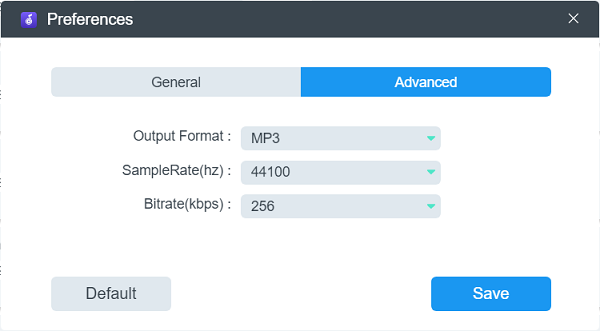 Step 5. Start the Converting Process
Lastly, it's time to press the "Converting All" button in the bottom right corner so as to rip the protection from the selected Amazon Music and convert them to MP3 files efficiently. When all of these have finished, you finally can have your favorite songs played in the way you like.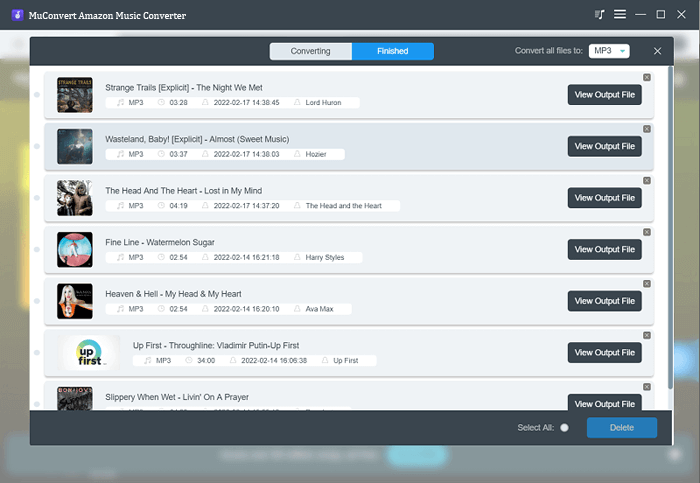 Transfer Amazon Music to MP3 Player Using Windows File Explorer
When it's time to talk about this part, you can surely use Windows Media Player mentioned above. But a quicker and easier way would be introduced here. That is Windows File Explorer.
Step 1. Connect the MP3 Player to the computer via a USB cable and open it in File Explorer.
Step 2. Find your Amazon Music MP3 files and simply copy and paste them to the folder of your MP3 player.
Step 3. Once finished, take away the MP3 player from your computer safely.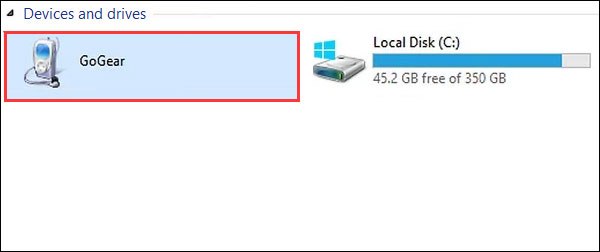 To sum up, before downloading Amazon Music songs to MP3 players, you can choose either to purchase your favorite songs and then download them into MP3 files or to download them directly into MP3 files by using MuConvert Amazon Music Converter. In terms of affordability and ease of operation, it's obvious that if you make good use of MuConvert Amazon Music Converter, it would be a wise choice and cannot let you down.