How to Rip Music from Amazon Prime to MP3 (2023)
For music lovers, Amazon Music is indubitably a well-known streaming platform that accesses thousands of music resources. However, some of you may encounter the problem that you can only appreciate what you like on Amazon, which is because songs from Amazon Music Prime and Amazon Music Unlimited are DRM-protected and the songs can only be downloaded onto Android or iOS devices for offline listening. So, if you intend to rip Amazon Music to MP3, you first must unleash the restriction mentioned above. Well, this article will guide you on how to solve this problem.
How to Rip Music from Amazon Prime via MuConvert
As it was mentioned previously, you should remove the protection from Amazon Prime, Unlimited, and HD songs if you want to rip Amazon Music. Employing a ripper would be a good choice because it can help rip your favorite songs and save the music files locally. And this is what you certainly need.
Tool Required: Amazon Music Ripper
Amazon Music Ripper is the perfect tool for you in this sense. It was developed to remove the protection for all Amazon Music songs. What's more, Amazon Free users can even download Amazon Music Original content and rip it to normal MP3 audio.
How to choose a good Amazon Music ripper? There are many audio tools available on the market. It may not be easy to find a good one. After testing and using it, we sincerely recommend MuConvert Amazon Music Converter to you. It is a good choice for you to rip Amazon Music to MP3.
MuConvert provides many convenient functions for converting songs from Amazon Music streaming services. For example, it can rip songs/playlists/podcasts from Amazon Music and convert this music content to popular formats including MP3, M4A, WAV, FLAC according to your needs.
Key features
Remove DRM protection to achieve being played without device limitations

Various Output Formats: convert all kinds of Amazon streaming media to MP3, M4A, WAV, and FLAC files.
Various Output Formats: convert all kinds of Amazon streaming media to MP3, M4A, WAV, and FLAC files.
Batch conversion supported: only one click for adding the whole playlist or podcast to the list could guarantee a quick converting process.
ID3 Metadata Preservation: Retain the title, album, artist, and album cover for easy classification management.
High-Efficiency Music Conversion: 5x faster conversion of streaming media such as music and podcasts.
Customizable audio parameters: Preserve the original music quality in the output audio files and customize the sample rate and bitrate.
Tutorial: Rip Songs/Playlists/Podcasts/Albums from Amazon Prime
Step 1. Log in to Your Amazon Account
When you have installed MuConvert Amazon Music Converter, just open this software. After that, you'll see the in-built Amazon Music Web Player, and then please sign in to your Amazon account first.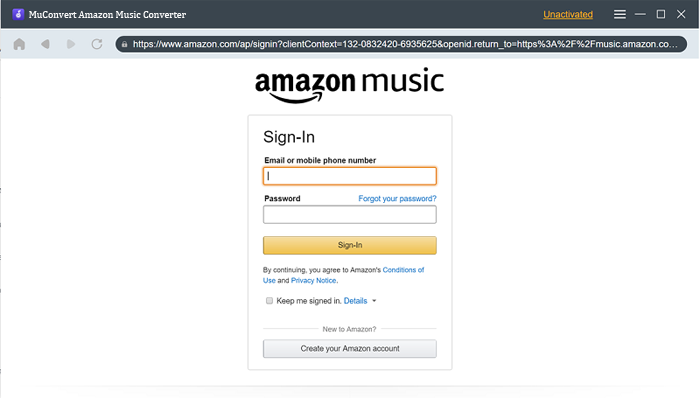 Step 2. Drag Amazon Songs/Playlists/Podcasts to Convert
The following step is to go to the library and pick up the songs/playlists/podcasts you'd like to rip to MP3. Drag them to the "+" icon and the conversion process will be started immediately.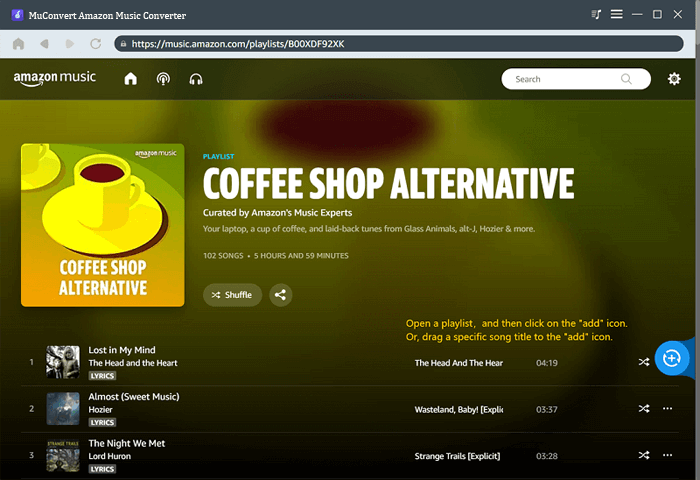 Step 3. Set the Music Output Format
When the analysis process is done, you can go to the " Convert all files to" button, which is in the top right corner of the popped window, to select a format like MP3 with one click.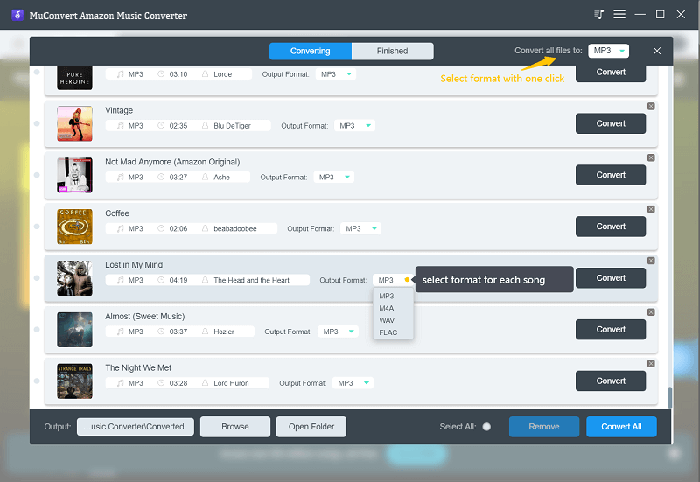 Step 4. Choose Advanced Parameters (Optional)
If you have personal preferences, you can go to the settings menu and select "Preferences". Some parameters such as "SampleRate" and "Bitrate" can be changed under the "Advanced" section.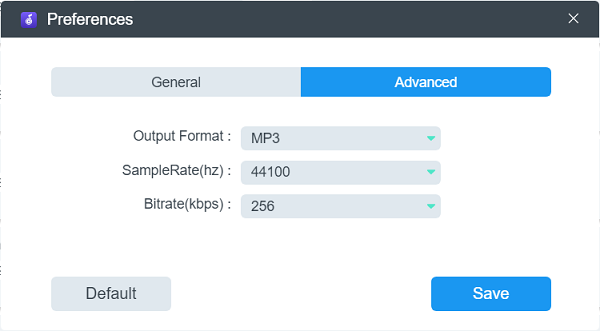 Step 5. Start the Converting Process
Lastly, it's time to press the "Converting All" button in the bottom right corner so as to rip the protection from the selected Amazon Music and convert them to MP3 files efficiently. When all of these have finished, you finally can have your favorite songs played in the way you like.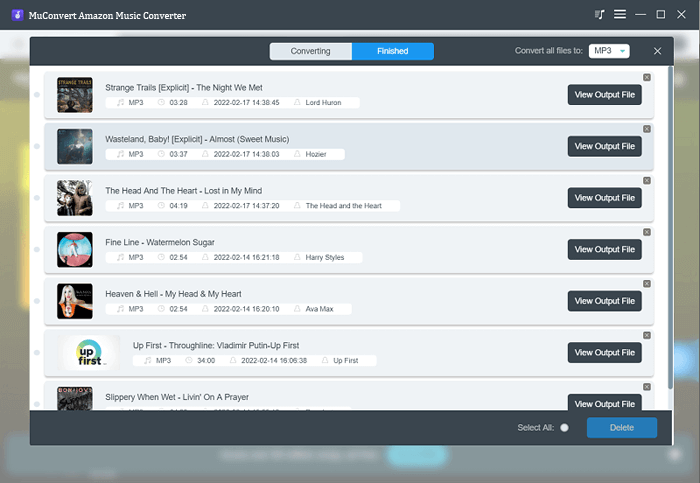 How to Rip Music from Amazon Prime via Audacity
If you are just looking for a way to rip a few tracks of Amazon Music for free, Audacity is also a suitable alternative.
Audacity is a multi-track audio editor and recorder for Windows, macOS, GNU/Linux, and other operating systems. It is free and open-source software. You can easily download this digital audio editor and recording application directly from its official website. However, it can be a little difficult to operate, especially for beginners. Following are the specific procedures.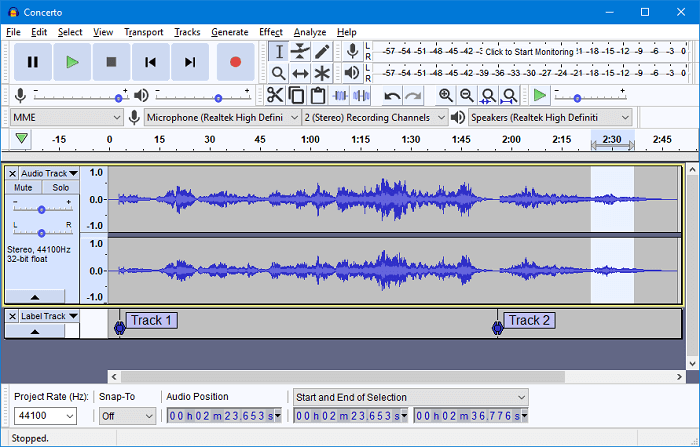 Step 1. Download and install Audacity on your computer and set up your parameters.
Step 2. Select the song or track you want to rip and keep it playing.
Step 3. Once the song is played, click the Record button on Audacity immediately. Then it will start recording the audio.
Step 4. When the song ends, click the Stop button.
FAQ about Rip Music from Amazon Prime
What is the best quality to rip Amazon Music?
The preferred choices when deciding on the best Format to rip Amazon Music are FLAC and MP3. What is the difference between these two?
FLAC means no loss in quality even if the audio file is compressed. You can try to keep the best original quality by using the FLAC format to rip the songs. However, this perfect sound quality also suggests the compressed files occupy a large space.
In comparison to FLAC, MP3 is typically smaller in size, though sound quality may suffer. But ripping Amazon Music to MP3 is an ideal option because this format supports almost all types of devices, so compatibility is higher than with FLAC.
Ensure that your converted songs sound exactly like the originals. MuConvert Amazon Music Converter is equipped with customizable parameter settings. You can tune the audio parameters, such as bitrate and sample rate, to the settings. For example, choosing an MP3 output format with 256 kbps and 44.1kHz is an ideal option. It lets you get the best sound quality from Amazon Music and have a pleasant offline playback experience.
How do I rip music from Amazon Music?
In fact, if you want to rip Amazon Music, you should remove the protection for all Amazon Music songs.The process can be done in three simple steps with Amazon music converter tools such as MuConvert and other similar programs. First, launch the program and sign in to your Amazon Music account. Then, select and add songs or playlists that you want to convert to MP3. Finally, choose the MP3 format and convert all Amazon music. Then this music content will no longer be DRM-restricted so that you can play the tracks anyway you like.
By and large, this article provides you with two different ways of ripping music from Amazon Music to MP3. Although Audacity is open source, it has limitations, like it provides editing and recording functions but requires downloading other programs to access all functions such as output formats and editing tools. Another shortcoming is its failure to ensure the quality of output audio.
MuConvert Amazon Music Converter is a reliable tool that helps people to rip any type of Amazon Music to common audio files with original quality. With its assistance, you're sure to enjoy your favorite songs at will.