Imagine capturing the soul-stirring climax of your favorite Amazon Music song—the moment that excites you or touches you. What if you could loop that part for your morning jog or set it as your video background? Amazon Prime Music and Amazon Music Unlimited offer an extensive library of tunes, but they don't provide any function for you to record music from Amazon Prime. Even if Amazon Prime subscribers can download songs, they can only be heard within the Amazon App.
To help you enjoy your favorite Amazon music clips, in this article, we'll explore 3 ways to solve your problem of how to record Amazon Prime Music with the help of cutting-edge tools like MuConvert Amazon Music Converter.
How to Rip Amazon Prime Music with MuConvert Amazon Converter
While recording Amazon Prime music with traditional recorders may be less convenient due to time-consuming processes, potential noise interference, and uncertain sound quality, MuConvert Amazon Music Converter presents a great solution. By directly using MuConvert Amazon Music Converter, you can effortlessly convert Amazon Prime Music into high-quality MP3 or other formats, ensuring a superior listening experience.
💡 Key Features of MuConvert Amazon Music Converter:
High Converting Speed: With the capability to boost speed up to 10 times faster, MuConvert Amazon Music Converter allows you to swiftly transform your cherished Amazon Prime Music music with unparalleled efficiency.

Batch Conversion: MuConvert Amazon Music Converter empowers you to transform entire playlists or albums in one click, not just individual tracks, making the whole converting process time-saving and convenient.

Lossless Sound Quality: It preserves the original audio quality, presenting your music in its purest form. Also, you can customize the bitrate and sample rate up to the highest standard 320kbps and 48000hz, ensuring an auditory music experience.

Customizable Output Formats: From the classic MP3 to the rich quality of WAV, M4A, and FLAC, you can choose the format that is compatible with your preferred playback devices, and elevate your music experience to new heights!

Metadata Preservation: MuConvert Amazon Music Converter retains essential ID3 metadata output, including song titles, artists, and album information. Enjoy a well-organized and easily navigable music collection!
Here's a quick guide on how to use this powerful tool to record Amazon Prime Music:
Step 1. Install and Log into MuConvert Amazon Music Converter
Install and launch MuConvert Amazon Music Converter on your computer. Then, log in to your Amazon Music account.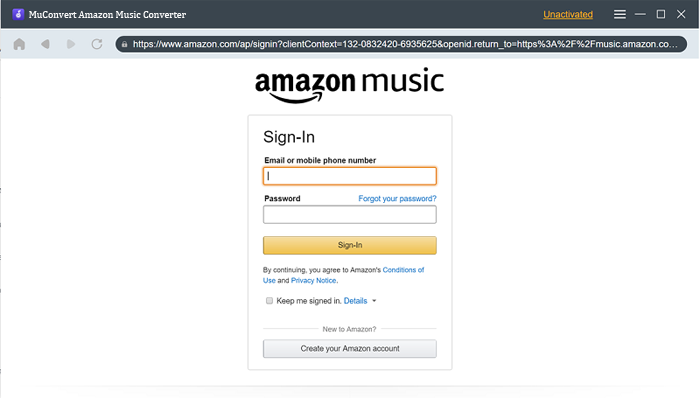 Step 2. Add Amazon Music to the Converting List
Browse your Amazon Prime Music library and select the song you want to record. Drag the songs to the "+" icon on the down-right side. Then you will get a converting list.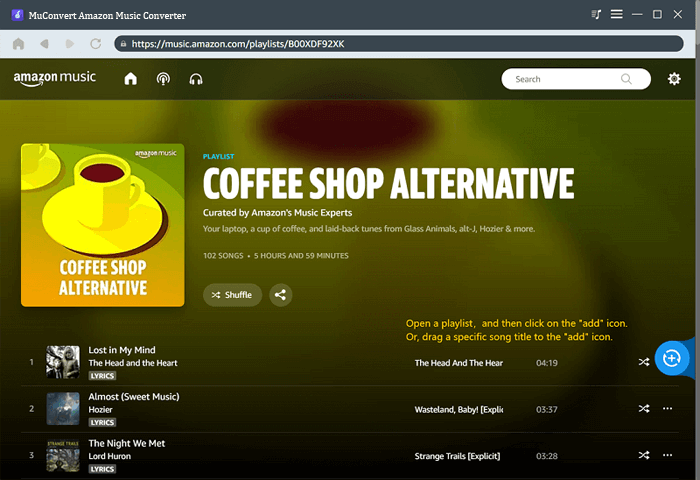 Step 3: Choose Output Format
Now, click the "Convert all files to" choice, and select an output format such as MP3. You can also convert different songs to different formats by selecting the "Output Format" next to each song.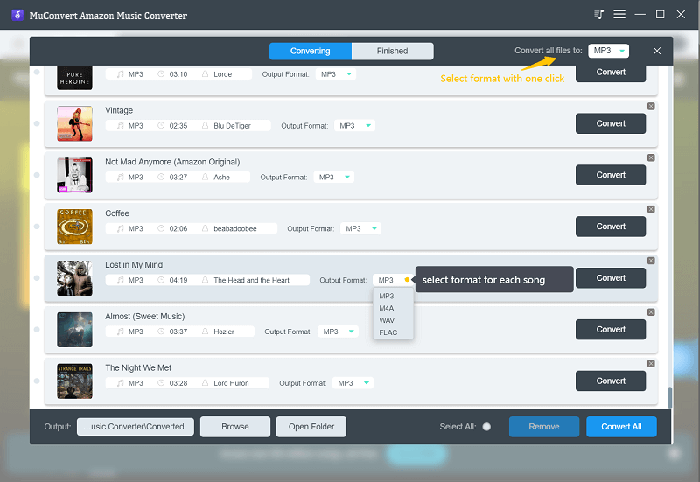 Step 4: Start the Conversion Process
Hit the "Convert All" button, and MuConvert will begin delivering your selected track into high-quality MP3 format or other files.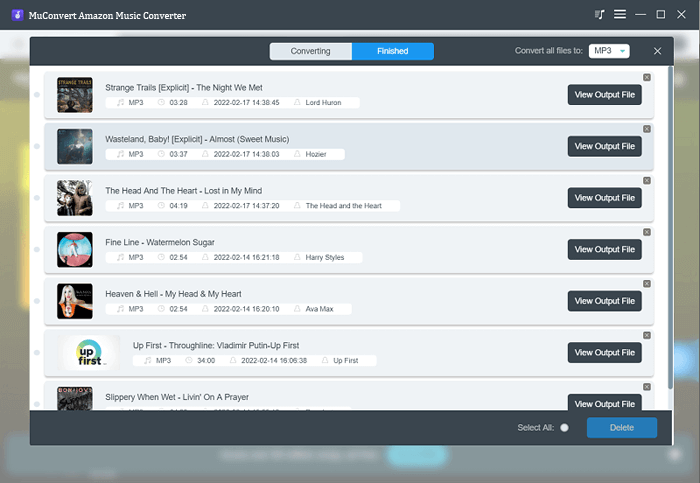 If you're looking to capture only a segment of a song or record your own voice with additional sound effects, the upcoming sections will introduce free recorder options tailored to these specific requirements.
How to Record Amazon Prime Music Using Reverb Online Recorder
If you are seeking an accessible solution to record your favorite Amazon Music tunes without the need for software installations, Reverb Online Recorder emerges as a convenient option. This online recorder is designed to cater to the needs of users who want a straightforward way to capture melodies, vocals, or any audio, and allows you to directly share your records to social platforms like Twitter.
However, as mentioned above, there are many inconveniences with the recording tool, such as you need to wait until the recording is over, and cannot open other software during this process to avoid interrupting the work. If you find these limitations confusing, you can try MuConvert Amazon Music Converter as a quick and easy alternative to batch capture Amazon music without quality loss.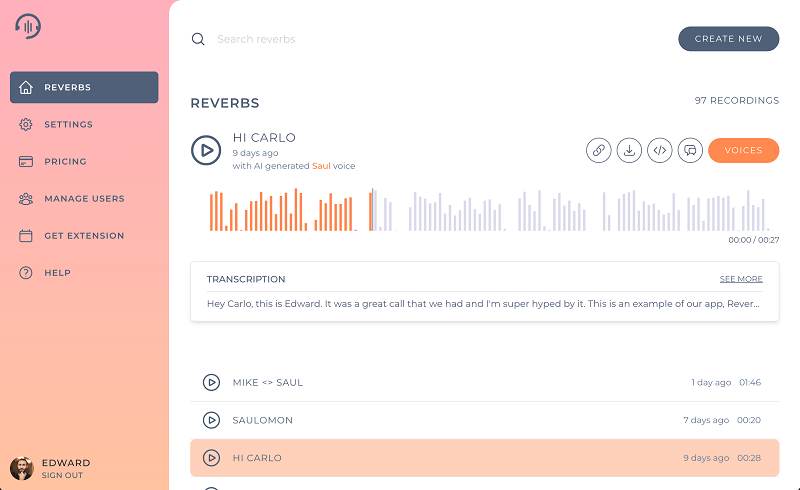 Step 1. Launch your browser and visit both the Reverb Online Recorder and Amazon Music. Make sure you have signed in to your Amazon Music account.
Step 2. Identify the desired song in your Amazon Music library, initiate the recording process by clicking the "Record" button on the Reverb Online Recorder interface, and commence playback of the selected Amazon Music track. Once the song concludes, press the "Stop" button, and the captured Amazon Music track will be promptly showcased on the recording page.
Step 3. Upon completion, simply click the "Download" button and opt for the preferred audio format from the available choices.
How to Record Music from Amazon Prime via Audacity for Free
If you think that the online recorder is not fully functional and cannot meet your needs, you can try another product called Audacity for free. It is a piece of open-source software, available for Windows, Mac, and Linux. With it, you can simply cut, edit, and add some sound effects after recording your Amazon songs, and then output them into multiple common formats like MP3, WAV, and OGG.
💡 Note:
It's important to note that Audacity's rich feature set may be overwhelming for non-techies, requiring time and effort to get used to it. If you're looking for simplicity, you can consider exploring beginner-friendly and easy-handling alternatives, like MuConvert Amazon Converter.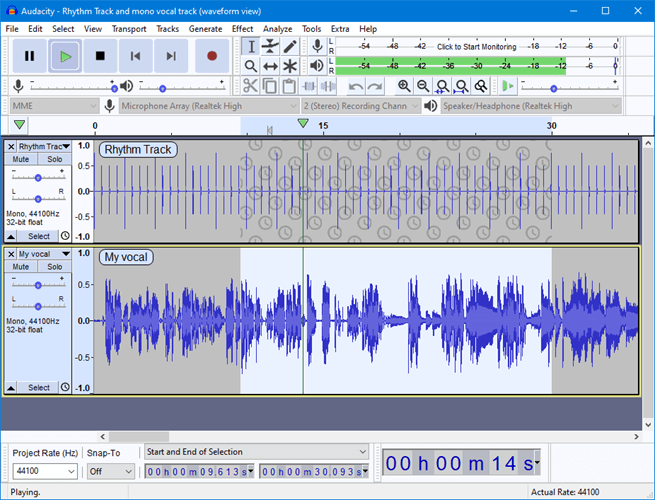 Step 1. Download Audacity, and install it on your computer. Also, head to the song you want to record from Amazon Music.
Step 2. Click the "Record" button in Audacity. And start playing the track you want to record in Amazon Music.
Step 3. Once done, click the "Stop" icon. You can choose to preview or cut the recorded Amazon Music. Then, click "File"> "Export"> "Export as MP3" to save the recording.
FAQs About Recording Amazon Prime Music
Q1: Can I Record Amazon Prime Music on MP3 Players?
Absolutely! Since Amazon Official doesn't allow you to record or download music from Amazon to MP3 player directly, you can try MuConvert Amazon Music Converter to convert your Amazon Prime Music, set the export format to MP3 when choosing the "Convert all files to" selection, Then, after saving those Amazon Prime Music files locally, you can transfer them to your MP3 player for free offline playback.
Q2: Can I Record Music from Amazon Prime on iPhone?
Yes, you can directly use the built-in screen recording tool provided to record Amazon music on your iPhone. If you think it is not convenient enough and prefer a one-size-fits-all approach, MuConvert Amazon Music Converter will be the best tool. With it, you can first download songs from Amazon Prime Music on your computer, and then transfer them to your iPhone using iTunes, AirDrop, etc.
Conclusion
With 3 ways telling you how to record Amazon Prime music, you can between  the efficiency of MuConvert, the convenience of Reverb Online Recorder, or the cost-effectiveness of Audacity. But MuConvert does more than efficiency. Offering swift and efficient conversion of Amazon Prime Music with customizable sound quality and support for multiple formats, MuConvert Amazon Music Converter simplifies the process of recording music from Amazon Prime. Now, hit the button below to elevate your music-listening experience!
Convert Amazon Prime Music to MP3
Easily convert music from Amazon Prime/Unlimited/HD/Free to MP3 without losing quality.